Abstract
In the debate concerning the existence of collective armed conflict before the advent of agriculture and the emergence of wealth differentiation, Australia—a continent entirely occupied by economic egalitarian foragers until the end of the eighteenth century—provides key insights. We explore the ethnographic data, striving to build a comprehensive database of the collective fights which were recorded. This survey brings a total of 165 events, among which 32 display a comparatively high level of lethality, with ten killed or more, a proportion far from negligible. An examination of each testimony leads to the conclusion that they are, as a whole, likely reliable. We then briefly discuss the nature of these collective conflicts, which purposes are marked by the lack of wealth in Aboriginal societies: the two main proximate causes, by far, are rights over women and retaliation for real or supposed aggressions—notably, conflicts over territories and resources are almost absent. It is also argued that at least some of these conflicts should be qualified as "wars". Finally, we show why those conflicts leave so few archeological remains, by dealing with art, bones, and material means of conflicts, with a special attention to the "hunting versus war" weapon question. We conclude that if in such technical and social circumstances, these events are fairly difficult to record ethnologically, they are almost (if not totally) invisible archeologically.
This is a preview of subscription content, log in to check access.
Access options
Buy single article
Instant access to the full article PDF.
US$ 39.95
Price includes VAT for USA
Subscribe to journal
Immediate online access to all issues from 2019. Subscription will auto renew annually.
US$ 99
This is the net price. Taxes to be calculated in checkout.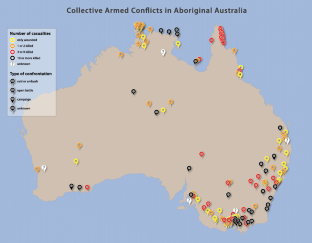 References
Aiston, G. (1921). Natives of Central Australia: tribal fighting with knives. Melbourne Argus, 5.

Allen, M. W. (2014). Hunter-gatherer violence and warfare in Australia. In Allen, M. W. & Jones, T. L. (Eds.), Violence and warfare among Hunter-Gatherers (pp. 97–111). Walnut Creek: Left Coast Press.

Allen, M. W., & Jones, T. L. (Eds.). (2014). Violence and warfare among hunter-gatherers. Walnut Creek: Left Coast Press.

Anderson, S., Chase, A., & Merland, C. (2009). Pelletier: the forgotten castaway of Cape York. Melbourne: Melbourne Books.

Arden, G. (1840). Latest information with regard to Australia Felix, the finest province of the great territory of New South Wales: including the history, geography, natural resources, government, commerce, and finances of Port Phillip: sketches of the Aboriginal population, and advice to immigrants, Arden and Strode, printers, Australia Felix.

Arthur, W. S., Morphy, F., Macquarie Library (2005). Macquarie atlas of indigenous Australia: culture and society through space and time, Macquarie Library, NSW [New South Wales], Australia.

Basedow, H. (1907). Anthropological notes on the western coastal tribes of the northern territory of South Australia. In Transactions and Proceedings and Report of the Royal Society of South Australia, xxxi (pp. 1–62). Adelaide: W. C. Rigby.

Basedow, H. (1979). The Australian aboriginal, 1st AMS ed. New York: AMS Press.

Bates, D. (1938). The passing of the aborigines a lifetime spent among the natives of Australia. London: Murray.

Bennett, M. M. (1927). Notes on the Dalleburra tribe of Northern Queensland. Journal of the Royal Anthropological Institute of Great Britain and Ireland, 57, 399–415.

Berndt, R. M., & Berndt, C. H. (1992). The world of the first Australians: Aboriginal traditional life; past and present. Canberra: Aboriginal Studies Pr..

Black-Michaud, J. (1975). Cohesive force: feud in the Mediterranean and the Middle East. Oxford: Blackwell.

Bluett, W. P. (1954). The Aborigines of the Canberra district at the arrival of the white man. Paper read to the Canberra & District Historical Society 29th may, 1954.

Builth, H. (2006). Gunditjmara environmental management: the development of a fisher-gatherer-hunter society in temperate Australia. In C. Grier J. Kim & J. Uchiyama (Eds.), Beyond Affluent Foragers: Rethinking Hunter-Gatherer Complexity (pp. 4–23). Oxbow Books.

Bungaree, J., O'Rourke, M., Ewing, J. P. (2005). Sung for generations: "Old" joe Bungaree's tales about Red Kangaroo, an 18th century Gamilaraay "big-man" of the central Namoi River NSW: the "red chief" of ion Idriess: with a synoptic account of the traditional culture and a summary of the 'white invasion', 1826–1926, M. O'Rourke. Braddon, A.C.T.

Campbell, C. (1986). Images of war: a problem in San rock art research. World Archaeology, 18(2), 255–268.

Chase, A. (2009). Ethnographic commentary. In S. Anderson, A. Chase, & C. Merland, Pelletier: The Forgotten Castaway of Cape York. Melbourne: Melbourne Books.

Clement, E. (1903). Ethnographical notes on the Western-Australian Aborigines. Leyden: E. G. Brill.

Clottes, J., & Lewis-Williams, D. (2015). Les Chamanes de la préhistoire. Transe et magie dans les grottes ornées. Texte intégral, polémique et réponses. Paris: Seuil.

Curr, E. M. (1883). Recollections of squatting in Victoria, then called the Port Phillip District, from 1841 to 1851, [publisher not identified], Melbourne.

Curr, E. M. (1886). The Australian race: its origin, languages, customs, place of landing in Australia and the routes by which it spread itself over that continent. Melbourne: John Ferres Trübner.

Darmangeat, C. (2018a). La pirogue et le grenier. Artefact, 6, 133–151.

Darmangeat, C. (2018b). Paiements, esclavage et exploitation : éléments d'un triptyque. Cahiers d'Économie Politique / Papers in Political Economy, 75, 227–253.

Darmangeat, C. (2019 forthcoming). Surplus, storage and the emergence of wealth: pits and pitfalls. Cambridge: McDonald Monographs Conversations.

Darmangeat, C., & Pétillon, J.-M. (2015). Structures sociales et blocages techniques dans l'Australie aborigène : quelques éléments critiques. Techniques et Culture, 64, 248–251.

Davidson, D. S. (1934). Australian spear-traits and their derivations. Journal of Polynesian Society, 43, 41–72.

Davidson, D. S. (1936). Australian throwing-sticks, throwing-clubs, and boomerangs. American Anthropologist, 38(1), 76–100.

Davidson, I. (1994). Comment on "Ancient Warriors...". Cambridge Archaeological Journal, 4, 234–237.

Dawson, J. (1881). Australian aborigines: the languages and customs of several tribes of aborigines in the Western district of Victoria, Australia. Melbourne, Sydney and Adelaide: George Robertson.

Demoule, J.-P. (2017). Les dix millénaires oubliés qui ont fait l'histoire: quand on inventa l'agriculture, la guerre et les chefs. Paris: Fayard.

Edge-Partington. (1903). Notes on the weapons of the Dalleburra tribe, Queensland, Lately Presented to the British Museum by Mr. Robert Christison. Man, 3, 37–38.

Elkin, A. P. (1967). Les Aborigènes australiens. Paris: Gallimard.

Ember, C. (1978). Myths about hunter-gatherers. Ethnology, 17(4), 439–448.

Ember, M. (1982). Statistical evidence for an ecological explanation of warfare. American Anthropologist, 84(3), 645–649.

Eyre, E. J. (2014). An account of the manners and customs of the Aborigines and the state of their relations with Europeans, ebook. The University of Adelaide.

Fison, L. (1890). Aborigines of Victoria. Melbourne: Spectator Publishing Company Limited.

Fison, L. and Howitt, A. W. (1880). Kamilaroi and Kurnai: group-marriage and relationship, and marriage by elopement drawn chiefly from the usage of the Australian Aborigines also the Kurnai tribe, their customs in peace and war. Melbourne, Sydney, Adelaide, Brisbane.

Fraser, J. (1892). The Aborigines of New South Wales. Sydney: Charles Potter, government printer.

Fry, D. P. (2009). Beyond war: the human potential for peace. New York: Oxford University Press.

Gason, S. (1879). The manners and customs of the Dieyerie tribe of Australian Aborigines. In J. D. Woods (Ed.), Native tribes of South Australia (pp. 253–307). Adelaide: E. S. Wigg & Son.

Gat, A. (2008). War in human civilization. Oxford: Oxford University Press.

Gat, A. (2015). Proving communal warfare among hunter-gatherers: The quasi-Rousseauan error. Evolutionary Anthropology, 24(3), 111–126.

Gaughwin, D., & Sullivan, H. (1984). Aboriginal boundaries and movements in Western Port, Victoria. Aboriginal History, 8, 80–98.

Gibbs, M. (2002). The enigma of William Jackman. The Great Circle, 24, 3–21.

Gill, S. D. (1998). Storytracking: texts, stories & histories in Central Australia. New York: Oxford University Press.

Glowczewski, B. (1991). Du rêve a la loi chez les aborigènes : mythes, rites et organisation sociale en Australie. Paris: Presses universitaires de France.

Guilaine, J., & Zammit, J. (2004). The origins of war: violence in prehistory. Oxford: Blackwell.

Gunson, N. (Ed.) (1974). Australian reminiscences & papers of L. E. Threlkeld. Australian Institute of Aboriginal Studies.

Guy, E. (2017). Ce que l'art préhistorique dit de nos origines. Paris: Flammarion.

Haddon, A. C. (1912). Reports of the Cambridge anthropological expedition to Torres Straits. Volume IV, arts and crafts. Cambridge: Cambridge University Press.

Hardman, E. T. (1889). Notes on a collection of native weapons (Kimberley). Proceedings of the Royal Irish Academy 1889-1901, 1, 57–69.

Hart, C. W. M., Pilling, A. R., & Goodale, J. C. (1988). The Tiwi of North Australia, Holt. New York: Rinehart and Winston.

Hayden, B. (1995). Pathway to Power. In T. D. Price & G. M. Feinman (Eds.), Foundations of social inequality (pp. 15–82). Boston: Springer US.

Haydon, G. H. (1846). Five years' experience in Australia Felix. London: Hamilton, Adams & Co.

Helms, R. (1895). Anthropological notes. Proceedings of the Linnean Society of New South Wales, 20 (Series 2), 387–407.

Hiatt, L. R. (1996). Arguments about Aborigines: Australia and the evolution of social anthropology. Cambridge: Cambridge University Press.

Hodgkinson, C. (1845). Australia, from Port Macquarie to Moreton Bay. London: T. and W. Boone.

Howitt, R. (1845). Impressions of Australia Felix during four years' residence in that colony. London: Longman, Brown, Green and Longmans.

Jones, D. E. (2004). Native North American armor, shields, and fortifications. Austin: University of Texas Press.

Keeley, L. H. (1997). War before civilization: the myth of the peaceful savage. New York: Oxford Univ Press.

Keen, I. (2006). Aboriginal economy & society: Australia at the threshold of colonisation. Oxford: Oxford University Press.

Kelly, R. C. (2000). Warless societies and the origin of war. Ann Arbor: University of Michigan Press.

Knauft, B. (1991). Violence and sociality in human evolution. Current Anthropology, 32(4), 391–409.

Lahr, M. M., Rivera, F., Power, R. K., Mounier, A., Copsey, B., Crivellaro, F., Edung, J. E., Fernandez, J. M. M., Kiarie, C., Lawrence, J., Leakey, A., Mbua, E., Miller, H., Muigai, A., Mukhongo, D. M., Van Baelen, A., Wood, R., Schwenninger, J.-L., Grün, R., Achyuthan, H., Wilshaw, A., & Foley, R. A. (2016). Inter-group violence among early Holocene hunter-gatherers of West Turkana, Kenya. Nature, 529(7586), 394–398.

Lang, J. D. (1861). Queensland, Australia. London: Edward Stanford.

Lang, G. (1865). The Aborigines of Australia. Melbourne: Wilson & McKinnon.

Langley, M. C., Dilkes-Hall, I. E., Balme, J., & O'Connor, S. (2016). A 600-year-old boomerang fragment from Riwi Cave (south Central Kimberley, Western Australia). Australian Archaeology, 82, 106–122.

Lehoërff, A. (2018). Par les armes : le jour où l'homme inventa la guerre. Paris : Belin.

Leroi-Gourhan, A. (2015). Les religions de la préhistoire. Paris: PUF.

Lockwood, D. (1996). I, the Aboriginal. Sydney: Landsdowne.

Loendorf, L. L. (1994). Comment on "Ancient Warriors...". Cambridge Archaeological Journal, 4, 241.

Lombard, M. (2005). Evidence of hunting and hafting during the middle stone age at Sibidu Cave, KwaZulu-Natal, South Africa: a multianalytical approach. Journal of Human Evolution, 48(3), 279–300.

Lombard, M., & Phillipson, L. (2010). Indications of bow and stone-tipped arrow use 64 000 years ago in KwaZulu-Natal, South Africa. Antiquity, 84(325), 635–648.

Lorblanchet, M., & Bahn, P. G. (2006). Chamanismes et arts préhistoriques: vision critique. Paris: Errance.

Lumholtz, C. (1889). Among cannibals. An account of Four Years' Travel in Australia and of Camp Life with the Aborigines of Queensland. London: John Murray.

Manson, J. H., & Wrangham, R. W. (1991). Intergroup aggression in chimpanzees and humans. Current Anthropology, 32(4), 369–390.

McDonald, J., Donlon, D., Field J. H., Fullagar, R. L. K.,  Brenner Coltrain J., Mitchell P., & Rawson M. (2007). The first archaeological evidence for death by spearing in Australia. Antiquity, 81(314), 877–885.

Meehan, B. (1971). The form, distribution and antiquity of Australian Aboriginal mortuary practices. Thesis (M.A.) - University of Sydney.

Meggitt, M. J. (1962). Desert people: a study of the Walbiri aborigines of Central Australia. Chicago: University of Chicago Press.

Otterbein, K. (1968). Internal war: a cross-cultural study. American Anthropologist, 70(2), 277–289.

Otterbein, K. F. (2009). The anthropology of war. Long Grove, Ill: Waveland Press.

Pardoe, C. (1988). The cemetery as symbol: The distribution of prehistoric Aboriginal burial grounds. Southeastern Australia. Archaeology in Oceania, 23(1), 1–16.

Pardoe, C. (2014). Conflict and territoriality in Aboriginal Australia: evidence from biology and ethnography. In Allen, M. W. & Jones, T. L. (Eds.), Violence and warfare among Hunter-Gatherers (pp. 112–132). Walnut Creek: Left Coast Press.

Patou-Mathis, M. (2013). Préhistoire de la violence et de la guerre. Paris: Odile Jacob.

Pétillon, J.-M. (2008). What are these barbs for? Preliminary reflections on the function of the upper Magdalenian barbed weapon tips / des barbelures pour quoi faire ? Réflexions préliminaires Sur la fonction des pointes barbelées du Magdalénien supérieur. P@lethnologie, 1, 66–97 69-102.

Pétrequin, A.-M., & Pétrequin, P. (1990). Flèches de chasse, flèches de guerre: Le cas des Danis d'Irian Jaya (Indonésie). Bulletin de la Société Préhistorique Française, 87(10), 484–511.

Petrie, C. C. (1904). Tom Petrie's reminiscences of early Queensland (dating from 1837). Recorded by his Daughter. Brisbane: Warson, Ferguson & Co.

Picq, P., & Brenot, P. (2009). Le sexe, l'Homme et l'évolution. Paris : Odile Jacob.

Porcar Ripolles, J. B. (1945). Iconografía rupestre de la Gasulla y Valltorta (danza de arqueros ante figuras humanas sacrificadas). Boletín de la Sociedad Castellonense de Cultura, 21.

Prosterman, R. L. (1972). Surviving to 3000; an introduction to the study of lethal conflict. Belmont: Duxbury Press.

Rae-Ellis, V. (1996). Black Robinson: protector of aborigines, 1st pbk. ed. Carlton South: Melbourne University Press.

Rodseth, L., Wrangham, R. W., Harrigan, A., & Smuts, B. B. (1991). The human community as a primate society. Current Anthropology, 32(3), 221–255.

Rose, D. B. (1991). Hidden histories: black stories from Victoria River downs, Humbert River and Wave Hill stations. Canberra: Aboriginal Studies Press.

Roth, W. E. (1897). Ethnological studies among the North-West-Central Queensland Aborigines. Brisbane, London: Edmund Gregory, government printer; Queensland Agent-General's Office.

Roughsey, D. (1971). Moon and rainbow: autobiography of an Aboriginal. Auckland: Reed.

Rudner, J., & Rudner, I. (1970). The hunter and his art. A Survey of Rock Art in Southern Africa. Cape Town: Struik.

Saura, M. (2000). La guerra en la vida de las comunidades epipaleolíticas del Mediterráneo peninsular. Arqueologia Era, 2, 110–127.

Sharp, L. (1933). The social organization of the Yir-Yoront tribe, Cape York peninsula. Oceania, 4, 404–431.

Shea, J. J. (2006). The origins of lithic projectile point technology: evidence from Africa, the Levant, and Europe. Journal of Archaeological Science, 33(6), 823–846.

Smyth, R. B. (1876). The Aborigines of Victoria: with notes relating to the habits of the natives of other parts of Australia and Tasmania compiled from various sources for the Government of Victoria (vol. I). Melbourne: Trubner and Co.

Spencer, B., & Gillen, F. (1899). Native tribes of Central Australia. London: McMillan & Co.

Stephens, E. (1889). The Aborigines of Australia: being personal recollections of those tribes which inhabited the Adelaide Plains of South Australia. Journal and Proceedings of the Royal Society of New South Wales, 23, 476–503.

Sutton, P. (1990). The pulsating heart: large scale cultural and demographic processes in Aboriginal Australia. In B. Meehan, & N. White (Eds.), Hunter-Gatherer Demography: Past and Present (pp. 71–80). Sydney: University of Sydney.

Sutton, P. (2001). The politics of suffering: indigenous policy in Australia since the seventies. Carlton: Melbourne University Press.

Taçon, P., & Chippindale, C. (1994). Australia's ancient warriors: changing depictions of fighting in the rock art of Arnhem Land, N. T. Cambridge Archaeological Journal, 4(02), 211–248.

Testart, A. (2005). Eléments de classification des sociétés. Paris: Errance.

Testart, A. (2017). Art et religion de Chauvet à Lascaux, V. Lécrivain (Ed.), Paris : Gallimard.

Tindale, N. B. (1974). Aboriginal tribes of Australia: their terrain, environmental controls, distribution, limits, and proper names. Berkeley: University of California Press.

Vinas, R., Rubio, A. (1988). Un nuevo ejemplo de figura humana flechada en el conjunto de la Valltorta (Castellón). Cuadernos de Prehistoria y Arqueología Castellonense. 83–93.

Wallis, L. A., Davidson, I., Burke, H., Mitchell, S., Barker, B., Hatte, E., Cole, N., & Lowe, K. M. (2017). Aboriginal stone huts along the Georgina River, Southwest Queensland. Queensland Archaeological Research, 20, 1–8.

Warner, W. L. (1969). A black civilization, A social study of an Australian tribe. Gloucester: Smith.

Wheeler, G. C. (1910). The tribe, and intertribal relations in Australia. London: J. Murray.

Whitley, D. S. (1994). Comment on "Ancient Warriors..." Cambridge Archaeological Journal, 4, 237–238.

Willcox, A. R. (1956). Rock paintings of the Drakensberg. London: Parish.

Williams, E. (1987). Complex hunter-gatherers: a view from Australia. Antiquity, 61(232), 310–321.

Wilson, M. L., & Wrangham, R. W. (2003). Intergroup relations in chimpanzees. Annual Review of Anthropology, 32(1), 363–392.

Worsnop, T. (1897). The prehistoric arts, manufactures, works, weapons, etc., of the aborigines of Australia. South Australia: C. E. Bristow, government printer.

Wrangham, R. W. (1999). Evolution of coalitionary killing. Yearbook of Physical Anthropology, 42, 1–30.
Acknowledgments
Supportive comments and critical suggestions were offered by Bruno Boulestin, Maurice Fhima, and Jean-Marc Pétillon; shortcomings remain my own.
Additional information
Publisher's Note
Springer Nature remains neutral with regard to jurisdictional claims in published maps and institutional affiliations.
About this article
Cite this article
Darmangeat, C. Vanished Wars of Australia: the Archeological Invisibility of Aboriginal Collective Conflicts. J Archaeol Method Theory 26, 1556–1590 (2019). https://doi.org/10.1007/s10816-019-09418-w
Keywords
Australian aborigines

Violence

Warfare

Feud

Hunter-gatherers

Art

Weapons