Abstract
At La Espiral cave, located in Bahia Honda municipality (Artemisa province, Cuba), there are several pictographs, including two of particular importance due to the design used: one of concentric circles and another of a spiral. We analyzed the pigments and binders used in one of these pictographs. The chemical ingredients of the paint are considered in this article, as well as the use of bat guano as a major pigment compound. The apparent presence of ellagic acid, ellagitannin, or anthocyanins would strengthen the hypothesis that artists used vegetable protein as a paint binder or solvent.
Access options
Buy single article
Instant access to the full article PDF.
US$ 39.95
Tax calculation will be finalised during checkout.
Subscribe to journal
Immediate online access to all issues from 2019. Subscription will auto renew annually.
US$ 79
Tax calculation will be finalised during checkout.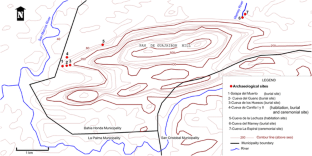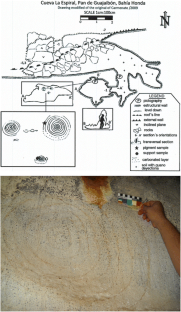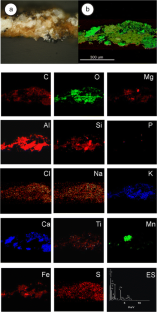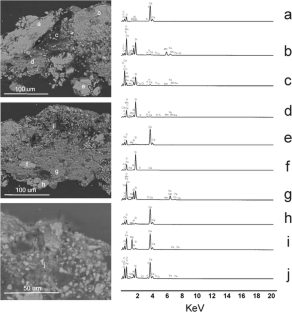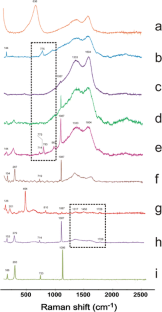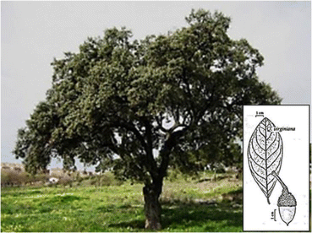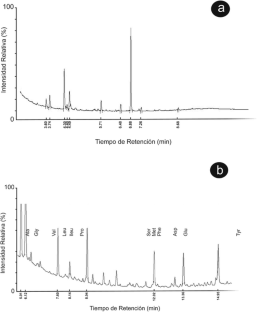 References
Acevedo-Rodríguez, P., & Strong, M. T. (2012). Catalogue of seed plants of the West Indies (1193 pp). Washington D.C: Smithsonian Institution Scholarly Press.

Aguilera-Carbó, A., Augur, C., Prado-Barragan, L. A., Favela-Torres, E. y Aguilar, C. N. 2008. Microbial production of ellagic acid and biodegradation of ellagitannins. Applied Microbiology and Biotechnology, 78:189–199.

Alain, H. (1974). Flora de Cuba (49p). La Habana: Suplemento. Instituto Cubano del Libro.

Alonso, E. (1995). Fundamentos para la historia del Guanajatabey de Cuba. Editorial Academia. La Habana.

Arrazcaeta, Roger Robin García 1994. Guara. Una región pictográfica de Cuba. Revista de Arqueología. Año XV, No. 160, págs. 22–31. Madrid, España.

Bala, I., Bhardwaj, V., Hariharam, S. y Ravi Kumar M. N. V. 2005. Analytical methods for assay of ellagic acid and its solubility studies. Journal of Pharmaceutical and Biomedical Analysis doi:10.1016/j.jpba.2005.07.006.

Beyssac, O., Goffé, B., Petitet, J. P., Froigneux, E., Moreau, M., & Rouzaud, J. N. (2003). On the characterization of disordered and heterogeneous carbonaceous materials by Raman spectroscopy. Spectrochimica Acta Part A, 59, 2267–2276.

Bianco, M. A., Aji, A., & Savolainen, H. (1998). Quantitative analysis acid in hardwood samples. The Science of Total Environment, 222, 123–126.

Bisse, J. (1988). Árboles de Cuba (384 pp). La Habana: Editorial Científico Técnica.

Borhidi, A. 1996. Phytogeography and vegetation ecology of Cuba. 2ed. Akadémiai Kiadó. Budapest. 857 pp.

Cárdenas, A., & Herrera, P. (1991). Catálogo de las colecciones históricas y de tipo del Herbario de la Academia de Ciencias de Cuba. La Habana: Editorial Academia.

Carmenate, H. 2009. Cueva La Espiral. Plano cartográfico espeleológico. Pinar del Río.

Carol, A. H. (1999). Mineralogy of kartchner caverns, Arizona. Journal of Cave and Karst Studies, 61(2), 73–78.

Clifford, M. N., & Scalbert, A. (2000). Review: ellagitannins—nature, occurrence and dietary burden. Journal of the Sciences of Food and Agriculture, 80, 1118–1125.

Cooper, J. (2007). Registro Nacional de Arqueología Aborigen de Cuba: una discusión de métodos y prácticas. El Caribe Arqueológico, 10.

Dacal, R., & Rivero de la Calle, M. (1986). Arqueología Aborigen de Cuba. La Habana: Editorial Gente Nueva.

Dumitraş, D. G., Marincea, Ş., & Fransolet, A. M. (2004). Brushite in the bat guano deposit from the "dry" Cioclovina Cave (Sureanu Mountains, Romania). Journal of Mineralogy and Geochemistry, 180, 45–64.

DuVall, D. Rowe, M. 2013. Dominican Republic pictographs: microscopy and chemical studies. International Congress of the International Federation of Rock Arts Organization (IFRAO). Albuquerque.

Fagundo, J. R., Valdés, J. J., Rodríguez, J., Pajón, J., De la Cruz, A., García, A., & Pulina, M. (1990a). Estudio preliminar sobre el proceso de denudación cárstica en el polígono experimental cubano-polaco del Pan de Guajaibón. Voluntad Hidráulica, 70-71, 11–15.

Fagundo, R., Rodríguez, J., Pajón, J., Franco, E., Álvarez, E., Vinardell, I., Vega, J., Benítez, G. 1990b. Evolución química y relaciones empíricas en aguas naturales. III Cuenca del río San Marcos, Sierra del Rosario, Pinar del Río, Cuba. Voluntad Hidráulica, 85.

Fernández, R., J. B. González, D. A. Gutiérrez (2009). History, survey, conservation, and interpretation of Cuban rock art. [with translation by Michele H. Hayward]. In Rock art of the Caribbean. Editores Michele H. Hayward, Lesley-Gail Atkinson and Michael A. Cinquino. The University of Alabama Press, Colección Caribbean Archaeology and Ethnohistory Series: 22–40. Tuscaloosa.

Fernández, R., Morales D., Rodríguez D., Cué V., Carmenate H. 2014. An analysis of the evaluation and diagnosis of environmental impacts in rock art sites of Guaniguanico Mountain Range, Cuba. In: Malla, B. Lal, ed.: Rock art studies, 2 vols. (1: Concept, methodology, context, documentation and conservation; 2: Interpretation through multidisciplinary approaches). 858 pp., fig., lám. map.

Guarch, J. M., Rodríguez C. 1980. Consideraciones acerca de la morfología y desarrollo de los pictogramas cubanos. Cuba Arqueológica I. Editorial Oriente, Santiago de Cuba.

Hernanz, A., Mas, M., Gavilán, B., & Hernández, B. (2006). Raman microscopy and IR spectroscopy of prehistoric paintings from Los Murciélagos cave (Zuheros, Córdoba, Spain). Journal of Raman Spectroscopy, 37, 492–497.

Hernanz, A., Gavira-Vallejo, J. M., Ruiz López, J. F., & Edwards, H. G. M. (2008). A comprensive micro-Raman spectroscospic study of prehistoric rock paintings from the Sierra de las Cuerdas, Cuenca, Spain. Journal of Raman Spectroscopy, 39, 972–984.

Hernanz Gismero, A., Ruiz López, J. F, Gavira-Vallejo, J. M. 2012. Pigmentos, aglutinantes y pátinas: caracterización fisicoquímica de la tecnología de las pinturas rupestres levantinas – Pigments, binders and acrettions: physico-chemical identification of Levantine rock art paintings technology. (García Arranz, J.J., Collado Giraldo, H., Nash, G., eds). The Levantine Question. Post-palaeolithic Rock Art in the Iberian Peninsula – El problema levantino. Arte rupestre postpaleolítico en la Península Ibérica. Archaeolingua Alapítvány, Budapest-Cáceres:345–365.

Herrera, R. (1938). Informe sobre la exploración arqueológica a Punta del Este, Isla de Pinos, realizada por el Museo Antropológico Montané de la Universidad de La Habana. Revista de la Universidad de La Habana, 20–21.

Kaponen, J. M., & Happonen, A. M. (2007). Contents of anthocyanins and ellagitannins in selected foods consumed in Finland. Journal of Agricultural and Food Chemistry, 55, 1612–1619.

Lee, D. C., & Chapman, D. (1986). Infrared Spectroscopic Studies of Biomembranes and Model Membranes. Bioscience Reports, 6/3.

Lei, Z., Jervis, J., & Helm, R. F. (2001). Use of methanolysis for the determination of total ellagic and gallic acid contents of wood and food products. Journal of Agricultural and Food Chemistry, 49, 1165–1168.

Lei, Z. 2002. Monomeric ellagitaninins in oaks and sweetgum. Doctoral dissertation. Faculty of Virginia Polytechnic Institute and State University in partial fulfillment. April 25. Blacksburg, Virginia.

Linville, M. 2005. Cave encounters: rock art research in Cuba. (Curet, A., Kepecs, S., and La Rosa, G., eds) Dialogues in Cuban archaeology. The University of Alabama Press.

León, H. Alain, H. 1951. Flora de Cuba. Vol. II. Contr. Mus. Hist. Nat. Colegio de La Salle, No. 10, Imp. P. Fernández y Cía, La Habana, 456 pp.

Mas, M., Jorge, A., Gavilán, B., Solís, M., Parra, E., & Pérez, P. P. (2013). Minateda rock shelters (Albacete) and post-palaeolithic art of the Mediterranean Basin in Spain: pigments, surfaces and patinas. Journal of Archaeological Science, 40, 4635–4647.

Mosquera, G. (1983). Exploraciones en la plástica cubana. La Habana: Editorial Letras Cubanas.

Ngarize, S., Herman, H., Adams, A., & Howell, N. (2004). Comparison of changes in the secondary structure of unheated, heated, and high-pressure-treated β-lactoglobulin and ovalbumin proteins using Fourier transform Raman spectroscopy and self-deconvolution. Journal of Agricultural and Food Chemistry, 52, 6470–6477.

Núñez, A. 1975. Cuba. Dibujos rupestres. Editoriales Ciencias Sociales e Industrias Gráficas de La Habana y Lima.

Ordetx Ros, G. (1968). Flora apícola de la América tropical. La Habana: Instituto del Libro.

Pino, M. (1995). Actualización de fechados radiocarbónicos de sitios arqueológicos de Cuba hasta diciembre de 1993. Ed. La Habana: Academia.

Pszczólwkoski, A. 1994. Geological cross-sections through the Sierra del Rosario thrust belt, western Cuba. Geology of Western Cuba. Edited by A. Pszczólwkoski, in Studia Geologica Polonica, Vol. 105, Kraków, pp. 67–90.

Rivero de la Calle, M, Núñez A. 1958. Excursiones Arqueológicas a Camagüey. Revista Islas, I:90–123.

Rodríguez, C., Guarch, J. M. 1980. Acerca de las experiencias obtenidas en las restauraciones de las localidades pictográficas: Cueva No. 1 de Punta del Este y Cueva de Ambrosio. Cuba Arqueológica II. Editorial Oriente, Santiago de Cuba:163–169.

Roig, J. T. 1965. Diccionario botánico de nombres vulgares cubanos. Editora del Consejo Nacional de Universidades, La Habana, 3ra. edición., 2 vols, 1142 pp.

Roig, J. T. (1974). Plantas Medicinales Aromaticas o Venenosas de Cuba (949 pp). La Habana: Instituto del Libro.

Romero, A. 2006. Estudio preliminar del arte parietal de la región central de Cuba. Revista Cavernes (4) 33, Zurich.

Rosete, S., Moreno, E., Ferro, J., Herrera, P., & Montes, L. (1993). Usos de especies forestales de la reserva de la biosfera "Península de Guanahacabibes", provincia Pinar del Río, Cuba (74pp). La Habana: Editorial Academia.

Schaarschmidt H. 2002. Juglandaceae. En: Greuter y Rankin, Flora de la República de Cuba. Serie A Plantas Vasculares. Fascículo 6(2), Koeltz Scientific Books, Germany, 1-11pp.

Seeram, N., Lee, R. y Heber, D. 2005. Rapid large scale purification of ellagitannins from pomegranate husk, a by-product of the commercial juice industry. Separ Purif Technol, 41:49–55.

Xu, C., Yao, X., Walker, M. P., & Wang, Y. (2009). Chemical/molecular structure of the dentin-enamel junction is dependent on the intratooth location. Calcified Tissue International, 84, 221–228.
Acknowledgements
We would like to earnestly thank several friends and colleagues for their support and constant and unconditional cooperation to the benefit of the studies of cave pictographs and give our thanks to Hilario Carmenate Rodríguez, member of the Cuban Rock Art Research Group in Pinar del Rio; to the friends of the "Origen" Group of the Cuban Speleological Society, especially to its president Jean Robaina Sánchez; and to Joao G. Martínez López and to Dr. Ramona Oviedo Prieto, from the Institute of Ecology and Systematics of the Ministry of Science, Technology and Environment. We would also like to acknowledge Dimitri Sansonov Leal for his assistance in the translation of this article and particularly Julia Calzadilla for her endeavors and dedication in the translation of this paper and also Raúl Mesa who checked some points in the English text. And finally, we would like to give our thanks to Dr. Vernon James Knight from College of Arts and Sciences Leadership Board Fellow, from the University of Alabama for the several revisions.
About this article
Cite this article
Fernández, R., Morales, D., Mas, M. et al. La Espiral Cave (Cuba): Guano and signs of Plant Substances Used as Paint Ingredients. J Archaeol Method Theory 25, 289–305 (2018). https://doi.org/10.1007/s10816-017-9329-z
Keywords
Pigments

Guano

Binder/solvent

Pictograph

Quercus
Juglans