La Espiral Cave (Cuba): Guano and signs of Plant Substances Used as Paint Ingredients
Abstract
At La Espiral cave, located in Bahia Honda municipality (Artemisa province, Cuba), there are several pictographs, including two of particular importance due to the design used: one of concentric circles and another of a spiral. We analyzed the pigments and binders used in one of these pictographs. The chemical ingredients of the paint are considered in this article, as well as the use of bat guano as a major pigment compound. The apparent presence of ellagic acid, ellagitannin, or anthocyanins would strengthen the hypothesis that artists used vegetable protein as a paint binder or solvent.
Keywords
Pigments 
Guano 
Binder/solvent 
Pictograph 
Quercus
Juglans
Introduction
The first written references about cave painting in the Cuban archipelago date back to the mid-nineteenth century, when various administrative documents and literary works mentioned the possible presence of "hieroglyphs" and paintings left by the "Indians" contacted by the first European settlers arriving in the Caribbean.
However, it was only in the 1930s when studies related to these significant ideological evidences of Cuban native inhabitants were embodied as a specific subject in the national academic field, triggered by expeditions to the Punta del Este cave on the Isle of Pinos (currently Isla de la Juventud).
The concentric circles depicted in one or two colors (with red and black pigments) appearing on the walls and the ceiling of Punta del Este cave were carefully examined in 1938 by Dr. René Herrera Fritot, who examined a pictograph fragment lying on a loosened rock using a simple optical microscopy. Concerning the pigments, he reported that "their origin seems to be mineral, because they show a microcrystalline structure corresponding to minerals such as manganese dioxide for the black pigment, and ochre limonite—a hydrated ferric oxide known as turgite—for the red one. Their "low level of penetration in the limestone" could also be seen, "to which some gummy substance—putatively of plant origin—would probably be added as a fixer" (Herrera 1938:38).
Later in 1956, researchers Dr. Manuel Rivero de la Calle and Dr. Antonio Núñez Jiménez assumed that the pictures in Pichardo cave (Sierra de Cubitas, Camagüey) were made using earthy material of ferralithic origin after performing in situ sampling. They drew the conclusion that "the earth was composed of a mixture of limonite with ferric oxide, the presence of ferric hydroxide being possible due to the action of water" (Rivero de la Calle and Núñez 1958:94–95).
Four decades after the first study, members of the Anthropology Department of the Cuban Academy of Sciences, together with German researchers from the former GDR, analyzed the pigments extracted from Punta del Este cave. They concluded that the composition of the pigments was basically ferric oxide for the red and charcoal, probably mixed with some greasy substance, for the black (Núñez 1975:75; Mosquera 1983:34).
The lack of foreign reference material and suitable lab technology and experience has been a sensitive constraint for carrying out conclusive research on the procedures and methods used by the aboriginal artists to prepare the pigments, as well as their characterization and the study of the instruments needed in the process of drawing. Unfortunately, only José M. Guarch Delmonte and Caridad Rodríguez Cullel maintained interest in answering some of the questions raised, but the technology and resources that they used were not the most appropriate (Rodríguez and Guarch 1980). As they performed naked-eye observations of the pictograms, they affirmed that asphalt was used as colorant in the particular case of the settlements in Guara (Mayabeque province, southeast of Havana) (Guarch and Rodríguez 1980:56). However, in 1994, a study of three caves in this zone was carried out. Samples were analyzed by means of "scanning electronic microscopy, X-ray microfluorescence, microscopic saponification and gas chromatography coupled to mass spectrometry, showing the presence of charcoal mixed with an organic agglutinant of plant origin, probably a juice" of an unidentified plant (Arrazcaeta and García 1994:30) instead of asphalt, as had been repeatedly affirmed in previous years (Guarch and Rodríguez 1980:56; Linville 2005:73; Romero 2006:11).
This research aims to characterize the chemical ingredients used to prepare the paint utilized in Cuban aboriginal art, trying to determine the possible pigments and binders/solvents, among other substances.
Area Under Study
The studied microsample was taken from the cave site of La Espiral, located in the mountain range known as Pan de Guajaibón, Bahía Honda municipality, Artemisa province. This feature belongs to the orographic group of Cordillera de Guaniguanico, constituted by mountain ridges extending along the western Cuban provinces of Pinar del Rio and Artemisa for ca. 150 km, paralleling latitudinally the northern and southern coasts of the Island of Cuba, from Cerros de Guane (Pinar del Rio in the west) to Cayajabos heights (Artemisa in the east). The western zone of this orographic group, named Sierra de los Órganos, is geologically the oldest; the eastern zone, Sierra del Rosario, is the most recent, showing heights up to 500 m above sea level.
Macizo del Pan de Guajaibón (an aboriginal toponym) is located between both sierras and northward; it harbors the most elevated height in the Cuban West (700 m above sea level). Its vegetation changes depending on the altitude, from the semi-deciduous mesophytic forest to evergreen mesophytic forest. The geological formation of Pan de Guajaibón is part of the Faja Pan de Guajaibón-Sierra Chiquita (which dates to the Upper Cretaceous), made up of a system of massive micritic limestone or of thick strata with an intercalated horizon of bauxitic rock, named by geologists the "Guajaibón formation" (Albiano Cenomaniano) (Fagundo et al. 1990b). These rocks are also formed by sandstones and by paleogenic deposits where olistostromes containing blocks and fragments of limestones and sandstone, diabases, and serpentinites are present (Facundo et al. 1990a). It is assumed that the Macizo is the source of raw material for countless lithic artifacts—mainly mortar and stone hammers—made of bauxite, which can be found along all the western region of Cuba, dispersed in pre-Hispanic archaeological deposits.
The Aboriginal Chronocultural Milieu
The area surrounding Pan de Guajaibón constitutes a complex living space that hosted groups of hunter-gatherer-fishermen that apparently organized their habitation space very well, according to the diverse needs of the community. They were basically small groups of families, economically oriented to hunting and gathering activities focused on resources available in the woodland environment of the region, also utilizing some caves and rock shelters,
i.e.
, localities showing funeral, housing, camping, and ceremonial functions. Two sites with cave paintings are especially interesting (Fig.
1
). Motivated by the richness of flora and fauna typical in the uplands, aboriginal communities populating this territory also made intensive use of its geological formations, including the subterranean spaces that contain important water resources, which also generate small- and medium-size creeks favoring living conditions (Fernández
et al.
2009
).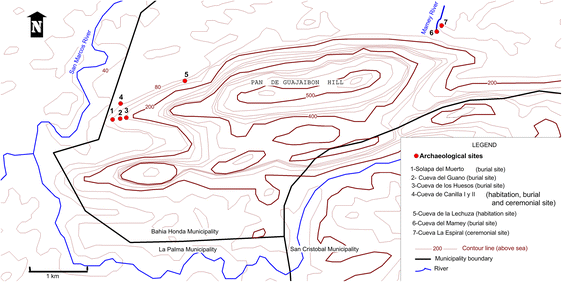 The cave art site that is the subject of this study is named Cueva de La Espiral (La Espiral cave). Its point of access is located 6 m up following the northern hillside of Pan de Guajaibón; there is a narrow stream at the bottom of this hillside. The cave cavity is small: 10 m deep with a height of 3 m, with a 2-m-long lateral gallery. As it can be appreciated, the relatively short, small, and narrow gallery where the art drawings are (Fig.
2
) completely allows the free flight of bats, and that is why there is a possibility of finding their ejections in the rock surface, as other researchers said before (Hernanz
et al.
2006
). In those papers, nitrates, as possible bat excrements, have been detected in the rock walls, but never in the amount and characteristic of a guano painting. So, the form of the figure, clearly with an anthropic origin, reinforces the theory that they are not bat dejection's remains (Fig.
2a
).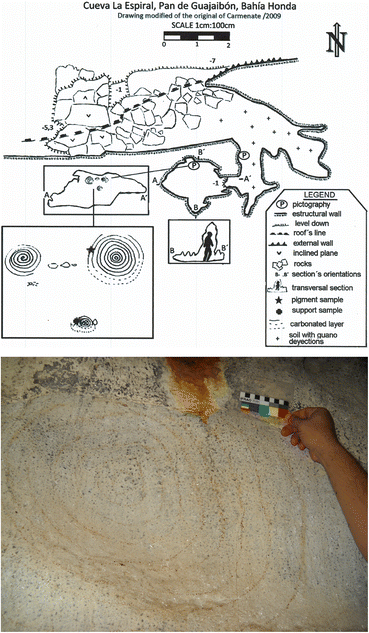 The gallery walls display pictographs consisting of a spiral, two sets of concentric circles, and other drawings (Fig. 2b). Apparently, all the pictographs were drawn using the same technique and the same colorant, as their color is similar to that of the cavity's floor (Fernández et al. 2014). The morphology of the trace don't seems to be made with a finger as paintbrush, because the first one can barely carry the oily or watery mixtures, so the painter must be continuously and uninterruptedly taking paint for making even a small trace, what leaves numerous and easily visible accumulations of pigment in the places where the drawing must be continued. This action of taking paint again and again with that "unspecialized paintbrush" does not for sure let a uniform and homogenous mark on the rock, as in this case. Any object, thing, or instrument that could act like a palette does not seem to be appropriated for this action, because the line of that painting is too thin in its whole longitude. Nevertheless, a paintbrush does not even seem to be the perfect tool for that dense substance too. It is probable that the paint was applied with a thin wood branch.
The grotto had been considered a ceremonial center, due to the fact that the drawings were made using red pigments and that they conformed to the inhabitants' symbolism, which is usually related to water (Núñez 1975; Dacal and Rivero 1986). The closest other comparable site is Canilla II cave, located 6 km west, displaying black pictographs that do not seem to represent any specific iconic depictions.
The analysis of the other sites present in the area suggests a hypothesis explaining their territorial organization, according to their locations and using La Espiral ceremonial cave as the main reference point; hence, the burial places—Los Muertos, El Guano, and Los Huesos caves—are situated about 6.5 km west of Pan de Guajaibón's hillside. Canillas II cave is an exception, as it is located 5.8 km from the northern hillside of Pan, and so is El Mamey, a few meters west of La Espiral.
Deposits recognized as the remains of habitation sites (Canillas II and La Lechuza) are located on the northern hillside of Pan de Guajaibon and are oriented westward 5 to 6 km from the cave; however, the two known temporary camps are located 8 km to the east of the referred site. Additionally, there exist remains of settlements of the studied communities 15 to 20 km to the northwest, without any remarkable orographic obstacles between them and La Espiral. There also are several relevant sites located which, despite sharing that distance, are on the other side of Pan in a southeastern direction. At a distance of 43 km westward and an altitude between 200 and 500 m above sea level is the Cueva del Arriero site, researched in 1983 and 1986 by the Pinar del Rio team of the Anthropology Center of the Cuban Academy of Sciences. The archaeological excavation recovered seeds of four plant species, of which two, the walnut (Juglans insularis) and the oak (Quercus sagreana) (Alonso 1995:31) [nowadays named Juglans jamaicensis and Quercus cubana, respectively], are of particular importance due to links with the depictions in La Espiral cave, as if will be explained in what follows.
Concentric circles are not exclusive to this site; such a design is widespread in the western territories of Cuba, including the provinces of Pinar del Rio, Artemisa, Mayabeque, Matanzas, and Isla de la Juventud (Isle of Youth, the only place where the depiction appears in two colors). To date, these sites and their characteristics are believed to be associated with groups of fishermen-hunter-gatherers having absolute dates between 5270 ± 120 and 780 ± 100 years bp, these from the Cueva de La Lechuza and Martín Infierno sites, respectively (Pino 1995; Cooper 2007). Two calibrated estimates of dates using charcoal samples taken at depths between 0.30 and 0.60 m from the sites of Cueva No. 1 and Cueva No. 4 (Punta del Este, Isla de la Juventud) resulted in estimates of 910 ± 85 and 1100 ± 130 years bp, respectively (Cooper 2007). These facts persuade us that the pictographs studied in the present research belong approximately to the same chronological horizon.
Materials and Methods
Samplings were performed using latex gloves, head masks, and scalpels, disposing the blade in between individual sampling actions. Pigment (1 mm) and background (1 cm) samples were collected on glass plates and then put in Eppendorf test tubes, kept in airtight plastic bags, and properly labeled.
Scanning Electronic Microscopy and Energy- Dispersive X-Ray Microanalyses
Micromorphology, topography, and ingredient distribution in the microsample were studied by means of a Phillips FEI INSPECT (5350 NE Dawson Creek Drive Hillsboro, Oregon 97124, USA) scanning electronic microscope (SEM) at the Museo Nacional de Ciencias Naturales, CSIC, Spain. The microscope admits hydrated samples to be studied in their original condition at low vacuum mode with the back-scattered electron detector (BSED). The study was performed at a 30-Pa vacuum pressure, 20 kV of acceleration tension, and a 10-mm distance from the detector in order to make the results comparable. Energy-dispersive X-ray (EDX) microanalyses of the samples and the area mapping analyses were carried out with a EDX spectrometer (Oxford Instruments INCA Energy 200 Energy Dispersive System).
Quantitative analysis not only allowed the establishment the elements present in the sample, but additionally a determination of the concentration values per element, by means of the methodology proposed by Mas et al. (2013).
The mapping method was used to recover and store the X-ray maps, as well as in the capture of electronic images and data.
Cameo+ mode permitted determination of the chemical composition and the topography of the images. Details of electronic images are displayed together with the color overlapping based on the variation in X-ray spectra, which may indicate changes in composition. X-ray photons were assigned colors depending on their energy (in the electromagnetic spectrum). This color display was used to increase the conventional electronic image, allowing a more detailed analysis of each compound present in the images, as each compound's spectrum generates a characteristic color.
The phase map mode was used to generate scatterplots. This application provides useful information on the space distribution of the different phases and their corresponding areas, which can be measured. The data presentation in form of scatterplot diagrams facilitates the rapid identification of the relation between the various parameters. The apexes correspond to each one of the related elements.
Raman Microspectroscopy
The microsample was analyzed using a confocal Raman microscope at the Museo Nacional de Ciencias Naturales, CSIC, Spain. For the study of micro-Raman spectroscopy and particularly to obtain all the spectra, a Thermo Fischer DXR Raman spectrograph (Verona Road Madison, WI 53711-4495, USA) was used, coupled to an Olympus BX-RLA2 microscope equipped with a 1024 × 256-pixel CCD detector, a motorized XY plate, and self-focusing Olympus objective lenses of the UIS2 series (West Palm Beach, FL 33407, USA), all controlled using the OMNIC 8.1 software. Two solid-state lasers were used as excitation light sources: one at 532 nm (maximum power 10 mW) and the other at 780 nm (maximum power 20 mW), with double Nd frequency: YVO4 DPSS. Samples were examined with a ×10 objective lens to select the areas of high pigment concentration and to check that the substrate was free of fibers and other contaminants. The spectra were obtained using ×20 and ×50 objective lenses with 50 μm of pinhole or slit diameters and a 900 lines/mm grating. Such conditions, as well as excitation at 532 nm, provide an average spectral resolution between 2 and 4 and 4–7 cm−1 at 780 nm, in a spectral range from 100 to 2500 cm−1. The sample point size was approximately 1.2 μm, according to the objective used. An integration time of 3 s and 12 accumulations were enough to obtain acceptable signal-to-noise (S/N) levels in the pigment samples. The spectrograph was previously calibrated and aligned using pure polystyrene.
Gas Chromatography Coupled to Mass Spectrometry
Gas-phase chromatography was used to determine the lipophilic substances such as drying oils, resins and waxes, as well as the hydrophilic substances such as proteins, rubbers, or polysaccharides (gum arabic and related products).
In order to analyze the lipophilic substances, the samples were subjected to treatment with the methylation reactive Meth-prep II. For carbohydrates and proteins, a hydrolysis with 6 M HCl was carried out, followed by a derivatization of resulting fatty acids and amino acids using MTBSTFA in pyridine.
Results and Discussion
This resonant frequency at 963 cm−1 is also a characteristic of various organic compounds such as collagen, an abundant protein molecule present in the skin, teeth, and bones of mammals (Xu et al. 2009). It could also correspond to a double-bond vibration = CH trans, which could correspond to fatty acid of the ellagic acid type (C14H6O8), a molecule of phenolic nature that may be present in a free form in some plant species as products of their own metabolism, mainly in the leaves, branches, roots, stems, fruits and bark like oak, and chestnut (Lei et al. 2001, 2002), or it may be due to its ellagitannin predecessors (Kaponen and Happonen 2007). The subgroup of ellagitannins belongs to a large group of polyphenolic compounds known as tannins, which also come from the secondary metabolism of plants. Ellagitannins have in their structure a characteristic of the group known as ellagitannins HHDP (6′6 dicarbonyl 3′3, 4′4, 5′5 hexahydroxidifenic acid). In the presence of strong acids or bases, the HHDP acid of ellagitannins is hydrolyzed and produced, suffering a spontaneous lactonization reaction that gives rise to the molecule known as ellagic acid (Aguilera-Carbó et al. 2008).
Ellagic acid is insoluble in water and is slightly soluble in organic solvents. This property is due to the lipophilic properties produced by the aromatic ring and also due to the fact that the four hydroxyl groups and the two lactones provide the acid with those hydrophilic properties. They work with electron acceptors forming hydrogen bonds (Bala et al. 2005). Due to its phenolic nature, it tends to react, creating complex forms with other molecules such as proteins, polysaccharides, and alkaloids. Even when the presence of ellagic acid or its ellagitannin predecessor is not perfectly clear in the tests, the authors could support the hypothesis of its utilization as one of the paint components; meanwhile, the results of experiments indicate the opposite.
Both J. jamaicensis and Cuban Quercus, at the time the Cuban indigenous population lived, were more abundant in their native habitats, including La Espiral cave. However, its population and the number of individuals have been decreasing due to various factors mainly associated to human activities.
Being potential sources of ellagic acid and the presence of seeds of both species in the archaeological strata of the aboriginal site known as El Arriero strengthen the possibility of the use of these plants in everyday practices of indigenous communities in the region.
Sources: Bianco et al. (1998), Clifford and Scalbert (2000), and Seeram et al. (2005)
On the other hand, besides calcites (153, 279, 714, and 1087 cm−1) (Fig. 6 (h)), there are dolomites (MgCaCO3) in Raman (Fig. 6 (i)). The addition of magnesium to other carbonated crystal structures is not excluded—besides the addition of phosphates, of whitlockite, and given the high concentration of carbonates—thus producing minerals such as rhodochrosite (MgCaMnCO3), a sedimentary rock with Raman vibrational frequencies of 287, 719, and 1086 cm−1 (Fig. 6 (f)).
The presence of manganese oxides is detected, which can be explained by the appearance in Raman of minerals such as jacobsite (MnO2 + Fe + 3 + 2O4) (Fig. 6 (a)) and rhodochrosite (carbonate structure). Although the Raman spectrum is similar to bannisterite (double set of cations Fe2+/Mn2+), its presence is discarded since no molecular water was detected in the Raman spectral region of 2500–5200 cm−1. It is not excluded that these concentrations of manganese are the result of the metabolism of microorganisms involved in biocolonization. Another admissible hypothesis considers its presence as a result of bat guano, thus incorporating manganese as a microelement, in addition to magnesium, forming minerals belonging to the brucite group (Mg(OH)2), a magnesium hydroxide often containing impurities which cause different hues such as iron, zinc, or the already mentioned manganese, in this case, possibly forming pirocroite (Mg(OH)2), a manganese hydroxide (Carol 1999; Dumitras et al. 2004), both commonly found in schists with serpentinite and dolomite.
We tried to identify and characterize the possible ingredients of the organic fraction of the paint, binders, or lipid protein source and its residues or degraded elements, following the methodology developed by Mas et al. (2013).
Associated with calcite, quartz, and cristobalite, a polymorph of silica determined by a Raman vibrational frequency of 783 cm−1 (Fig. 6 (e, g, h)), a Raman signal was found at 775 cm−1 (Fig. 6 (b–e)), which may correspond to protein remains such as amino acid tryptophan residues in milk and egg, at 1312 cm−1, which could correspond to amide groups III with alpha-helix structure in milk globulins at 1450 cm−1, CH2 groups, traces of egg albumin and milk globulins or CH dentin bonds (Ngarize et al. 2004; Xu et al. 2009), and possible carbonyl groups (C=O) fatty acids at 1728 cm−1 (Lee et al. 1986) (Fig. 6 (g, h)).
Amino acid analysis yielded a more encouraging result, since the traces of amino acids already detected could confirm the characterization obtained in Raman (Fig. 8). However, the analysis of the distribution of amino acids detected did not allow the identification of any protein commonly used in paint (albumin, casein, collagen).
Conclusions
The presence of calcium phosphates, together with the appearance of magnesium and manganese, which can be constituents of a great amount of organic matter, would reveal the source of a unique pigment based on bat guano (excrement) in the decoration of the La Espiral cave site.
This aspect undoubtedly foresees an important study of the processes and methods employed to produce the pigments used in these artistic works. This could be performed in situ, with the creators solely taking there the binders/solvents needed for their concoction.
Associated with these calcium phosphates, possible organic structures as collagen were detected in Raman spectroscopy, which led us to hypothesize that the creators used, as a formula, ground teeth to prepare the paint. However, collagen gas, a recurring protein found in paint, was not detected in a gas chromatography.
Protein residues such as milk and egg globulins and fatty acid residues that could have been part of a binder of animal origin were found. Nevertheless, no homologies with proteins and fatty acids commonly used in paint were found in databases.
This study opens a new line of investigation concerning the organic fraction of paint. The apparent presence of ellagic acid, ellagitannin, or anthocyanins would strengthen the hypothesis that artists used vegetable protein as a paint binder or solvent. Approximate to the La Espiral cave, two plant species were found, which could have contributed to the production of these binders/organic solvents.
Future research should verify the use of these vegetable substances, both in the form of ellagic acid and in the form of its glycoside, the ellagitannin.
The microbiological origin of the protein residues (biocolonization) could not be excluded.
Several hypotheses are listed in the study, all of them possible, which certainly needs to be further investigated with new and appropriate analysis and techniques aimed at clarification.
Notes
Acknowledgements
We would like to earnestly thank several friends and colleagues for their support and constant and unconditional cooperation to the benefit of the studies of cave pictographs and give our thanks to Hilario Carmenate Rodríguez, member of the Cuban Rock Art Research Group in Pinar del Rio; to the friends of the "Origen" Group of the Cuban Speleological Society, especially to its president Jean Robaina Sánchez; and to Joao G. Martínez López and to Dr. Ramona Oviedo Prieto, from the Institute of Ecology and Systematics of the Ministry of Science, Technology and Environment. We would also like to acknowledge Dimitri Sansonov Leal for his assistance in the translation of this article and particularly Julia Calzadilla for her endeavors and dedication in the translation of this paper and also Raúl Mesa who checked some points in the English text. And finally, we would like to give our thanks to Dr. Vernon James Knight from College of Arts and Sciences Leadership Board Fellow, from the University of Alabama for the several revisions.
Copyright information
© Springer Science+Business Media New York 2017