Abstract
The paper discusses the potential of a collaborative scheme for the development of a protocol for recording and managing the cultural heritage in Libya. The critical political situation in the country urges the development of cultural heritage management policies in order to protect it more thoroughly and consistently. Moving on from the numerous international initiatives and projects dealing with a mostly "remote" approach to the issue, the project here presented to engages with staff members of the Department of Antiquities (DoA) in the development of a joint strategy for the application of remote sensing and geographical information systems (GIS) to the preservation and monitoring of Libyan cultural heritage. A series of training courses resulted in an initial development of new ways of recording and analysing field data for a better awareness of the full range of threats that the archaeology of the country is subject to. Focussing on the case of the Jebel Nafusa, the training involved the assessment of site visibility on satellite imagery, the analysis of high-resolution satellite datasets for archaeological mapping, the creation of a GIS spatial database of field data, and the mapping of risks and threats to archaeology from remote sensing data. This led to the creation of of a risk map showing the areas that are affected by a number of threats, thus giving the DoA a tool to prioritise future fieldwork to keep the assessment of site damage up to date. Only a collaborative approach can lead to a sustainable strategy for the protection of the invaluable cultural heritage of Libya.
This is a preview of subscription content, log in to check access.
Access options
Buy single article
Instant access to the full article PDF.
US$ 39.95
Price includes VAT for USA
Subscribe to journal
Immediate online access to all issues from 2019. Subscription will auto renew annually.
US$ 99
This is the net price. Taxes to be calculated in checkout.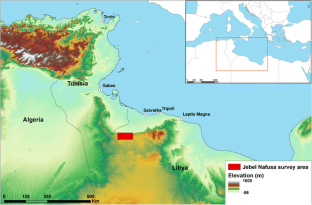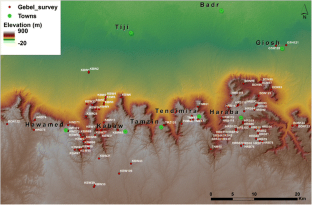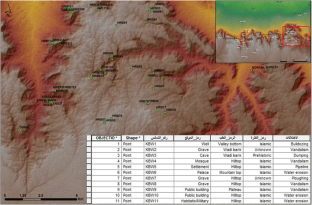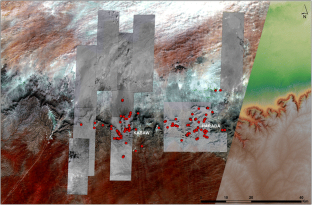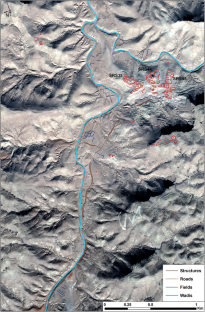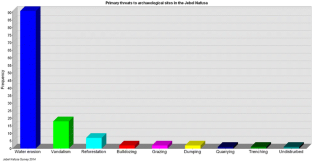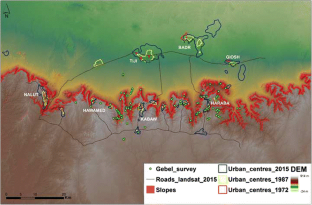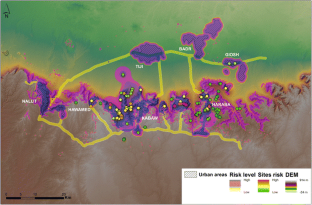 References
Abdulkariem, A., & Bennett, P. (2014). Libyan heritage under threat: the case of Cyrene. Libyan Studies, 45(November 2014), 155–161. doi:10.1017/lis.2013.1.

Agapiou, A., Lysandrou, V., Alexakis, D. D., Themistocleous, K., Cuca, B., & Argyriou, A. (2015). Cultural heritage management and monitoring using remote sensing data and GIS: the case study of Paphos area, Cyprus. Computers, Environment and Urban Systems Journal, 54, 230–239. doi:10.1016/j.compenvurbsys.2015.09.003.

Banerjee, R., and P. K. Srivastava. (2013). Reconstruction of contested landscape: detecting land cover transformation hosting cultural heritage sites from Central India using remote sensing. Land Use Policy 34. Elsevier Ltd: 193–203. doi:10.1016/j.landusepol.2013.03.005.

Basset, R. (1899). Les Sanctuairws du Djebel Nefousa. Journal Asiatique, 5–83.

Bentley, A. R., & Maschner, H. D. G. (2003). Complex systems and archaeology: empirical and theoretical applications. Salt Lake City: The University of Utah Press.

Cunliffe, E. (2014). Remote assessments of site damage: a new ontology. International Journal of Heritage in the Digital Era, 3(3), 454–473.

Danese, M., N. Masini, and B. Murgante. 2013. Archaeological risk and spatial analysis. How to compare urban sprawl and archaeological sensibility maps. In EARSel Proceedings.

Ghose, R., & Huxhold, W. E. (2001). Role of local contextual factors in building public participation GIS: the Milwaukee experience. Cartography and Geographic Information Science, 28(3), 195–208. doi:10.1559/152304001782153017.

Gullino, P., and F. Larcher. (2013) Integrity in UNESCO World Heritage Sites. A comparative study for rural landscapes. Journal of Cultural Heritage 14 (5). Elsevier Masson SAS: 389–95. doi:10.1016/j.culher.2012.10.005.

Hesse, R. (2015). Combining structure-from-motion with high and intermediate resolution satellite images to document threats to archaeological heritage in arid environments. Journal of Cultural Heritage 16 (2). Elsevier Masson SAS: 192–201. doi:10.1016/j.culher.2014.04.003.

Hirschberg, H. Z. (1974). A history of the Jews of North Africa, Vol. 1. From antiquity to the 16th C. Leiden: Brill.

Mattingly, D. J., & Sterry, M. (2013). The first towns in the central Sahara. Antiquity, 87(336), 503–518. doi:10.1017/S0003598X00049097.

Okabe, A., Satoh, T., & Sugihara, K. (2009). A kernel density estimation method for networks, its computational method and a GIS-based tool. International Journal of Geographical Information Science, 23(1), 7–32. doi:10.1080/13658810802475491.

Remondino, F. (2011). Heritage recording and 3D modeling with photogrammetry and 3D scanning. Remote Sensing, 3(6), 1104–1138. doi:10.3390/rs3061104.

Risbøl, O., C. Briese, M. Doneus, and A. Nesbakken. (2014). Monitoring cultural heritage by comparing DEMs derived from historical aerial photographs and airborne laser scanning. Journal of Cultural Heritage 16 (2). Elsevier Masson SAS: 202–9. doi:10.1016/j.culher.2014.04.002.

Sterry, M., & Mattingly, D. (2011). DMP XIII: reconnaissance survey of Archaeological Sitesin the Murzuq area. Libyan Studies, 42, 103–116.

Verhagen, P., & Whitley, T. G. (2012). Integrating archaeological theory and predictive modeling: a live report from the scene. Journal of Archaeological Method and Theory. Vol., 19. doi:10.1007/s10816-011-9102-7.

Wang, Jieh-Jiuh. (2014). Flood risk maps to cultural heritage: measures and process. Journal of Cultural Heritage 16 (2). Elsevier Masson SAS: 210–20. doi:10.1016/j.culher.2014.03.002.

Warfalli, M. S. M. (1981). Some Islamic monuments in Jabal Nafusa. School of Oriental and African Studies. doi:10.1038/143019a0.

UNESCO World Heritage Centre. (2008). Operational guidelines for the implementation of the world heritage convention. Operational guidelines for the implementation of the world heritage convention. http://whc.unesco.org/archive/opguide08-en.pdf.

Yastikli, N. (2007). Documentation of cultural heritage using digital photogrammetry and laser scanning. Journal of Cultural Heritage, 8(4), 423–427. doi:10.1016/j.culher.2007.06.003.
Acknowledgments
Support for the development of this project has been given by Prof. Susan Kane (Oberlin College) and the Ambassador Funds for Cultural Heritage. Gratitude is due to the Faculty of History, University of Sfax for their hospitality, facilities and support provided during the training courses. The training courses have been funded by Durham University and Deutsches Archäologisches Institut – Rome Department and the Society for Libyan Studies (London).
A great thanks is due to the two anonymous reviewers whose invaluable comments made it a better paper. The authors are the only responsible for any errors.
About this article
Cite this article
Nebbia, M., Leone, A., Bockmann, R. et al. Developing a Collaborative Strategy to Manage and Preserve Cultural Heritage During the Libyan Conflict. The Case of the Gebel Nāfusa. J Archaeol Method Theory 23, 971–988 (2016). https://doi.org/10.1007/s10816-016-9299-6
Keywords
Cultural heritage

Remote sensing

GIS

Risks mapping

Libya

Jebel Nafusa