Abstract
The world renowned site of Great Zimbabwe is one of the most globally significant archaeological sites in Africa. Ironically, this importance is not matched by the little amount of information that is known about such an iconic site. The heritage of this regrettable situation was birthed by the destructive activities of late nineteenth and early twentieth century antiquarians who vandalised tons of evidence without record. Throughout the twentieth century, however, professional archaeologists made interventions that rescued information from various parts of the site but most of which was never published. A moratorium imposed on archaeological excavations at the site in the early 1990s failed to stimulate an active engagement with material that was archived since the first professional excavations began. Motivated by the need to understand the site in new ways, research was initiated to revisit the site's patchy and scattered archives and to supplement them with field surveys. This paper discusses the re-mapping of the site which, for the first time, comprehensively produced themed layers of spatial, chronological and material culture distribution. The main outcome is that most existing maps ignored a large number of terraces on the hill and omitted evidence of occupation in key areas. When combined with excavation profiles that expose the massive rebuilding of the site by original residents, it becomes clear that settlement ebbed and flowed during the more than six centuries of occupation at the site.
Access options
Buy single article
Instant access to the full article PDF.
USD 39.95
Price excludes VAT (USA)
Tax calculation will be finalised during checkout.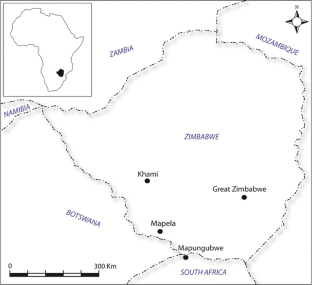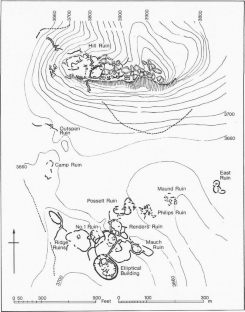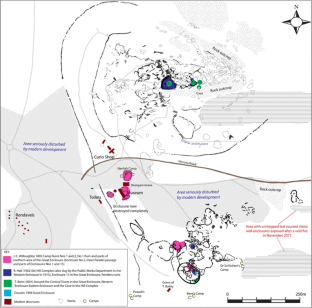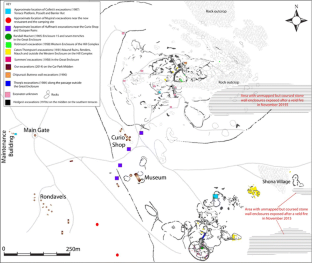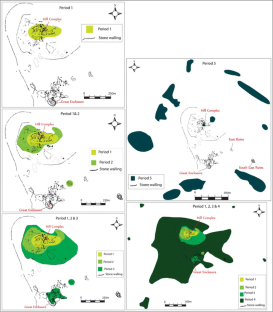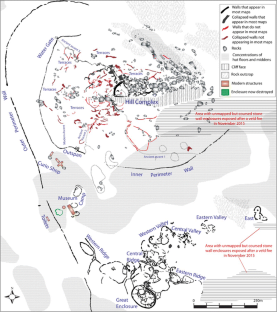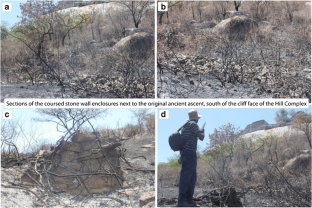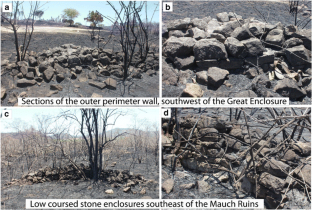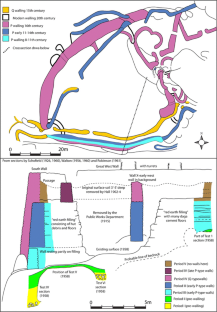 References
Bent, J. T. (1892). The ruins of Mashonaland and explorations in the country. Proceedings of the Geographical Society and Monthly Record of Geography, 14(5), 273–298.

Bent, J. T. (1896). The ruined cities of Mashonaland: being a record of excavation and exploration in 1891. London: Longmans, Green, and Co.

Beach, D. (1998). Cognitive archaeology and imaginary history at Great Zimbabwe 1. Current Anthropology, 39(1), 47–72.

Beach, D. N. (1980). The Shona and Zimbabwe. Gweru: Mambo Press.

Beach, D.N. (1994). A Zimbabwean past: Shona dynastic histories and oral traditions. Gweru, Zimbabwe: Mambo Press

Caton-Thompson, G. (1931). The Zimbabwe culture: ruins and reactions. Oxford: Clarendon.

Chipunza, K.T. (1994). A Diachronic analysis of the architecture of the Hill Complex. (Studies in African Archaeology 8). Uppsala: Societas Archaeologica Uppsaliensis.

Chirikure, S. (2007). Metals and society: iron production and its position in Iron Age communities of southern Africa. Journal of Social Archaeology, 7(1), 74–103.

Chirikure, S., & Pikirayi, I. (2008). Inside and outside the drystone walls: revisiting the material culture of Great Zimbabwe. Antiquity, 82, 976–993.

Chirikure, S., Manyanga, M., & Pollard, A. M. (2012). When science alone is not enough: radiocarbon timescales, history, ethnography and elite settlements in southern Africa. Journal of Social Archaeology, 12(3), 356–379.

Chirikure, S., Pollard, M., Manyanga, M., & Bandama, F. (2013). A Bayesian Chronology for Great Zimbabwe: re-threading the sequence of a vandalised monument. Antiquity, 87, 1–19.

Chirikure, S., Manyanga, M., Pollard, A. M., Bandama, F., Mahachi, G., & Pikirayi, I. (2014). Zimbabwe culture before Mapungubwe: new evidence from Mapela Hill, South-Western Zimbabwe. PLoS ONE, 9(10), e111224.

Chirikure, S., Bandama, F., House, M., & Moffett, A.J. (2016). Decisive evidence for multilinear evolution of sociopolitical complexity in southern Africa. African Archaeological Review. March Issue.

Collett, D., Vines, A., & Hughes, G. (1992). The African Archaeological Review, 10, 139–61.

Douslin, H. B. (1922). Recent excavations at Zimbabwe. Proceedings of the Rhodesian Science Association, 20, 12–15.

Garlake, P. S. (1973). Great Zimbabwe. London: Thames and Hudson.

Garlake, P. (1982). Great Zimbabwe described and explained. Harare: Zimbabwe Publishing House.

Gombe, J. (1986). Tsika dzavaShona (Shona customs). Harare: College Press.

Hall, R. N. (1905). Great Zimbabwe. London: Methuen.

Huffman, T. N. (1996). Snakes and Crocodiles: power of symbolism in ancient Zimbabwe. Johannesburg: Witwatersrand University Press.

Huffman, T. N. (2007). Handbook to the Iron Age: the archaeology of pre-colonial farming societies in southern Africa. Pietermaritzburg: University of KwaZulu-Natal Press.

Masey, F. (1911). Zimbabwe: an architect's notes (pp. 37–56). Il: Proceedings of the Rhodesian Scientific Association.

Matenga, E. (1997). Restoration of Wooden Lintels at the Western Entrance to the Great Enclosure, Great Zimbabwe. Zimbabwean Prehistory, 22, 6–13.

Matenga, E. (2011). The soapstone birds at Great Zimbabwe: archaeological heritage, religion and politics in postcolonial Zimbabwe and the return of cultural property. (Studies in Global Archaeology, 16). Uppsala: Societas Archaeologica Uppsaliensis.

Mauch, C. (1874). Reisen im Inneren von Sü Afrika. Petermanns Geographische Mitteilungen. Supplement N. 37.

Mennell, F. P. (1903). The Zimbabwe Ruins. Bulawayo: Rhodesian Special Report.

Ndoro, W. (2001). Your monument, our shrine: the preservation of Great Zimbabwe (Studies in African Archaeology 9). Uppsala: Societas Archaeologica Uppsaliensis.

Pikirayi, I. (2001). The Zimbabwe culture: origins and decline in southern Zambezian states. Walnut Creek: AltaMira Press.

Posselt, W. (1924). The early days of Mashonaland and a visit to the Zimbabwe ruins. NADA, 70–76.

Randall-Maclver, D. (1906). Medieval Rhodesia. London: Macmillan.

Robinson, K. R. (1959). Khami Ruins. Cambridge: Cambridge University Press.

Robinson, K. R. (1961). Excavations on the Acropolis hill. Occasional Papers of the national Museums and Monuments of Southern Rhodesia, 3, 159–192.

Schlichter, H. (1899). Travels and researches in Rhodesia. Geographical Journal, 13(4), 376–391.

Schofield, J. F. (1924). The "Acropolis" at Zimbabwe. Journal of the Royal African Society, 23(90), 122–124.

Schofield, J. F. (1926). Zimbabwe: a critical examination of the building methods employed (pp. 971–986). XXIII: South African Journal of Science.

Sinclair, P., Pikirayi, I., Pwiti, G. & Soper, R. (1993). Urban trajectories on the Zimbabwean plateau. Shaw, T., Sinclair, P., Andah, B. & Okpoko, A. (eds), The Archaeology of Africa: Food, metals and towns. London: Routledge, 705–31

Stevens, C. (1931). The Zimbabwe temple (pp. 1–8). LXI: Journal of the Royal Anthropological Institute.

Summers, R. (1961). Excavations in the Great Enclosure. Occasional Papers of the national Museums and Monuments of Southern Rhodesia, Series A, Human Sciences, 3, 236–288

Summers, R. (1963). Zimbabwe; a Rhodesian Mystery. Johannesburg: Nelson.

Summers, R. (1971). Ancient Ruins and vanished civilisations of southern Africa. Cape Town: T.V. Bulpin.

Summers, R., Robinson, K.R. & Whitty, A. (I96I). Zimbabwe excavations, 1958. Occasional Papers of the national Museums and Monuments of Southern Rhodesia, Series A, Human Sciences, 3, 226–333.

Swan, R. M. W. (1892). Some features of the Ruined Temples of Mashonaland. The Scottish GeohraphicalMagazine, 8, 539–544.

Thorp, C. R. (1995). Kings, commoners, and cattle at Zimbabwe tradition sites(No. 1). Harare, Zimbabwe: National Museums and Monuments of Zimbabwe.

Van Waarden, C. (2011). The origin of Zimbabwe tradition walling. Zimbabwean Prehistory, 29, 54–77.

Wallace, S. T. (1936). Zimbabwe: the mysterious Southern Rhodesia ruins. The High Commission of Southern Rhodesia.

Walton, J. (1956). African village. Pretoria: JL Van Schaik.

Walton, J. (1960). The Western Enclosure of Zimbabwe Acropolis. 1960. South African Archaeological Bulletin, 15(57), 22.

White, F. (1905). Notes on the Great Zimbabwe Elliptical Ruin. Journal of the Anthropological Institute of Great Britain and Ireland, 35, 39–47.

Whitty, A. (1960). Great Zimbabwe Monument: plan of the main ruin field. Unpublished but contoured 1: 1000 map archived at the Great Zimbabwe Conservation Centre.

Willoughby, J. (1893). A Narrative of further excavations at Zimbabwe. London: George Philip and Son.

Wilmont, A. (1896). Monomotapa (Rhodesia): Its Monuments, and its History from the most ancient times to the present century. London: T. Fisher Unwin
Acknowledgments
This research was funded by the National Research Foundation of South Africa (Grants 91340 and 90524), the University of Cape Town Faculty of Science Awards and the University of Cape Town Research Office. We thank Robert Morrell, Marilet Sinaert, Anton Le Roex, Simon Hall and Judith Sealy for constant support. The paper immensely benefited from robust comments from the editors and four anonymous reviewers
Appendices
Appendix 1
Appendix 2
About this article
Cite this article
Chirikure, S., Bandama, F., Chipunza, K. et al. Seen but Not Told: Re-mapping Great Zimbabwe Using Archival Data, Satellite Imagery and Geographical Information Systems. J Archaeol Method Theory 24, 489–513 (2017). https://doi.org/10.1007/s10816-016-9275-1
Published:

Issue Date:

DOI: https://doi.org/10.1007/s10816-016-9275-1
Keywords
Great Zimbabwe

Archival research

Re-mapping

Material culture

Chronology

Ebb and flow