Abstract
Purpose
The purpose of this study was to determine the impact of body mass index (BMI) on euploidy rates for in vitro fertilization (IVF) cycles with preimplantation genetic testing (PGT) utilizing primarily next-generation sequencing (NGS).
Methods
This retrospective cohort study included women aged ≤ 45 years who underwent IVF/PGT between September 2013 and September 2020 at a single university-affiliated fertility center. The primary outcome was euploidy rate. Secondary outcomes included peak serum estradiol (E2), number of oocytes retrieved, oocyte maturation rate, high-quality blastulation rate, clinical loss rate (CLR), clinical pregnancy rate (CPR), and ongoing pregnancy/live birth rate (OPR/LBR).
Results
The study included 1335 IVF cycles that were stratified according to BMI (normal, n = 648; overweight, n = 377; obese, n = 310). The obese group was significantly older with significantly lower baseline FSH, peak E2, high-quality blastulation rate, and number of embryos biopsied than the normal group. Overall euploidy rates were not significantly different between BMI groups (normal 36.4% ± 1.3; overweight 37.3% ± 1.8; obese 32.3% ± 1.8; p = 0.11), which persisted after controlling for covariates (p = 0.82) and after stratification of euploidy rate by age group and by number of oocytes retrieved per age group. There were no significant differences in CLR, CPR, and OPR/LBR across BMI groups.
Conclusions
Despite a lower high quality blastulation rate with obesity, there is not a significant difference in euploidy rates across BMI groups in women undergoing IVF/PGT.
Access options
Buy single article
Instant access to the full article PDF.
USD 39.95
Price excludes VAT (USA)
Tax calculation will be finalised during checkout.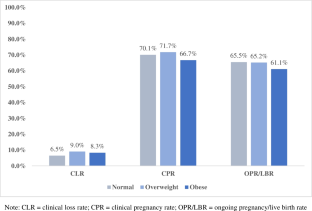 References
National Institutes of Health. Overweight and obesity statistics. Available at: https://www.niddk.nih.gov/health-information/health-statistics/overweight-obesity. Accessed December 14, 2021.

Hruby A, Hu FB. The epidemiology of obesity: a big picture. Pharmacoeconomics. 2015;33:673–89.

Bray GA, Heisel WE, Afshin A, Jensen MD, Dietz WH, Long M, et al. The science of obesity management: an endocrine society scientific statement. Endocr Rev. 2018;39:79–132.

Watkins ML, Rasmussen SA, Honein MA, Botto LD, Moore CA. Maternal obesity and risk for birth defects. Pediatrics. 2003;111:1152–8.

Weiss JL, Malone FD, Emig D, Ball RH, Nyberg DA, Comstock CH, et al. Obesity, obstetric complications and cesarean delivery rate — a population-based screening study. Am J Obstet Gynecol. 2004;190:1091–7.

Cedergren MI. Maternal morbid obesity and the risk of adverse pregnancy outcome. Obstet Gynecol. 2004;103:219–24.

Ballesta-Castillejos A, Gómez-Salgado J, Rodríguez-Almagro J, Ortiz-Esquinas I, Hernández-Martínez A. Relationship between maternal body mass index and obstetric and perinatal complications. J Clin Med. 2020;9:707.

Gesink Law DC, Maclehose RF, Longnecker MP. Obesity and time to pregnancy. Hum Reprod. 2007;22:414–20.

van der Steeg JW, Steures P, Eijkemans MJC, Habbema JDF, Hompes PGA, Burggraaff JM, et al. Obesity affects spontaneous pregnancy chances in subfertile, ovulatory women. Hum Reprod. 2008;23:324–8.

Petersen GL, Schmidt L, Pinborg A, Kamper-Jorgensen M. The influence of female and male body mass index on live births after assisted reproductive technology treatment: a nationwide register-based cohort study. Fertil Steril. 2013;99:1654–62.

Provost MP, Acharya KS, Acharya CR, Yeh JS, Steward RG, Eaton JL, et al. Pregnancy outcomes decline with increasing recipient body mass index: an analysis of 22,317 fresh donor/recipient cycles from the 2008–2010 Society for Assisted Reproductive Technology Clinic Outcome Reporting System registry. Fertil Steril. 2016;105:364–8.

Mulders AGMGJ, Laven JSE, Eijkemans MJC, Hughes EG, Fauser BCJM. Patient predictors for outcome of gonadotrophin ovulation induction in women with normogonadotropic anovulatory infertility: a meta-analysis. Hum Reprod Update. 2003;9:429–49.

Pinborg A, Gaarslev C, Hougaard CO, Nyboe Andersen A, Andersen PK, Boivin J, et al. Influence of female bodyweight on IVF outcome: a longitudinal multicentre cohort study of 487 infertile couples. Reprod Biomed Online. 2011;23:490–9.

Supramaniam PR, Mittal M, McVeigh E, Lim LN. The correlation between raised body mass index and assisted reproductive treatment outcomes: a systematic review and meta-analysis of the evidence. Reprod Health. 2018;15:34.

Luke B, Brown MB, Stern JE, Missmer SA, Fujimoto VY, Leach R. Female obesity adversely affects assisted reproductive technology (ART) pregnancy and live birth rates. Hum Reprod. 2011;26:245–52.

Metwally M, Ong KJ, Ledger WL, Li TC. Does high body mass index increase the risk of miscarriage after spontaneous and assisted conception? A meta-analysis of the evidence. Fertil Steril. 2008;90:714–26.

Ding W, Zhang F, Liu X, Hu L, Dai S, Li G, et al. Impact of female obesity on cumulative live birth rates in the first complete ovarian stimulation cycle. Front Endocrinol. 2019;10:516.

Cozzolino M, García-Velasco JA, Meseguer M, Pellicer A, Bellver J. Female obesity increases the risk of miscarriage of euploid embryos. Fertil Steril. 2021;115:1495–502.

Bellver J, Pellicer A, García-Velasco JA, Ballesteros A, Remohí J, Meseguer M. Obesity reduces uterine receptivity: clinical experience from 9,587 first cycles of ovum donation with normal weight donors. Fertil Steril. 2013;100:1050–8.

Bellver J, Ayllón Y, Ferrando M, Melo M, Goyri E, Pellicer A, et al. Female obesity impairs in vitro fertilization outcome without affecting embryo quality. Fertil Steril. 2010;93:447–54.

Maheshwari A, Stofberg L, Bhattacharya S. Effect of overweight and obesity on assisted reproductive technology — a systematic review. Hum Reprod Update. 2007;13:433–44.

Sermondade N, Huberlant S, Bourhis-Lefebvre V, Arbo E, Gallot V, Colombani M, et al. Female obesity is negatively associated with live birth rate following IVF: a systematic review and meta-analysis. Hum Reprod Update. 2019;25:439–51.

Rittenberg V, Sobaleva S, Ahmad A, Oteng-Ntim E, Bolton V, Khalaf Y, et al. Influence of BMI on risk of miscarriage after single blastocyst transfer. Hum Reprod. 2011;26:2642–50.

Shah DK, Missmer SA, Berry KF, Racowsky C, Ginsburg ES. Effect of obesity on oocyte and embryo quality in women undergoing in vitro fertilization. Obstet Gynecol. 2011;118:63–70.

Wittemer C, Ohl J, Bailly M, Bettahar-Lebugle K, Nisand I. Does body mass index of infertile women have an impact on IVF procedure and outcome? J Assist Reprod Genet. 2000;17:547–52.

Luzzo KM, Wang Q, Purcell SH, Chi M, Jimenez PT, Grindler N, et al. High fat diet induced developmental defects in the mouse: oocyte meiotic aneuploidy and fetal growth retardation/brain defects. PLoS ONE. 2012;7: e49217.

Goldman KN, Hodes-Wertz B, McCulloh DH, Flom JD, Grifo JA. Association of body mass index with embryonic aneuploidy. Fertil Steril. 2015;103:744–8.

Hughes LM, McQueen DB, Jungheim ES, Merrion K, Boots CE. Maternal body mass index is not associated with increased rates of maternal embryonic aneuploidy. Fertil Steril. 2022;117:783–9.

Rubio C, Rodrigo L, Garcia-Pascual C, Peinado V, Campos-Galindo I, Garcia-Herrero S, et al. Clinical application of embryo aneuploidy testing by next-generation sequencing. Biol Reprod. 2019;101:1083–90.

Kaye L, Marsidi A, Rai P, Thorne J, Nulsen J, Engmann L, et al. Frozen blastocyst transfer outcomes in immediate versus delayed subsequent cycles following GnRH agonist or hCG triggers. J Assist Reprod Genet. 2018;35:669–75.

Makhijani R, Thorne J, Bartels C, Bartolucci A, Nulsen J, Grow D, et al. Pregnancy outcomes after frozen-thawed single euploid blastocyst transfer following IVF cycles using GNRH agonist or HCG trigger for final oocyte maturation. J Assist Reprod Genet. 2020;37:611–7.

Gardner DK, Schoolcraft WB. Culture and transfer of human blastocysts. Curr Opin Obstet Gynecol. 1999;11:307–11.

Centers for Disease Control and Prevention. Defining adult overweight and obesity: overweight & obesity. Available at: https://www.cdc.gov/obesity/adult/defining.html. Accessed December 14, 2021.

Kim J, Patounakis G, Juneau C, Morin S, Neal S, Bergh P, et al. The Appraisal of Body Content (ABC) trial: increased male or female adiposity does not significantly impact in vitro fertilization laboratory or clinical outcomes. Fertil Steril. 2021;116:444–52.

Purcell SH, Moley KH. The impact of obesity on egg quality. J Assist Reprod Genet. 2011;28:517–24.

Broughton DE, Moley KH. Obesity and female infertility: potential mediators of obesity's impact. Fertil Steril. 2017;107:840–7.

Moragianni VA, Jones SML, Ryley DA. The effect of body mass index on the outcomes of first assisted reproductive technology cycles. Fertil Steril. 2012;98:102–8.

Metwally M, Cutting R, Tipton A, Skull J, Ledger WL, Li TC. Effect of increased body mass index on oocyte and embryo quality in IVF patients. Reprod Biomed Online. 2007;15:532–8.

Vitek W, Sun F, Baker VL, Styer AK, Christianson MS, Stern JE, et al. Lower antimullerian hormone is associated with lower oocyte yield but not live-birth rate among women with obesity. Am J Obstet Gynecol. 2020;222(363):e1-7.

Pasquali R, Vicennati V, Bertazzo D, Casimirri F, Pascal G, Tortelli O, et al. Determinants of sex hormone-binding globulin blood concentrations in premenopausal and postmenopausal women with different estrogen status. Metabolism. 1997;46:5–9.

Freeman E, Sammel MD, Lin H, Gracia CR. Obesity and reproductive hormone levels in the transition to menopause. Menopause. 2010;17:718–26.

Kaye L, Sueldo C, Engmann L, Nulsen J, Benadiva C. Survey assessing obesity policies for assisted reproductive technology in the United States. Fertil Steril. 2016;105:703–6.

Turner-McGrievy GM, Grant BL. Prevalence of body mass index and body weight cut-off points for in vitro fertilization treatment at US clinics and current clinic weight loss strategy recommendations. Hum Fertil. 2015;18:215–9.
Ethics declarations
Conflict of interest
The authors declare no competing interests.
Additional information
Publisher's note
Springer Nature remains neutral with regard to jurisdictional claims in published maps and institutional affiliations.
Rights and permissions
Springer Nature or its licensor holds exclusive rights to this article under a publishing agreement with the author(s) or other rightsholder(s); author self-archiving of the accepted manuscript version of this article is solely governed by the terms of such publishing agreement and applicable law.
About this article
Cite this article
Hallisey, S., Makhijani, R., Thorne, J. et al. The association of obesity with euploidy rates in women undergoing in vitro fertilization with preimplantation genetic testing. J Assist Reprod Genet 39, 2521–2528 (2022). https://doi.org/10.1007/s10815-022-02624-8
Received:

Accepted:

Published:

Issue Date:

DOI: https://doi.org/10.1007/s10815-022-02624-8
Keywords
In vitro fertilization

Preimplantation genetic testing

Euploidy rate

Body mass index