Abstract
Purpose
Breast cancer is the most common cancer diagnosed during childbearing age, and fertility preservation is becoming increasingly more essential. However, recent studies indicate a possible poorer response to controlled ovarian hyperstimulation (COH) in cancer patients than in non-cancer controls and a negative impact of BRCA mutations on female fertility. This study aims to evaluate ovarian response and the number of mature oocytes (MII) vitrified in women with breast cancer, with or without BRCA mutation, comparing them to the expected response according to an age-related nomogram.
Methods
This is a retrospective observational study involving sixty-one breast cancer patients who underwent COH for oocyte cryopreservation. The age-specific nomogram was built using 3871 patients who underwent COH due to oocyte donation, fertility preservation for non-medical reasons, or FIVET for male factor exclusively.
Results
The mean number of oocytes retrieved was 13.03, whereas the mean number of MII oocytes was 10.00. After the application of the z-score, no statistically significant differences were found compared with the expected response in the general population, neither by dividing patients according to the presence or absence of BRCA mutation nor according to the phase in which they initiated stimulation.
Conclusion
The results obtained do not support the notion of a negative impact of the BRCA mutation on the ovarian response of women with breast cancer. Women with breast cancer undergoing COH for fertility preservation can expect the ovarian response predicted for their age.
Access options
Buy single article
Instant access to the full article PDF.
US$ 39.95
Tax calculation will be finalised during checkout.
Subscribe to journal
Immediate online access to all issues from 2019. Subscription will auto renew annually.
US$ 119
Tax calculation will be finalised during checkout.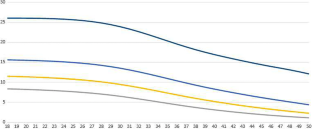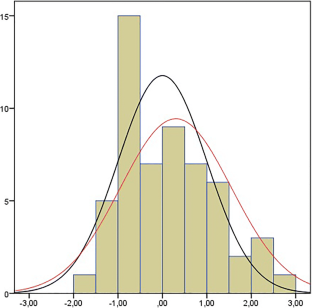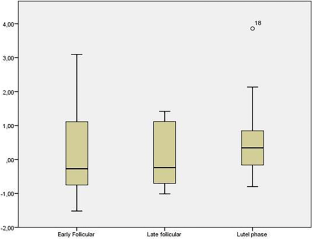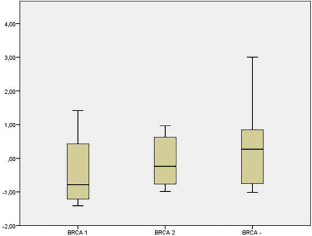 References
1.

Siegel RL, Miller KD, Jemal A. Cancer statistics, 2017. CA Cancer J Clin. 2017;67(1):7–30.

2.

Torre LA, Islami F, Siegel RL, Ward EM, Jemal A. Global cancer in women: burden and trends. Cancer Epidemiol Biomark Prev. 2017;26(4):444–57.

3.

Lee SJ, Schover LR, Partridge AH, Patrizio P, Wallace WH, Hagerty K, et al. American Society of Clinical Oncology recommendations on fertility preservation in cancer patients. J Clin Oncol. 2006;24(18):2917–31.

4.

Decanter C, Morschhauser F, Pigny P, Lefebvre C, Gallo C, Dewailly D. Anti-Mullerian hormone follow-up in young women treated by chemotherapy for lymphoma: preliminary results. Reprod BioMed Online. 2010;20(2):280–5.

5.

Anderson RA, Themmen APN, Qahtani AA, Groome NP, Cameron DA. The effects of chemotherapy and long-term gonadotrophin suppression on the ovarian reserve in premenopausal women with breast cancer. Hum Reprod. 2006;21(10):2583–92.

6.

Letourneau JM, Ebbel EE, Katz PP, Oktay KH, McCulloch CE, Ai WZ, et al. Acute ovarian failure underestimates age-specific reproductive impairment for young women undergoing chemotherapy for cancer. Cancer. 2012;118(7):1933–9.

7.

Kil WJ, Ahn SD, Shin SS, Lee SW, Choi EK, Kim JH, et al. Treatment-induced menstrual changes in very young (<35 years old) breast cancer patients. Breast Cancer Res Treat. 2006;96(3):245–50.

8.

Oktay K, Harvey BE, Partridge AH, Quinn GP, Reinecke J, Taylor HS, et al. Fertility preservation in patients with Cancer: ASCO clinical practice guideline update. J Clin Oncol. 2018;36(19):1994–2001.

9.

Loren AW, Mangu PB, Beck LN, Brennan L, Magdalinski AJ, Partridge AH, et al. Fertility preservation for patients with cancer: American Society of Clinical Oncology clinical practice guideline update. J Clin Oncol. 2013;31(19):2500–10.

10.

Martinez F. Update on fertility preservation from the Barcelona International Society for Fertility Preservation-ESHRE-ASRM 2015 expert meeting: indications, results and future perspectives. Hum Reprod. 2017;32(9):1802–11.

11.

Domingo J, Guillén V, Ayllón Y, Martínez M, Muñoz E, Pellicer A, et al. Ovarian response to controlled ovarian hyperstimulation in cancer patients is diminished even before oncological treatment. Fertil Steril. 2012;97(4):930–4.

12.

Klock SC, Zhang JX, Kazer RR. Fertility preservation for female cancer patients: early clinical experience. Fertil Steril. 2010;94(1):149–55.

13.

Moria A, Das M, Shehata F, Holzer H, Son WY, Tulandi T. Ovarian reserve and oocyte maturity in women with malignancy undergoing in vitro maturation treatment. Fertil Steril. 2011;95(5):1621–3.

14.

Levin I, Almog B. Effect of cancer on ovarian function in patients undergoing in vitro fertilization for fertility preservation: a reappraisal. Curr Oncol. 2013;20(1):e1–3.

15.

Garcia-Velasco JA, Domingo J, Cobo A, Martínez M, Carmona L, Pellicer A. Five years' experience using oocyte vitrification to preserve fertility for medical and nonmedical indications. Fertil Steril. 2013;99(7):1994–9.

16.

Quinn MM, Cakmak H, Letourneau JM, Cedars MI, Rosen MP. Response to ovarian stimulation is not impacted by a breast cancer diagnosis. Hum Reprod. 2017;32(3):568–74.

17.

Maxwell KN, Domchek SM, Nathanson KL, Robson ME. Population frequency of germline BRCA1/2 mutations. J Clin Oncol. 2016;34(34):4183–5.

18.

Balmana J, et al. BRCA in breast cancer: ESMO Clinical Practice Guidelines. Ann Oncol. 2011;22(Suppl 6):vi31–4.

19.

Nelson HD, Pappas M, Zakher B, Mitchell JP, Okinaka-Hu L, Fu R. Risk assessment, genetic counseling, and genetic testing for BRCA-related cancer in women: a systematic review to update the U.S. preventive services task force recommendation. Ann Intern Med. 2014;160(4):255–66.

20.

Peccatori FA, Mangili G, Bergamini A, Filippi F, Martinelli F, Ferrari F, et al. Fertility preservation in women harboring deleterious BRCA mutations: ready for prime time? Hum Reprod. 2018;33(2):181–7.

21.

Lambertini M, Goldrat O, Toss A, Azim HA Jr, Peccatori FA, Ignatiadis M, et al. Fertility and pregnancy issues in BRCA-mutated breast cancer patients. Cancer Treat Rev. 2017;59:61–70.

22.

Devesa M, Martínez F, Coroleu B, Rodríguez I, González C, Barri PN. Ovarian response to controlled ovarian hyperstimulation in women with cancer is as expected according to an age-specific nomogram. J Assist Reprod Genet. 2014;31(5):583–8.

23.

Cakmak H, Katz A, Cedars MI, Rosen MP. Effective method for emergency fertility preservation: random-start controlled ovarian stimulation. Fertil Steril. 2013;100(6):1673–80.

24.

Azim AA, Costantini-Ferrando M, Lostritto K, Oktay K. Relative potencies of anastrozole and letrozole to suppress estradiol in breast cancer patients undergoing ovarian stimulation before in vitro fertilization. J Clin Endocrinol Metab. 2007;92(6):2197–200.

25.

Oktay K, Hourvitz A, Sahin G, Oktem O, Safro B, Cil A, et al. Letrozole reduces estrogen and gonadotropin exposure in women with breast cancer undergoing ovarian stimulation before chemotherapy. J Clin Endocrinol Metab. 2006;91(10):3885–90.

26.

Oktay K, Buyuk E, Libertella N, Akar M, Rosenwaks Z. Fertility preservation in breast cancer patients: a prospective controlled comparison of ovarian stimulation with tamoxifen and letrozole for embryo cryopreservation. J Clin Oncol. 2005;23(19):4347–53.

27.

Sole M, Santalo J, Boada M, Clua E, Rodriguez I, Martinez F, et al. How does vitrification affect oocyte viability in oocyte donation cycles? A prospective study to compare outcomes achieved with fresh versus vitrified sibling oocytes. Hum Reprod. 2013;28(8):2087–92.

28.

Rigby RA, Stasinopoulos DM. Generalized additive models for location, scale and shape. J R Stat Soc: Ser C: Appl Stat. 2005;54(3):507–54.

29.

R Development Core Team. R: a language and environment for statistical computing. Vienna: R Foundation for Statistical Computing; 2008.

30.

Quintero RB, Helmer A, Huang JQ, Westphal LM. Ovarian stimulation for fertility preservation in patients with cancer. Fertil Steril. 2010;93(3):865–8.

31.

Turan V, Quinn MM, Dayioglu N, Rosen MP, Oktay K. The impact of malignancy on response to ovarian stimulation for fertility preservation: a meta-analysis. Fertil Steril. 2018;110(7):1347–55.

32.

Agarwal A, Said TM. Implications of systemic malignancies on human fertility. Reprod BioMed Online. 2004;9(6):673–9.

33.

Schenker JG, Meirow D, Schenker E. Stress and human reproduction. Eur J Obstet Gynecol Reprod Biol. 1992;45(1):1–8.

34.

Oktay K, Turan V, Titus S, Stobezki R, Liu L. BRCA mutations, DNA repair deficiency, and ovarian aging. Biol Reprod. 2015;93(3):67.

35.

Gunnala V, Fields J, Irani M, D'Angelo D, Xu K, Schattman G, et al. BRCA carriers have similar reproductive potential at baseline to noncarriers: comparisons in cancer and cancer-free cohorts undergoing fertility preservation. Fertil Steril. 2019;111(2):363–71.
Ethics declarations
Conflict of interest
The authors declare that they have no conflict of interest.
Ethical approval
The study was approved by the Institutional Review Board (CIOG 1020190522/01).
Additional information
This work was performed under the auspices of the Càtedra d'Investigació en Obstetrícia I Ginecologia of the Department of Obstetrics and Gynecology, Hospital Universitari Dexeus, Universitat Autònoma de Barcelona.
Publisher's note
Springer Nature remains neutral with regard to jurisdictional claims in published maps and institutional affiliations.
About this article
Cite this article
Malacarne, E., Devesa, M., Martinez, F. et al. COH outcomes in breast cancer patients for fertility preservation: a comparison with the expected response by age. J Assist Reprod Genet 37, 3069–3076 (2020). https://doi.org/10.1007/s10815-020-01944-x
Received:

Accepted:

Published:

Issue Date:
Keywords
Fertility preservation

Breast Cancer

BRCA

Ovarian response

Controlled ovarian hyperstimulation

Nomogram