Abstract
Research question
How is ovarian reserve affected by chemotherapy in patients with Hodgkin lymphoma (HL) who undergo fertility preservation (FP)?
Methods
A retrospective study was conducted by reviewing medical records of 105 HL patients referred to the FP unit before starting adriamycin, bleomycin, vinblastine, and dacarbazine (ABVD) chemotherapy. Ovarian reserve was evaluated before chemotherapy and at the last follow-up using anti-Müllerian hormone (AMH) and antral follicle count (AFC) measurements. The decrease in AMH was compared with that expected from normograms. AMH was compared between patients who underwent cryopreservation of ovarian tissue and those who underwent cryopreservation of mature oocytes.
Results
After ABVD, 15% of patients required hematopoietic stem cell transplantation. At a median follow-up of 33 months, the median decrease in AMH was 0.88 ng/mL, which was significantly greater than that of the general population of this age group (p < 0.001). Of the 82 women who only had ABVD, 38 underwent FP by cryopreservation of mature oocytes and 44 underwent cryopreservation of the ovarian cortex. There was no significant difference in AMH or AFC at the last follow-up between FP techniques.
Conclusion
Although ABVD is considered to be of low gonadotoxic risk, the decrease in AMH was greater than expected for patients' age, and 15% of patients needed more aggressive therapy during follow-up. Type of FP was not associated with decline in ovarian reserve. Reproductive-aged women with HL should have the opportunity for FP counseling before starting treatment.
Access options
Buy single article
Instant access to the full article PDF.
USD 39.95
Price includes VAT (USA)
Tax calculation will be finalised during checkout.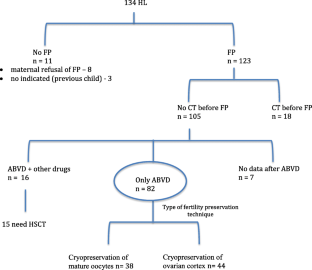 Abbreviations
ABVD:

Adriamycin, bleomycin, vinblastine, and dacarbazine

AFC:

Antral follicle count

AMH:

Anti-Müllerian hormone

CT:

Chemotherapy

FP:

Fertility preservation

HL:

Hodgkin lymphoma

HSCT:

Hematopoietic stem cell transplant

POF:

Premature ovarian failure
References
1.

Kogel KE, Sweetenham JW. Current therapies in Hodgkin's disease. Eur J Nucl Med Mol Imaging. 2003;30(Suppl 1):S19–27 [Internet]. [cited 2019 Jun 21]Available from: http://link.springer.com/10.1007/s00259-003-1156-7.

2.

Kiserud CE, Fosså A, Holte H, Fosså SD. Post-treatment parenthood in Hodgkin's lymphoma survivors. Br J Cancer. 2007;96:1442–9.

3.

Franchi-Rezgui P, Rousselot P, Espié M, Brière J, Pierre Marolleau J, Gisselbrecht C, et al. Fertility in young women after chemotherapy with alkylating agents for Hodgkin and non-Hodgkin lymphomas. Hematol J. 2003;4:116–20 [Internet]. [cited 2019 Jun 20]. Available from: http://www.nature.com/doifinder/10.1038/sj.thj.6200248.

4.

Brusamolino E, Lunghi F, Orlandi E, Astori C, Passamonti F, Baraté C, et al. Treatment of early-stage Hodgkin's disease with four cycles of ABVD followed by adjuvant radio-therapy: analysis of efficacy and long-term toxicity. Haematologica. 2000;85:1032–9 [Internet]. [cited 2019 Jun 20]. Available from: http://www.ncbi.nlm.nih.gov/pubmed/11025593.

5.

Diehl V, Franklin J, Pfreundschuh M, Lathan B, Paulus U, Hasenclever D, et al. Standard and increased-dose BEACOPP chemotherapy compared with COPP-ABVD for advanced Hodgkin's disease. N Engl J Med. 2003;348:2386–95.

6.

Duggan DB, Petroni GR, Johnson JL, Glick JH, Fisher RI, Connors JM, et al. Randomized comparison of ABVD and MOPP/ABV hybrid for the treatment of advanced Hodgkin's disease: report of an intergroup trial. J Clin Oncol. 2003;21:607–14.

7.

Herraiz S, Novella-Maestre E, Rodríguez B, Díaz C, Sánchez-Serrano M, Mirabet V, et al. Improving ovarian tissue cryopreservation for oncologic patients: slow freezing versus vitrification, effect of different procedures and devices. Fertil Steril. 2014;101:775–784.e1.

8.

Seifer DB, Baker VL, Leader B. Age-specific serum anti-Müllerian hormone values for 17,120 women presenting to fertility centers within the United States. Fertil Steril. 2011;95:747–50. [Internet]. Elsevier Ltd. https://doi.org/10.1016/j.fertnstert.2010.10.011.

9.

Socié G, Salooja N, Cohen A, Rovelli A, Carreras E, Locasciulli A, et al. Nonmalignant late effects after allogeneic stem cell transplantation. Blood. 2003;101:3373–85 [Internet]. Available from: http://www.ncbi.nlm.nih.gov/pubmed/12511420.

10.

Azem F, Samara N, Cohen T, Ben-Yosef D, Almog B, Lessing JB, et al. Assessment of ovarian reserve following ovarian tissue banking and/or GnRH-a co-treatment prior to chemotherapy in patients with Hodgkin's disease. J Assist Reprod Genet. 2008;25:535–8.

11.

Di Paola R, Costantini C, Tecchio C, Salvagno GL, Montemezzi R, Perandini A, et al. Anti-Mullerian hormone and antral follicle count reveal a late impairment of ovarian reserve in patients undergoing low-gonadotoxic regimens for hematological malignancies. Oncologist. 2013;18:1307–14.

12.

Anderson RA, Remedios R, Kirkwood AA, Patrick P, Stevens L, Clifton-Hadley L, et al. Determinants of ovarian function after response-adapted therapy in patients with advanced Hodgkin's lymphoma (RATHL): a secondary analysis of a randomised phase 3 trial. Lancet Oncol. 2018;19:1328–37.

13.

Hodgson DC, Pintilie M, Gitterman L, Dewitt B, Buckley C-A, Ahmed S, et al. Fertility among female hodgkin lymphoma survivors attempting pregnancy following ABVD chemotherapy. Hematol Oncol. 2007;25:11–5 [Internet]. [cited 2019 Jun 20]. Available from: http://doi.wiley.com/10.1002/hon.802.

14.

Kwon SK, Kim SH, Yun SC, Kim DY, Chae HD, Kim CH, et al. Decline of serum antiMüllerian hormone levels after laparoscopic ovarian cystectomy in endometrioma and other benign cysts: a prospective cohort study. Fertil Steril. 2014;101:435–41. [Internet]. Elsevier Inc. https://doi.org/10.1016/j.fertnstert.2013.10.043.

15.

Alborzi S, Keramati P, Younesi M, Samsami A, Dadras N. The impact of laparoscopic cystectomy on ovarian reserve in patients with unilateral and bilateral endometriomas. Fertil Steril. 2014;101:427–34 [Internet]. [cited 2019 Jun 20]. Available from: https://linkinghub.elsevier.com/retrieve/pii/S0015028213031658.

16.

Imbert R, Moffa F, Tsepelidis S, Simon P, Delbaere A, Devreker F, et al. Safety and usefulness of cryopreservation of ovarian tissue to preserve fertility: a 12-year retrospective analysis. Hum Reprod. 2014;29:1931–40.

17.

Pacheco F, Oktay K. Current success and efficiency of autologous ovarian transplantation: a meta-analysis. Reprod Sci. 2017;24:1111–20 [Internet]. [cited 2019 Jun 20]. Available from: http://journals.sagepub.com/doi/10.1177/1933719117702251.

18.

Jadoul P, Guilmain A, Squifflet J, Luyckx M, Votino R, Wyns C, et al. Efficacy of ovarian tissue cryopreservation for fertility preservation: lessons learned from 545 cases. Hum Reprod. 2017;32:1046–54 [Internet]. [cited 2019 Jun 21]. Available from: http://www.ncbi.nlm.nih.gov/pubmed/28333228.

19.

Meirow D, Baum M, Yaron R, Levron J, Hardan I, Schiff E, et al. Ovarian tissue cryopreservation in hematologic malignancy: ten years' experience. Leuk Lymphoma. 2007;48:1569–76.

20.

Brooks EG, Connors JM, Sehn LH, Gascoyne RD, Savage KJ, Shenkier TN, et al. Impact of time from diagnosis to initiation of curative-intent chemotherapy on clinical outcomes in patients with classical Hodgkin lymphoma. Leuk Lymphoma. 2016;57:872–9.

21.

Alexander M, Blum R, Burbury K, Coutsouvelis J, Dooley M, Fazil O, et al. Timely initiation of chemotherapy: a systematic literature review of six priority cancers - results and recommendations for clinical practice. Intern Med J. 2017;47:16–34 [Internet]. [cited 2019 Jun 20]. Available from: http://doi.wiley.com/10.1111/imj.13190.

22.

Derenzini E, Younes A. Hodgkin lymphoma: epidemiology, histopathology, staging, and treatment; 2011.

23.

Diehl V, Sextro M, Franklin J, Hansmann M-L, Harris N, Jaffe E, et al. Clinical presentation, course, and prognostic factors in lymphocyte-predominant Hodgkin's disease and lymphocyte-rich classical Hodgkin's disease: report from the European Task Force on Lymphoma Project on Lymphocyte-Predominant Hodgkin's Disease. J Clin Oncol. 1999;17:776 [Internet]. [cited 2019 Jun 20]. Available from: http://www.ncbi.nlm.nih.gov/pubmed/10071266.

24.

Banerjee D. Recent advances in the pathobiology of Hodgkin's lymphoma: potential impact on diagnostic, predictive, and therapeutic strategies. Adv Hematol. 2011;2011:1–19.

25.

Shimabukuro-Vornhagen A, Haverkamp H, Engert A, Balleisen L, Majunke P, Heil G, et al. Lymphocyte-rich classical Hodgkin's lymphoma: clinical presentation and treatment outcome in 100 patients treated within German Hodgkin's Study Group Trials. J Clin Oncol. 2005;23:5739–45.
Acknowledgments
We would like to thank Dr César Díaz-García for his invaluable contribution to the design of this study.
Ethics declarations
Conflict of interest
The authors declare that they have no conflict of interest.
Additional information
Publisher's note
Springer Nature remains neutral with regard to jurisdictional claims in published maps and institutional affiliations.
Catarina Policiano and Jessica Subirá are joint first authors.
Key message
ABVD treatment for HL reduces ovarian reserve compared with normal population. The technique used for FP does not seem to have an impact on ovarian reserve parameters. This information and its potential consequences on future fertility should be considered when counseling HL patients before FP.
About this article
Cite this article
Policiano, C., Subirá, J., Aguilar, A. et al. Impact of ABVD chemotherapy on ovarian reserve after fertility preservation in reproductive-aged women with Hodgkin lymphoma. J Assist Reprod Genet 37, 1755–1761 (2020). https://doi.org/10.1007/s10815-020-01844-0
Received:

Accepted:

Published:

Issue Date:
Keywords
Fertility preservation

Hodgkin lymphoma

Ovarian reserve

ABVD

Anti-Müllerian hormone