Abstract
Purpose
Twelve percent of women in the USA will develop invasive breast cancer in their lifetime, and that risk increases to 80% if they carry a BRCA1 or BRCA2 mutation. BRCA1/2 mutations are thought to potentially affect ovarian reserve and/or fertility.
Methods
PubMed and PubMed Central were searched for publications on ovarian reserve–related outcomes (i.e., AMH and response to controlled ovarian hyperstimulation (COH) protocols) that were reported in relation to BRCA1 and/or BRCA2 mutations from 1950 through May 2019. A meta-analysis was conducted to create forest plots and summary effect measures using Review Manager 5.3.
Results
This article reviews the 16 qualifying publications. There were several fundamental methodological differences in the study designs and outcome details reported in AMH studies. Summary statistics found no difference in AMH levels between BRCA1/2+ women as compared with controls (Z overall test effects p ≥ 0.45). Regarding responses to COH, there were overall non-significantly fewer total and mature numbers of oocytes retrieved in BRCA1/2+ cases as compared with controls (meta-analysis Z overall test effects p ≥ 0.40).
Conclusions
While the summary measures indicate no significant differences in AMH levels between BRCA1/2+ cases and controls, readers should be aware that there are significant methodological differences in the AMH reports. Additionally, the response to COH protocols does not seem to be significantly lower in BRCA1/2 mutation carriers in the existing literature. Continued research on both of these clinical parameters would be beneficial for patient counseling.
Access options
Buy single article
Instant access to the full article PDF.
US$ 39.95
Tax calculation will be finalised during checkout.
Subscribe to journal
Immediate online access to all issues from 2019. Subscription will auto renew annually.
US$ 119
Tax calculation will be finalised during checkout.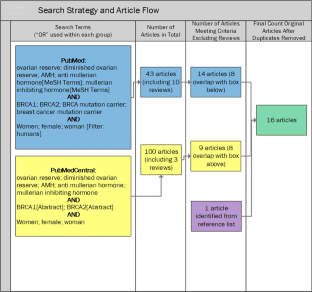 References
1.

Breastcancer.org. U.S. Breast Cancer Statistics Ardmore, PA2018 [Available from: http://www.breastcancer.org/symptoms/understand_bc/statistics.

2.

Oddoux C, Struewing JP, Clayton CM, Neuhausen S, Brody LC, Kaback M, et al. The carrier frequency of the BRCA2 6174delT mutation among Ashkenazi Jewish individuals is approximately 1%. Nat Genet. 1996;14(2):188–90.

3.

Whittemore AS, Gong G, John EM, McGuire V, Li FP, Ostrow KL, et al. Prevalence of BRCA1 mutation carriers among U.S. non-Hispanic Whites. Cancer Epidemiol Biomark Prev. 2004;13(12):2078–83.

4.

Risch HA, McLaughlin JR, Cole DE, Rosen B, Bradley L, Fan I, et al. Population BRCA1 and BRCA2 mutation frequencies and cancer penetrances: a kin-cohort study in Ontario, Canada. J Natl Cancer Inst. 2006;98(23):1694–706.

5.

Malone KE, Daling JR, Doody DR, Hsu L, Bernstein L, Coates RJ, et al. Prevalence and predictors of BRCA1 and BRCA2 mutations in a population-based study of breast cancer in White and Black American women ages 35 to 64 years. Cancer Res. 2006;66:8297–308.

6.

de la Noval BD. Potential implications on female fertility and reproductive lifespan in BRCA germline mutation women. Arch Gynecol Obstet. 2016;294(5):1099–103.

7.

Oktay K, Kim JY, Barad D, Babayev SN. Association of BRCA1 mutations with occult primary ovarian insufficiency: a possible explanation for the link between infertility and breast/ovarian cancer risks. J Clin Oncol. 2010;28(2):240–4.

8.

de la Hoya M, Fernandez JM, Tosar A, Godino J, Sanchez de Abajo A, Vidart JA, et al. Association between BRCA1 mutations and ratio of female to male births in offspring of families with breast cancer, ovarian cancer, or both. Jama. 2003;290(7):929–31.

9.

Scully R, Livingston DM. In search of the tumour-suppressor functions of BRCA1 and BRCA2. Nature. 2000;408(6811):429–32.

10.

Ballal RD, Saha T, Fan S, Haddad BR, Rosen EM. BRCA1 localization to the telomere and its loss from the telomere in response to DNA damage. J Biol Chem. 2009;284(52):36083–98.

11.

French JD, Dunn J, Smart CE, Manning N, Brown MA. Disruption of BRCA1 function results in telomere lengthening and increased anaphase bridge formation in immortalized cell lines. Genes Chromosom Cancer. 2006;45(3):277–89.

12.

McPherson JP, Hande MP, Poonepalli A, Lemmers B, Zablocki E, Migon E, et al. A role for Brca1 in chromosome end maintenance. Hum Mol Genet. 2006;15(6):831–8.

13.

Finch A, Valentini A, Greenblatt E, Lynch HT, Ghadirian P, Armel S, et al. Frequency of premature menopause in women who carry a BRCA1 or BRCA2 mutation. Fertil Steril. 2013;99(6):1724–8.

14.

Giordano S, Garrett-Mayer E, Mittal N, Smith K, Shulman L, Passaglia C, et al. Association of BRCA1 mutations with impaired ovarian reserve: connection between infertility and breast/ovarian cancer risk. J Adolesc Young Adult Oncol. 2016;5(4):337–43.

15.

Johnson L, Sammel MD, Domchek S, Schanne A, Prewitt M, Gracia C. Antimullerian hormone levels are lower in BRCA2 mutation carriers. Fertil Steril. 2017;107(5):1256–65.e6.

16.

Lin WT, Beattie M, Chen LM, Oktay K, Crawford SL, Gold EB, et al. Comparison of age at natural menopause in BRCA1/2 mutation carriers with a non-clinic-based sample of women in northern California. Cancer. 2013;119(9):1652–9.

17.

Rzepka-Gorska I, Tarnowski B, Chudecka-Glaz A, Gorski B, Zielinska D, Toloczko-Grabarek A. Premature menopause in patients with BRCA1 gene mutation. Breast Cancer Res Treat. 2006;100(1):59–63.

18.

Hotaling JM, Laufer N, Rosenwaks Z. Introduction: cancer biomarkers and fertility. Fertil Steril. 2018;109(1):4–5.

19.

Podfigurna A, Lukaszuk K, Czyzyk A, Kunicki M, Maciejewska-Jeske M, Jakiel G, et al. Testing ovarian reserve in pre-menopausal women: why, whom and how? Maturitas. 2018;109:112–7.

20.

Victoria M, Labrosse J, Krief F, Cedrin-Durnerin I, Comtet M, Grynberg M. Anti Mullerian hormone: more than a biomarker of female reproductive function. J Gynecol Obstet Hum Reprod. 2019;48(1):19–24.

21.

Derks-Smeets IAP, van Tilborg TC, van Montfoort A, Smits L, Torrance HL, Meijer-Hoogeveen M, et al. BRCA1 mutation carriers have a lower number of mature oocytes after ovarian stimulation for IVF/PGD. J Assist Reprod Genet. 2017.

22.

Wang ET, Pisarska MD, Bresee C, Chen YD, Lester J, Afshar Y, et al. BRCA1 germline mutations may be associated with reduced ovarian reserve. Fertil Steril. 2014;102(6):1723–8.

23.

Lin W, Titus S, Moy F, Ginsburg ES, Oktay K. Ovarian aging in women with BRCA germline mutations. J Clin Endocrinol Metab. 2017;102(10):3839–47.

24.

Phillips K-A, Collins IM, Milne RL, McLachlan SA, Friedlander M, Hickey M, et al. Anti-Müllerian hormone serum concentrations of women with germline BRCA1 or BRCA2 mutations. Hum Reprod. 2016;31(5):1126–32.

25.

Titus S, Li F, Stobezki R, Akula K, Unsal E, Jeong K, et al. Impairment of BRCA1-related DNA double-strand break repair leads to ovarian aging in mice and humans. Sci Transl Med. 2013;5(172):172ra21.

26.

Choi YS, Park JH, Lee JH, Yoon JK, Yun BH, Park JH, et al. Association between impairment of DNA double strand break repair and decreased ovarian reserve in patients with endometriosis. Front Endocrinol. 2018;9:772.

27.

Turan V, Bedoschi G, Emirdar V, Moy F, Oktay K. Ovarian stimulation in patients with cancer: impact of letrozole and BRCA mutations on fertility preservation cycle outcomes. Reprod Sci. 2018;25(1):26–32.

28.

Gunnala V, Fields J, Irani M, D'Angelo D, Xu K, Schattman G, et al. BRCA carriers have similar reproductive potential at baseline to noncarriers: comparisons in cancer and cancer-free cohorts undergoing fertility preservation. Fertil Steril. 2019;111(2):363–71.

29.

Michaelson-Cohen R, Mor P, Srebnik N, Beller U, Levy-Lahad E, Eldar-Geva T. BRCA mutation carriers do not have compromised ovarian reserve. Int J Gynecol Cancer. 2014;24(2):233–7.

30.

van Tilborg TC, Derks-Smeets IA, Bos AM, Oosterwijk JC, van Golde RJ, de Die-Smulders CE, et al. Serum AMH levels in healthy women from BRCA1/2 mutated families: are they reduced? Hum Reprod. 2016;31(11):2651–9.

31.

Lambertini M, Goldrat O, Ferreira AR, Dechene J, Azim HA Jr, Desir J, et al. Reproductive potential and performance of fertility preservation strategies in BRCA-mutated breast cancer patients. Ann Oncol. 2018;29(1):237–43.

32.

Shapira M, Raanani H, Feldman B, Srebnik N, Dereck-Haim S, Manela D, et al. BRCA mutation carriers show normal ovarian response in in vitro fertilization cycles. Fertil Steril. 2015;104(5):1162–7.

33.

Pavone ME, Hirshfeld-Cytron J, Tingen C, Thomas C, Thomas J, Lowe MP, et al. Human ovarian tissue cortex surrounding benign and malignant lesions. Reprod Sci. 2014;21(5):582–9.

34.

The_Nordic_Cochrane_Centre. Review Manager (RevMan). Version 5.3 ed. Copenhagen: The Cochrane Collaboration; 2014.

35.

Wan X, Wang W, Liu J, Tong T. Estimating the sample mean and standard deviation from the sample size, median, range and/or interquartile range. BMC Med Res Methodol. 2014;14:135.

36.

Higgins JP, Thompson SG, Deeks JJ, Altman DG. Measuring inconsistency in meta-analyses. Bmj. 2003;327(7414):557–60.

37.

Oktay K, Turan V, Titus S, Stobezki R, Liu L. BRCA mutations, DNA repair deficiency, and ovarian aging. Biol Reprod. 2015;93(3):67.

38.

Cline MS, Liao RG, Parsons MT, Paten B, Alquaddoomi F, Antoniou A, et al. BRCA challenge: BRCA exchange as a global resource for variants in BRCA1 and BRCA2. PLoS Genet. 2018;14(12):e1007752.

39.

Barnes-Kedar I, Bernstein-Molho R, Ginzach N, Hartmajer S, Shapira T, Magal N, et al. The yield of full BRCA1/2 genotyping in Israeli high-risk breast/ovarian cancer patients who do not carry the predominant mutations. Breast Cancer Res Treat. 2018;172(1):151–7.
Additional information
Publisher's note
Springer Nature remains neutral with regard to jurisdictional claims in published maps and institutional affiliations.
About this article
Cite this article
Cordeiro Mitchell, C.N., McGuinness, B., Fine, E. et al. Navigating the body of literature assessing BRCA1/2 mutations and markers of ovarian function: a systematic review and meta-analysis. J Assist Reprod Genet 37, 1037–1055 (2020). https://doi.org/10.1007/s10815-020-01745-2
Received:

Accepted:

Published:

Issue Date:
Keywords
BRCA1 mutation

BRCA2 mutation

anti mullerian hormone

ovarian reserve

in vitro fertilization

controlled ovarian hyperstimulation