Abstract
Purpose
Endometriosis is recognized as a steroid hormone-dependent disorder. However, controversies exist regarding the status of the steroid hormone receptor expression in endometriotic tissues. The purpose of this study was to determine the ontogeny of cellular changes in the expression of estrogen receptors (ERα, ERβ), G protein-coupled estrogen receptor 1 (GPER1), and progesterone receptors (PRs) in endometriosis using a mouse model.
Methods
We used the autologous uterine tissue transfer mouse model and studied the mRNA and protein expression of ERα, ERβ, GPER1, and PR in ectopic lesions at 2, 4, and 8 weeks of induction of endometriosis.
Result
As compared to endometrium of controls, in the ectopic endometrium, ERα is reduced while ERβ was elevated in stromal cells; however, Gper1 and PR levels are reduced in both stromal and epithelial cells in a time-specific manner. There is a high inter-animal variation in the levels of these receptors in ectopic endometrium as compared to controls; the levels also varied by almost 100-fold within the same lesion resulting in "micro-heterogeneity." The expression of all these receptors also deferred between two lesions from the same animal.
Conclusion
In the endometriotic tissue, there is extensive inter-animal and intra-lesion heterogeneity in the expression of ERα, ERβ, GPER1, and PR. These changes are not due to the influence of the peritoneal environment but appear to be tissue intrinsic. We propose that the variable outcomes in hormonal therapy for endometriosis could be possibly due to heterogeneity in the expression of steroid hormone receptors in the ectopic endometrium.
Access options
Buy single article
Instant access to the full article PDF.
USD 39.95
Price excludes VAT (USA)
Tax calculation will be finalised during checkout.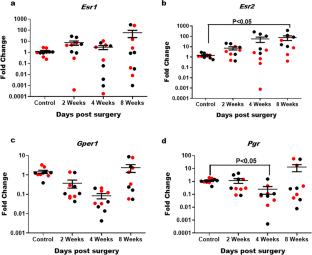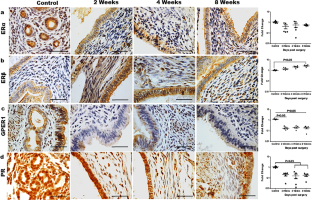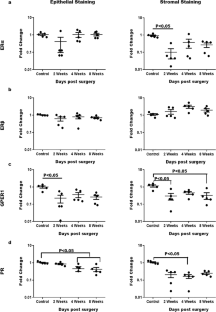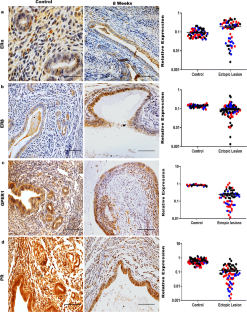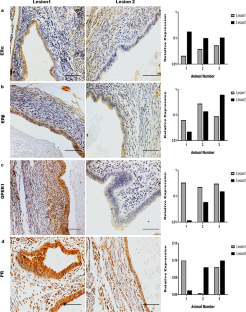 References
Bernuit D, Ebert AD, Halis G, et al. Female perspectives on endometriosis: findings from the uterine bleeding and pain women's research study. J Endometr. 2011;3(2):73–85.

Tosti C, Biscione A, Morgante G, Bifulco G, Luisi S, Petraglia F. Hormonal therapy for endometriosis: from molecular research to bedside. Eur J Obstet Gynecol Reprod Biol. 2017;209:61–6.

Patel BG, Rudnicki M, Yu J, Shu Y, Taylor RN. Progesterone resistance in endometriosis: origins, consequences and interventions. Acta Obstet Gynecol Scand. 2017;96(6):623–32.

Bulun SE, Cheng YH, Pavone ME, Xue Q, Attar E, Trukhacheva E, et al. Estrogen receptor-β, estrogen receptor-α, and progesterone resistance in endometriosis. Semin Reprod Med. 2010;28(01):036–43 © Thieme Medical Publishers.

Qi QM, Guo SW, Liu XS. Estrogen biosynthesis and its regulation in endometriosis. Reprod Dev Med. 2017;1(1):55.

Yilmaz BD, Bulun SE. Endometriosis and nuclear receptors. Human Reproduction. Update 2019;1–13.

Ferrero S, Evangelisti G, Barra F. Current and emerging treatment options for endometriosis. Expert Opin Pharmacother. 2018;19(10):1109–25.

Fu J, Song H, Zhou M, Zhu H, Wang Y, Chen H, et al. Progesterone receptor modulators for endometriosis. Cochrane Database Syst Rev. 2017;(7).

Kumar R, Vicari M, Gori I, Achtari C, Fiche M, Surbeck I, et al. Compartmentalized secretory leukocyte protease inhibitor expression and hormone responses along the reproductive tract of postmenopausal women. J Reprod Immunol. 2011;92(1–2):88–96.

Kolkova Z, Noskova V, Ehinger A, Hansson S, Casslén B. G protein-coupled estrogen receptor 1 (GPER, GPR 30) in normal human endometrium and early pregnancy decidua. Mol Hum Reprod. 2010;16(10):743–51.

Paterni I, Granchi C, Katzenellenbogen JA, Minutolo F. Estrogen receptors alpha (ERα) and beta (ERβ): subtype-selective ligands and clinical potential. Steroids. 2014;90:13–29.

Simmen RC, Kelley AS. Reversal of fortune: estrogen receptor-β in endometriosis. J Mol Endocrinol. 2016;57(2):F23–7.

Han SJ, Jung SY, Wu SP, Hawkins SM, Park MJ, Kyo S, et al. Estrogen receptor β modulates apoptosis complexes and the inflammasome to drive the pathogenesis of endometriosis. Cell. 2015;163(4):960–74.

Matsuzaki S, Murakami T, Uehara S, Canis M, Sasano H, Okamura K. Expression of estrogen receptor alpha and beta in peritoneal and ovarian endometriosis. Fertil Steril. 2001;75(6):1198–205.

Samartzis N, Samartzis EP, Noske A, et al. Expression of the G protein-coupled estrogen receptor (GPER) in endometriosis: a tissue microarray study. Reprod Biol Endocrinol. 2012;10(1):30.

Nisolle M, Casanas-Roux F, Wyns C, De Menten Y, Mathieu PE, Donnez J. Immunohistochemical analysis of estrogen and progesterone receptors in endometrium and peritoneal endometriosis: a new quantitative method. Fertil Steril. 1994;62(4):751–9.

Zanatta A, Pereira RM, Rocha AM, et al. The relationship among HOXA10, estrogen receptor α, progesterone receptor, and progesterone receptor B proteins in rectosigmoid endometriosis: a tissue microarray study. Reprod Sci. 2015;22(1):31–7.

Pellegrini C, Gori I, Achtari C, Hornung D, Chardonnens E, Wunder D, et al. The expression of estrogen receptors as well as GREB1, c-MYC, and cyclin D1, estrogen-regulated genes implicated in proliferation, is increased in peritoneal endometriosis. Fertil Steril. 2012;98(5):1200–8.

Jackson KS, Brudney A, Hastings JM, Mavrogianis PA, Kim JJ, Fazleabas AT. The altered distribution of the steroid hormone receptors and the chaperone immunophilin FKBP52 in a baboon model of endometriosis is associated with progesterone resistance during the window of uterine receptivity. Reprod Sci. 2007;14(2):137–50.

Filardo EJ, Thomas P. Minireview: G protein-coupled estrogen receptor-1, GPER-1: its mechanism of action and role in female reproductive cancer, renal and vascular physiology. Endocrinology. 2012;153(7):2953–62.

Gaudet HM, Cheng SB, Christensen EM, Filardo EJ. The G-protein coupled estrogen receptor, GPER: the inside and inside-out story. Mol Cell Endocrinol. 2015;418:207–19.

Plante BJ, Lessey BA, Taylor RN, Wang W, Bagchi MK, Yuan, et al. G protein-coupled estrogen receptor (GPER) expression in normal and abnormal endometrium. Reprod Sci. 2012;19(7):684–93.

Zhang L, Xiong W, Li N, et al. Estrogen stabilizes hypoxia-inducible factor 1α through G protein-coupled estrogen receptor 1 in eutopic endometrium of endometriosis. Fertil Steril. 2017;107(2):439–47.

Yuguchi H, Tanabe A, Hayashi A, Tanaka Y, Okuda K, Yamashita Y, et al. The expression status of G protein-coupled receptor GPR30 is associated with the clinical characteristics of endometriosis. Endocr Res. 2013;38(4):223–31.

Zhang C, Yuan X, Zhang Y. The co-expression of GPER and Gankyrin in ovarian endometriosis and its correlation with the rASRM stages. Arch Gynecol Obstet. 2016;293(1):133–41.

Imesch P, Samartzis EP, Dedes KJ, Fink D, Fedier A. Histone deacetylase inhibitors down-regulate G-protein-coupled estrogen receptor and the GPER-antagonist G-15 inhibits proliferation in endometriotic cells. Fertil Steril. 2013;100(3):770–6.

Mori T, Ito F, Matsushima H, Takaoka O, Tanaka Y, Koshiba A, et al. G protein–coupled estrogen receptor 1 agonist G-1 induces cell cycle arrest in the mitotic phase, leading to apoptosis in endometriosis. Fertil Steril. 2015;103(5):1228–35.

Young SL. Oestrogen and progesterone action on endometrium: a translational approach to understanding endometrial receptivity. Reprod BioMed Online. 2013;27(5):497–505.

McKinnon B, Mueller M, Montgomery G. Progesterone resistance in endometriosis: an acquired property? Trends Endocrinol Metab. 2018;29(8):535–48.

Flores VA, Vanhie A, Dang T, Taylor HS. Progesterone receptor status predicts response to progestin therapy in endometriosis. J Clin Endocrinol Metab. 2018;103(12):4561–8.

Bergqvist A, Fernö M. Endometriosis: oestrogen and progesterone receptors in endometriotic tissue and endometrium: comparison of different cycle phases and ages. Hum Reprod. 1993;8(12):2211–7.

Li Y, Adur MK, Kannan A, et al. Progesterone alleviates endometriosis via inhibition of uterine cell proliferation, inflammation and angiogenesis in an immunocompetent mouse model. PLoS One. 2016;11(10):e0165347.

Shao R, Cao S, Wang X, Feng Y, Billig H. The elusive and controversial roles of estrogen and progesterone receptors in human endometriosis. Am J Transl Res. 2014;6(2):104.

Colón-Caraballo M, García M, Mendoza A, Flores I. Human endometriosis tissue microarray reveals site-specific expression of estrogen receptors, progesterone receptor, and Ki67. Appl Immunohistochem Mol Morphol. 2019;27(7):491–500.

Kyrou D, Kolibianakis EM, Venetis CA, Miliaras D, Theodoridis T, Tzevelekis F, et al. Steroid receptor expression in human endometrium during the follicular phase of stimulated cycles. Hum Reprod. 2009;24(11):2931–5.

Pelch KE, Sharpe-Timms KL, Nagel SC. Mouse model of surgically-induced endometriosis by auto-transplantation of uterine tissue. JoVE J Vis Exp. 2012;6(59):e3396.

Kumar R, Clerc AC, Gori I, Russell R, Pellegrini C, Govender L, et al. Lipoxin A4 prevents the progression of de novo and established endometriosis in a mouse model by attenuating prostaglandin E2 production and estrogen signaling. PLoS One. 2014;9(2):e89742.

Soni UK, Chadchan SB, Kumar V, Ubba V, Khan MT, Vinod BS, et al. A high level of TGF-B1 promotes endometriosis development via cell migration, adhesiveness, colonization, and invasiveness. Biol Reprod. 2019;100(4):917–38.

Byers SL, Wiles MV, Dunn SL, Taft RA. Mouse estrous cycle identification tool and images. PLoS One. 2012;7(4):e35538.

Laheri S, Modi D, Bhatt P. Extra-oviductal expression of oviductal glycoprotein 1 in mouse: detection in testis, epididymis and ovary. J Biosci. 2017;42(1):69–80.

Godbole GB, Modi DN, Puri CP. Regulation of homeobox A10 expression in the primate endometrium by progesterone and embryonic stimuli. Reproduction. 2007;134(3):513–23.

Schindelin J, Arganda-Carreras I, Frise E, et al. Fiji: an open-source platform for biological-image analysis. Nat Methods. 2012;9(7):676.

Galvankar M, Singh N, Modi D. Estrogen is essential but not sufficient to induce endometriosis. J Biosci. 2017;42(2):251–63.

Burns KA, Rodriguez KF, Hewitt SC, Janardhan KS, Young SL, Korach KS. Role of estrogen receptor signaling required for endometriosis-like lesion establishment in a mouse model. Endocrinology. 2012;153(8):3960–71.

Zhao Y, Gong P, Chen Y, et al. Dual suppression of estrogenic and inflammatory activities for targeting of endometriosis. Sci Transl Med. 2015;7(271):271ra9.

Young VJ, Brown JK, Saunders PT, Duncan WC, Horne AW. The peritoneum is both a source and target of TGF-β in women with endometriosis. PLoS One. 2014;9(9):e106773.

Gazvani R, Templeton A. Peritoneal environment, cytokines and angiogenesis in the pathophysiology of endometriosis. Reproduction. 2002;123(2):217–26.

Grandi G, Mueller MD, Papadia A, Kocbek V, Bersinger NA, Petraglia F, et al. Inflammation influences steroid hormone receptors targeted by progestins in endometrial stromal cells from women with endometriosis. J Reprod Immunol. 2016;117:30–8.

Burns KA, Thomas SY, Hamilton KJ, Young SL, Cook DN, Korach KS. Early endometriosis in females is directed by immune-mediated estrogen receptor α and IL-6 cross-talk. Endocrinology. 2018;159(1):103–18.

Koukoura O, Sifakis S, Spandidos DA. DNA methylation in endometriosis. Mol Med Rep. 2016;13(4):2939–48.

Han SJ, O'malley BW. The dynamics of nuclear receptors and nuclear receptor coregulators in the pathogenesis of endometriosis. Hum Reprod Update. 2014;20(4):467–84.

Chehna-Patel N, Warty N, Sachdeva G, Khole V. Proteolytic tailoring of the heat shock protein 70 and its implications in the pathogenesis of endometriosis. Fertil Steril. 2011;95(5):1560–7.

Brown J, Crawford TJ, Datta S, Prentice A. Oral contraceptives for pain associated with endometriosis. Cochrane Database Syst Rev. 2018;(5):CD001019.

Al Kadri H, Hassan S, Al-Fozan HM, Hajeer A. Hormone therapy for endometriosis and surgical menopause. Cochrane Database Syst Rev. 2009;(1):CD005997.
Acknowledgments
We express our gratitude to Dr. Stacy Colaco and Mr. Abhishek Tiwari for help during the preparation of the manuscript. We thank Dr. Uddhav Chaudhari and the staff of the Animal House (NIRRH) for their help during surgeries and animal maintenance.
Funding
The manuscript bears the NIRRH ID: RA/756/03–2019. DM lab is funded by grants from ICMR, Govt of India. The study was funded by grants from the Department of Biotechnology (DBT); (BT/OR6587/MED/30/886/2012) and Department of Science and Technology (SR/SO/HS-0277/2012) Govt of India to DM. AM is a recipient of the junior and senior research fellowship from the University Grants Commission (UGC), Govt of India. MG was the recipient of the ICMR postdoctoral fellowship (6thBatch). NS is a recipient of the senior research fellowship from ICMR.
Ethics declarations
This study was approved by the Institutional Animal Ethics Committee (IAEC) of the National Institute for Research in Reproductive Health (NIRRH), project number (05/12).
Conflict of interest
The authors declare that there is no conflict of interest.
Additional information
Publisher's note
Springer Nature remains neutral with regard to jurisdictional claims in published maps and institutional affiliations.
Electronic supplementary material
About this article
Cite this article
Mishra, A., Galvankar, M., Singh, N. et al. Spatial and temporal changes in the expression of steroid hormone receptors in mouse model of endometriosis. J Assist Reprod Genet 37, 1069–1081 (2020). https://doi.org/10.1007/s10815-020-01725-6
Received:

Accepted:

Published:

Issue Date:

DOI: https://doi.org/10.1007/s10815-020-01725-6
Keywords