Abstract
Purpose
To investigate the effectiveness of a biphasic IVM culture strategy at improving IVM outcomes in oocytes from small follicles (< 6 mm) compared with routine Standard IVM in patients with polycystic ovaries.
Methods
This prospective pilot study was performed in 40 women with polycystic ovaries whose oocytes were randomized to two IVM culture methods. Patients received a total stimulation dose of 450 IU rFSH. Cumulus-oocyte complexes (COCs) from follicles < 6 mm and ≥ 6 mm were retrieved and cultured separately in either a prematuration medium with c-type natriuretic peptide followed by IVM (CAPA-IVM), or STD-IVM. Primary outcomes were maturation rate, embryo quality, and the number of vitrified day 3 embryos per patient.
Results
Use of the CAPA-IVM system led to a significant improvement in oocyte maturation (p < 0.05), to a doubling in percentage of good and top-quality day 3 embryos per COC, and to an increased number of vitrified day 3 embryos (p < 0.001), compared to STD IVM. Oocytes from follicles < 6 mm benefited most from CAPA-IVM, showing a significant increase in the amount of good and top-quality embryos compared to STD IVM. CAPA-IVM yielded significantly (p < 0.0001) less GV-arrested oocytes and larger oocyte diameters (p < 0.05) than STD IVM.
Conclusions
CAPA-IVM brings significant improvements in maturation and embryological outcomes, most notably to oocytes from small antral follicles (< 6 mm), which can be easily retrieved from patients with a minimal ovarian stimulation. The study demonstrates the robustness and transferability of the CAPA-IVM method across laboratories and populations.
Access options
Buy single article
Instant access to the full article PDF.
US$ 39.95
Tax calculation will be finalised during checkout.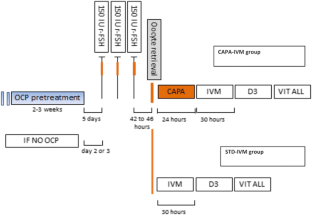 References
1.

Trounson A, Wood C, Kausche A. In vitro maturation and the fertilization and developmental competence of oocytes recovered from untreated polycystic ovarian patients. Fertil Steril. 1994;62:353–62.

2.

De Vos M, Smitz J, Woodruff TK. Fertility preservation in women with cancer. Lancet. 2014;384:1302–10.

3.

Segers I, Mateizel I, Van Moer E, Smitz J, Tournaye H, Verheyen G, et al. In vitro maturation (IVM) of oocytes recovered from ovariectomy specimens in the laboratory: a promising "ex vivo"; method of oocyte cryopreservation resulting in the first report of an ongoing pregnancy in Europe. J Assist Reprod Genet. 2015;32:1221–31.

4.

Fasano G, Dechène J, Antonacci R, Biramane J, Vannin AS, Van Langendonckt A, et al. Outcomes of immature oocytes collected from ovarian tissue for cryopreservation in adult and prepubertal patients. Reprod BioMed Online. 2017;34:575–58.

5.

Gremeau AS, Andreadis N, Fatum M, Craig J, Turner K, Mcveigh E, et al. In vitro maturation or in vitro fertilization for women with polycystic ovaries? A case–control study of 194 treatment cycles. Fertil Steril. 2012;98:355–60.

6.

Das M, Son WY, Buckett W, Tulandi T, Holzer H. In-vitro maturation versus IVF with GnRH antagonist for women with polycystic ovary syndrome: treatment outcome and rates of ovarian hyperstimulation syndrome. Reprod BioMed Online. 2014;29:545–51.

7.

Julania S, Walls ML, Hart R. The place of in vitro maturation in PCO/PCOS. Int J Endocrinol. 2018;2028:5750298.

8.

Son WY, Tan SL. Laboratory and embryological aspects of hCG-primed in vitro maturation cycles for patients with polycystic ovaries. Hum Reprod Update. 2010;16:675–89.

9.

Chian RC, Buckett WM, Tulandi T, Tan SL. Prospective randomized study of human chorionic gonadotrophin priming before immature oocyte retrieval from unstimulated women with polycystic ovarian syndrome. Hum Reprod. 2000;15:165–70.

10.

Ho VNA, Pham TD, Le AH, Ho TM, Vuong LN. Live birth rate after human chorionic gonadotropin priming in vitro maturation in women with polycystic ovary syndrome. J Ovarian Res. 2018;11:70.

11.

De Vos M, Smitz J, Thompson JG, Gilchrist RB. The definition of IVM is clear – variations need defining. Hum Reprod. 2016;31:2411–241.

12.

Walls ML, Hunter T, Ryan JP, Keelan JA, Nathan E, Hart RJ. In vitro maturation as an alternative to standard in vitro fertilization for patients diagnosed with polycystic ovaries: a comparative analysis of fresh, frozen and cumulative cycle outcomes. Hum Reprod. 2015;30:88–96.

13.

De Vos M, Ortega-Hrepich C, Albuz FK, Guzman L, Polyzos NP, Smitz J, et al. Clinical outcome of non-hCG-primed oocyte in vitro maturation treatment in patients with polycystic ovaries and polycystic ovary syndrome. Fertil Steril. 2011;96:860–4.

14.

Guzman L, Ortega-Hrepich C, Albuz FK, Verheyen G, Devroey P, Smitz J, et al. Developmental capacity of in vitro-matured human oocytes retrieved from polycystic ovary syndrome ovaries containing no follicles larger than 6 mm. Fertil Steril. 2012;98:503–7.

15.

Sanchez F, Lolicato F, Romero S, De Vos M, Van Ranst H, Verheyen G, et al. An improved IVM method for cumulus-oocyte complexes from small follicles in polycystic ovary syndrome patients enhances oocyte competence and embryo yield. Hum Reprod. 2017;32:2056–68.

16.

Sanchez F, Romero S, De Vos M, Verheyen G, Smitz J. Human cumulus- enclosed germinal vesicle oocytes from early antral follicles reveal heterogeneous cellular and molecular features associated with in vitro maturation capacity. Hum Reprod. 2015;30:1396–409.

17.

Gilchrist RB, Luciano AM, Richani D, Zeng HT, Wang X, Vos MD, et al. Oocyte maturation and quality: role of cyclic nucleotides. Reproduction. 2016;152(5):143–57.

18.

Thomas RE, Armstrong DT, Gilchrist RB. Differential effects of specific phosphodiesterase isoenzyme inhibitors on bovine oocyte meiotic maturation. Dev Biol. 2002;244:215–25.

19.

Nogueira D, Albano C, Adriaenssens T, Cortvrindt R, Bourgain C, Devroey P, et al. Human oocytes reversibly arrested in prophase I by phosphodiesterase type 3 inhibitor in vitro. Biol Reprod. 2003;69:1042–52.

20.

Nogueira D, Ron-El R, Friedler S, Schachter M, Raziel A, Cortvrindt R, et al. Meiotic arrest in vitro by phosphodiesterase 3-inhibitor enhances maturation capacity of human oocytes and allows subsequent embryonic development. Biol Reprod. 2006;74:177–84.

21.

Albuz FK, Sasseville M, Lane M, Armstrong DT, Thompson JG, Gilchrist RB. Simulated physiological oocyte maturation (SPOM): a novel in vitro maturation system that substantially improves embryo yield and pregnancy outcomes. Hum Reprod. 2010;25:2999–3011.

22.

Luciano AM, Franciosi F, Modina SC, Lodde V. Gap junction-mediated communications regulate chromatin remodeling during bovine oocyte growth and differentiation through cAMP-dependent mechanism(s). Biol Reprod. 2011;85:1252–9.

23.

Franciosi F, Coticchio G, Lodde V, Tessaro I, Modina SC, Fadini R, et al. Natriuretic peptide precursor C delays meiotic resumption and sustains gap junction-mediated communication in bovine cumulus-enclosed oocytes. Biol Reprod. 2014;91:61.

24.

Richani D, Wang X, Zeng HT, Smitz J, Thompson JG, Gilchrist RB. Pre-maturation with cAMP modulators in conjunction with EGF-like peptides during in vitro maturation enhances mouse oocyte developmental competence. Mol Reprod Dev. 2014;81:422–35.

25.

Conti M, Andersen CB, Richard FJ, Shitsukawa K, Tsafriri A. Role of cyclic nucleotide phosphodiesterases in resumption of meiosis. Mol Cell Endocrinol. 1998;145:9–14.

26.

Conti M, Andersen CB, Richard F, Mehats C, Chun SY, Horner K, et al. Role of cyclic nucleotide signaling in oocyte maturation. Mol Cell Endocrinol. 2002;187:153–9.

27.

Mehlmann LM. Oocyte-specific expression of Gpr3 is required for the maintenance of meiotic arrest in mouse oocytes. Dev Biol. 2005;288:397–404.

28.

Sela-Abramovich S, Edry I, Galiani D, Nevo N, Dekel N. Disruption of gap junctional communication within the ovarian follicle induces oocyte maturation. Endocrinology. 2006;147:2280–6.

29.

Romero S, Sanchez F, Lolicato F, Van Ranst H, Smitz J. Immature oocytes from unprimed juvenile mice become a valuable source for embryo production when using C-type natriuretic peptide as essential component of culture medium. Biol Reprod. 2016;95:64.

30.

Santiquet NW, Greene AF, Becker J, Barfield JP, Schoolcraft WB, Krisher RL. A pre-in vitro maturation medium containing cumulus oocyte complex ligand-receptor signaling molecules maintains meiotic arrest, supports the cumulus oocyte complex and improves oocyte developmental competence. Mol Hum Reprod. 2017;23(9):594–606.

31.

Saenz-de-Juano MD, Ivanova E, Romero S, Lolicato F, Sanchez F, Van Ranst H, De Vos M, Smitz J, Kelsey G, Anckaert E. DNA methylation and mRNA expression of imprinted genes in blastocysts derived from an improved IVM method in PCOS patients. Hum Reprod. 2019 (in press). https://doi.org/10.1093/humrep/dez121

32.

Dewailly D, Lujan ME, Carmina E, Cedars MI, Laven J, Norman RJ, et al. Definition and significance of polycystic ovarian morphology: a task force report from the androgen excess and polycystic ovary syndrome society. Hum Reprod Update. 2014 May-Jun;20(3):334–52.

33.

Alpha Scientists in Reproductive Medicine and ESHRE Special Interest Group of Embryology. The Istanbul consensus workshop on embryo assessment: proceedings of an expert meeting. Hum Reprod. 2011;26:1270–83.

34.

Sugimura S, Yamanouchi T, Palmerini MG, Hashiyada Y, Imai K, Gilchrist RB. Effect of pre-in vitro maturation with cAMP modulators on the acquisition of oocyte developmental competence in cattle. J Reprod Dev. 2018;64:233–41.

35.

Junk SM, Yeap D. Improved implantation and ongoing pregnancy rates after single-embryo transfer with an optimized protocol for in vitro oocyte maturation in women with polycystic ovaries and polycystic ovary syndrome. Fertil Steril. 2012;98:888–92.

36.

Walls M, Junk S, Ryan JP, Hart R. IVF versus ICSI for the fertilization of in-vitro matured human oocytes. Reprod BioMed Online. 2012 Dec;25(6):603–7.

37.

Edwards RG. Maturation in vitro of mouse, sheep, cow, pig, rhesus monkey and human ovarian oocytes. Nature. 1965;208(5008):349–51.

38.

Dieci C, Lodde V, Labreque R, Dufort I, Tessaro I, Sirard MA, et al. Differences in cumulus cell gene expression indicate the benefit of a pre-maturation step to improve in-vitro bovine embryo production. Mol Hum Reprod. 2016;22(12):882–97.

39.

Hyttel P, Fair T, Callesen H, Greve T. Oocyte growth, capacitation and final maturation in cattle. Theriogenology. 1997;47:23–32.

40.

Zhang M, Su YQ, Sugiura K, Xia G, Eppig JJ. Granulosa cell ligand NPPC and its receptor NPR2 maintain meiotic arrest in mouse oocytes. Science. 2010;330:366–9.

41.

Zhang M, Su YQ, Sugiura K, Wigglesworth K, Xia G, Eppig JJ. Estradiol promotes and maintains cumulus cell expression of natriuretic peptide receptor 2 (NPR2) and meiotic arrest in mouse oocytes in vitro. Endocrinology. 2011;152:4377–85.

42.

Vuong LN, Ho VNA, Ho TM, Dang VQ, Phung TH, Giang NH, et al. Effectiveness and safety of in vitro maturation of oocytes versus in vitro fertilisation in women with high antral follicle count: study protocol for a randomised controlled trial. BMJ Open. 2018 Dec 9;8(12):e023413. https://doi.org/10.1136/bmjopen-2018-023413.
Acknowledgments
The authors acknowledge Francesca Lolicato PhD for logistic support and advice during the study. The authors acknowledge Wim Coucke from Scientific Institute of Public Health (Brussels) for performing the statistical analysis.
Funding
The authors acknowledge the support of the Fund for Research Flanders (Fonds Wetenschappelijk Onderzoek-Vlaanderen-FWO, Project nr AL895) and of the Industrial Research Fund of the Vrije Universiteit Brussel (Industrieel onderzoeksfonds, IOF 2042) to the Project 4R-ART.
Ethics declarations
Conflict of interest
The authors declare that they have no conflicts of interest.
Ethical approval
The study was performed in accordance with the ICH Harmonized Tripartite Guideline for GCP and the ethical principles of the Declaration of Helsinki. Ethics approval was obtained from the Review Board of the Research Center for Genetics and Reproductive Health and the Ethical Board of MyDuc Hospital (approval number 04/17/ĐĐ-BVMĐ, dated 28 March 2017).
Informed consent
Informed consent was obtained from all individual participants included in the study.
Additional information
Publisher's note
Springer Nature remains neutral with regard to jurisdictional claims in published maps and institutional affiliations.
About this article
Cite this article
Sanchez, F., Le, A.H., Ho, V.N.A. et al. Biphasic in vitro maturation (CAPA-IVM) specifically improves the developmental capacity of oocytes from small antral follicles. J Assist Reprod Genet 36, 2135–2144 (2019). https://doi.org/10.1007/s10815-019-01551-5
Received:

Accepted:

Published:

Issue Date:
Keywords
IVF

IVM

Embryo

Oocyte prematuration

C-type natriuretic peptide