Abstract
Purpose
With over 80% of paediatric and adolescent cancer patients surviving into adulthood, quality-of-life issues such as future fertility are increasingly important. However, little is known about regret around decisions to pursue or forgo fertility preservation (FP). We investigated the risk of decision regret in families involved in making a FP decision and explored contributive factors.
Methods
Parents and patients ≥ 15 years were invited to participate. Participants completed a 10-item survey, including a validated Decision Regret Scale. Scores ≥ 30 indicated high regret. Free-text response items allowed participants to provide reasons for satisfaction or regret.
Results
A total of 108 parents and 30 patients participated. Most (81.4%) reported low regret (mean score 13.7). On multivariate analysis, predictors of low regret included having a FP procedure and a fertility discussion pre-treatment. Most participants believed that FP offers hope for future fertility. Some reported dissatisfaction with the process of decision-making.
Conclusion
Overall levels of regret in the study population were low, with factors associated with quality, timely discussion and belief in the success of FP technology being predictors of low regret. However, dissatisfaction with the decision-making process itself revealed that refinements to the programme are required to meet families' needs.
Access options
Buy single article
Instant access to the full article PDF.
US$ 39.95
Tax calculation will be finalised during checkout.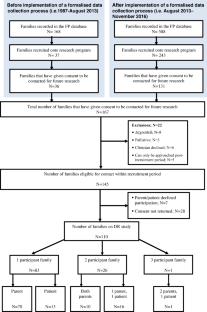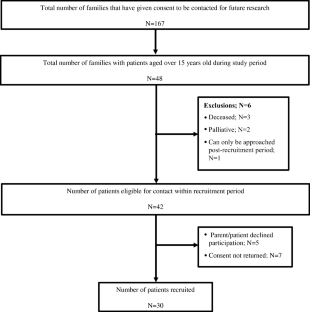 References
1.

Oktay K, Harvey BE, Partridge AH, et al. Fertility preservation in patients with cancer: ASCO clinical practice guideline update. J Clin Oncol. 2018;36(19):1994–2001.

2.

Schover LR. Patient attitudes toward fertility preservation. Pediatr Blood Cancer. 2009;53(2):281–4.

3.

National Institute for Health and Care Excellence. Fertility problems: assessment and treatment. United Kingdom: NICE2013. Report No. p. CG156.

4.

AYA cancer fertility preservation guidance working group. Fertility preservation for AYAs diagnosed with cancer: Guidance for health professionals. [Cancer Council Australia Cancer Guidelines Wiki Web site]. October 6, 2017. Available at: https://wiki.cancer.org.au/australia/COSA:AYA_cancer_fertility_preservation. Accessed December 3, 2017.

5.

Adams E, Hill E, Watson E. Fertility preservation in cancer survivors: a national survey of oncologists' current knowledge, practice and attitudes. Br J Cancer. 2013;108(8):1602–15.

6.

McQuillan SK, Malenfant D, Jayasinghe YL, et al. Audit of Current Fertility Preservation Strategies used by individual pediatric oncologists throughout Australia and New Zealand. J Pediatr Oncol. 2013;1:112–8.

7.

Schover LR, Brey K, Lichtin A, et al. Oncologists' attitudes and practices regarding banking sperm before cancer treatment. J Clin Oncol. 2002;20(7):1890–7.

8.

Vadaparampil S, Quinn G, King L. etl al. Barriers to fertility preservation among pediatric oncologists. Patient Educ Couns. 2008;72(3):402–10.

9.

Li N, Jayasinghe Y, Kemertzis MA, et al. Fertility preservation in pediatric and adolescent oncology patients: the decision-making process of parents. J Adolesc Young Adult Oncol. 2017;6(2):213–22.

10.

Becerra Perez MM, Menear M, Brehaut JC, et al. Extent and predictors of decision regret about health care decisions: a systematic review. Med Decis Mak. 2016;36(6):777–90.

11.

O'Connor AM. User manual – Decision Regret Scale [document on the Internet]. Ottawa: Ottawa Hospital Research Institute; ©; 1996. modified 2003; cited 2018 11 20]. 3 p. Available from http://decisionaid.ohri.ca/docs/develop/User_Manuals/UM_Regret_Scale.pdf

12.

Bastings L, Baysal O, Beerendonk CC, et al. Deciding about fertility preservation after specialist counselling. Hum Reprod. 2014;29(8):1721–9.

13.

Benedict C, Thom B, Kelvin JF. Young adult female cancer survivors' decision regret about fertility preservation. J Adolesc Young Adult Oncol. 2015;4(4):213–8.

14.

Letourneau JM, Katz PP, Smith JF, et al. The impact of fertility counseling and fertility preservation on long-term psychosocial outcomes in young female cancer survivors. Fertil Steril. 2010;94(4):S65.

15.

Letourneau JM, Ebbel EE, Katz PP, et al. Pretreatment fertility counseling and fertility preservation improve quality of life in reproductive age women with cancer. Cancer. 2012;118(6):1710–7.

16.

Mersereau JE, Goodman LR, Deal AM, et al. To preserve or not to preserve: how difficult is the decision about fertility preservation? Cancer. 2013;119(22):4044–50.

17.

Chan SW, Niemasik EE, Kao CN, et al. Decisional regret in women diagnosed with cancer who undergo reproductive health counseling (RHC). Fertil Steril. 2014;100(3):S26.

18.

Chan JL, Letourneau J, Salem W, et al. Regret around fertility choices is decreased with pre-treatment counseling in gynecologic cancer patients. J Cancer Surviv. 2017;11(1):58–63.

19.

Jadoul P, Guilmain A, Squifflet J, et al. Efficacy of ovarian tissue cryopreservation for fertility preservation: lessons learned from 545 cases. Hum Reprod. 2017;32(5):1046–54.

20.

McDougall RJ, Gillam L, Delany C, et al. Ethics of fertility preservation for prepubertal children: should clinicians offer procedures where efficacy is largely unproven? J Med Ethics. 2017;0:1–5.

21.

Lorenzo AJ, Pippi Salle JL, Zlateska B, et al. Decisional regret after distal hypospadias repair: single institution prospective analysis of factors associated with subsequent parental remorse or distress. J Urol. 2014;191(5 Suppl):1558–63.

22.

Brehaut JC, O'Connor AM, Wood TJ, Hack TF, Siminoff L, Gordon E, et al. Validation of a decision regret scale. Med Decis Mak. 2003;23(4):281–92.

23.

Kemertzis M, Ranjithakumaran H, Hand M, et al. Fertility Preservation Toolkit: A clinician resource to assist clinical discussion and decision making in pediatric and adolescent oncology. J Pediatr Hematol Oncol. 2018;40(3):e133–e139.22.

24.

Hand M, Kemertzis M, Peate M, et al. A clinical decision support system to assist pediatric oncofertility: a short report. J Adolesc Young Adult Oncol. 2018;7(4):509–13.

25.

Quinn J, Murphy D, Knapp C, et al. Who Decides? Decision making and fertility preservation in teens with cancer: a review of the literature. J Adolesc Health. 2011;49(4):337–46.

26.

Wyns C, Collienne C, Shenfield F, et al. Fertility preservation in the male pediatric population: factors influencing the decision of parents and children. Hum Reprod. 2015;30(9):2022–30.

27.

Ginsberg JP, Li Y, Carlson CA, et al. Testicular tissue cryopreservation in prepubertal male children: an analysis of parental decision-making. Pediatr Blood Cancer. 2014;61(9):1673–8.

28.

Janz NK, Becker MH. The Health Belief Model: a decade later. Health Educ Q 1984; 11(1):1-47.

29.

Baysal O, Bastings L, Beerendonk CC, et al. Decision-making in female fertility preservation is balancing the expected burden of fertility preservation treatment and the wish to conceive. Hum Reprod. 2015;30(7):1625–34.

30.

Peate M, Meiser B, Hickey M, et al. The fertility-related concerns, needs and preferences of younger women with breast cancer: a systematic review. Breast Cancer Res Treat. 2009;116(2):215–23.

31.

Peate M, Meiser B, Cheah BC, et al. Making hard choices easier: a prospective, multicentre study to assess the efficacy of a fertility-related decision aid in young women with early-stage breast cancer. Br J Cancer. 2012;106(6):1053–61.

32.

Harcourt D, Russell C, Hughes J, et al. Patient satisfaction in relation to nipple reconstruction: the importance of information provision. J Plast Reconstr Aesthet Surg. 2011;64(4):494–9.

33.

Zhong T, Hu J, Bagher S, et al. Decision regret following breast reconstruction: the role of self-efficacy and satisfaction with information in the preoperative period. Plast Reconstr Surg. 2013;132(5):724e–34e.

34.

Lantz PM, Janz NK, Fagerlin A, et al. Satisfaction with surgery outcomes and the decision process in a population-based sample of women with breast cancer. Health Serv Res. 2005;40(3):745–67.

35.

Jayasinghe Y, Kemertzis M, Hand M, et al. Decision support tools in paediatric and adolescent oncofertility for clinicians and parents. Pediatr Blood Cancer. 2017;64:S110–S11134.

36.

Hong P, Gorodzinsky AY, Taylor BA, et al. Parental decision making in pediatric otoplasty: the role of shared decision making in parental decisional conflict and decisional regret. Laryngoscope. 2016;126(Suppl 5):S5–S13.

37.

Peate M, Meiser B, Friedlander M, et al. It's now or never: fertility-related knowledge, decision-making preferences, and treatment intentions in young women with breast cancer--an Australian fertility decision aid collaborative group study. J Clin Oncol. 2011;29(13):1670–7.

38.

O'Connor A. Validation of a decisional conflict scale. Med Decis Mak. 1995;15(1):25–30.
Acknowledgements
We thank Hannah Clark for her contribution to the oncofertility database, which was sourced for oncofertility data and Matthew Kemertzis for his contribution to this body of work as the past Fertility Preservation Taskforce project manager.
Funding
The research was supported by the Victorian Cancer Agency (ECSG13027). YJ is funded by the Victorian Cancer Agency and is a National Health and Medical Research Council Translation of Research into Clinical Practice (TRIP) fellow. MP is supported by a NBCF Early Career Fellowship (ECF-0015).
Ethics declarations
Conflict of interest
All authors declare they have no competing interests/conflicts of interest.
Ethical approval
All procedures performed in studies involving human participants were in accordance with the ethical standards of the institutional and/or national research committee and with the 1964 Helsinki declaration and its later amendments or comparable ethical standards.
Informed consent
Informed consent was obtained from all individual participants included in the study.
Additional information
Publisher's note
Springer Nature remains neutral with regard to jurisdictional claims in published maps and institutional affiliations.
Electronic supplementary material
About this article
Cite this article
Jayasuriya, S., Peate, M., Allingham, C. et al. Satisfaction, disappointment and regret surrounding fertility preservation decisions in the paediatric and adolescent cancer population. J Assist Reprod Genet 36, 1805–1822 (2019). https://doi.org/10.1007/s10815-019-01536-4
Received:

Accepted:

Published:

Issue Date:
Keywords
Fertility preservation

Decision regret

Paediatric

Oncofertility

Decision-making