Abstract
Purpose
The new-generation spermatozoon selection method, microfluidic technique called Fertile Chip® gives the chance to select spermatozoa with lower DNA fragmentation indexes. We aimed to determine the effect of microfluidic techniques for spermatozoon selection in ICSI treatment in patients with unexplained infertility.
Methods
This prospective randomized controlled study was conducted at a university hospital. One hundred twenty-two couples with unexplained infertility were included, in which 61 of them were treated with conventional swim-up techniques (control group) and another 61 with the microfluidic technique (study group) for spermatozoon selection in IVF treatment. The fertilization rates and the quality of embryos were the primary outcomes, and clinical pregnancy (CPR) and live birth rates (LBR) were the secondary outcomes of our study.
Results
CPR in the study group and control group were 48.3% and 44.8% (p = 0.35) and LBR were 38.3% and 36.2% (p = 0.48), respectively. The fertilization rates were similar (63.6% and 57.4%, p = 0.098). A total number of grade 1 embryos were significantly higher in microfluidic technique group than in control group (1.45 ± 1.62 vs. 0.83 ± 1.03, p = 0.01). There were more surplus top quality embryos leftover to freeze in the study group (0.71 ± 1.48 vs. 0.22 ± 0.69, p = 0.02).
Conclusion
Our study showed that the microfluidic technique does not change fertilization, CPR, and LBR during IVF treatment for couples with unexplained infertility. Despite the fact that the total number of grade 1 embryos after ICSI treatment and the surplus number of grade 1 embryos after embryo transfer were higher in the microfluidic technique group, the study was not powered to detect this difference.
Trial registration
NCT02488434
This is a preview of subscription content, log in to check access.
Access options
Buy single article
Instant access to the full article PDF.
US$ 39.95
Price includes VAT for USA
Subscribe to journal
Immediate online access to all issues from 2019. Subscription will auto renew annually.
US$ 199
This is the net price. Taxes to be calculated in checkout.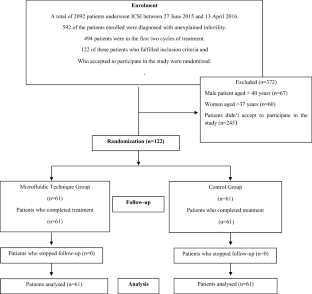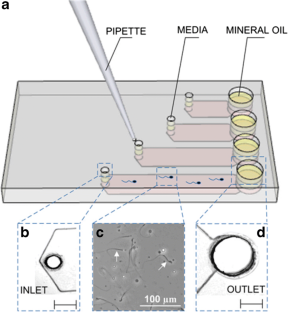 References
1.

Asghar W, Velasco V, Kingsley JL, Shoukat MS, Shafiee H, Anchan RM, et al. Selection of functional human sperm with higher DNA integrity and fewer reactive oxygen species. Adv Healthc Mater. 2014;3(10):1671–9. https://doi.org/10.1002/adhm.201400058.

2.

Aitken RJ, De Iuliis GN, Finnie JM, Hedges A, McLachlan RI. Analysis of the relationships between oxidative stress, DNA damage and sperm vitality in a patient population: development of diagnostic criteria. Hum Reprod. 2010;25(10):2415–26.

3.

Fleming S, Ilad R, Griffin AG, Wu Y, Ong K, Smith H, et al. Prospective controlled trial of an electrophoretic method of sperm preparation for assisted reproduction: comparison with density gradient centrifugation. Hum Reprod. 2008;23(12):2646–51.

4.

Gianaroli L, Magli MC, Collodel G, Moretti E, Ferraretti AP, Baccetti B. Sperm head's birefringence: a new criterion for sperm selection. Fertil Steril. 2008;90(1):104–12.

5.

Kheirollahi-Kouhestani M, Razavi S, Tavalaee M, Deemeh M, Mardani M, Moshtaghian J, et al. Selection of sperm based on combined density gradient and zeta method may improve ICSI outcome. Hum Reprod. 2009;24(10):2409–16.

6.

Nasr-Esfahani MH, Razavi S, Vahdati A, Fathi F, Tavalaee M. Evaluation of sperm selection procedure based on hyaluronic acid binding ability on ICSI outcome. J Assist Reprod Genet. 2008;25(5):197–203.

7.

Parmegiani L, Cognigni GE, Bernardi S, Troilo E, Ciampaglia W, Filicori M. "Physiologic ICSI": hyaluronic acid (HA) favors selection of spermatozoa without DNA fragmentation and with normal nucleus, resulting in improvement of embryo quality. Fertil Steril. 2010;93(2):598–604.

8.

Teixeira DM, Barbosa MA, Ferriani RA, Navarro PA, Raine-Fenning N, Nastri CO, et al. Regular (ICSI) versus ultra-high magnification (IMSI) sperm selection for assisted reproduction. Cochrane Database Syst Rev. 2013;7:Cd010167. https://doi.org/10.1002/14651858.CD010167.pub2.

9.

Zhang X, Khimji I, Gurkan UA, Safaee H, Catalano PN, Keles HO, et al. Lensless imaging for simultaneous microfluidic sperm monitoring and sorting. Lab Chip. 2011;11(15):2535–40.

10.

Athaullah N, Proctor M, Johnson N. Oral versus injectable ovulation induction agents for unexplained subfertility. Cochrane Database Syst Rev. 2002;(3):CD003052.

11.

Zandieh Z, Vatannejad A, Doosti M, Zabihzadeh S, Haddadi M, Bajelan L, et al. Comparing reactive oxygen species and DNA fragmentation in semen samples of unexplained infertile and healthy fertile men. Ir J Med Sci. 2018;187:657. https://doi.org/10.1007/s11845-017-1708-7.

12.

Sallam HN, Ezzeldin F, Agameya A-F, Abdel-Rahman AF, El-Garem Y. The definition of 'poor response': Bologna criteria. Hum Reprod. 2012;27(2):626–7. https://doi.org/10.1093/humrep/der398.

13.

Cooper TG, Noonan E, Von Eckardstein S, Auger J, Baker HG, Behre HM, et al. World Health Organization reference values for human semen characteristics. Hum Reprod Update. 2010;16(3):231-45. https://doi.org/10.1093/humupd/dmp048.

14.

Palermo G, Joris H, Devroey P, Van Steirteghem AC. Pregnancies after intracytoplasmic injection of single spermatozoon into an oocyte. Lancet. 1992;340(8810):17–8.

15.

Fauser B. The Alpha Consensus Meeting on the professional status of the clinical embryologist: proceedings of an expert meeting. Reprod BioMed Online. 2015;30(5):451.

16.

Tasoglu S, Safaee H, Zhang X, Kingsley JL, Catalano PN, Gurkan UA, et al. Exhaustion of racing sperm in nature-mimicking microfluidic channels during sorting. Small. 2013;9(20):3374–84. https://doi.org/10.1002/smll.201300020.

17.

Balaban B, Yakin K, Alatas C, Oktem O, Isiklar A, Urman B. Clinical outcome of intracytoplasmic injection of spermatozoa morphologically selected under high magnification: a prospective randomized study. Reprod BioMed Online. 2011;22(5):472–6.

18.

Gil M, Sar-Shalom V, Sivira YM, Carreras R, Checa MA. Sperm selection using magnetic activated cell sorting (MACS) in assisted reproduction: a systematic review and meta-analysis. J Assist Reprod Genet. 2013;30(4):479–85.
Ethics declarations
The study protocol was approved by the Clinical Research and Ethics Committee (Project No: KA15/132) and from the Turkish Drug and Medical Device Institution of the Turkish Ministry of Health.
Additional information
Publisher's Note
Springer Nature remains neutral with regard to jurisdictional claims in published maps and institutional affiliations.
About this article
Cite this article
Yetkinel, S., Kilicdag, E.B., Aytac, P.C. et al. Effects of the microfluidic chip technique in sperm selection for intracytoplasmic sperm injection for unexplained infertility: a prospective, randomized controlled trial. J Assist Reprod Genet 36, 403–409 (2019). https://doi.org/10.1007/s10815-018-1375-2
Received:

Accepted:

Published:

Issue Date:
Keywords
Microfluidic technique

Unexplained infertility

Embryo

ICSI