Abstract
Purpose
Cell-free DNA (cfDNA) which is present in the blastocoel cavity of embryos is believed to result from physiological apoptosis during development. This study assessed cfDNA content and caspase-3 protease activity in day-5 IVF blastocysts to determine if there was a correlation with embryo morphology.
Methods
Day-5 IVF blastocysts were scored according to the Gardner and Schoolcraft system (modified to generate a numerical value) and cfDNA was collected following laser-induced blastocoel collapsing prior to cryopreservation in 25 μL of media. cfDNA was quantified via fluorospectrometry and apoptotic activity was assessed via a caspase-3 protease assay using a fluorescent peptide substrate. Data were compared by linear regression.
Results
A total of 32 embryos were evaluated. There was a significant (p < 0.01) and positive correlation (cfDNA = 104.753 + (11.281 × score); R2 = 0.200) between embryo score and cfDNA content. A significant (p < 0.05) and positive correlation (cfDNA = 115.9 + (0.05 × caspase-3); R2= 0.128) was observed between caspase-3 activity and cfDNA levels. There was no significant relationship between caspase-3 activity and embryo morphology score.
Conclusions
This study provides further evidence that cfDNA is present in blastocoel fluid, can be quantified, and positively correlates with embryonic morphology. There is also evidence that at least a portion of the cfDNA present is from intracellular contents of embryonic cells that underwent apoptosis. Additional studies are warranted to determine other physiological sources of the cfDNA in blastocyst fluid and to determine the relationship with cfDNA content, embryo morphology, and chromosomal ploidy status plus implantation potential.
Access options
Buy single article
Instant access to the full article PDF.
USD 39.95
Price excludes VAT (USA)
Tax calculation will be finalised during checkout.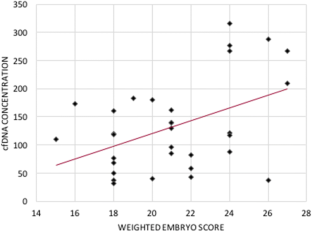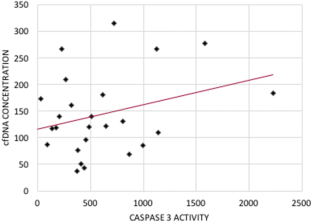 References
Heitmann R, Hill M, Richter K, DeCherney A, Wildra E. The simplified SART embryo scoring system is highly correlated to implantation and live birth in single blastocyst transfers. J Assist Reprod Genetics. 2013;30:563–7.

Balaban B, Gardner DK. Morphological assessment of blastocyst stage embryos: types of grading systems and their reported outcomes. In: Gardner D, Sakkas D, Seli E, Wells D, editors. Human Gametes and Preimplantation Embryos: assessment and diagnosis. New York: Springer Science and Media; 2013. p. 31–43.

Mandel P, Metais P. Les acides nucleiques du plasma sanguine chez l'homme. C.R. Acad Sci Paris. 1948;142:241–3.

Norwitz ER, Levy B. Noninvasive prenatal testing: the future is now. Rev Obstet Gynecol. 2013;6:48–62.

Bianchi DW, Parker RL, Wentworth J, Madankumar R, Saffer C, Das AF, et al. DNA sequencing versus standard prenatal aneuploidy screening. N Engl J Med. 2014;370(9):799–808.

Jurisicova A, Acton BM. Deadly decisions: the role of genes regulating programmed cell death in human preimplantation embryo development. Reproduction. 2004;128(3):281–91.

Palini S, Galluzzi L, De Stefani S, Bianchi M, Wells D, Magnani M, et al. Genomic DNA in human blastocoel fluid. ​Reprod Biomed Online. 2013;26:603–10.

Tobler KJ, Zhao Y, Ross R, Benner AT, Xu X, Du L, et al. Blastocoel fluid from differentiated blastocysts harbors embryonic genomic material capable of a whole-genome deoxyribonucleic acid amplification and comprehensive chromosome microarray analysis. Fertil Steril. 2015;104(2):418–25.

Jahr S, Hentze H, Englisch S, Hardt D, Fackelmayer F, Hesche R, et al. DNA fragments in the blood plasma of cancer patients: quantitations and evidence for their origin from apoptotic and necrotic cells. Cancer Res. 2001;61(4):1659–65.

Fabian D, Bukovská A, Juhás S, Koppel J. Apoptotic processes and DNA cytosine methylation in mouse embryos arrested at the 2-cell stage. Zygote. 2009;17(3):269–79.

Traver S, Assou S, Scalici E, Haouzi D, Al-Edani T, Belloc S, et al. Cell-free nucleic acids as non-invasive biomarkers of gynecological cancers, ovarian, endometrial and obstetric disorders and fetal aneuploidy. Hum Reprod Update. 2014;20(6):905–23.

Rehman KS, Bukulmez O, Langley M, Carr BR, Nackley AC, Doody KM. Late stages of embryo progression are a much better predictor of clinical pregnancy than early cleavage in intracytoplasmic sperm injection and in vitro fertilization cycles with blastocyst-stage transfer. Fertil Steril. 2007;87:1041–52.

Shapiro BS, Daneshmand ST, Garner FC, Aguirre M, Thomas S. Large blastocyst diameter, early blastulation, and low preovulatory serum progesterone are dominant predictors of clinical pregnancy in fresh autologous cycles. Fertil Steril. 2008;90:302–9.

Bruijns BB, Tiggelaar RM, Gardeniers JG. Fluorescent cyanine dyes for the quantification of low amounts of dsDNA. Anal Biochem. 2016;511:74–9.

Subira J, Craig J, Turner K, Bevan A, Ohuma E, McVeight E, et al. Grade of the inner cell mass, but not trophectoderm, predicts live birth in fresh blastocyst single transfers. Hum Fertil. 2016;19(4):254–61.

Ahlstrom A, Westin C, Reismer E, Wikland M, Hardarson T. Trophectoderm morphology: an important parameter for predicting live birth after single blastocyst transfer. Hum Reprod. 2011;26(12):3289–96.

Spanos S, Rice S, Karagiannis P, Taylor D, Becker DL, Winston RM, et al. Caspase activity and expression of cell death genes during development of human preimplantation embryos. Reproduction. 2002;124:353–63.
Ethics declarations
Conflict of interest
The authors declare that they have no conflict of interest.
Ethical approval
All procedures performed in this study involving human participants were in accordance with the ethical standards of the institutional and/or national research committee and with the 1964 Helsinki declaration and its later amendments or comparable ethical standards.
About this article
Cite this article
Rule, K., Chosed, R.J., Arthur Chang, T. et al. Relationship between blastocoel cell-free DNA and day-5 blastocyst morphology. J Assist Reprod Genet 35, 1497–1501 (2018). https://doi.org/10.1007/s10815-018-1223-4
Received:

Accepted:

Published:

Issue Date:

DOI: https://doi.org/10.1007/s10815-018-1223-4
Keywords
Cell-free DNA

Blastocyst

Apoptosis

Caspase-3

Morphology