Abstract
Purpose
The majority of milk in industrialized countries is obtained from pregnant cows, which contains increased levels of estrogen and progesterone compared to non-pregnant cows. The aim of this study was to quantify the amount of hormones present in milk with different fat content because previous studies on humans have shown potential effects of increased milk consumption on serum and urine hormone levels as well as on sperm parameters. However, it is unclear whether consumption of milk at the currently recommended levels would lead to systemic effects.
Methods
Samples of cow's milk of varying fat concentrations (0, 1, 2, 3.25, 10, and 35%) were analyzed via competitive ELISA assays.
Results
Progesterone concentrations were significantly correlated to increasing fat content of milk (r = 0.8251, p = 0.04).
Conclusions
Research on conditions in which additional progesterone may have an effect on human health should consider inclusion of limitation of milk intake and its effects. Further studies are needed to determine the concentration of progesterone in milk of different fat content in other regions and countries and to quantify the potential pathophysiologic role.
This is a preview of subscription content, log in to check access.
Access options
Buy single article
Instant access to the full article PDF.
US$ 39.95
Price includes VAT for USA
Subscribe to journal
Immediate online access to all issues from 2019. Subscription will auto renew annually.
US$ 199
This is the net price. Taxes to be calculated in checkout.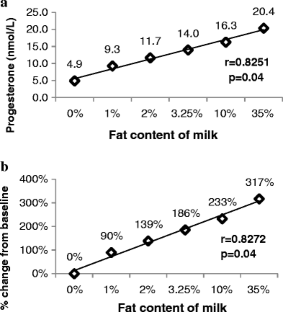 References
1.

Haimov-Kochman R, Shore LS, Laufer N. The milk we drink, food for thought. Fertil Steril. 2016;106(6):1310–1.

2.

Malekinejad H, Scherpenisse P, Bergwerff AA. Naturally occurring estrogens in processed milk and in raw milk (from gestated cows). J Agric Food Chem. 2006;54(26):9785–91.

3.

Goyon A, Cai JZ, Kraehenbuehl K, Hartmann C, Shao B, Mottier P. Determination of steroid hormones in bovine milk by LC-MS/MS and their levels in Swiss Holstein cow milk. Food Addit Contam Part A Chem Anal Control Expo Risk Assess. 2016;33(5):804–16.

4.

Committee for Veterinary Medicinal Products. Progesterone: summary report. The European Agency for the Evaluation of Medicinal Products, Evaluation and Inspections. December 1999. Available at: http://www.ema.europa.eu/docs/en_GB /document_library/Maximum_Residue_Limits_-_Report/2011/07/WC500108427. Pdf. Accessed 6 March 2017.

5.

Maruyama K, Oshima T, Ohyama K. Exposure to exogenous estrogen through intake of commercial milk produced from pregnant cows. Pediatr Int. 2010;52(1):33–8.

6.

Afeiche M, Williams PL, Mendiola J, Gaskins AJ, Jorgensen N, Swan SH, et al. Dairy food intake in relation to semen quality and reproductive hormone levels among physically active young men. Hum Reprod. 2013;28(8):2265–75.

7.

U.S. Department of Health and Human Services and U.S. Department of Agriculture. 2015–2020 Dietary Guidelines for Americans. 8th edition. December 2015. Available at: http://health.gov/dietaryguidelines/2015/guidelines/. Accessed 7 March 2017.

8.

Macrina AL, Ott TL, Roberts RF, Kensinger RS. Estrone and estrone sulfate concentrations in milk and milk fractions. J Acad Nutr Diet. 2012;112(7):1088–93.
About this article
Cite this article
Gilman, A.R., Buckett, W., Son, W.Y. et al. The relationship between fat and progesterone, estradiol, and chorionic gonadotropin levels in Quebec cow's milk. J Assist Reprod Genet 34, 1567–1569 (2017). https://doi.org/10.1007/s10815-017-1025-0
Received:

Accepted:

Published:

Issue Date:
Keywords
Cow milk

Progesterone

Milk consumption

Sex hormones