Abstract
Purpose
Adding preimplantation genetic screening to in vitro fertilization has been shown to increase live birth rate in women older than 37. However, preimplantation genetic screening is an expensive procedure. Information on the cost-effectiveness of preimplantation genetic screening can help inform clinical decision making.
Methods
We constructed a decision analytic model for a hypothetical fresh, autologous in vitro fertilization cycle (with versus without preimplantation genetic screening) for women older than age 37 who had a successful oocyte retrieval and development of at least one blastocyst. The model incorporated probability and cost estimates of relevant clinical events based on data from published literature. Sensitivity analyses were performed to examine the impact of changes in model input parameters.
Results
In base-case analysis, IVF-PGS offered a 4.2 percentage point increase in live birth rate for an additional cost of $4509, yielding an incremental cost-effectiveness ratio (ICER) of $105,489 per additional live birth. This ICER was below the expected cost of $145,063 for achieving one live birth with IVF (assuming an average LBR of 13.4% and $19,415 per cycle for this patient population). Sensitivity analysis suggested that ICER improved substantially with decreases in PGS cost and increases in PGS effectiveness. Monte Carlo simulation showed PGS to be cost-effective in 93.9% of iterations at an acceptability cutoff of $145,063.
Conclusions
Considering the expected cost of achieving one live birth with IVF, PGS is a cost-effective strategy for women older than 37 undergoing IVF. Additional research on patients' willingness-to-pay per live birth would further inform our understanding regarding the cost-effectiveness of PGS.
Access options
Buy single article
Instant access to the full article PDF.
US$ 39.95
Tax calculation will be finalised during checkout.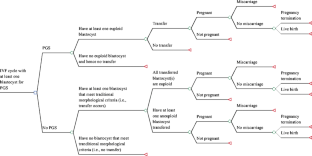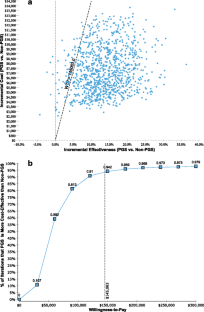 References
1.

Centers for Disease Control and Prevention ASfRM, Society for Assisted Reproductive Technology, 2014 Assisted Reproductive Technology National Summary Report. In: US Dept of Health and Human Services, editor. Atlanta (GA)2016.

2.

Mathews T, Hamilton BE. Mean age of mothers is on the rise: United States, 2000-2014. NCHS data brief. 2016(232):1–8.

3.

American College of Obstetricians and Gynecologists Committee on Gynecologic Practice and the Practice Committee of the American Society of Reproductive Medicine. Female age-related fertility decline. Committee opinion no. 589. Fertil Steril. 2014;101(3):633–4.

4.

Munne S, Alikani M, Tomkin G, Grifo J, Cohen J. Embryo morphology, developmental rates, and maternal age are correlated with chromosome abnormalities. Fertil Steril. 1995;64(2):382–91.

5.

Gardner DK, Meseguer M, Rubio C, Treff NR. Diagnosis of human preimplantation embryo viability. Hum Reprod Update. 2015;21(6):727–47.

6.

Mastenbroek S, Twisk M, van Echten-Arends J, Sikkema-Raddatz B, Korevaar JC, Verhoeve HR, et al. In vitro fertilization with preimplantation genetic screening. N Engl J Med. 2007;357(1):9–17.

7.

Chang J, Boulet SL, Jeng G, Flowers L, Kissin DM. Outcomes of in vitro fertilization with preimplantation genetic diagnosis: an analysis of the United States Assisted Reproductive Technology Surveillance Data, 2011-2012. Fertil Steril. 2016;105(2):394–400.

8.

Scott KL, Hong KH, Scott RT Jr. Selecting the optimal time to perform biopsy for preimplantation genetic testing. Fertil Steril. 2013;100(3):608–14.

9.

Coates A, Kung A, Mounts E, Hesla J, Bankowski B, Barbieri E, et al. Optimal euploid embryo transfer strategy, fresh versus frozen, after preimplantation genetic screening with next generation sequencing: a randomized controlled trial. Fertil Steril 2017;107(3):723–730 e3.

10.

Mersereau JE, Plunkett BA, Cedars MI. Preimplantation genetic screening in older women: a cost-effectiveness analysis. Fertil Steril. 2008;90(3):592–8.

11.

Demko ZP, Simon AL, McCoy RC, Petrov DA, Rabinowitz M. Effects of maternal age on euploidy rates in a large cohort of embryos analyzed with 24-chromosome single-nucleotide polymorphism–based preimplantation genetic screening. Fertil Steril. 2016;105(5):1307–13.

12.

Forman EJ, Upham KM, Cheng M, Zhao T, Hong KH, Treff NR, et al. Comprehensive chromosome screening alters traditional morphology-based embryo selection: a prospective study of 100 consecutive cycles of planned fresh euploid blastocyst transfer. Fertil Steril. 2013;100(3):718–24.

13.

Kang H-J, Melnick AP, Stewart JD, Xu K, Rosenwaks Z. Preimplantation genetic screening: who benefits? Fertil Steril. 2016;

14.

Lee HL, McCulloh DH, Hodes-Wertz B, Adler A, McCaffrey C, Grifo JA. In vitro fertilization with preimplantation genetic screening improves implantation and live birth in women age 40 through 43. J Assist Reprod Genet. 2015;32(3):435–44.

15.

Fragouli E, Alfarawati S, Spath K, Wells D. Morphological and cytogenetic assessment of cleavage and blastocyst stage embryos. Mol Hum Reprod. 2014;20(2):117–26.

16.

Rubio C, Bellver J, Rodrigo L, Castillon G, Guillen A, Vidal C, et al. In vitro fertilization with preimplantation genetic diagnosis for aneuploidies in advanced maternal age: a randomized, controlled study. Fertil Steril. 2017;107(5):1122–9.

17.

Murugappan G, Ohno MS, Lathi RB. Cost-effectiveness analysis of preimplantation genetic screening and in vitro fertilization versus expectant management in patients with unexplained recurrent pregnancy loss. Fertil Steril. 2015;103(5):1215–20.

18.

Dalton VK, Liang A, Hutton DW, Zochowski MK, Fendrick AM. Beyond usual care: the economic consequences of expanding treatment options in early pregnancy loss. Am J Obstet Gynecol. 2015;212(2):177.e1–6.

19.

Jones RK, Kooistra K. Abortion incidence and access to services in the United States, 2008. Perspect Sex Reprod Health. 2011;43(1):41–50.

20.

Evans M, Sonek J, Hallahan T, Krantz D. Cell-free fetal DNA screening in the USA: a cost analysis of screening strategies. Ultrasound Obstet Gynecol. 2015;45(1):74–83.

21.

Statistics BoL. Consumer Price Index: Bureau of Labor Statistics; [March 24, 2017]. Available from: http://www.bls.gov/cpi/.

22.

Neumann PJ, Johannesson M. The willingness to pay for in vitro fertilization: a pilot study using contingent valuation. Med Care. 1994;32(7):686–99.

23.

Resetkova N, Humm K, Penzias A, Sakkas D, Lannon B. IVF proves cost effective compared to minimal stimulation embryo transfer, but minimal stimulation is a cost neutral alternative for women under age 35. Fertil Steril. 2015;104(3):e205.

24.

Neumann PJ, Cohen JT, Weinstein MC. Updating cost-effectiveness—the curious resilience of the $50,000-per-QALY threshold. N Engl J Med. 2014;371(9):796–7.

25.

Hirth RA, Chernew ME, Miller E, Fendrick AM, Weissert WG. Willingness to pay for a quality-adjusted life year: in search of a standard. Med Decis Mak. 2000;20(3):332–42.

26.

Sanders GD, Neumann PJ, Basu A, Brock DW, Feeny D, Krahn M, et al. Recommendations for conduct, methodological practices, and reporting of cost-effectiveness analyses: second panel on cost-effectiveness in health and medicine. JAMA. 2016;316(10):1093–103.

27.

Gebhart MB, Hines RS, Penman A, Holland AC. How do patient perceived determinants influence the decision-making process to accept or decline preimplantation genetic screening? Fertil Steril. 2016;105(1):188–93.

28.

Gleicher N, Vidali A, Braverman J, Kushnir VA, Barad DH, Hudson C, et al. Accuracy of preimplantation genetic screening (PGS) is compromised by degree of mosaicism of human embryos. Reprod Biol Endocrinol. 2016;14

29.

Greco E, Minasi MG, Fiorentino F. Healthy babies after intrauterine transfer of mosaic aneuploid blastocysts. N Engl J Med. 2015;373(21):2089–90.

30.

Munne S, Grifo J, Wells D. Mosaicism: "survival of the fittest" versus "no embryo left behind". Fertil Steril. 2016;105(5):1146–9.

31.

Kung A, Munne S, Bankowski B, Coates A, Wells D. Validation of next-generation sequencing for comprehensive chromosome screening of embryos. Reprod BioMed Online. 2015;31(6):760–9.

32.

Ubaldi FM, Capalbo A, Colamaria S, Ferrero S, Maggiulli R, Vajta G, et al. Reduction of multiple pregnancies in the advanced maternal age population after implementation of an elective single embryo transfer policy coupled with enhanced embryo selection: pre- and post-intervention study. Hum Reprod. 2015;30(9):2097–106.

33.

Forman EJ, Hong KH, Franasiak JM, Scott RT Jr. Obstetrical and neonatal outcomes from the BEST Trial: single embryo transfer with aneuploidy screening improves outcomes after in vitro fertilization without compromising delivery rates. Am J Obstet Gynecol. 2014;210(2):157e1–6.

34.

Cedars MI. Fresh versus frozen: initial transfer or cumulative cycle results: how do we interpret results and design studies? Fertil Steril. 2016;106(2):251–6.

35.

Provost MP, Acharya KS, Acharya CR, Yeh JS, Steward RG, Eaton JL, et al. Pregnancy outcomes decline with increasing body mass index: analysis of 239,127 fresh autologous in vitro fertilization cycles from the 2008-2010 Society for Assisted Reproductive Technology registry. Fertil Steril. 2016;105(3):663–9.

36.

Humphries LA, Chang O, Humm K, Sakkas D, Hacker MR. Influence of race and ethnicity on in vitro fertilization outcomes: systematic review. Am J Obstet Gynecol. 2016;214(2):212 e1–e17.

37.

Sermon K, Capalbo A, Cohen J, Coonen E, De Rycke M, De Vos A, et al. The why, the how and the when of PGS 2.0: current practices and expert opinions of fertility specialists, molecular biologists, and embryologists. Mol Hum Reprod. 2016;22(8):845–57.
Acknowledgements
We thank Ms. Jeani Chang (CDC) and Dr. Vanessa Dalton for kindly sharing unpublished data from their manuscripts for inclusion in our analysis.
Ethics declarations
Conflict of interest
The authors declare that they have no conflicts of interest.
Electronic supplementary material
The tornado diagram shows change in estimated incremental cost-effectiveness ratio (ICER) of IVF-PGS compared to IVF without PGS when each model input parameter was varied from its minimum value to maximum value (one-way sensitivity analysis). (PDF 199 kb)
Two-way Sensitivity Analysis. This figure shows change in estimated incremental cost-effectiveness ratio (ICER) of IVF-PGS compared to IVF without PGS the cost of PGS and the odds ratio of pregnancy with IVF-PGS (vs. PGS alone) were varied simultaneously. (PDF 209 kb)
About this article
Cite this article
Collins, S.C., Xu, X. & Mak, W. Cost-effectiveness of preimplantation genetic screening for women older than 37 undergoing in vitro fertilization. J Assist Reprod Genet 34, 1515–1522 (2017). https://doi.org/10.1007/s10815-017-1001-8
Received:

Accepted:

Published:

Issue Date:
Keywords
Cost-effectiveness

Preimplantation genetic screening

In vitro fertilization

Willingness-to-pay