Abstract
Purpose
The purpose of the study was to determine whether diagnosis of endometriosis or endometriosis with endometrioma influences in vitro fertilization (IVF) outcomes in an ethnically diverse population.
Methods
Women undergoing a first IVF cycle (n = 717) between January 1, 2008 and December 31, 2009, at a university-affiliated infertility clinic, were retrospectively assessed for an endometriosis diagnosis. Differences in prevalence of endometriosis by ethnicity were determined, as well as differences in IVF success by ethnicity, with a focus on country of origin for Asian women. A multivariate model was generated to assess the relative contributions of country of origin and endometriosis to chance of clinical pregnancy with IVF.
Results
Endometriosis was diagnosed in 9.5% of participants; 3.5% also received a diagnosis of endometrioma. Endometriosis prevalence in Asian women was significantly greater than in Caucasians (15.7 vs. 5.8%, p < 0.01). Women of Filipino (p < 0.01), Indian (p < 0.01), Japanese (p < 0.01), and Korean (p < 0.05) origin specifically were more likely to have endometriosis than Caucasian women, although there was no difference in endometrioma presence by race/ethnicity. Oocyte quantity, embryo quality, and fertilization rates did not relate to endometriosis. Clinical pregnancy rates were significantly lower for Asian women, specifically in Indian (p < 0.05), Japanese (p < 0.05), and Korean (p < 0.05) women, compared to Caucasian women, even after controlling for endometriosis status.
Conclusions
The prevalence of endometriosis appears to be higher in Filipino, Indian, Japanese, and Korean women presenting for IVF treatment than for Caucasian women; however, the discrepancy in IVF outcomes was conditionally independent of the presence of endometriosis. Future research should focus on improving pregnancy outcomes for Asian populations whether or not they are affected by endometriosis, specifically in the form of longitudinal studies where exposures can be captured prior to endometriosis diagnoses and infertility treatment.
Access options
Buy single article
Instant access to the full article PDF.
USD 39.95
Price includes VAT (USA)
Tax calculation will be finalised during checkout.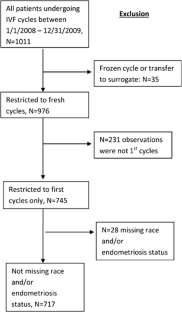 References
1.

Eskenazi B, Warner ML. Epidemiology of endometriosis. Obstet Gynecol Clin N Am. 1997;24:235–58.

2.

Velebil P, Wingo PA, Xia Z, Wilcox LS, Peterson HB. Rate of hospitalization for gynecologic disorders among reproductive-age women in the United States. Obstet Gynecol. 1995;86:764–9.

3.

Dokras A, Olive DL. Endometriosis and assisted reproductive technologies. Clin Obstet Gynecol. 1999;42:687–98.

4.

Dechaud H, Dechanet C, Brunet C, Reyftmann L, Hamamah S, Hedon B. Endometriosis and in vitro fertilisation: a review. Gynecol Endocrinol. 2009;25:717–21.

5.

Harb HM, Gallos ID, Chu J, Harb M, Coomarasamy A. The effect of endometriosis on in vitro fertilisation outcome: a systematic review and meta-analysis. BJOG. 2013;120:1308–20.

6.

American Society for Reproductive Medicine. Endometriosis and infertility: a committee opinion. Fertil Steril. 2012;98:591–8.

7.

Canis M, Donnez JG, Guzick DS, Halme JK, Rock JA, Schenken RS, Vernon MW. Revised American Society for Reproductive Medicine classification of endometriosis: 1996. Fertil Steril. 1997;67:817–21.

8.

Moore J, Copley S, Morris J, Lindsell D, Golding S, Kennedy S. A systematic review of the accuracy of ultrasound in the diagnosis of endometriosis. Ultrasound Obstet Gynecol. 2002;20:630–4.

9.

Giudice LC, Kao LC. Endometriosis. Lancet. 2004;364:1789–99.

10.

Cramer DW, Missmer SA: The epidemiology of endometriosis, in endometriosis: emerging research and intervention strategies, K. Yoshinaga, E.C. Parrott (eds), 2002, pp 11–22

11.

Miyazawa K. Incidence of endometriosis among Japanese women. Obstet Gynecol. 1976;48:407–9.

12.

Arumugam K, Templeton AA. Endometriosis and race. Aust N Z J Obstet Gynaecol. 1992;32:164–5.

13.

Sangi-haghpeykar H, Poindexter AN. Epidemiology of endometriosis among parous women. Obstet Gynecol. 1995;85:983–92.

14.

Missmer SA, Hankinson SE, Spiegelman D, Barbieri RL, Marshall LM, Hunter DJ. Incidence of laparoscopically confirmed endometriosis by demographic, anthropometric, and lifestyle factors. Am J Epidemiol. 2004;160:784–96.

15.

Fujimoto VY, Luke B, Brown MB, Jain T, Armstrong A, Grainger DA, Hornstein MD. Racial and ethnic disparities in assisted reproductive technology outcomes in the United States. Fertil Steril. 2010;93:382–90.

16.

Purcell K, Schembri M, Frazier LM, Rall MJ, Shen S, Croughan M, Grainger DA, Fujimoto VY. Asian ethnicity is associated with reduced pregnancy outcomes after assisted reproductive technology. Fertil Steril. 2007;87:297–302.

17.

McQueen DB, Schufreider A, Lee SM, Feinberg EC, Uhler ML. Racial disparities in in vitro fertilization outcomes. Fertil Steril. 2015;104:398–402.e1.

18.

Bendikson K, Cramer DW, Vitonis A, Hornstein MD. Ethnic background and in vitro fertilization outcomes. Int J Gynaecol Obstet. 2005;88:342–6.

19.

Shahine LK, Lamb JD, Lathi RB, Milki AA, Langen E, Westphal LM. Poor prognosis with in vitro fertilization in Indian women compared to Caucasian women despite similar embryo quality. PLoS One. 2009;4(10):e7599.

20.

Jacoby VL, Fujimoto VY, Giudice LC, Kuppermann M, Washington AE. Racial and ethnic disparities in benign gynecologic conditions and associated surgeries. Am J Obstet Gynecol. 2010;202:514–21.

21.

Adachi S, Tajima A, Quan JH, Haino K, Yoshihara K, Masuzaki H, Katabuchi H, Ikuma K, Suginami H, Nishida N, Kuwano R, Okazaki Y, Kawamura Y, Sasaki T, Tokunaga K, Inoue I, Tanaka K. Meta-analysis of genome-wide association scans for genetic susceptibility to endometriosis in Japanese population. J Hum Genet. 2010;55:816–21.

22.

Kado N, Kitawaki J, Obayashi H, Ishihara H, Koshiba H, Kusuki I, Tsukamoto K, Hasegawa G, Nakamura N, Yoshikawa T, Honjo H. Association of the CYP17 gene and CYP19 gene polymorphisms with risk of endometriosis in Japanese women. Hum Reprod. 2002;17:897–902.

23.

Kang S, Li SZ, Wang N, Zhou RM, Wang T, Wang DJ, Li XF, Bui J, Li Y. Association between genetic polymorphisms in fibroblast growth factor (FGF)1 and FGF2 and risk of endometriosis and adenomyosis in Chinese women. Hum Reprod. 2010;25:1806–11.

24.

Tempfer CB, Simoni M, Destenaves B, Fauser BCJM. Functional genetic polymorphisms and female reproductive disorders: part II—endometriosis. Hum Reprod Update. 2009;15:97–118.

25.

Uno S, Zembutsu H, Hirasawa A, Takahashi A, Kubo M, Akahane T, Aoki D, Kamatani N, Hirata K, Nakamura Y. A genome-wide association study identifies genetic variants in the CDKN2BAS locus associated with endometriosis in Japanese. Nat Genet. 2010;42:707–U88.

26.

Lamb K, Hoffmann RG, Nichols TR. Family trait analysis: a case-control study of 43 women with endometriosis and their best friends. Am J Obstet Gynecol. 1986;154:596–601.

27.

Nouri K, Ott J, Krupitz B, Huber JC, Wenzl R. Family incidence of endometriosis in first-, second-, and third-degree relatives: case-control study. Reprod Biol Endocrinol. 2010;8

28.

Simpson JL, Elias S, Malinak LR, Buttram Jr VC. Heritable aspects of endometriosis. I. Genetic studies. Am J Obstet Gynecol. 1980;137:327–31.

29.

Upson K, Sathyanarayana S, Scholes D, Holt VL. Early-life factors and endometriosis risk. Fertil Steril. 2015;104:964–971.e5.

30.

Berube S, Marcoux S, Maheux R. Canadian Collaborative Grp E: characteristics related to the prevalence of minimal or mild endometriosis in infertile women. Epidemiology. 1998;9:504–10.

31.

Ferrero S, Anserini P, Remorgida V, Ragni N. Body mass index in endometriosis. Eur J Obstet Gynecol Reprod Biol. 2005;121:94–8.

32.

Hediger ML, Hartnett HJ, Louis GMB. Association of endometriosis with body size and figure. Fertil Steril. 2005;84:1366–74.

33.

Hemmings R, Rivard M, Olive DL, Poliquin-Fleury J, Gagne D, Hugo P, Gosselin D. Evaluation of risk factors associated with endometriosis. Fertil Steril. 2004;81:1513–21.

34.

Matalliotakis IM, Cakmak H, Fragouli YG, Goumenou AG, Mahutte NG, Arici A. Epidemiological characteristics in women with and without endometriosis in the Yale series. Arch Gynecol Obstet. 2008;277:389–93.

35.

McCann SE, Freudenheim JL, Darrow SL, Batt RE, Zielezny MA. Endometriosis and body fat distribution. Obstet Gynecol. 1993;82:545–9.

36.

Signorello LB, Harlow BL, Cramer DW, Spiegelman D, Hill JA. Epidemiologic determinants of endometriosis: a hospital-based case-control study. Ann Epidemiol. 1997;7:267–74.

37.

Missmer SA, Hankinson SE, Spiegelman D, Barbieri RL, Michels KB, Hunter DJ. In utero exposures and the incidence of endometriosis. Fertil Steril. 2004;82:1501–8.

38.

Vitonis AF, Baer HJ, Hankinson SE, Laufer MR, Missmer SA. A prospective study of body size during childhood and early adulthood and the incidence of endometriosis. Hum Reprod. 2010;25:1325–34.

39.

Bongioanni F, Revelli A, Gennarelli G, Guidetti D, Delle Piane LD, Holte J. Ovarian endometriomas and IVF: a retrospective case-control study. Reprod Biol Endocrinol. 2011;9:81.

40.

Check JH, Liss JR, Krotec JW, Choe JK, Brasile D. The effect of endometriosis on pregnancy outcome following in vitro fertilization-embryo transfer (IVF-ET) in women with decreased egg reserve. Clinical and Experimental Obstetrics & Gynecology. 2010;37:108–9.

41.

Mohamed AMF, Chouliaras S, Jones CJP, Nardo LG. Live birth rate in fresh and frozen embryo transfer cycles in women with endometriosis. Eur J Obstet Gynecol Reprod Biol. 2011;156:177–80.

42.

Barnhart K, Dunsmoor-Su R, Coutifaris C. Effect of endometriosis on in vitro fertilization. Fertil Steril. 2002;77:1148–55.

43.

Suzuki T, Izumi S, Matsubayashi H, Awaji H, Yoshikata K, Makino T. Impact of ovarian endometrioma on oocytes and pregnancy outcome in in vitro fertilization. Fertil Steril. 2005;83:908–13.

44.

Hamdan M, Dunselman G, Li TC, Cheong Y. The impact of endometrioma on IVF/ICSI outcomes: a systematic review and meta-analysis. Hum Reprod Update. 2015;21:809–25.

45.

Buck Louis GM, Hediger ML, Peterson CM, Croughan M, Sundaram R, Stanford J, Chen Z, Fujimoto VY, Varner MW, Trumble A, Giudice LC, Grp ESW. Incidence of endometriosis by study population and diagnostic method: the ENDO study. Fertil Steril. 2011;96:360–5.

46.

Eskenazi B, Warner M, Bonsignore L, Olive D, Samuels S, Vercellini P. Validation study of nonsurgical diagnosis of endometriosis. Fertil Steril. 2001;76:929–35.

47.

Abrao MS, Goncalves M, Dias JA, Podgaec S, Chamie LP, Blasbalg R. Comparison between clinical examination, transvaginal sonography and magnetic resonance imaging for the diagnosis of deep endometriosis. Hum Reprod. 2007;22:3092–7.

48.

Guerriero S, Ajossa S, Garau N, Alcazar JL, Mais V, Melis GB. Diagnosis of pelvic adhesions in patients with endometrioma: the role of transvaginal ultrasonography. Fertil Steril. 2010;94:742–6.

49.

Collins J, Evers H, Golombok S, Hannaford P, Jacobs HS, La Vecchia C, Macunovich DJ, Crosignani PG, Devroey P, Diedrich K, Farley T, Gianaroli L, Liebaers I, Persson J, Quartarolo JP, Ragni G, Tarlatzis B, Van Steirteghem A, Diczfalusy E, Rubin BL. Social determinants of human reproduction. Hum Reprod. 2001;16:1518–26.

50.

Datta J, Palmer MJ, Tanton C, Gibson LJ, Jones KG, Macdowall W, Glasier A, Sonnenberg P, Field N, Mercer CH, Johnson AM, Wellings K. Prevalence of infertility and help seeking among 15 000 women and men. Hum Reprod. 2016;31:2108–18.
Acknowledgements
The authors would like to thank the participating patients who contributed to this study. We would also like to acknowledge Dr. Trimble Spitzer (University of California, San Francisco) for lending us her expertise in identifying endometriosis patients.
Ethics declarations
Prior approval of the study protocol was obtained from the UCSF Committee for Human Research.
Conflict of interest
The authors declare that they have no competing interests.
Electronic supplementary material
About this article
Cite this article
Yamamoto, A., Johnstone, E.B., Bloom, M.S. et al. A higher prevalence of endometriosis among Asian women does not contribute to poorer IVF outcomes. J Assist Reprod Genet 34, 765–774 (2017). https://doi.org/10.1007/s10815-017-0919-1
Received:

Accepted:

Published:

Issue Date:
Keywords
Endometriosis

Endometrioma

In vitro fertilization

Race

Ethnicity