Abstract
Purpose
The present study was designed to test the hypothesis that long-term treatment with hydrogen-rich saline abated testicular oxidative stress induced by nicotine in mice.
Methods
The effects of hydrogen-rich saline (6 ml/kg, i.p.), vitamin C (60 mg/kg, i.p.) and vitamin E (100 mg/kg, i.p.) on reproductive system and testicular oxidative levels in nicotine-treated (4.5 mg/kg, s.b.) mice were investigated.
Results
It was found that vitamin C and vitamin E attenuated serum oxidative level, but did not lower testicular oxidative levels in mice subjected to chronic nicotine treatment, and did not improve the male reproductive damage and apoptosis induced by nicotine. Different from normal antioxidants, vitamin C and vitamin E, hydrogen-rich saline abated oxidative stress in testis, and protected against nicotine-induced male reproductive damages.
Conclusion
Our results first demonstrated that long-term treatment with hydrogen-rich saline attenuated testicular oxidative level and improved male reproductive function in nicotine-treated mice.
Access options
Buy single article
Instant access to the full article PDF.
USD 39.95
Price includes VAT (USA)
Tax calculation will be finalised during checkout.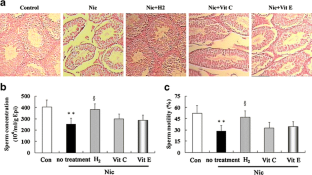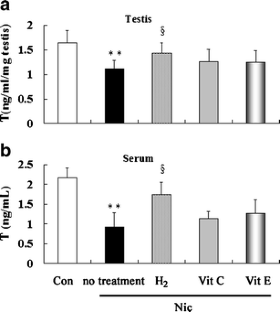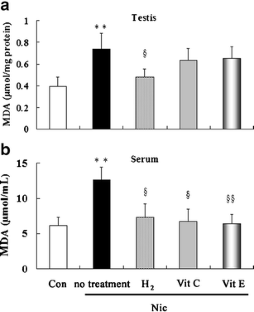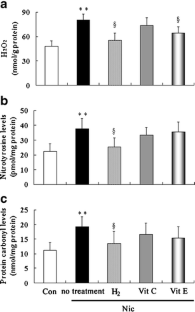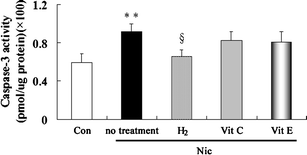 References
1.

Takenawa J, Kaneko Y, Okumura K, Nakayama H, Fujita J, Yoshida O. Urinary excretion of mutagens and covalent DNA damage induced in the bladder and kidney after passive smoking in rats. Urol Res. 1994;22:93–7.

2.

Sofikitis N, Miyagawa I, Dimitriadis D, Zavos P, Sikka S, Hellstrom W. Effects of smoking on testicular function, semen quality and sperm fertilizing capacity. J Urol. 1995;154:1030–4.

3.

Kavitharaj NK, Vijayammal PL. Nicotine administration induced changes in the gonadal functions in male rats. Pharmacology. 1999;58:2–7.

4.

Yamamoto Y, Isoyama E, Sofikitis N, Miyagawa I. Effects of smoking on testicular function and fertilizing potential in rats. Urol Res. 1998;26:45–8.

5.

Aydos K, Guven MC, Can B, Ergun A. Nicotine toxicity to the ultrastructure of the testis in rats. BJU Int. 2001;88:622–6.

6.

Stillman RJ, Rosenberg MJ, Sachs BP. Smoking and reproduction. Fertil Steril. 1986;46:545–9.

7.

Pacifici R, Altieri I, Gandini L, Lenzi A, Pichini S, Rosa M, et al. Nicotine, cotinine, and trans-3-hydroxycotinine levels in seminal plasma of smokers: effects on sperm parameters. Ther Drug Monit. 1993;15:358–62.

8.

Yeh J, Barbieri RL, Friedman AJ. Nicotine and cotinine inhibit rat testis androgen biosynthesis in vitro. J Steroid Biochem. 1989;33:627–30.

9.

Jana K, Samanta PK, De DK. Nicotine diminishes testicular gametogenesis, steroidogenesis, and steroidogenic acute regulatory protein expression in adult albino rats: possible influence on pituitary gonadotropins and alteration of testicular antioxidant status. Toxicol Sci. 2010;116:647–59.

10.

Reddy S, Londonkar R, Reddy S, Patil SB. Testicular changes due to graded doses of nicotine in albino mice. Indian J Physiol Pharmacol. 1998;42:276–80.

11.

Erat M, Ciftci M, Gumustekin K, Gul M. Effects of nicotine and vitamin E on glutathione reductase activity in some rat tissues in vivo and in vitro. Eur J Pharmacol. 2007;554:92–7.

12.

Ohsawa I, Ishikawa M, Takahashi K, Watanabe M, Nishimaki K, Yamagata K, et al. Hydrogen acts as a therapeutic antioxidant by selectively reducing cytotoxic oxygen radicals. Nat Med. 2007;13:688–94.

13.

Cai J, Kang Z, Liu WW, Luo X, Qiang S, Zhang JH, et al. Hydrogen therapy reduces apoptosis in neonatal hypoxia-ischemia rat model. Neurosci Lett. 2008;441:167–72.

14.

Buchholz BM, Kaczorowski DJ, Sugimoto R, Yang R, Wang Y, Billiar TR, et al. Hydrogen inhalation ameliorates oxidative stress in transplantation induced intestinal graft injury. Am J Transplant. 2008;8:2015–24.

15.

Fukuda K, Asoh S, Ishikawa M, Yamamoto Y, Ohsawa I, Ohta S. Inhalation of hydrogen gas suppresses hepatic injury caused by ischemia/reperfusion through reducing oxidative stress. Biochem Biophys Res Commun. 2007;361:670–4.

16.

Hayashida K, Sano M, Ohsawa I, Shinmura K, Tamaki K, Kimura K, et al. Inhalation of hydrogen gas reduces infarct size in the rat model of myocardial ischemia-reperfusion injury. Biochem Biophys Res Commun. 2008;373:30–5.

17.

Sun Q, Kang Z, Cai J, Liu W, Liu Y, Zhang JH, et al. Hydrogenrich saline protects myocardium against ischemia/reperfusion injury in rats. Exp Biol Med. 2009;234:1212–9.

18.

Lyras L, Evans PJ, Shaw PJ, Ince PG, Halliwell B. Oxidative damage and motor neurone disease difficulties in the measurement of protein carbonyls in human brain tissue. Free Radic Res. 1996;24:397–406.

19.

Guemouri L, Lecomte E, Herbeth B, Pirollet P, Paille F, Siest G, et al. Blood activities of antioxidant enzymes in alcoholics before and after withdrawal. J Stud Alcohol. 1993;54:626–9.

20.

Jenkins RR, Goldfarb A. Introduction: oxidant stress, aging, and exercise. Med Sci Sports Exerc. 1993;25:210–2.

21.

Leanderson P, Tagesson C. Cigarette smoke-induced DNA damage in cultured human lung cells: role of hydroxyl radicals and endonuclease activation. Chem Biol Interact. 1992;81:197–208.

22.

Wetscher GJ, Bagchi M, Bagchi D, Perdikis G, Hinder PR, Glaser K, et al. Free radical production in nicotine treated pancreatic tissue. Free Radic Biol Med. 1995;18:877–82.

23.

Anandatheerthavarada HK, Williams JF, Wecker L. The chronic administration of nicotine induces cytochrome P450 in rat brain. J Neurochem. 1993;60:1941–4.

24.

Ashakumary L, Vijayammal PL. Lipid peroxidation in nicotine treated rats. J Ecotoxicol Environ Monit. 1991;1:283–90.

25.

Bhagwat SV, Vijayasarathy C, Raza H, Mullick J, Avadhani NG. Preferential effects of nicotine and 4-(N-methyl-N-nitrosamine)-1-(3- pyridyl)-1-butanone on mitochondrial glutathione S-transferase A4-4 induction and increased oxidative stress in the rat brain. Biochem Pharmacol. 1998;56:831–9.

26.

Pryor WA, Stone K. Oxidants in cigarette smoke. Radicals, hydrogen peroxide, peroxynitrate, and peroxynitrite. Ann N Y Acad Sci. 1993;686:12–27.

27.

Maher P, Salgado KF, Zivin JA, Lapchak PA. A novel approach to screening for new neuroprotective compounds for the treatment of stroke. Brain Res. 2007;1173:117–25.
Additional information
Capsule Long-term treatment with hydrogen-rich saline could attenuate testicular oxidative level and improve male reproductive function in nicotine-treated mice.
Shu Li and DanDan Lu contribute equally to this work. Both persons are the first authors.
About this article
Cite this article
Li, S., Lu, D., Zhang, Y. et al. Long-term treatment of hydrogen-rich saline abates testicular oxidative stress induced by nicotine in mice. J Assist Reprod Genet 31, 109–114 (2014). https://doi.org/10.1007/s10815-013-0102-2
Received:

Accepted:

Published:

Issue Date:
Keywords
Hydrogen-rich saline

Vitamin C

Vitamin E

Male reproductive system

Oxidative stress

Apoptosis