Abstract
Purpose
To evaluate whether psychological stress, as well as changes in hypothalamus-pituitary-adrenal (HPA) axis and sympathetic nervous system (SNS) at different time points during a first in vitro fertilization (IVF) cycle, correlates with the reproductive outcome.
Methods
A prospective study was conducted in 264 women undergoing IVF or intracytoplasmic sperm injection (ICSI) treatment between January 2009 and March 2010. Standardized psychological questionnaires were used to assess anxiety and depression. Norepinephrine and cortisol in serum were measured with specific assays.
Results
The non-pregnant women reported higher anxiety and depression scores at the pregnancy detection day compared with the pregnant group. Lower levels of norepinephrine and cortisol at the time of oocyte retrieval and lower levels of cortisol at the time of pregnancy test were found in women with successful treatment. Significant increases in serum norepinephrine and cortisol values were observed during ovarian stimulation. State Anxiety scores were negatively correlated with live birth rate, and positively associated with serum norepinephrine and cortisol values.
Conclusions
State anxiety is associated with both pregnancy rate and live birth rate in IVF patients, an effect that is partly mediated by activities in the HPA and SNS.
Access options
Buy single article
Instant access to the full article PDF.
USD 39.95
Price excludes VAT (USA)
Tax calculation will be finalised during checkout.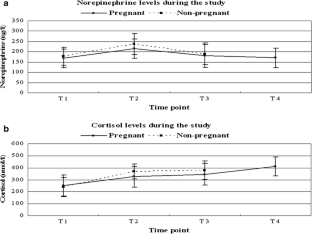 References
Verhaak CM, Smeenk JM, van Minnen A, Kremer JA, Kraaimaat FW. A longitudinal, prospective study on emotional adjustment before, during and after consecutive fertility treatment cycles. Hum Reprod. 2005;20:2253–60.

Ardenti R, Campari C, Agazzi L, La-Sala GB. Anxiety and perceptive functioning of infertile women during in-vitro fertilization: Exploratory survey of an Italian sample. Hum Reprod. 1999;14:3126–32.

Boivin J, Takefman JE, Tulandi T, Brender W. Reactions to infertility based on extent of treatment failure. Fertil Steril. 1995;63:801–7.

Yong P, Martin C, Thong J. A comparison of psychological functioning in women at different stages of in vitro fertilization treatment using the mean affect adjective checklist. J Assist Reprod Genet. 2000;17:553–6.

Kolonoff-Cohen H, Chu E, Natarajan L, Sieber W. A prospective study of stress among women undergoing in vitro fertilization or gamete intrafallopian transfer. Fertil Steril. 2001;76:675–87.

Klonoff-Cohen H. Female and male lifestyle habits and IVF: What is known and unknown. Hum Reprod Update. 2005;11:179–203.

de Klerk C, Hunfeld JAM, Heijnen EMEW, Eijkemans MJC, Fauser BCJM, Passchier J, Macklon NS. Low negative affect prior to treatment is associated with a decreased chance of live birth from a first IVF cycle. Hum Reprod. 2008;23:112–6.

Williams KE, Marsh WK, Rasgon NL. Mood disorders and fertility in women: A critical review of the literature and implications for future research. Hum Reprod Update. 2007;13:607–16.

Klonoff-Cohen H, Natarajan L. The concerns during assisted reproductive technologies (CART) scale and pregnancy outcomes. Fertil Steril. 2004;81:982–8.

Lintsen AM, Verhaak CM, Eijkemans MJ, Smeenk JM, Braat DD. Anxiety and depression have no influence on the cancellation and pregnancy rates of a first IVF or ICSI treatment. Hum Reprod. 2009;24:1092–8.

Deuschle M, Schweiger U, Weber B, Gotthardt U, Körner A, Schmider J, Standhardt H, Lammers CH, Heuser I. Diurnal activity and pulsatility of the hypothalamus-pituitary-adrenal system in male depressed patients and healthy controls. J Clin Endocrinol Metab. 1997;82:234–8.

Lake CR, Pickar D, Ziegler MG, Lipper S, Slater S, Murphy DL. High plasma norepinephrine levels in patients with major affective disorder. Am J Psychiatry. 1982;139:1315–8.

Harlow CR, Fahy UM, Talbot WM, Wardle PG, Hull MG. Stress and stress-related hormones during in-vitro fertilization treatment. Hum Reprod. 1996;11:274–9.

An Y, Wang Z, Ji H, Zhang Y, Wu K. Pituitary-adrenal and sympathetic nervous system responses to psychiatric disorders in women undergoing in vitro fertilization treatment. Fertil Steril. 2011;96:404–8.

Nakamura K, Sheps S, Arck PC. Stress and reproductive failure: Past notions, present insights and future directions. J Assist Reprod Genet. 2008;25(2–3):47–62.

Spielberger CD. Manual for the State-trait anxiety scale. Palo Alto, CA: Consulting Psychologists Press; 1983.

Beck AT, Guth D, Steer RA, Ball R. Screening for major depression disorders in medical inpatients with the Beck Depression Inventory for primary care. Behav Res Ther. 1997;35:785–91.

Willemsen JJ, Ross HA, Jacobs MC, Lenders JW, Thien T, Swinkels LM, Benraad TJ. Highly sensitive and specific HPLC with fluorometric detection for determination of plasma adrenaline and noradrenaline applied to kinetic studies in humans. Clin Chem. 1995;41:1455–60.

Vecsei P, Penke B, Katzy R, Baek L. Radioimmunological determination of plasma cortisol. Experientia. 1972;28:1104–5.

Demyttenaere K, Bonte L, Gheldof M, Vervaeke M, Meuleman C, Vanderschuerem D, D'Hooghe T. Coping style and depression level influence outcome in in vitro fertilization. Fertil Steril. 1998;69:1026–33.

Michael AE. Life after liquorice: The link between cortisol and conception. Reprod Biomed Online. 2003;7:683–90.

Michael AE, Cooke BA. A working hypothesis for the regulation of steroidogenesis and germ cell development in the gonads by glucocorticoids and 11 beta-hydroxysteroid dehydrogenase (11 beta HSD). Mol Cell Endocrinol. 1994;100:55–63.

Buznikov GA, Shmukler YB, Lauder JM. From oocyte to neuron: Do neurotransmitters function in the same way throughout development? Cell Mol Neurobiol. 1996;16:537–59.

Barria A, Leyton V, Ojeda SR, Lara HE. Ovarian steroidal response to gonadotropins and beta-adrenergic stimulation is enhanced in polycystic ovary syndrome: Role of sympathetic innervation. Endocrinology. 1993;133:2696–703.

Li XH, Ma YG, Geng LH, Qin L, Hu H, Li SW. Baseline psychological stress and ovarian norepinephrine levels negatively affect the outcome of in vitro fertilisation. Gynecol Endocrinol. 2011;27:139–43.

Smeenk JM, Verhaak CM, Vingerhoets AJ, Sweep CG, Merkus JM, Willemsen SJ, van Minnen A, Straatman H, Braat DD. Stress and outcome success in IVF: The role of self-reports and endocrine variables. Hum Reprod. 2005;20:991–6.

Lindsay JR, Nieman LK. The hypothalamic-pituitary-adrenal axis in pregnancy: Challenges in disease detection and treatment. Endocr Rev. 2005;26:775–99.

Hjelmstedt A, Widstrom AM, Wramsby H, Matthiesen AS, Collins A. Personality factors and emotional responses to pregnancy among IVF couples in early pregnancy: A comparative study. Acta Obstet Gynecol Scand. 2003;82:152–61.

Orr ST, James SA, Prince CB. Maternal prenatal depressive symptoms and spontaneous preterm births among African-American women in Baltimore. Maryland Am J Epidemiol. 2002;156:797–802.

Arck P, Hansen PJ, Jericevic BM, Piccinni MP, Szekeres-Bartho J. Progesterone during pregnancy: Endocrine-immune cross talk in mammalian species and the role of stress. Am J Reprod Immunol. 2007;58:268–79.

Mulder EJ. Robles de Medina PG, Huizink AC, Van den Bergh BR, Buitelaar JK, Visser GH. Prenatal maternal stress: Effects on pregnancy and the (unborn) child. Early Hum Dev. 2002;70:3–14.

Cikos S, Rehák P, Czikková S, Veselá J, Koppel J. Expression of adrenergic receptors in mouse preimplantation embryos and ovulated oocytes. Reproduction. 2007;133:1139–47.

Nepomnaschy PA, Welch KB, McConnell DS, Low BS, Strassman BI, England BG. Cortisol levels and very early pregnancy loss in humans. Proc Natl Acad Sci USA. 2006;103:3938–42.

Cooper BC, Gerber JR, McGettrick AL, Johnson JV. Perceived infertility-related stress correlates with in vitro fertilization outcome. Fertil Steril. 2007;88:714–7.

Milad MP, Klock SC, Moses S, Chatterton R. Stress and anxiety do not result in pregnancy wastage. Hum Reprod. 1998;13:2296–300.

Sanders KA, Bruce NW. Psychosocial stress and treatment outcome following assisted reproductive technology. Hum Reprod. 1999;14:1656–62.
Acknowledgments
The authors would like to thank all of the women who participated in the study. This study was supported by the "Doctor fund" of the First Affiliated Hospital of Harbin Medical University(grant no. 2011BS019), as well as the scientific project of Health Bureau in Heilongjiang Province(grant no. 2012–538).
Additional information
Capsule
State anxiety might influence both pregnancy rate and live birth rate in IVF patients, an effect that is partly mediated by activities in the HPA axis and SNS.
About this article
Cite this article
An, Y., Sun, Z., Li, L. et al. Relationship between psychological stress and reproductive outcome in women undergoing in vitro fertilization treatment: Psychological and neurohormonal assessment. J Assist Reprod Genet 30, 35–41 (2013). https://doi.org/10.1007/s10815-012-9904-x
Received:

Accepted:

Published:

Issue Date:

DOI: https://doi.org/10.1007/s10815-012-9904-x
Keywords