Abstract
Background
Recently, serum anti-Müllerian hormone (AMH) has been used as a good marker of ovarian response during in vitro fertilization (IVF). However, in the clinical setting, we felt that ovarian response was clearly different by age with the same AMH level. Then in this study we evaluated the relationship between serum AMH, age and parameters related to ovarian response and compared these parameters in regard to age within serum AMH-matched group.
Methods and results
The relationship of these parameters were evaluated retrospectively in patients undergoing their first IVF cycle under a GnRH agonist flare up protocol (n = 456) between October 2008 and October 2010 in our clinic. To understand the relations between variables described above, principal component analysis (PCA) was performed. PCA revealed patients' age was at the different dimension from serum AMH and other variables. Therefore at first we segregated all patients into Low, Normal and High responder groups by their serum AMH using cut-off value of receiver operator characteristics curve analysis. Secondary, we divided each responder group into four subgroups according to patients' age. The high aged subgroups required a significantly higher dose of gonadotropin and a longer duration of stimulation; however, they had significantly lower peak E2 and a smaller number of total oocytes as well as M2 oocytes compared to the low aged subgroups.
Conclusions
The influence of aging on the ovarian response was clearly seen in all groups; the ovarian response tended to decrease as patients' age increased with the same AMH level. Therefore serum AMH in combination with age is a better indicator than AMH alone.
Access options
Buy single article
Instant access to the full article PDF.
USD 39.95
Price excludes VAT (USA)
Tax calculation will be finalised during checkout.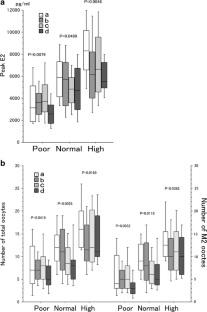 We're sorry, something doesn't seem to be working properly.
Please try refreshing the page. If that doesn't work, please contact support so we can address the problem.
References
Pellicer A, Simon C, Remohi J. Effects of aging on the female reproductive system. Hum Reprod. 1995;10 Suppl 2:77–83.

Toner JP, Flood JT. Fertility after the age of 40. Obstet Gynecol Clin North Am. 1993;20:261–72.

El-Toukhy T, Khalaf Y, Hart R, Taylor A, Braude P. Young age does not protect against the adverse effects of reduced ovarian reserve–an eight year study. Hum Reprod. 2002;17:1519–24.

Cahill DJ, Prosser CJ, Wardle PG, Ford WC, Hull MG. Relative influence of serum follicle stimulating hormone, age and other factors on ovarian response to gonadotrophin stimulation. Br J Obstet Gynaecol. 1994;101:999–1002.

Sharif K, Elgendy M, Lashen H, Afnan M. Age and basal follicle stimulating hormone as predictors of in vitro fertilisation outcome. Br J Obstet Gynaecol. 1998;105:107–12.

Ng EH, Tang OS, Ho PC. The significance of the number of antral follicles prior to stimulation in predicting ovarian responses in an IVF programme. Hum Reprod. 2000;15:1937–42.

Hendriks DJ, Mol BW, Bancsi LF, Te Velde ER, Broekmans FJ. Antral follicle count in the prediction of poor ovarian response and pregnancy after in vitro fertilization: a meta-analysis and comparison with basal follicle-stimulating hormone level. Fertil Steril. 2005;83:291–301.

Broekmans FJ, Kwee J, Hendriks DJ, Mol BW, Lambalk CB. A systematic review of tests predicting ovarian reserve and IVF outcome. Hum Reprod Update. 2006;12:685–718.

Ficicioglu C, Kutlu T, Baglam E, Bakacak Z. Early follicular antimullerian hormone as an indicator of ovarian reserve. Fertil Steril. 2006;85:592–6.

Nakhuda GS, Sauer MV, Wang JG, Ferin M, Lobo RA. Mullerian inhibiting substance is an accurate marker of ovarian response in women of advanced reproductive age undergoing IVF. Reprod Biomed Online. 2007;14:450–4.

Gnoth C, Schuring AN, Friol K, Tigges J, Mallmann P, Godehardt E. Relevance of anti-Mullerian hormone measurement in a routine IVF program. Hum Reprod. 2008;23:1359–65.

Kwee J, Schats R, McDonnell J, Themmen A, de Jong F, Lambalk C. Evaluation of anti-Mullerian hormone as a test for the prediction of ovarian reserve. Fertil Steril. 2008;90:737–43.

Lee MM, Donahoe PK, Hasegawa T, Silverman B, Crist GB, Best S, Hasegawa Y, Noto RA, Schoenfeld D, MacLaughlin DT. Mullerian inhibiting substance in humans: normal levels from infancy to adulthood. J Clin Endocrinol Metab. 1996;81:571–6.

Themmen AP. Anti-Mullerian hormone: its role in follicular growth initiation and survival and as an ovarian reserve marker. J Natl Cancer Inst Monogr 2005;18–21.

Visser JA, Durlinger AL, Peters IJ, van den Heuvel ER, Rose UM, Kramer P, de Jong FH, Themmen AP. Increased oocyte degeneration and follicular atresia during the estrous cycle in anti-Mullerian hormone null mice. Endocrinology. 2007;148:2301–8.

La Marca A, Stabile G, Artenisio AC, Volpe A. Serum anti-Mullerian hormone throughout the human menstrual cycle. Hum Reprod. 2006;21:3103–7.

Streuli I, Fraisse T, Pillet C, Ibecheole V, Bischof P, de Ziegler D. Serum antimullerian hormone levels remain stable throughout the menstrual cycle and after oral or vaginal administration of synthetic sex steroids. Fertil Steril. 2008;90:395–400.

Muttukrishna S, Suharjono H, McGarrigle H, Sathanandan M. Inhibin B and anti-Mullerian hormone: markers of ovarian response in IVF/ICSI patients? BJOG. 2004;111:1248–53.

Lee TH, Liu CH, Huang CC, Wu YL, Shih YT, Ho HN, Yang YS, Lee MS. Serum anti-Mullerian hormone and estradiol levels as predictors of ovarian hyperstimulation syndrome in assisted reproduction technology cycles. Hum Reprod. 2008;23:160–7.

Reber RW. Puberty: Treatment of Amenorrhea. Berek and Novak's Gynecology. 14th ed. In: Berek JS, editors. Lippincott Williams and Wilkins; 2006. p. 1045–1046

Honnma H, Hashiba Y, Asada Y, Endo T. Failure of triggering oocyte maturation with a GnRH agonist in polycystic ovary syndrome: two case reports. Eur J Obstet Gynecol Reprod Biol. 2011;157: 239–40.

Van Vaerenbergh I, Van Lommel L, Ghislain V, In't Veld P, Schuit F, Fatemi HM, Devroey P, Bourgain C. In GnRH antagonist/rec-FSH stimulated cycles, advanced endometrial maturation on the day of oocyte retrieval correlates with altered gene expression. Hum Reprod. 2009;24:1085–91.

Akobeng AK. Understanding diagnostic tests 3: receiver operating characteristic curves. Acta Paediatr. 2007;96:644–7.

La Marca A, Sighinolfi G, Radi D, Argento C, Baraldi E, Artenisio AC, Stabile G, Volpe A. Anti-Mullerian hormone (AMH) as a predictive marker in assisted reproductive technology (ART). Hum Reprod Update. 16:113–30.

Singer T, Barad DH, Weghofer A, Gleicher N. Correlation of antimullerian hormone and baseline follicle-stimulating hormone levels. Fertil Steril. 2009;91:2616–9.

Meldrum DR. Female reproductive aging–ovarian and uterine factors. Fertil Steril. 1993;59:1–5.

Nelson SM, Yates RW, Lyall H, Jamieson M, Traynor I, Gaudoin M, Mitchell P, Ambrose P, Fleming R. Anti-Mullerian hormone-based approach to controlled ovarian stimulation for assisted conception. Hum Reprod. 2009;24:867–75.

Reichman DE, Missmer SA, Berry KF, Ginsburg ES, Racowsky C. Effect of time between human chorionic gonadotropin injection and egg retrieval is age dependent. Fertil Steril. 2011;95:1990–5.

Seifer DB, Baker VL, Leader B. Age-specific serum anti-Mullerian hormone values for 17,120 women presenting to fertility centers within the United States. Fertil Steril. 2011;95:747–50.

Shebl O, Ebner T, Sir A, Schreier-Lechner E, Mayer RB, Tews G, Sommergruber M. Age-related distribution of basal serum AMH level in women of reproductive age and a presumably healthy cohort. Fertil Steril. 2011;95:832–4.

Tarlatzis BC, Zepiridis L, Grimbizis G, Bontis J. Clinical management of low ovarian response to stimulation for IVF: a systematic review. Hum Reprod Update. 2003;9:61–76.

Engmann L, Siano L, Schmidt D, Nulsen J, Maier D, Benadiva C. GnRH agonist to induce oocyte maturation during IVF in patients at high risk of OHSS. Reprod Biomed Online. 2006;13:639–44.
Acknowledgement
All authors have no conflict of interest. We thank the expert technical help of nursing and embryology staff of Asada Ladies' clinic.
Additional information
Capsule
Ovarian response was significantly different by age within AMH-matched groups; serum AMH in combination with age was more predictable ovarian response than AMH alone.
About this article
Cite this article
Honnma, H., Baba, T., Sasaki, M. et al. Different ovarian response by age in an anti-Müllerian hormone-matched group undergoing in vitro fertilization. J Assist Reprod Genet 29, 117–125 (2012). https://doi.org/10.1007/s10815-011-9675-9
Received:

Accepted:

Published:

Issue Date:

DOI: https://doi.org/10.1007/s10815-011-9675-9
Keyword