Abstract
Purpose
Create a 3-Dimensional artificial human ovary to mature human oocytes.
Methods
Theca and granulosa cells were isolated from antral follicles of reproductive-aged women, seeded into micro-molded gels and self-assembled into complex 3D microtissues. Immunohistochemistry and live-dead staining confirmed theca cell identity and cellular viability at one week respectively. Placement of granulosa cell spheroids or cumulus-oocyte complexes into theca cell honeycomb openings resulted in creation of an artificial human ovary. Oocytes from this construct were assessed for polar body extrusion.
Results
Theca and granulosa cells self-assembled into complex microtissues, remaining viable for one week. At 72 h after artificial human ovary construction, theca cells completely surrounded the granulosa spheroids or COCs without stromal invasion or disruption. Polar body extrusion occurred in one of three COCs assessed.
Conclusions
An artifical human ovary can be created with self-assembled human theca and granulosa cell microtissues, and used for IVM and future oocyte toxicology studies.
Access options
Buy single article
Instant access to the full article PDF.
US$ 39.95
Tax calculation will be finalised during checkout.
Subscribe to journal
Immediate online access to all issues from 2019. Subscription will auto renew annually.
US$ 119
Tax calculation will be finalised during checkout.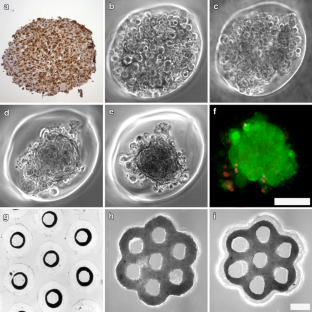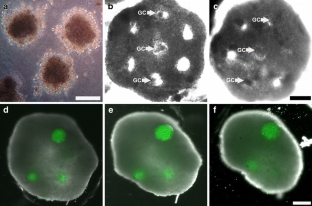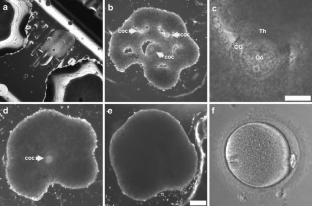 References
1.

Meirow D, Levron J, Eldar-Geva T, Hardan I, Fridman E, Zalel Y, et al. Pregnancy after transplantation of cryopreserved ovarian tissue in a patient with ovarian failure after chemotherapy. N Engl J Med. 2005;353:318–21.

2.

Silber SJ, Gosden RG. Ovarian transplantation in a series of monozygotic twins discordant for ovarian failure. N Engl J Med. 2007;356(13):1382–4.

3.

Silber S, Kagawa N, Kuwayama M, Gosden R. Duration of fertility after fresh and frozen ovary transplantation. Fertil Steril 2010 Feb 18. [Epub ahead of print]

4.

Eppig JJ, O'Brien MJ. Development In Vitro of Mouse Oocytes from Primordial Follicles. Biol Reprod. 1996;54:197–207.

5.

O'Brien MJ, Pendola JK, Eppig JJ. A Revised Protocol for In Vitro Development of Mouse Oocytes from Primordial Follicles Dramatically Improves Their Developmental Competence. Biol Reprod. 2003;68:1682–6.

6.

Picton HM, Mkandla A, Salha O, Wynn P, Gosden RG. Initiation of human primordial follicle growth in vitro in ultra-thin slices of ovarian cortex. Human Reprod. 1999;14:11.

7.

Telfer EE, McLaughlin M, Ding C, Thong KJ. A two-step serum-free culture system supports development of human oocytes from primordial follicles in the presence of activin. Hum Reprod. 2008;23:1151–8.

8.

Xu M, West E, Shea LD, Woodruff TK. Identification of a stage specific permissive in vitro culture environment for follicle growth and oocyte development. Biol Reprod. 2006;75:916–23.

9.

West ER, Xu M, Woodruff TK, Shea LD. Physical properties of alginate hydrogels and their effects on in vitro follicle development. Biomaterials. 2007;28:4439–48.

10.

Xu M, Kreeger PK, Shea LD, Woodruff TK. Tissue-Engineered Follicles Produce Live, Fertile Offspring. Tissue Eng. 2006;12:2739–46.

11.

Xu M, West-Farrell ER, Stouffer RL, Shea LD, Woodruff TK, Zelinski MB. Encapsulated Three-Dimensional Culture Supports Development of Nonhuman Primate Secondary Follicles. Biol Reprod. 2009;81:587–94.

12.

Xu M, Barrett SL, West-Farrell E, Kondapalli LA, Kiesewetter SE, Shea LD, et al. In vitro grown human ovarian follicles from cancer patients support oocyte growth. Hum Reprod. 2009;24:2531–40.

13.

Carroll J, Whittingham DG, Wood MJ. Effect of gonadotrophin environment on growth and development of isolated mouse primary ovarian follicles. J Reprod Fertil. 1991;93:71–9.

14.

Hirao Y, Nagai T, Kubo M, Miyano T, Miyake M, Kato S. In vitro growth and maturation of pig oocytes. J Reprod Fertil. 1994;100:333–9.

15.

Napolitano AP, Dean DM, Man AJ, et al. Dynamics of the self-assembly of complex cellular aggregates on micromolded nonadhesive hydrogels. Tissue Eng. 2007;13:2087–94.

16.

Dean DM, Napolitano AP, Youssef J, Morgan JR. Rods, tori, and honeycombs: the directed self-assembly of microtissues with prescribed microscale geometries. FASEB J. 2007;21:4005–12.

17.

Rago AP, Dean DM, Morgan JR. Controlling cell position in complex heterotypic 3D microtissues by tissue fusion. Cell Motil Cytoskeleton. 2009;66:129–41.

18.

Picton HM, Harris SE, Muruvi W, Chambers EL. The in vitro growth and maturation of follicles. Reproduction. 2008;136:703–15.

19.

Gougeon A. Dynamics of follicular growth in the human: a model from preliminary results. Human Reprod. 1986;1:81–7.

20.

Hovatta O, Silye R, Abir R, Krausz T, Winston RM. Extracellular matrix improves survival of both stored and fresh human primordial and primary ovarian follicles in long-term culture. Human Reprod. 1997;12:1032–6.

21.

Oktay K, Briggs D, Gosden RG. Ontogeny of follicle stimulating hormone receptor gene expression in isolated human ovarian follicles. J Clin Endocrinol Metab. 1997;82:3748–51.

22.

Abir R, Franks S, Mobberley MA, Moore PA, Margara RA, Winston RML. Mechanical isolation and in vitro growth of preantral and small antral human follicles. Fertil Steril. 1997;68:682–8.

23.

Huntriss J, Gosden R, Hinkins M, et al. Isolation, characterisation, and expression of the human factor in the germline alpha (FIGLA) in ovarian follicles and oocytes. Mol Hum Reprod. 2002;8:1087–95.

24.

Rice S, Ojha K, Mason H. Human ovarian biopsies as a viable source of pre-antral follicles. Human Reprod. 2008;23:600–5.

25.

Spears N, Boland NI, Murray AA, Gosden RG. Mouse oocytes derived from in vitro grown primary ovarian follicles are fertile. Human Reprod. 1994;9:527–32.

26.

Cortvrindt R, Smitz J, Van Steirteghem AC. In vitro maturation, fertilization and embryo development of immature oocytes from early preantral follicles from prepubertal mice in a simplified culture system. Human Reprod. 1996;11:2656–6.

27.

Nayudu PL, Fehrenbach A, Kiesel P, Vitt UA, Pancharatna K, Osborn SM. Progress towards understanding follicle development in vitro: appearances are not deceiving. Arch Med Res. 2001;32:587–94.

28.

Shuttleworth G, Broughton Pipkin F, Hunter MG. In vitro development of pig preantral follicles cultured in a serum-free medium and the effect of angiotensin II. Reproduction. 2002;123:807–18.
Acknowledgements
This research was supported by Research Funds from the Division of Reproductive Endocrinology & Infertility at the Women & Infants' Hospital of Rhode Island, and by a grant from the Rhode Island Science and Technology Council.
Additional information
Capsule
An artificial human ovary can be created using self-assembled 3-dimensional theca & granulosa cell constructs to mature human oocytes in vitro
About this article
Cite this article
Krotz, S.P., Robins, J.C., Ferruccio, TM. et al. In vitro maturation of oocytes via the pre-fabricated self-assembled artificial human ovary. J Assist Reprod Genet 27, 743–750 (2010). https://doi.org/10.1007/s10815-010-9468-6
Received:

Accepted:

Published:

Issue Date:
Keywords
Artificial ovary

In vitro maturation

Oocytes

Self-assembly

Theca cells

Tissue engineering