Abstract
Purpose: To evaluate the role of 3-D US measurement of the endometrium during early IVF-pregnancy and before the appearance of gestational sac in the prediction of pregnancies outcome.
Methods: 60 pregnant women following IVF treatment were included in the study. The women underwent transvaginal 3D US measurements of endometrial volume and thickness on day 15–17 post ET. Patients were followed and classified according to pregnancy outcome into 2 further groups. The group with early pregnancy loss and the group with ongoing pregnancy.
Results: While no differences were observed between those who miscarried and those who did not in gestational age, endometrial thickness or volume, spontaneous early pregnancy loss was significantly higher in patients with endometrial volume <2 mL as compared to those with endometrial volume >2 mL.
Conclusions: 3-D US measurement of endometrial volume of less than 2 mL during early IVF pregnancy and prior to the appearance of gestational sac is a powerful predictor of pregnancy loss.
Access options
Buy single article
Instant access to the full article PDF.
US$ 39.95
Tax calculation will be finalised during checkout.
Subscribe to journal
Immediate online access to all issues from 2019. Subscription will auto renew annually.
US$ 119
Tax calculation will be finalised during checkout.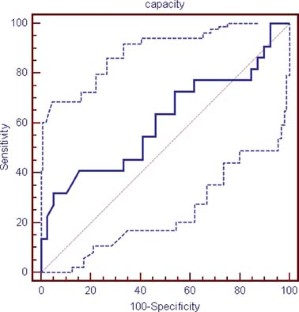 References
1.

Sugantha SE, Webster S, Sundar E, Lenton EA. Predictive value of plasma human chorionic gonadotrophin following assisted conception treatment. Hum Reprod 2000;15:469–73.

2.

Poikkeus P, Hiilesmaa V, Tiitinen A. Serum HCG 12 days after embryo transfer in predicting pregnancy outcome. Hum Reprod 2002;17:1901–5.

3.

Cacciatore B, Tiitinen A, Stenman UH, Ylostalo P. Normal early pregnancy: serum hCG levels and vaginal ultrasonography findings. Br J Obstet Gynaecol 1990;97:899–903.

4.

Williams Obstetrics. Cunningham EG, Leveno KJ, Bloom SL, Hauth JC, Gilstrap L, Wenstrom KD, editors 22nd ed. McGraw-Hill companies, Inc. 2005, p. 259.

5.

SART/AMSR. Assisted reproductive technology in the United States: 2000 results generated from the American Society for Reproductive Medicine/Society for Assisted Reproductive Technology Registry. 2004;81:1207–20.

6.

Jauniaux E, Johns J, Burton GJ. The role of ultrasound imaging in diagnosing and investigating early pregnancy failure. Ultrasound Obstet Gynecol 2005;25:613–24.

7.

Frate MC, Doubilet PM, Brown DL, Benson CB, DiSalvo DN, Laing FC, Berck DJ, Hill JA. Role of Doppler ultrasonography in the prediction of pregnancy outcome in women with recurrent spontaneous abortion. J Ultrasound Med 1996;15:557–62.

8.

Kyei-Mensah A, Maconochie N, Zaidi J, Pittrof R, Campbell S, Tan SL. Transvaginal three dimensional ultrasound: reproducibility of ovarian and endometrial volume measurements. Fertil Steril 1996;66;718–22.

9.

Yaman C, Ebner T, Sommergruber M, Polz W, Tews G. Role of three-dimensional ultrasonographic measurement of endometrium volume as a predictor of pregnancy outcome in an IVF-ET program: a preliminary study measurement. Fertil Steril 2000;74:797– 801.

10.

Schild RL, Indefrei D, Eschweiler S, Van Der Ven H, Fimmers R, Hansmann M. Three dimensional endometrial volume calculation and pregnancy rate in an in-vitro fertilization program. Hum Reprod 1999;14:1255–8.

11.

Raga F, Bonila-Musoles F, Casan EM, Klein O, Bonilla F. Assessment of endometrial volume by three-dimensional ultrasound prior to embryo transfer: clues to endometrial receptivity. Hum Reprod 1999;14:2851–4.
About this article
Cite this article
Zohav, E., Orvieto, R., Anteby, E.Y. et al. Low endometrial volume may predict early pregnancy loss in women undergoing in vitro fertilization. J Assist Reprod Genet 24, 259–261 (2007). https://doi.org/10.1007/s10815-007-9121-1
Received:

Accepted:

Published:

Issue Date:
Keywords
Endometrial volume

3-D ultrasonography

Prediction

Miscarriage

IVF