Abstract
Purpose: To test whether environmental pollutants could affect fertility in humans.
Methods: 31 women and 16 men from Tanzania and 21 couples from Germany were included (n=89). Pesticides and polychlorinated biphenyls were measured in serum, follicular fluid or seminal plasma by gaschromatography and related to sperm quality and pregnancy rates.
Results: Higher concentrations of DDT+DDE and dieldrin in Tanzania and higher concentrations of PCBs in Germany and in men were detected. All compounds showed higher concentrations in serum and lowest concentrations in seminal plasma. A lower pregnancy rate in German women with high serum concentrations of DDT+DDE was observed. The toxins had no impact on sperm quality.
Conclusions: The distribution of toxins between agricultural and industrial countries is different. Seminal plasma seems to be inert against chemicals. In patients with high serum concentrations of DDT and DDE pregnancy rates were impaired.
This is a preview of subscription content,
to check access.
Access this article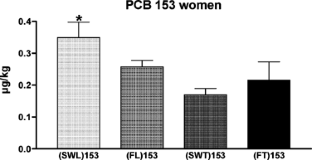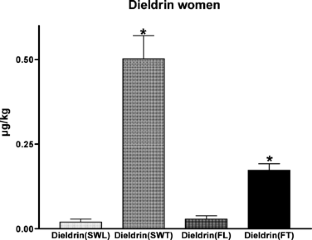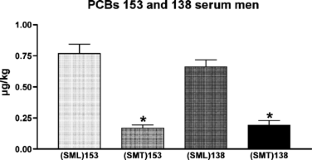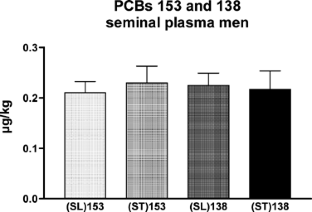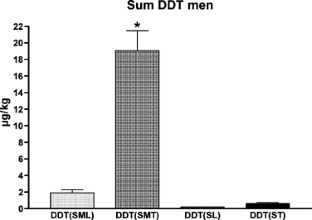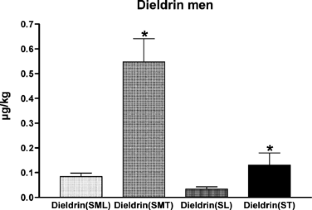 Similar content being viewed by others
References
Hruska KS, Furth PA, Seifer DB, Sharara FI, Flaws JA. Environmental factors in infertility. Clin Obstet Gynecol 2000;43:821–9.

Sharara FI, Seifer DB, Flaws JA. Environmental toxicants and female reproduction. Fertil Steril 1998;70:613–22.

Cohn BA, Cirillo PM, Wolff MS et al. DDT and DDE exposure in mothers and time to pregnancy in daughters. Lancet 2003;361:2205–6.

Pocar P, Brevini TA, Fischer B, Gandolfi F. The impact of endocrine disruptors on oocyte competence. Reproduction 2003;125:313–25.

Wagner U, Schlebusch H, Van Der Ven H, Van Der Ven K, Diedrich K, Krebs D. Accumulation of pollutants in the genital tract of sterility patients. J Clin Chem Clin Biochem 1990;28:683–8.

Chiu A, Beaubier J, Chiu J, Chan L, Gerstenberger S. Epidemiologic studies of PCB congener profiles in North American fish consuming populations. J Environ Sci Health C Environ Carcinog Ecotoxicol Rev 2004;22:13–36.

Rivero-Rodriguez L, Borja-Aburto VH, Santos-Burgoa C, Waliszewskiy S, Rios C, Cruz V. Exposure assessment for workers applying DDT to control malaria in Veracruz, Mexico. Environ Health Perspect 1997;105:98–101.

Jorgenson JL. Aldrin and dieldrin: a review of research on their production, environmental deposition and fate, bioaccumulation, toxicology, and epidemiology in the United States. Environ Health Perspect 2001;109 Suppl 1:113–39.

National Institute of Environmental Health Sciences. National Toxicology Program. 2002. http://www.niehs.nih.gov.

Agency for Toxic Substances and Disease Registry. 2002. http://www.atsdr.cdc.gov.

Van Der Ven K, Van Der Ven H, Thibold A, et al. Chlorinated hydrocarbon content of fetal and maternal body tissues and fluids in full term pregnant women: a comparison of Germany versus Tanzania. Hum Reprod 1992;7 Suppl 1:95–100.

Stijve T, Cardinale E. Rapid determination of chlorinated pesticides, PCBs, and a number of phosphated insecticides in fatty foods. Mitt Lebensmittelunters Hyg 1974;65:131–50.

Ballschmiter K, Zell M. Baseline studies of the global pollution. I. Occurrence of organohalogens in pristine European and antarctic aquatic environments. Int J Environ Anal Chem 1980;8:15–35.

WHO: WHO laboratory manual for the examination of human semen and sperm-cervical mucus. 4th ed. Cambridge: Cambridge University Press; 1999.

Ludwig M, Schöpper B, Al Hasani S, Diedrich K. Clinical use of a pronuclear stage score following intracytoplasmic sperm injection: impact on pregnancy rates under the conditions of the German embryo protection law. Hum Reprod 2000;15:325–9.

Wade MG, Foster WG, YoungLai EV, et al. Effects of subchronic exposure to a complex mixture of persistent contaminants in male rats: systemic, immune, and reproductive effects. Toxicol Sci 2002;67:131–43.

Bayley M, Junge M, Baatrup E. Exposure of juvenile guppies to three antiandrogens causes demasculinization and a reduced sperm count in adult males. Aquat Toxicol 2002;56:227–39.

Faqi AS, Dalsenter PR, Mathar W, Heinrich-Hirsch B, Chahoud I. Reproductive toxicity and tissue concentrations of 3,3′,4,4′-tetrachlorobiphenyl (PCB 77) in male adult rats. Hum Exp Toxicol 1998;17:151–6.

Ben Rhouma K, Tebourbi O, Krichah R, Sakly M. Reproductive toxicity of DDT in adult male rats. Hum Exp Toxicol 2001;20:393–7.

Pflieger-Bruss S, Schill WB. Effects of chlorinated hydrocarbons on sperm function in vitro. Andrologia 2000;32:311–5.

Ensslen SC, Riedel HH, Bluthgen H, Heeschen W. [Chlorinated hydrocarbons in seminal plasma and male fertility]. Zentralbl Gynakol 1990;112:817–21.

Mol NM, Sorensen N, Weihe P, et al. Spermaturia and serum hormone concentrations at the age of puberty in boys prenatally exposed to polychlorinated biphenyls. Eur J Endocrinol 2002;146:357–63.

Guo YL, Hsu PC, Hsu CC, Lambert GH. Semen quality after prenatal exposure to polychlorinated biphenyls and dibenzofurans. Lancet 2000;356:1240–1.

Bush B, Bennett AH, Snow JT. Polychlorobiphenyl congeners, p,p′-DDE, and sperm function in humans. Arch Environ Contam Toxicol 1986;15:333–41.

Dalvie MA, Myers JE, Thompson ML, et al. The long-term effects of DDT exposure on semen, fertility, and sexual function of malaria vector-control workers in Limpopo Province, South Africa. Environ Res 2004;96:1–8.

Spano M, Toft G, Hagmar L, et al. Exposure to PCB and p, p′-DDE in European and Inuit populations: impact on human sperm chromatin integrity. Hum Reprod 2005;20:3488–99.

Dallinga JW, Moonen EJ, Dumoulin JC, Evers JL, Geraedts JP, Kleinjans JC. Decreased human semen quality and organochlorine compounds in blood. Hum Reprod 2002;17:1973–79.

Ratcliffe DA. Decrease in eggshell weight in certain birds of prey. Nature 1967;215:208–10.

Axmon A, Rylander L, Stromberg U, Dyremark E, Hagmar L. Polychlorinated biphenyls in blood plasma among Swedish female fish consumers in relation to time to pregnancy. J Toxicol Environ Health A 2001;64:485–98.

Buck GM, Sever LE, Mendola P, Zielezny M, Vena JE. Consumption of contaminated sport fish from Lake Ontario and time-to-pregnancy. New York State Angler Cohort. Am J Epidemiol 1997;146:949–54.

Courval JM, DeHoog JV, Stein AD, et al. Sport-caught fish consumption and conception delay in licensed Michigan anglers. Environ Res 1999;80:S183–8.

Law DC, Klebanoff MA, Brock JW, Dunson DB, Longnecker MP. Maternal serum levels of polychlorinated biphenyls and 1,1-dichloro-2,2-bis(p-chlorophenyl)ethylene (DDE) and time to pregnancy. Am J Epidemiol 2005;162:523–32.

Kholkute SD, Rodriguez J, Dukelow WR. Effects of polychlorinated biphenyls (PCBs) on in vitro fertilization in the mouse. Reprod Toxicol 1994;8:69–73.

Ensslen SC, Riedel HH, Bluthgen H, Heeschen W. [Demonstration of chlorinated hydrocarbons in follicular secretions]. Zentralbl Gynakol 1990;112:1223–6.

Gerhard I, Daniel V, Link S, Monga B, Runnebaum B. Chlorinated hydrocarbons in women with repeated miscarriages. Environ Health Perspect 1998;106:675–81.

Korrick SA, Chen C, Damokosh AI, et al. Association of DDT with spontaneous abortion: a case-control study. Ann Epidemiol 2001;11:491–6.

Gerhard I, Monga B, Krahe J, Runnebaum B. Chlorinated hydrocarbons in infertile women. Environ Res 1999;80:299–310.
Additional information
Prof. Dr. O. Bauer died at 12/3/2000 in an aeroplane crash. He gave the initial impetus to this project and set up all the necessary organisation. We dedicate this paper to his memory.
About this article
Cite this article
Weiss, J.M., Bauer, O., Blüthgen, A. et al. Distribution of persistent organochlorine contaminants in infertile patients from Tanzania and Germany. J Assist Reprod Genet 23, 393–399 (2006). https://doi.org/10.1007/s10815-006-9069-6
Received:

Accepted:

Published:

Issue Date:

DOI: https://doi.org/10.1007/s10815-006-9069-6
Keywords