Abstract
Purpose: To report a rare clinical case of recurrent heterotopic pregnancy in the same patient following bilateral salpingectomy and in-vitro fertilization (IVF) treatments.
Methods: A 35 year-old woman, suffering from mechanical infertility, was treated by IVF, resulting in two episodes of heterotopic pregnancies within 2 years. The first episode ended in bilateral salpingectomy due to unilateral tubal pregnancy and contralateral severely damaged tube. The intrauterine pregnancy ended in early missed abortion. The second heterotopic pregnancy presented as bleeding cornual pregnancy, managed by laparoscopic resection of the tubal stump, and ended in a term singleton delivery.
Conclusion: The possibility of cornual heterotopic pregnancy following bilateral salpingectomy, though very rare, should be considered by every gynecologist treating IVF patient.
This is a preview of subscription content,
to check access.
Access this article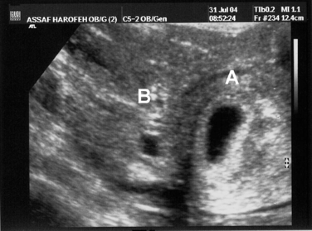 References
Rizk B, Tan SL, Morcos S, Riddle A, Brinsden P, Mason BA, et al. Heterotopic pregnancy after in vitro fertilization and embryo transfer. Am J Obstet Gynecol 1991;164:161–4

Chang Y, Lee JN, Yang CH, Hsu SC, Tsai EM: An unexpected quadruplet heterotopic pregnancy after bilateral salpingectomy and replacement of three embryos. Fertil Steril 2003;80:218–20

Dor J, Seidmann DS, Levran D, Ben-Rafael Z, Ben-Shlomo I, Mashiach S: The incidence of combined intrauterine and extrauterine pregnancy after in-vitro fertilization and embryo transfer. Fertil Steril 1991;55:833–4

Herman A, Ron-El R, Golan A, Weinraub Z, Bukovski I, Caspi E: The role of tubal pathology and other parameters in ectopic pregnancies occurring in in vitro fertilization and embryo transfer. Fertil Steril 1990;54:864–8

Sharif K, Kaufmann S, Sharma V: Heterotopic pregnancy obtained after in vitro fertilization and embryo transfer following bilateral total salpingectomy: case report. Hum Reprod 1994;9:1966–7

Wenstrom KD, Syrop CH, Hammitt DG, Van Voorhis BJ: Increased risk of monochorionic twinning associated with assisted reproduction. Fertil Steril 1993;60:510–4

Guirgis RR, Craft IL: Ectopic pregnancy resulting from gamete intrafallopian tube transfer and in vitro fertilization: Role of ultrasonography in diagnosis and treatment. J Reprod Med 1991;36:793–6

Soriano D, Shrim A, Seidman DS, Goldenberg M, Mashiach S, Oelsner G: Diagnosis and Treatment of Heterotopic Pregnancy Compared with Ectopic Pregnancy. J Am Assoc Gynecol Laparosc 2002;9:352–8

Raziel A, Friedler S, Herman A, Strassburger D, Maymon R, Ron-El R: Recurrent heterotopic pregnancy after repeated in-vitro fertilization treatment. Hum Reprod 1997;12:1810–2

Chin HY, Chen FP, Wang CJ, Shui LT, Liu YH, Soong YK: Heterotopic pregnancy after in vitro fertilization—embryo transfer. Int J Gynaecol Obstet 2004;86:411–6
About this article
Cite this article
Ben-Ami, I., Panski, M., Ushakov, F. et al. Recurrent heterotopic pregnancy after bilateral salpingectomy in an IVF patient: Case report. J Assist Reprod Genet 23, 333–335 (2006). https://doi.org/10.1007/s10815-006-9052-2
Received:

Accepted:

Published:

Issue Date:

DOI: https://doi.org/10.1007/s10815-006-9052-2
Keywords