Abstract
The tropical red seaweed Halymenia durvillei Bory de Saint Vincent is a potential source of the high-value pigments, r-phycoerythrin (RPE) and r-phycocyanin (RPC). The unique properties of these pigments find many applications—from food to cosmetics, pharmaceuticals, and biomedical research. This study aimed to improve the land-based culture technology of H. durvillei by determining the appropriate combination of light, water motion, and stocking density that would result in high growth performance and high RPE and RPC content. Combinations of two light levels (full light, 100% and reduced light, 67%), two water motion levels (low and moderate), and three stocking densities (50, 100, and 200 g) were studied using 64.5-L glass tanks with flow-through seawater and aeration systems at the outdoor land-based seaweed nursery in Bolinao, Pangasinan, Philippines. After 6 weeks of culture, growth performance (growth rate and productivity) of H. durvillei and phycobiliprotein content were best under a combination of full light (100%), moderate water motion, and 50-g stocking density. The generally low light regime during the experimental period, which coincided with the cold, dry season characterized by shorter days and overcast skies, may have influenced H. durvillei to maximize the use of available resources such as light and possible increased nutrient availability from water motion to promote growth and phycobiliprotein synthesis. Treatments with low stocking densities generally showed satisfactory growth and phycobiliprotein content. This study provides groundwork for future research into mechanisms by which these and other factors affect the growth and physiology of H. durvillei in culture.
Access options
Buy single article
Instant access to the full article PDF.
USD 39.95
Price excludes VAT (USA)
Tax calculation will be finalised during checkout.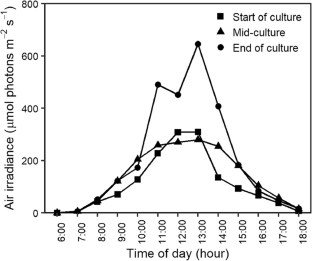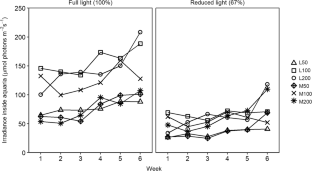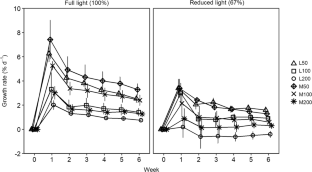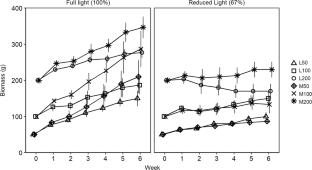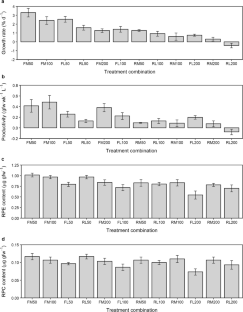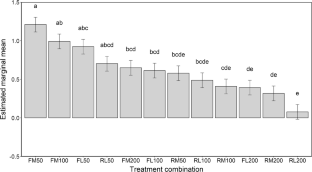 References
Agrisera (2019) R-phycocyanin. Online Product Catalog. https://www.agrisera.com/en/artiklar/r-pc-r-phycocyanin.html. Accessed 11 June 2019

Barr NG, Kloeppel A, Rees TA, Scherer C, Taylor RB, Wenzel A (2008) Wave surge increases rates of growth and nutrient uptake in the green seaweed Ulva pertusa maintained at low bulk flow velocities. Aquat Biol 3:179–186

Beer S, Eshel A (1985) Determining phycoerythrin and phycocyanin concentrations in aqueous crude extracts of red algae. Aust J Mar Freshwat Res 36:785–792

Bird KT, Habig C, DeBusk T (1982) Nitrogen allocation and storage patterns in Gracilaria tikvahiae (Rhodophyta). J Phycol 18:344–348

Briones AV, Ambal WO, Monroyo EC, Villanueva MA, Estrella RR, Lanto EA (2000) USP grade lambda-like carrageenan from Halymenia durvillaei Bory De Saint-Vincent. Philipp J Sci 129:15–17

Bunsom C, Prathep A (2012) Effects of salinity, light intensity and sediment on growth, pigments, agar production and reproduction in Gracilaria tenuistipitata from Songkhla Lagoon in Thailand. Phycol Res 60:169–178

Buschmann AH, Varela D, Cifuentes M, del Carmen H-GM, Henríquez L, Westermeier R, Correa JA (2004) Experimental indoor cultivation of the carrageenophytic red alga Gigartina skottsbergii. Aquaculture 241:357–370

Capo TR, Jaramillo JC, Boyd AE, Lapointe BE, Serafy JE (1999) Sustained high yields of Gracilaria (Rhodophyta) grown in intensive large-scale culture. J Appl Phycol 11:143–147

Carton-Kawagoshi RJ, Elle BJ, Corre V, Satoh S, Notoya M, Fujita D (2014) Low water exchange Gracilariopsis bailiniae Zhang & BM Xia culture in intensive milkfish culture effluents: effects of seaweed density on seaweed production and effluent treatment. Aquac Int 22:573–584

Core Team R (2020) R: a language and environment for statistical computing. R Foundation for Statistical Computing, Vienna, Austria https://www.R-project.org

Craigie J, Shacklock P (1995) Culture of Irish moss. In: Boghen AD (ed) Cold-water aquaculture in Atlantic Canada. The Canadian Institute for Research on Regional Development, Moncton, NB, Canada, pp 243–270

Demetropoulos C, Langdon C (2004) Pacific dulse (Palmaria mollis) as a food and biofilter in recirculated, land-based abalone culture systems. Aquac Eng 32:57–75

Doty MS (1971) Measurement of water movement in reference to benthic algal growth. Bot Mar 14:32–35

Faria AV, Plastino EM (2015) Physiological assessment of the mariculture potential of a Gracilaria caudata. J Appl Phycol 28:2445–2452

Fenoradosoa TA, Laroche C, Wadouachi A, Dulong V, Pictan L, Andriamadio P, Michaud P (2009) Highly sulphated galactan from Halymenia durvillaei (Halymeniales, Rhodophyta), a red seaweed of Madagascar marine coasts. Int J Biol Macromol 45:140–145

Figueroa FL, Israel A, Neori A, Martínez B, Malta EJ, Put A, Inken S, Marquardt R, Abdala R, Korbee N (2010) Effect of nutrient supply on photosynthesis and pigmentation to short-term stress (UV radiation) in Gracilaria conferta (Rhodophyta). Marine Poll Bull 60:1768–1778

Friedlander M, Ben-Amotz A (1991) The effect of outdoor culture conditions on growth and epiphytes of Gracilaria conferta. Aquat Bot 39:315–333

Friedlander M, Krom MD, Ben-Amotz A (1991) The effect of light and ammonium on growth, epiphytes and chemical constituents of Gracilaria conferta in outdoor cultures. Bot Mar 34:161–166

Galor S, Israel A (2004) Growth responses of Pterocladiella capillacea (Rhodophyta) in laboratory and outdoor cultivation. J Appl Phycol 16:195–202

Ganzon-Fortes ET (1991) Preparation of clod-cards. In: Trono GC Jr, Pagdilao CR, Acedera MM (eds) Training on Seaweed Research: Proceedings of the Seaweed Research Training and Workshop for Project Leaders, vol 11. Book Series No. Philippine Council for Aquatic and Marine Research and Development, Los Baños, Laguna, Philippines, pp 155–158

Ganzon-Fortes ET (1997) Influence of tidal location on morphology, photosynthesis and pigments of the agarophyte, Gelidiella acerosa from Northern Philippines. J Appl Phycol 9:525–532

Gerard VA (1988) Ecotypic differentiation in light-related traits of the kelp Laminaria saccharina. Mar Biol 97:25–36

Guiry MD, Guiry GM (2016) AlgaeBase. http://www.algaebase.org. Accessed 21 October 2016

Hanisak MD, Ryther JH (1984) Cultivation biology of Gracilaria tikvahiae in the United States. Eleventh International Seaweed Symposium. Springer, Dordrecht, pp 295–298

Hernández I, Fernández-Engo MA, Pérez-Lloréns JL, Vergara JJ (2005) Integrated outdoor culture of two estuarine macroalgae as biofilters for dissolved nutrients from Sparus auratus waste waters. J Appl Phycol 17:557–567

Hurd CL (2000) Water motion, marine macroalgal physiology, and production. J Phycol 36:453–472

Hurd CL (2017) Shaken and stirred: the fundamental role of water motion in resource acquisition and seaweed productivity. Perspectives Phycol 4:73–81

Hurd CL, Harrison PJ, Bischof K, Lobban CS (2014) Seaweed ecology and physiology. Cambridge University Press, Cambridge, UK

Israel A, Levy I, Friedlander M (2006) Experimental tank cultivation of Porphyra in Israel. J Appl Phycol 18:235–240

Kim JK, Kraemer GP, Neefus CD, Chung IK, Yarish C (2007) Effects of temperature and ammonium on growth, pigment production and nitrogen uptake by four species of Porphyra (Bangiales, Rhodophyta) native to the New England coast. J Appl Phycol 19:431–440

Kim JK, Duston J, Corey P, Garbary DJ (2013) Marine finfish effluent bioremediation: effects of stocking density and temperature on nitrogen removal capacity of Chondrus crispus and Palmaria palmata (Rhodophyta). Aquaculture 414:210–216

Lapointe BE, Duke CS (1984) Biochemical strategies for growth of Gracilaria tikvahiae (Rhodophyta) in relation to light intensity and nitrogen availability. J Phycol 20:488–495

Lapointe BL, Tenore K (1981) Experimental outdoor studies with Ulva fasciata Delile Interaction of light and nitrogen on nutrient uptake, growth, and biochemical composition. J Exp Mar Biol Ecol 53:135–152

Larkum AWD, Barrett J (1983) Light-harvesting processes in algae. Adv Bot Res 10:1–219

Lenth R (2020) emmeans: estimated marginal means, aka least-squares means. R package version 1.0. https://CRAN.R-project.org/package=emmeans

Lobban CS, Harrison PJ (1994) Seaweed ecology and physiology. Cambridge University Press, Cambridge, UK

Lüning K (1990) Seaweeds: their environment, biogeography, and ecophysiology. Wiley–Interscience, New York

Manirafasha E, Ndikubwimana T, Zeng X, Lu Y, Jing K (2016) Phycobiliprotein: potential microalgae derived pharmaceutical and biological reagent. Biochem Eng J 109:282–296

Mazarrasa I, Olsen YS, Mayol E, Marbà N, Duarte CM (2014) Global unbalance in seaweed production, research effort and biotechnology markets. Biotechnol Adv 32:1028–1036

Montaño MNE (2002) Seaweeds in Philippine food: traditional uses and recent developments. Fisheries Science 68 Supplement II:1457–1459

Montaño MNE (2016) Pilot-scale production of Halymenia durvillei Bory de Saint-Vincent: post-harvest evaluation of phycobiliproteins and lambda-like carrageenan. Terminal report for USAID-STRIDE Grant. The Marine Science Institute, University of the Philippines, Diliman, Quezon City

Pang S, Lüning K (2006) Tank cultivation of the red alga Palmaria palmata: year-round induction of tetrasporangia, tetraspore release in darkness and mass cultivation of vegetative thalli. Aquaculture 252:20–30

Patarra RF, Carreiro AS, Lloveras AA, Abreu MH, Buschmann AH, Neto AI (2017) Effects of light, temperature, and stocking density on Halopteris scoparia growth. J Appl Phycol 29:405–411

Pereira R, Yarish C, Sousa-Pinto I (2006) The influence of stocking density, light and temperature on the growth, production, and nutrient removal capacity of Porphyra dioica (Bangiales, Rhodophyta). Aquaculture 252:66–78

Peteiro C, Freire Ó (2011) Effect of water motion on the cultivation of the commercial seaweed Undaria pinnatifida in a coastal bay of Galicia, Northwest Spain. Aquaculture 314:269–276

Porse H, Rudolph B (2017) The seaweed hydrocolloid industry: 2016 updates, requirements, and outlook. J Appl Phycol 29:2187–2200

Raven JA (1984) A cost-benefit analysis of photon absorption by photosynthetic unicells. New Phytol 98:593–625

Raven JA, Geider RJ (2003) Adaptation, acclimation and regulation in algal photosynthesis. In: Larkum AWD, Douglas SE, Raven JA (eds) Photosynthesis in algae. Springer, Dordrecht, pp 385–412

Raven JA, Kübler JE (2002) New light on the scaling of metabolic rate with the size of algae. J Phycol 38:11–16

Ribeiro AL, Tesima KE, Souza JM, Yokoya NS (2013) Effects of nitrogen and phosphorus availabilities on growth, pigment, and protein contents in Hypnea cervicornis J. Agardh (Gigartinales, Rhodophyta). J Appl Phycol 25:1151–1157

Richards DK, Hurd CL, Pritchard DW, Wing SR, Hepburn CD (2011) Photosynthetic response of monospecific macroalgal stands to density. Aquat Biol 13:41–49

Rosenberg C, Ramus J (1982) Ecological growth strategies in the seaweeds Gracilaria foliifera (Rhodophyceae) and Ulva sp. (Chlorophyceae): soluble nitrogen and reserve carbohydrates. Mar Biol 66:251–259

Sampath-Wiley P, Neefus CD, Jahnke LS (2008) Seasonal effects of sun exposure and emersion on intertidal seaweed physiology: fluctuations in antioxidant contents, photosynthetic pigments and photosynthetic efficiency in the red alga Porphyra umbilicalis Kützing (Rhodophyta, Bangiales). J Exp Mar Biol Ecol 361:83–91

Santelices B (1991) Production ecology of Gelidium. Hydrobiologia 221:31–44

Santiañez WJ, Suan-Flandez HJ, Trono GC Jr (2016) White rot disease and epiphytism on Halymenia durvillei Bory de Saint-Vincent (Halymeniaceae, Rhodophyta) in culture. Science Diliman 24:28

Sekar S, Chandramohan M (2008) Phycobiliproteins as a commodity: trends in applied research, patents, and commercialization. J Appl Phycol 20:113–136

Siegelman HW, Kycia HJ (1978) Algal biliproteins. In: Hellebust JA, Craigie JS (eds) Handbook of phycological methods. Cambridge University Press, Cambridge, UK, pp 71–79

Sigma-Aldrich (2019) R-phycoerythrin. Online Product Catalog. http://www.sigmaaldrich.com/catalog/product/sigma/22049?lang=en&region=US. Accessed 11 June 2019

Silva PC, Meñez EG, Moe RL (1987) Catalog of the benthic marine algae of the Philippines. Smithson Contrib Mar Sci 27:1–179

Talarico L (1996) Phycobiliproteins and phycobilisomes in red algae: adaptive responses to light. Sci Mar 60:205–222

Talarico L, Maranzana G (2000) Light and adaptive responses in red macroalgae: an overview. J Photochem Photobiol 56:1–11

Thimijan RW, Heins RD (1983) Photometric, radiometric, and quantum light units of measure: a review of procedures for interconversion. Hort Science 18:818–822

Trono GC Jr (1997) Field guide and atlas of the seaweed resources of the Philippines. Bookmark, Makati City, Philippines

Trono GC Jr (2010) A Primer on the land-based culture of Halymenia durvillaei Bory de Saint Vincent (Rhodophyta). Philippine Council for Aquatic and Marine Research and Development. Los Baños, Laguna, Philippines

Trono GC Jr (2014) Mariculture of the red alga Halymenia durvillaei Bory de Saint Vincent: techniques from spores to sea outplanting. Bureau of Agricultural Research, Department of Agriculture, Diliman, Quezon City, Philippines

Trono GC Jr, Ganzon-Fortes ET (1988) Philippine seaweeds. National Bookstore Inc., Metro Manila, Philippines

Villanueva RD, Yap HT, Montano MN (2006) Intensive fish farming in the Philippines is detrimental to the reef-building coral Pocillopora damicornis. Mar Ecol Prog Ser 316:165–174

Wheeler WN (1980) Effect of boundary layer transport on the fixation of carbon by the giant kelp Macrocystis pyrifera. Mar Biol 56:103–110

Wickham H (2010) ggplot2: elegant graphics for data analysis. J Stat Softw 35:65–88

Yong YS, Yong WT, Anton A (2013) Analysis of formulae for determination of seaweed growth rate. J Appl Phycol 25:1831–1834

Zubia M, Freile-Pelegrín Y, Robledo D (2014) Photosynthesis, pigment composition and antioxidant defenses in the red alga Gracilariopsis tenuifrons (Gracilariales, Rhodophyta) under environmental stress. J Appl Phycol 26:2001–2010
Acknowledgements
The authors thank all those who have kindly provided their valuable expertise and assistance during the study, specifically Dr. Marco Nemesio Montaño for the consultations on pigment analysis and use of his laboratory; Norchel Gomez for the assistance with the pigment analysis; Jerry Arboleda, Marilyn Dayao, and Ace Guerta for the technical assistance; and Dr. Wilfredo H. Uy for his valuable comments. The authors are also sincerely grateful to the reviewers of this paper who significantly improved the manuscript.
Data availability (data transparency)
The datasets analyzed during the current study are available with some restrictions from the corresponding author on reasonable request.
Funding
This study was supported by a thesis grant (BML-MSC-17-01) from the Bolinao Marine Laboratory of The Marine Science Institute, University of the Philippines, and the Science Education Institute of the Department of Science and Technology of the Philippines.
Additional information
Publisher's note
Springer Nature remains neutral with regard to jurisdictional claims in published maps and institutional affiliations.
About this article
Cite this article
Rula, N.A.M., Ganzon-Fortes, E.T., Pante, M.R. et al. Influence of light, water motion, and stocking density on the growth and pigment content of Halymenia durvillei (Rhodophyceae) under laboratory conditions. J Appl Phycol 33, 2367–2377 (2021). https://doi.org/10.1007/s10811-021-02474-4
Received:

Revised:

Accepted:

Published:

Issue Date:

DOI: https://doi.org/10.1007/s10811-021-02474-4
Keywords
Aquaculture

Halymenia durvillei

Phycobiliproteins

Phycocyanin

Phycoerythrin

Rhodophyta

Seaweed cultivation