Abstract
The brown seaweed species Alaria esculenta and Saccharina latissima are commercial edible resources in Norway. There are knowledge gaps regarding these species. Accordingly, they were characterized and their bioactivity and bioaccessibility evaluated. The fatty acid (FA) analysis revealed an ω-3/ω-6 ratio of almost 2 in A. esculenta vs 1 in S. latissima. The FAs 18:4 ω-3 (stearidonic acid) and 20:5 ω-3 (eicosapentaenoic acid) were the main contributors to the relative ω-3 polyunsaturated FA richness in A. esculenta. This seaweed was also rich in fucoxanthin (66.1 ± 20.1 mg (100 g)−1 dw), representing approximately 4.1% of the total lipids. Hence, this species may be a source of natural fucoxanthin. Anti-inflammatory activity was significantly stronger (p < 0.001) in the ethanolic than in the aqueous extracts of the algal biomass, 48.3–60.4% vs 18.2–38.6% cyclooxygenase-2 (COX-2) inhibition. In the bioaccessible fraction of both species, phenolic content and antioxidant activity were low. Moreover, the anti-inflammatory capacity was largely lost in this fraction, especially in the case of S. latissima. Regarding elemental composition, there were no large differences between the two brown seaweed species, being As levels high (53.11–58.93 mg kg−1 dw). However, this As is mostly organic and accordingly poses a lower risk to human health. The I content was high, especially in S. latissima, 2829 ± 58 mg kg−1 dw (557 ± 17 mg kg−1 dw in A. esculenta). Taking into account I levels, only 0.05 g and 0.39 g of S. latissima per day (based on I levels before digestion) are enough to reach I DRI and I TUIL, respectively, or 0.07 g and 0.57 g per day (based on I levels after digestion), for I DRI and I TUIL, respectively. The attained results point to an untapped potential regarding development of functional foods and other products with high-added value—particularly in the case of A. esculenta.
Access options
Buy single article
Instant access to the full article PDF.
US$ 39.95
Tax calculation will be finalised during checkout.
Subscribe to journal
Immediate online access to all issues from 2019. Subscription will auto renew annually.
US$ 79
Tax calculation will be finalised during checkout.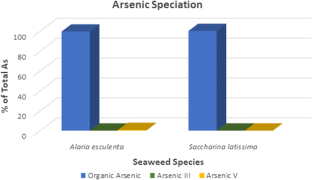 References
Afonso C, Costa S, Cardoso C, Bandarra NM, Batista I, Coelho I, Castanheira I, Nunes ML (2015) Evaluation of the risk/benefit associated to the consumption of raw and cooked farmed meagre based on the bioaccessibility of selenium, eicosapentaenoic acid and docosahexaenoic acid, total mercury, and methylmercury determined by an in vitro digestion model. Food Chem 170:249–256

Algaebase (2018). Global algal database of taxonomic, nomenclatural and distributional information. http://www.algaebase.org/ Accessed on 19th September 2018

Bandarra NM, Batista I, Nunes ML, Empis JMA, Christie WW (1997) Seasonal changes in lipid composition of sardine Sardina pilchardus. J Food Sci 62:40–43

Bhattacharya PT, Misra SR, Hussain M (2016) Nutritional aspects of essential trace elements in oral health and disease: an extensive review. Scientifica (Cairo) 2016:5464373

Biancarosa I, Belghit I, Bruckner CG, Liland NS, Waagbø R, Amlund H, Heesch S, Lock EJ (2018) Chemical characterization of 21 species of marine macroalgae common in Norwegian waters: benefits of and limitations to their potential use in food and feed. J Sci Food Agric 98:2035–2042

Bischof K, Gómez I, Molis M, Hanelt D, Karsten U, Lüder U, Roleda MY, Zacher K, Wiencke C (2006) Ultraviolet radiation shapes seaweed communities. Rev Env Sci Bio/Technol 5:141–166

Burtin P (2003) Nutritional value of seaweeds. El J Env Agric Food Chem 2:498–503

Campos AM, Matos J, Afonso C, Gomes R, Bandarra NM, Cardoso C (2019) Azorean macroalgae (Petalonia binghamiae, Halopteris scoparia, and Osmundea pinnatifida) bioprospection: a study of fatty acid profiles and bioactivity. Int J Food Sci Technol 54:880–890

Cardoso C, Afonso C, Lourenço H, Costa S, Nunes ML (2015) Bioaccessibility assessment methodologies and their consequences for the risk-benefit evaluation of food. Trends Food Sci Technol 41:5–23

Cherry P, O'Hara C, Magee PJ, McSorley EM, Allsopp PJ (2019) Risks and benefits of consuming edible seaweeds. Nutr Rev 77:307–329

Circuncisão AR, Catarino MD, Cardoso SM, Silva A (2018) Minerals from macroalgae origin: health benefits and risks for consumers. Mar Drugs 16:400

Coelho I, Matos AS, Teixeira R, Nascimento A, Bordado J, Donard O, Castanheira I (2019) Combining multielement analysis and chemometrics to trace the geographical origin of Rocha pear. J Food Compos Anal 77:1–8

Coelho JP (2019) Arsenic speciation in algae: case studies in Europe. In: Duarte AC, Reis V (eds) Comprehensive Analytical Chemistry. Elsevier, Amsterdam, pp 179–198

Demirel Z, Yilmaz-Koz FF, Karabay-Yavasoglu UN, Ozdemir G, Sukatar A (2009) Antimicrobial and antioxidant activity of brown algae from the Aegean Sea. J Serb Chem Soc 74:619–628

EFSA (2010) Scientific opinion on dietary reference values for fats, including saturated fatty acids, polyunsaturated fatty acids, monounsaturated fatty acids, trans fatty acids, and cholesterol. EFSA J 8:1461

EFSA (2014) Scientific opinion on dietary reference values for iodine. EFSA J 12:3660

EPA (1998) Test method 7473: Mercury in solids and solutions by thermal decomposition, amalgamation and atomic absorption spectrometry. SW-846, USA

EU (2012) Regulation 744/2012 amending annexes I and II to directive 2002/32/EC of the European Parliament and of the council as regards maximum levels for arsenic, fluorine, lead, mercury, endosulfan, dioxins, Ambrosia spp., diclazuril and lasalocid a sodium and action thresholds for dioxins. OJ L 219:5–12

FAO/WHO (2005) Vitamin and mineral requirements in human nutrition, 2nd edn. World Health Organization, Geneva

FAO/WHO (2011) Safety evaluation of certain contaminants in food, prepared by the seventy-second meeting of the Joint FAO/WHO Expert Committee on food additives. WHO Food Additives Series 63:153–316

Farasat M, Khavari-Nejad RA, Nabavi SMB, Namjooyan F (2013) Antioxidant properties of two edible green seaweeds from northern coasts of the Persian Gulf. Jundishapur J Nat Pharm Prod 8:47–52

Farvin KHS, Jacobsen C (2013) Phenolic compounds and antioxidant activities of selected species of seaweeds from Danish coast. Food Chem 138:1670–1681

Francisco J, Cardoso C, Bandarra N, Brito P, Horta A, Pedrosa R, Gil MM, Delgado IM, Castanheira I, Afonso C (2018) Bioaccessibility of target essential elements and contaminants from Fucus spiralis. J Food Compos Anal 74:10–17

Francisco J, Horta A, Pedrosa R, Afonso C, Cardoso C, Bandarra NM, Gil MM (2020) Bioaccessibility of antioxidants and fatty acids from Fucus spiralis L. Foods 9:440

Gosch BJ, Magnusson M, Paul NA, de Nys R (2012) Total lipid and fatty acid composition of seaweeds for the selection of species for oil-based biofuel and bioproducts. GCB Bioenergy 4:919–930

IOM (2004) Dietary reference intakes (DRIs): recommended intakes for individuals. Vitamins. Institute of Medicine. https://web.archive.org/web/20091030004039/http://iom.edu/en/Global/News%20Announcements/~/media/Files/Activity%20Files/Nutrition/DRIs/DRISummaryListing2.ashx/ Accessed 8 Oct 2018

Jaswir I, Noviendri D, Salleh HM, Taher M, Miyashita K (2013) Isolation of fucoxanthin and fatty acids analysis of Padina australis and cytotoxic effect of fucoxanthin on human lung cancer (H1299) cell lines. Af J Biotechnol 10:18855–18862

Jiménez-Escrig A, Gómez-Ordóñez E, Tenorio MD, Rupérez P (2013) Antioxidant and prebiotic effects of dietary fiber co-travelers from sugar Kombu in healthy rats. J Appl Phycol 25:503–512

Jin DQ, Lim CS, Sung JY, Choi HG, Ha I, Han JS (2006) Ulva conglobata, a marine algae, has neuroprotective and anti-inflammatory effects in murine hippocampal and microglial cells. Neurosci Lett 402:154–158

Kellogg J, Lila MA (2013) Chemical and in vitro assessment of Alaskan coastal vegetation antioxidant capacity. J Agric Food Chem 61:11025–11032

Kim SM, Kang SW, Kwon ON, Chung D, Pan CH (2012) Fucoxanthin as a major carotenoid in Isochrysis aff. galbana: characterization of extraction for commercial application. J Korean Soc Appl Biol Chem 55:477–483

Maeda H, Hosokawa M, Sashima T, Funayama K, Miyashita K (2005) Fucoxanthin from edible seaweed, Undaria pinnatifida, shows antiobesity effect through UCP1 expression in white adipose tissues. Biochem Biophys Res Commun 332:392–397

Maeda H, Hosokawa M, Sashima T, Miyashita K (2007) Dietary combination of fucoxanthin and fish oil attenuates the weight gain of white adipose tissue and decreases blood glucose in obese/diabetic KK-Ay mice. J Agric Food Chem 55:7701–7706

Maehre HK, Malde MK, Eilertsen KE, Elvevoll EO (2014) Characterization of protein, lipid and mineral contents in common Norwegian seaweeds and evaluation of their potential as food and feed. J Sci Food Agric 94:3281–3290

Mai K, Mercer JP, Donlon J (1996) Comparative studies on the nutrition of abalone, Haliotis tuberculata L and Haliotis discus hannai Ino V. The role of polyunsaturated fatty acids of macroalgae in abalone nutrition. Aquaculture 139:77–89

Makris DP, Boskou D (2014) Plant-derived antioxidants as food additives. In: Dubey NK (ed) Plants as a source of natural antioxidants. CABI, Oxfordshire, pp 169–190

Marinho GS, Holdt SL, Jacobsen C, Angelidaki I (2015) Lipids and composition of fatty acids of Saccharina latissima cultivated year-round in integrated multi-trophic aquaculture. Mar Drugs 13:4357–4374

Montalvão S, Demirel Z, Devi P, Lombardi V, Hongisto V, Perälä M, Hattara J, Imamoglu E, Tilvi SS, Turan G, Dalay MC, Tammela P (2018) Large-scale bioprospecting of cyanobacteria, micro- and macroalgae from the Aegean Sea. New Biotechnol 33:399–406

Mrad ND, Boudhrioua N, Kechaou N, Courtois F, Bonazzi C (2012) Influence of air drying temperature on kinetics, physicochemical properties, total phenolic content and ascorbic acid of pears. Food Bioprod Process 90:433–441

Nielsen CW, Holdt SL, Sloth JJ, Marinho GS, Sæther M, Funderud J, Rustad T (2020) Reducing the high iodine content of Saccharina latissima and improving the profile of other valuable compounds by water blanching. Foods 9:569

Nitschke U, Stengel DB (2015) A new HPLC method for the detection of iodine applied to natural samples of edible seaweeds and commercial seaweed food products. Food Chem 172:326–334

NRC (2000) Dietary reference intakes for vitamin A, vitamin K, arsenic, boron, chromium, copper, iodine, iron, manganese, molybdenum, nickel, silicon, vanadium, and zinc. National Academies Press, New York, pp 258–259

Nwosu F, Morris J, Lund VA, Stewart D, Ross HA, McDougall GJ (2011) Anti-proliferative and potential anti-diabetic effects of phenolic-rich extracts from edible marine algae. Food Chem 126:1006–1012

Oh J-H, Kim J, Lee Y (2016) Anti-inflammatory and anti-diabetic effects of brown seaweeds in high-fat diet-induced obese mice. Nutr Res Pract 10:42–48

Ometto F, Steinhovden KB, Kuci H, Lunnbäck J, Berg A, Karlsson A, Handa Å, Wollan H, Ejlertsson J (2018) Seasonal variation of elements composition and biomethane in brown macroalgae. Biomass Bioenergy 109:31–38

Paiva L, Lima E, Patarra RF, Neto AI, Baptista J (2014) Edible Azorean macroalgae as source of rich nutrients with impact on human health. Food Chem 164:128–135

Pereira L (2016) Edible seaweeds of the world. CRC Press, Boca Raton

Quideau S, Deffieux D, Douat-Casassus C, Pouységu L (2011) Plant polyphenols: chemical properties, biological activities, and synthesis. Angew Chem 50:586–621

Re R, Pellegrini N, Proteggente A, Pannala A, Yang M, Rice-Evans C (1999) Antioxidant activity applying an improved ABTS radical cation decolorization assay. Free Radic Biol Med 26:1231–1237

Ripol A, Cardoso C, Afonso C, Varela J, Quental-Ferreira H, Pousão-Ferreira P, Bandarra NM (2018) Composition, anti-inflammatory activity, and bioaccessibility of green seaweeds from fish pond aquaculture. Nat Prod Commun 13:603–608

Rodrigues D, Freitas AC, Pereira L, Rocha-Santos TAP, Vasconcelos MW, Roriz M, Rodríguez-Alcalá LM, Gomes AMP, Duarte AC (2015) Chemical composition of red, brown and green macroalgae from Buarcos bay in central west coast of Portugal. Food Chem 183:197–207

Roleda MY, Skjermo J, Marfaing H, Jónsdóttir R, Rebours C, Gietl A, Stengel DB, Nitschke U (2018) Iodine content in bulk biomass of wild-harvested and cultivated edible seaweeds: inherent variations determine species-specific daily allowable consumption. Food Chem 254:333–339

Romarís-Hortas V, García-Sartal C, Barciela-Alonso MC, Domínguez-González R, Moreda-Piñeiro A, Bermejo-Barrera P (2011) Bioavailability study using an in-vitro method of iodine and bromine in edible seaweed. Food Chem 124:1747–1752

Sappati PK, Nayak B, VanWalsum GP, Mulrey OT (2019) Combined effects of seasonal variation and drying methods on the physicochemical properties and antioxidant activity of sugar kelp (Saccharina latissima). J Appl Phycol 31:1311–1332

Schiener P, Black KD, Stanley MS, Green DH (2015) The seasonal variation in the chemical composition of the kelp species Laminaria digitata, Laminaria hyperborea, Saccharina latissima and Alaria esculenta. J Appl Phycol 27:363–373

Schmid M, Guihéneuf F, Stengel DB (2014) Fatty acid contents and profiles of 16 macroalgae collected from the Irish coast at two seasons. J Appl Phycol 26:451–463

Shannon E, Abu-Ghannam N (2017) Optimisation of fucoxanthin extraction from Irish seaweeds by response surface methodology. J Appl Phycol 29:1027–1036

Singleton VL, Rossi JA (1965) Colorimetry of total phenolics with phosphomolybdic-phosphotungstic acid reagents. Am J Enol Vitic 16:144–158

Stévant P, Marfaing H, Duinker A, Fleurence J, Rustad T, Sandbakken I, Chapman A (2018) Biomass soaking treatments to reduce potentially undesirable compounds in the edible seaweeds sugar kelp (Saccharina latissima) and winged kelp (Alaria esculenta) and health risk estimation for human consumption. J Appl Phycol 30:2047–2060

Tanaka N, Ishida T, Nagao M, Mori T, Monguchi T, Sasaki M, Mori K, Kondo K, Nakajima H, Honjo T, Irino Y, Toh R, Shinohara M, Hirata K (2014) Administration of high dose eicosapentaenoic acid enhances anti-inflammatory properties of high-density lipoprotein in Japanese patients with dyslipidemia. Atherosclerosis 237:577–583

Taylor VF, Li Z, Sayarath V, Palys JT, Morse KR, Rachel A, Scholz-Bright RA, Karagas MR (2017) Distinct arsenic metabolites following seaweed consumption in humans. Sci Rep 7:3920

Vilg JV, Nylund GM, Werner T, Qvirist L, Mayers JJ, Pavia H, Undeland I, Albers E (2015) Seasonal and spatial variation in biochemical composition of Saccharina latissima during a potential harvesting season for Western Sweden. Bot Mar 58:1–12

Yea SS, Choi CY, Jo G-H, Seo Y (2009) Antioxidant and anti-inflammatory potential of Arctic seaweeds: activity screening and mechanism identification. Drug Metab Rev, in 3rd Asian Pacific Regional International Society for the study of xenobiotics Meeting

Zemke-White WL, Ohno M (1999) World seaweed utilisation: an end-of-century summary. J Appl Phycol 11:369–376

Zubia M, Fabre MS, Kerjean V, Le Lann K, Stiger-Pouvreau V, Fauchon M, Deslandes E (2009) Antioxidant and antitumoural activities of some Phaeophyta from Brittany coasts. Food Chem 116:693–701
Acknowledgements
This work was supported by the following Grants: Ref.: SFRH/BPD/102689/2014 ("Fundação para a Ciência e a Tecnologia", FCT) for Carlos Cardoso and Ref.: SFRH/BD/129795/2017 (FCT) for Joana Matos.
Funding
The study was funded by the project AQUAMAX (Ref.: 16-02-01-FMP-0047).
Ethics declarations
Conflict of interest
The authors declare that they have no conflict of interest.
Additional information
Publisher's note
Springer Nature remains neutral with regard to jurisdictional claims in published maps and institutional affiliations.
About this article
Cite this article
Afonso, C., Matos, J., Guarda, I. et al. Bioactive and nutritional potential of Alaria esculenta and Saccharina latissima. J Appl Phycol 33, 501–513 (2021). https://doi.org/10.1007/s10811-020-02298-8
Received:

Revised:

Accepted:

Published:

Issue Date:
Keywords
Alaria esculenta
Saccharina latissima

Phaeophyceae

Chemical composition

Antioxidant activity

Anti-inflammatory activity

Bioaccessibility