Abstract
Cyanobacteria are able to synthesize high-value compounds, such as pigments, known for their bioactivities and several industrial uses. One of the key points for the extraction of pigments is solvent selection. Solvent interferes on pigments concentration, thus affecting the bioactive potential of the extracts. In this work, using frozen-dried biomass of Cyanobium sp. LEGE 06113, organic and aqueous pigment-rich extracts were obtained by a classic extraction methodology using four solvents — acetone (A), ethyl acetate (EA), ethanol (E) and water (W). In order to increase the efficiency of extraction from the cyanobacterium biomass, successive extractions were performed by using water after organic extraction (A-W, E-W, EA-W) and acetone after the aqueous extraction (W-A). Extraction yield and profile of carotenoids, phycobiliproteins, and phenolic compounds were quantified. The bioactive potential of Cyanobium sp. extracts was assessed in terms of antioxidant capacity (ABTS•+, •NO, O2•− scavenging), anti-inflammatory capacity (COX inhibition), and cytotoxicity (HepG2). W-A showed the higher antioxidant capacity and higher content in carotenoids. E-W showed the highest content in phycobiliproteins and great antioxidant capacity. In terms of anti-inflammatory capacity, 100 μgE mL−1 of E-W extract exhibited capacity to inhibit both COX-1 and COX-2 enzymes. Finally, in what concerns the cytotoxic evaluation, E, W, A-W, E-W, and EA-W revealed to have no cytotoxic effects in concentrations up to 750 μgE mL−1. Overall, this work constitutes a valid contribution for the valorisation of Cyanobium sp. pigment-rich extracts for biotechnological applications.
Access options
Buy single article
Instant access to the full article PDF.
US$ 39.95
Tax calculation will be finalised during checkout.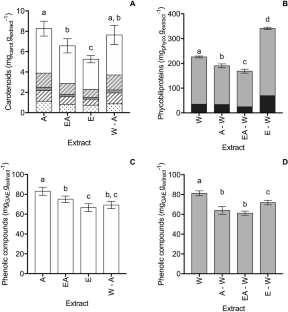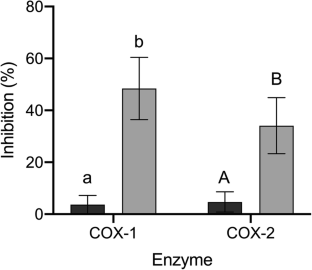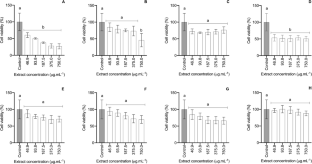 References
Allen MM (1968) Simple conditions for growth of unicellular blue-green algae on plates. J Phycol 4:1–4

Amaro HM, Fernandes F, Valentão P, Andrade PB, Sousa-Pinto I, Malcata FX, Guedes AC (2015) Effect of solvent system on extractability of lipidic components of Scenedesmus obliquus (M2-1) and Gloeothece sp. on antioxidant scavenging capacity thereof. Mar Drugs 13:6453–6471

Babić O, Kovač D, Rašeta M, Šibul F, Svirčev Z, Simeunović J (2016) Evaluation of antioxidant activity and phenolic profile of filamentous terrestrial cyanobacterial strains isolated from forest ecosystem. J Appl Phycol 28:2333–2342

Benedetti S, Benvenuti F, Pagliarani S, Francogli S, Scoglio S, Canestrari F (2004) Antioxidant properties of a novel phycocyanin extract from the blue-green alga Aphanizomenon flos-aquae. Life Sci: 2353–2362

Bennett A, Bogorad L (1973) Complementary chromatic adaptation in a filamentous blue-green alga. J Cell Biol 58:419–435

Bhat VB, Madyastha KM (2001) Scavenging of peroxynitrite by phycocyanin and phycocyanobilin from Spirulina platensis: protection against oxidative damage to DNA. Biochem Biophys Res Commun 285:262–266

Costa M, Sampaio-Dias IE, Castelo-Branco R, Scharfenstein H, Rezende de Castro R, Silva A, Schneider MPC, Araújo MJ, Martins R, Domingues VF, Nogueira F, Camões V, Vasconcelos VM, Leão PN (2019) Structure, synthesis of hierridin C and discovery of prevalent alkylresorcinol biosynthesis in picocyanobacteria structure. J Nat Prod 82:393–402

Del Campo JA, García-González M, Guerrero MG (2007) Outdoor cultivation of microalgae for carotenoid production: current state and perspectives. Appl Microbiol Biotechnol 74:1163–1174

Ferrer MD, Busquets-Cortés C, Capó X, Tejada S, Tur JA, Pons A, Sureda A (2019) Cyclooxygenase-2 inhibitors as a therapeutic target in inflammatory diseases. Curr 26:3225–3241

Folin O, Ciocalteu V (1927) On tyrosine and tryptophane in proteins. J Biol Chem 73:627–648

Freitas S, Martins R, Costa M, Leão PN, Vitorino R, Vasconcelos V, Urbatzka R (2016) Hierridin B isolated from a marine cyanobacterium alters VDAC1, mitochondrial activity, and cell cycle genes on HT-29 colon adenocarcinoma cells. Mar Drugs 14:158

Giorgis M, Garella D, Cena C, Boffa L, Cravotto G, Marini E (2017) An evaluation of the antioxidant properties of Arthrospira maxima extracts obtained using non-conventional techniques. Eur Food Res Technol 243:227–237

Guedes AC, Amaro HM, Pereira RD, Malcata FX (2011) Effects of temperature and pH on growth and antioxidant content of the microalga Scenedesmus obliquus. Biotechnol Prog 27:1218–1224

Guedes AC, Amaro HM, Gião MS, Malcata FX (2013) Optimization of ABTS radical cation assay specifically for determination of antioxidant capacity of intracellular extracts of microalgae and cyanobacteria. Food Chem 138:638–643

Henrard AA, da Rosa GM, Moraes L, de Morais MG, Costa JAV (2015) The cultivation of microalgae Cyanobium sp. and Chlorella sp. in different culture media and stirring setting. Afr J Microbiol Res 9:1431–1439

Jerez-Martel I, García-Poza S, Rodríguez-Martel G, Rico M, Afonso-Olivares C, Gómez-Pinchetti JL (2017) Phenolic profile and antioxidant activity of crude extracts from microalgae and cyanobacteria strains. J Food Qual 2017:1–8

Leão PN, Costa M, Ramos V, Pereira AR, Fernandes VC, Domingues VF, Gerwick WH, Vasconcelos VM, Martins R (2013) Antitumor activity of hierridin B, a cyanobacterial secondary metabolite found in both filamentous and unicellular marine strains. PLoS One 8:e69562

Leung P, Lee HH, Kung YC, Tsai MF, Chou TC (2013) Therapeutic effect of C-phycocyanin extracted from blue green algae in a rat model of acute lung injury induced by lipopolysaccharide. Evid-Based Compl Alt Med:916590

Lopes G, Sousa C, Silva LR, Pinto E, Andrade PB, Bernardo J, Mouga T, Valentão P (2012) Can phlorotannins purified extracts constitute a novel pharmacological alternative for microbial infections with associated inflammatory conditions? PLoS One 7:e31145

Lopes G, Clarinha D, Vasconcelos V (2020) Carotenoids from cyanobacteria: a biotechnological approach for the topical treatment of psoriasis. Microorganisms 8:302

Maadane A, Merghoub N, Ainane T, El Arroussi H, Benhima R, Amzazi S, Bakri Y, Wahby I (2015) Antioxidant activity of some Moroccan marine microalgae: PUFA profiles, carotenoids and phenolic content. J Biotechnol 215:13–19

Mandal MK, Chanu NK, Chaurasia N (2020) Cyanobacterial pigments and their fluorescence characteristics: applications in research and industry. In: Singh PK, Kumar A, Singh VK, Shrivastava AK (eds) Advances in cyanobacterial biology. Academic Press, NY pp 55–72

Masojídek J, Torzillo G, Koblížek M (2013) Photosynthesis in microalgae. In: Richmond A (ed) Handbook of microalgal culture. John Wiley & Sons, London pp 21–36

Mattson MP (2004) Pathways towards and away from Alzheimer's disease. Nature 430:631–639

Moreno A, Bermejo R, Talavera E, Alvarez-Pez JM, Sanz-Aparicio J, Romero-Garrido A (1997) Purification, crystallization and preliminary X-ray diffraction studies of C-phycocyanin and allophycocyanin from Spirulina platensis. Acta Crystallogr Sect D 53:321–326

Pagels F, Guedes AC, Amaro HM, Kijjoa A, Vasconcelos V (2019) Phycobiliproteins from cyanobacteria: chemistry and biotechnological applications. Biotechnol Adv 37:422–443

Pandey VD, Pandey A, Sharma V (2013) Biotechnological applications of cyanobacterial phycobiliproteins. Int J Curr Microbiol Appl Sci 2:89–97

Panis G, Carreon JR (2016) Commercial astaxanthin production derived by green alga Haematococcus pluvialis: a microalgae process model and a techno-economic assessment all through production line. Algal Res 18:175–190

Pan-utai W, Iamtham S (2018) Physical extraction and extrusion entrapment of C-phycocyanin from Arthrospira platensis. J King Saud Univ - Sci 31:1535–1542

Pinho BR, Sousa C, Valentão P, Andrade PB (2011) Is nitric oxide decrease observed with naphthoquinones in LPS stimulated RAW 264.7 macrophages a beneficial property? PLoS One 6:e24098

Priya CP, Murugesan S (2014) Antioxidant activity of methanolic extract of C. minutus and C. saccharophila. World J Pharm, Res 3:2462–2467

Reddy CM, Bhat VB, Kiranmai G, Reddy MN, Reddanna P, Madyastha KM (2000) Selective inhibition of cyclooxygenase-2 by C-phycocyanin, a biliprotein from Spirulina platensis. Biochem Biophys Res Commun 277:599–603

Ruiz J, Olivieri G, De Vree J, Bosma R, Willems P, Reith JH, Eppink MHM, Kleinegris DMM, Wijffels RH, Barbosa MJ (2016) Towards industrial products from microalgae. Energy Environ Sci 9:3036–3043

Sekar S, Chandramohan M (2008) Phycobiliproteins as a commodity: trends in applied research, patents and commercialization. J Appl Phycol 20:113–136

Shih SR, Tsai KN, Li YS, Chueh CC, Chan EC (2003) Inhibition of enterovirus 71-induced apoptosis by allophycocyanin isolated from a blue-green alga Spirulina platensis. J Med Virol 70:119–125

Stewart DE, Farmer FH (1984) Extraction, identification, and quantitation of phycobiliprotein pigments from phototrophic plankton. Limnol Oceanogr 29:392–397

Törnwall ME, Virtamo J, Korhonen PA, Virtanen MJ, Taylor PR, Albanes D, Huttunen JK (2004) Effect of α-tocopherol and β-carotene supplementation on coronary heart disease during the 6-year post-trial follow-up in the ATBC study. Eur Heart J 25:1171–1178

Trivedi N, Baghel RS, Bothwell J, Gupta V, Reddy CRK, Lali AM, Jha B (2016) An integrated process for the extraction of fuel and chemicals from marine macroalgal biomass. Sci Rep 6:1–8

Yu P, Wu Y, Wang G, Jia T, Zhang Y (2017) Purification and bioactivities of phycocyanin. Crit Rev Food Sci Nutr 57:3840–3849
Funding
A PhD fellowship (SFRH/BD/136767/2018) for author F.P. was granted by Fundação para a Ciência e Tecnologia (FCT, Portugal) under the auspices of Programa Operacional Capital Humano (POCH), supported by the European Social Fund and Portuguese funds (MECTES). This work was financially co-supported by the strategical funding from FCT UIDB/04423/2020 and UIDP/04423/2020, European Union Horizon 2020 programme—GenialG–Genetic diversity exploitation for innovative macro-algal biorefinery (ID: 727892) and the Atlantic Interreg Projects Enhance MicroAlgae—high-added value industrial opportunities for microalgae in the Atlantic Area (EAPA_338/2016), and BLUEHUMAN—BLUE biotechnology as a road for innovation on HUMAN's health aiming smart growth in Atlantic Area (EAPA_151/2016). The authors acknowledge the support and the use of resources of EMBRC-ERIC, specifically of the Portuguese infrastructure node of the European Marine Biological Resource Centre (EMBRC-PT) CIIMAR–PINFRA/22121/2016–ALG-01-0145-FEDER-022121, financed by the European Regional Development Fund (ERDF) through COMPETE2020–Operational Programme for Competitiveness and Internationalisation (POCI) and national funds through FCT/MCTES.
Ethics declarations
Conflict of interest
The authors declare that they have no conflict of interest.
Additional information
Publisher's note
Springer Nature remains neutral with regard to jurisdictional claims in published maps and institutional affiliations.
About this article
Cite this article
Pagels, F., Salvaterra, D., Amaro, H.M. et al. Bioactive potential of Cyanobium sp. pigment-rich extracts. J Appl Phycol 32, 3031–3040 (2020). https://doi.org/10.1007/s10811-020-02213-1
Received:

Revised:

Accepted:

Published:

Issue Date:
Keywords
Cyanobacteria

Carotenoids

Phycobiliproteins

Antioxidant capacity

Anti-inflammatory capacity

Cytotoxicity