Abstract
Salinity is one of the environmental factors inhibiting productivity in crop plants. Available strategies to mitigate the abiotic stresses are limited. Microalgae and cyanobacteria can mitigate the adverse effects of abiotic stress due to their biostimulant properties. The aim of this work was to study the effect of hydrolysate of the ciyanobacterium Arthrospira platensis on the growth of Petunia plants under salt stress conditions over two growing seasons (winter and spring). Plants were exposed to 2.0, 2.5, and 3.0 dS m−1 EC, with and without application of A. platensis hydrolysate. At the end of the trial, biometric parameters and plant analysis were determined. Petunias had a negative response when the salinity level rose from 2 to 3 dS m−1 and exhibited moderate tolerance to high internal Na and Cl concentrations. Results show that a high salinity reduces the Ca, Mg, K, and S contents in the leaves and provokes a sharp reduction in the K+/Na+ relationship. Applying A. platensis hydrolysate alleviates the effects of NaCl stress and stimulates shoot and bud formation in the petunia mother plant while inducing flowering in commercial Petunia plants. The A. platensis hydrolysate application increased the K+/Na+ relationship in treatments with an EC of 3.0 dS m−1.
Access options
Buy single article
Instant access to the full article PDF.
US$ 39.95
Tax calculation will be finalised during checkout.
Subscribe to journal
Immediate online access to all issues from 2019. Subscription will auto renew annually.
US$ 79
Tax calculation will be finalised during checkout.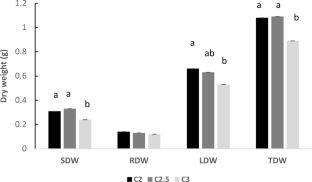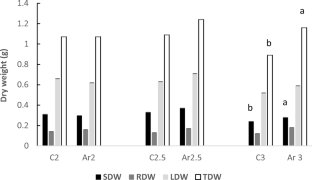 References
Acien FG, Gómez-Serrano C, Morales-Amaral MM, Fernández-Sevilla JM, Molina-Grima E (2016) Wastewater treatment using microalgae: how realistic a contribution might it be to significant urban wastewater treatment? Appl Microbiol Biotechnol 100:9013–9022

Ahmad R, Jamil S, Shahzad M, Zörb C, Irshad U, Khan N, Younas M, Khan SA (2017) Metabolic profiling to elucidate genetic elements due to salt stress. Clean - Soil Air Water 45:1600574

Arroussi H, Benhima R, Elbaouchi A, Sijilmassi B, Mernissi NEL, Aafsar A, Meftah-Kadmiri I, Bendaou N, Smouni A (2018) Dunaliella salina exopolysaccharides: a promising biostimulant for salt stress tolerance in tomato (Solanum lycopersicum). J Appl Phycol 30:2929–2941

Arun M, Radhakrishnan R, Ai TN, Naing AH, Lee IJ, Kim CK (2016) Nitrogenous compounds enhance the growth of petunia and reprogram biochemical changes against the adverse effect of salinity. J Hort Sc Biotechnol 91:562–572

Battacharyya D, Zamani-Babgohari M, Rathor P, Prithiviraj B (2015) Seaweed extracts as biostimulants in horticulture. Scientia Hort 196:39–48

Cammarano D, Ceccarelli S, Grando S, Romagosa I, Benbelkacem A, Akar T, Al-Yassin A, Pecchioni N, Francia E, Ronga D (2019) The impact of climate change on barley yield in the Mediterranean basin. Eur J Agron 106:1–11

Cardarelli M, Rouphael Y, Salerno A, Rea E, Colla G (2012) Fertilizer concentration and irrigation method affects growth and flowering of two bedding plants. Acta Hort 937:689–696

Coppens J, Grunert O, Van den Hende S, Vanhoutte I, Boon N, Haesaert G, Gelder LD (2016) The use of microalgae as a high-value organic slow-release fertilizer results in tomatoes with increased carotenoid and sugar levels. J Appl Phycol 28:2367–2377

El-Sayed E (2019) Physiological effects of Spirulina platensis in salt stressed Vicia faba L. plants. Egypt J Bot 59:185–194

Ertani A, Nardi S, Francioso O, Sanchez-Cortes S, Di Foggia M, Schiavon M (2019) Effects of two protein hydrolysates obtained from chickpea (Cicer arietinum L.) and Spirulina platensis on Zea mays (L.) plants. Front Plant Sci 25:00954

Escalante FME, Cortés-Jiménez D, Tapia-Reyes G, Suarez R (2015) Immobilized microalgae and bacteria improve salt tolerance of tomato seedlings grown hydroponically. J Appl Phycol 27:1923–1933

García-González J, Sommerfeld M (2016) Biofertilizer and biostimulant properties of the microalga Acutodesmus dimorphus. J Appl Phycol 28:1051–1061

Giuffrida F, Rouphael Y, Toscano S, Scuderi D, Romano D, Rivera CM, Colla G, Leonardi C (2011) A simple model for nondestructive leaf area estimation in bedding plants. Photosynthetica 49:380

Guzmán-Murillo MA, Ascencio F, Larrinaga-Mayoral JA (2013) Germination and ROS detoxification in bell pepper (Capsicum annuum L.) under NaCl stress and treatment with microalgae extracts. Protoplasma 250:33–42

Hogue E, Wilcow GE, Cantliffe DJ (1970) Effect of soil phosphorous levels on phosphate fraction in tomato leaves. J Am Soc Hort Sci 95:174–176

Khalid H, Kumari M, Grover A, Nasim M (2015) Salinity stress tolerance of camelina investigated in vitro. Sci Agric Bohem 46:137–144

Kim S (2015) Handbook of marine microalgae. Biotechnology advances. Academic Press

Krom MD (1980) Spectrophotometric determination of ammonia: a study of a modified Berthelot reaction using salicylate and dichloroisocyanurate. Analyst 105:305–316

Mancuso S, Azzarello E, Mugnai S, Briand X (2006) Marine bioactive substances (IPA extract) improve foliar ion uptake and water stress tolerance in potted Vitis vinifera plants. Adv Hort Sci 20:156–161

Maria D'Aloia M, Delphine Bonhomme D, Frédéric Bouché F, Karim Tamseddak K, Sandra Ormenese S, Stefano Torti S, George Coupland G, Claire Périlleux CL (2011) Cytokinin promotes flowering of Arabidopsis via transcriptional activation of the FT paralogue TSF. Plant J 65:972–979

Marschner H (2012) Marschner's mineral nutrition of higher plants, 3rd edn. Academic Press, London

Mukherjee A, Patei JS (2019) Seaweed extract: biostimulator of plant defense and plant productivity. Int J Env Sci Technol 7:553–558

Niu G, Sun Y (2019) Salt tolerance in roses-a review. Acta Hortic 1232:143–150

Niu G, Rodriguez DS, Starman T (2010) Response of bedding plants to saline water irrigation. Hortscience 45:628–636

Novák J, Pavlů J, Novák O, Nožková-Hlaváčková V, Špundová M, Hlavinka J, Koukalová Š, Skalák J, Černý M, Brzobohatý B (2013) High cytokinin levels induce a hypersensitive-like response in tobacco. Ann Bot 112:41–55

Parida AK, Das AB, Mohanty P (2004) Defense potentials to NaCl in a mangrove, Bruguiera parviflora: differential changes of isoforms of some antioxidative enzymes. J Plant Physiol 161:31–542

Plaza BM, Gómez-Serrano C, Acién-Fernández FG, Jiménez-Becker S (2018) Effect of microalgae hydrolysate foliar application (Arthrospira platensis and Scenedesmus sp.) on Petunia x hybrida growth. J Appl Phycol 30:2359–2365

Ronga D, Biazzi E, Parati K, Carminati D, Carminati E, Tava A (2019) Microalgal biostimulants and biofertilisers in crop production. Agronomy 9:192

Sudhir P, Murthy SDS (2004) Effects of salt stress on basic processes of photosynthesis. Photosynthetica 42:481–486

Vankova R (2014) Cytokinin regulation of plant growth and stress responses. In: Tran LP, Pal S (eds) Phytohormones: a window to metabolism, signaling and biotechnological application. Springer, Dordrecht, pp 55–79

Wang Y, Thorup-Kristensen K, Stoumann L, Magid J (2016) Vigorous root growth is a better indicator of early nutrient uptake than root hair traits in spring wheat grown under low fertility. Front Plant Sci 7:865

Xu G, Magen H, Tarchitzky J, Kafkafi U (2000) Advances in chloride nutrition of plants. Adv Agron 68:97–150

Zörb C, Geilfus CM, Diets KJ (2019) Salinity and crop yield. Plant Biol 21:31–38
Funding
This research has received funding from the European Union's Horizon 2020 Research and Innovation program under Grant Agreement No. 727874 SABANA.
Ethics declarations
Competing interest
The authors declare that they have no competing interest.
Additional information
Publisher's note
Springer Nature remains neutral with regard to jurisdictional claims in published maps and institutional affiliations.
About this article
Cite this article
Bayona-Morcillo, P.J., Plaza, B.M., Gómez-Serrano, C. et al. Effect of the foliar application of cyanobacterial hydrolysate (Arthrospira platensis) on the growth of Petunia x hybrida under salinity conditions. J Appl Phycol 32, 4003–4011 (2020). https://doi.org/10.1007/s10811-020-02192-3
Received:

Revised:

Accepted:

Published:

Issue Date:
Keywords
NaCl

Biostimulants

Abiotic stress

Ornamental plant