Abstract
The chronic effects of three different stressors, irradiance, temperature, and desiccation, on Photosystem II (PSII) photochemical efficiency were investigated in two heteromorphic life-history stages of a cultivated red alga, Pyropia yezoensis f. narawaensis (Bangiales) from Japan. The maximum quantum yields of PSII (Fv/Fm) over the range of temperature between 4 and 36 °C for 96-h exposure showed different responses in the two life-history stages. In the macroscopic gametophyte, the highest value (0.47) occurred at 12.0 °C; however, Fv/Fm quickly decreased at higher temperatures. In contrast, Fv/Fm in the microscopic sporophyte were less sensitive to temperature, suggesting adaptation to the broad range of temperature with a high value (0.40) that occurred at 21.1 °C. Continuous 6-h exposures to the 50, 100, and 1000 μmol photons m−2 s−1 revealed greater decline in their effective quantum yields of PSII (ΔF/Fm′) in the sporophyte. As known in the photoprotective response and its PSII repair system in the photosynthesis, the recovery of quantum yield in two life-history stages after subsequent acclimation (darkness and dim-light treatments) was more accelerated in dim-light than those of darkness. The response to continuous desiccation (240-min aerial exposure) in two life-history stages was also different, and the ΔF/Fm′ in the gametophyte returned to initial values after re-immersion in seawater. In contrast, those in the sporophyte dropped to zero after a 5-min aerial exposure and did not return to initial values, suggesting that farming protocols for the conchospore seeding in Nori-net cultivation need to pay careful attention to desiccation to ensure successful production.
Access options
Buy single article
Instant access to the full article PDF.
US$ 39.95
Tax calculation will be finalised during checkout.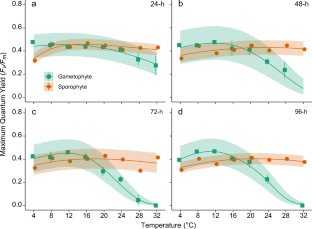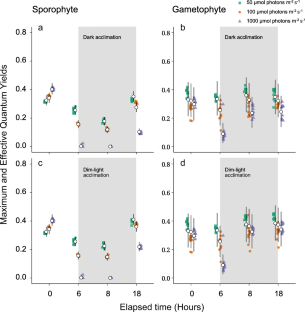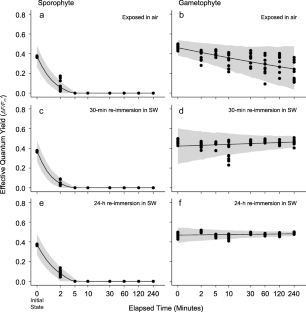 References
Alexandrov GA, Yamagata Y (2007) A peaked function for modeling temperature dependence of plant productivity. Ecol Model 200:189–192

Allakhverdiev SI, Murata N (2004) Environmental stress inhibits the synthesis de novo of proteins involved in the photodamage-repair cycle of photosystem II in Synechocystis sp. PCC 6803. Biochim Biophys Acta 1657:23–32

Allakhverdiev SI, Kreslavski VD, Klimov VV, Los DA, Carpentier R, Mohanty P (2008) Heat stress: an overview of molecular responses in photosynthesis. Photosynth Res 98:541–550

Aro EM, Surosa M, Rokka A, Allahverdiyeva Y, Paakkarinen V, Saleem A, Battchikova N, Rintama E (2005) Dynamics of photosystem II: a proteomic approach to thylakoid protein complexes. J Exp Bot 56:347–356

Bürkner PC (2018) Advanced Bayesian multilevel modeling with the R package brms. R J 10:395–411

Drew KM (1949) Conchocelis-phase in the life-history of Porphyra umbilicalis (L.) Kütz. Nature 164:748–749

Drew KM (1954) Life-history of Porphyra. Nature 173:1243–1244

Enríquez S, Merino M, Iglesias-Prieto R (2002) Variations in the photosynthetic performance along the leaves of the tropical seagrass Thalassia testudinum. Mar Biol 140:891–900

Fujiyoshi E, Kikuchi N (2006) Growth of excised pieces containing elongated denticles from the lower marginal parts of Porphyra tanegashimensis and P. haitanensis gametophytes. Bull Fish Res Agency 16:9–13

Hanelt D (1998) Capability of dynamic photoinhibition in Arctic macroalgae is related to their depth distribution. Mar Biol 131:361–369

Hanelt D, Melchersmann B, Wiencke C, Nultsch W (1997a) Effects of high light stress on photosynthesis of polar macroalgae in relation to depth distribution. Mar Ecol Prog Ser 149:255–266

Hanelt D, Wiencke C, Karsten U, Nultsch W (1997b) Photoinhibition and recovery after high light stress in different developmental and life-history stages of Laminaria saccharina (Phaeophyta). J Phycol 33:387–395

Iwasaki H (1961) The life-cycle of Porphyra tenera in vitro. Biol Bull 120:173–187

Kawamura Y (2017) New Nori book, technical edition #2. Nori Sangyo Joho Center, Tokyo (in Japanese)

Kawamura Y, Yamashita Y, Kito H (1991) Growth of Porphyra yezoensis f. narawaensis on culture nets in the Nori farm and its environmental conditions. Suisanzoshoku 39:273–278 (in Japanese with English abstract)

Kikuchi N (2012) Porphyra. In: Watanabe M, Inouye I, Okino T et al. (eds) Handbook of algae. Diversity and Utilization. NTS, Tokyo, pp 611–616 (in Japanese)

Migita S (1964) Freeze-preservation of Porphyra thalli in viable state-I. Viability of Porphyra tenera preserved at low temperature after freezing in the sea water and freezing under half-dried condition. Bull Fac Fish Nagasaki Univ 17:44–54 (in Japanese with English abstract)

Migita S (1966) Freeze-preservation of Porphyra thalli in viable state-II. Effect of cooling velocity and water content of thalli on the frost-resistance. Bull Fac Fish Nagasaki Univ 21:131–138 (in Japanese with English abstract)

Migita S, Abe N (1966) Formation of spores in Conchocelis of Porphyra. Bull Fac Fish Nagasaki Univ 20:1–13 (in Japanese with English abstract)

Migita S, Kawamura Y (1986) Diurnal variation of nuclear division in Porphyra yezoensis and its change by culture condition. Bull Fac Fish Nagasaki Univ 50:7–16 (in Japanese with English abstract)

Miura A (1984) A new variety and a new form of Porphyra (Bangiales, Rhodophyta) from Japan: Porphyra tenera Kjellman var. tamatsuensis Miura, var. nov. and P. yezoensis Ueda form. narawaensis Miura, form. nov. J Tokyo Univ Fish 71:1–14

Miura A (1988) Taxonomic studies of Porphyra species cultivated in Japan, referring to their transition to the cultivated variety. J Tokyo Univ Fish 75:311–325

Ogata E (1970) On a new algal culture medium SWM-III. Jap J Phycol 18:171–173 (in Japanese)

Ohno M, Largo DB (1998) The seaweed resources of Japan. In: Critchley AT, Ohno M (eds) Seaweed resources of the world. Japan International Cooperation Agency (JICA), Yokosuka, pp 1–14

Oohusa T (1993) The cultivation of Porphyra "Nori". In: Critchley AT, Ohno M (eds) Seaweed cultivation and marine ranching. Japan International Cooperation Agency (JICA), Yokosuka, pp 57–73

Öquist G, Chow WS, Anderson JM (1992) Photoinhibition of photosynthesis represents a mechanism for the long-term regulation of photosystem II. Planta 186:450–160

Ospina R, Ferrari SLP (2010) Inflated beta distributions. Stat Pap 51:111–126

Pospíšil P, Skotnica J, Nauš J (1998) Low and high temperature dependence of minimum Fo and maximum Fm chlorophyll fluorescence in vivo. Biochim Biophys Acta 1363:95–99

R Development Core Team (2019) R: A language and environment for statistical computing. R Foundation for Statistical Computing, Vienna, Austria, http://www.R-project.org (Accessed 10 April 2019)

Roleda MY (2009) Photosynthetic response of Arctic kelp zoospores exposed to radiation and thermal stress. Photobiol Sci 8:1302–1312

Saito Y (1956) A study on the influence of some environmental factors upon the development and the maturity of the Conchocelis-phase of a laver, Porphyra tenera Kjellman. Bull Jap Soc Sci Fish 22:21–29

Schubert N, García-Mendoza E, Enríquez S (2011) Is the photo-acclimatory response of Rhodophyta conditioned by the species carotenoid profile? Limnol Oceanogr 56:2347–2361

Schubert N, Colombo-Pallota MF, Enríquez S (2015) Leaf and canopy scale characterization of the photoprotective response to high-light stress of the seagrass Thalassia testudinum. Limnol Oceanol 60:286–302

Sutherland JE, Lindstrom SC, Nelson WA, Brodie J, Lynch MD, Hwang MS, Choi HG, Miyata M, Kikuchi N, Cliveira MC, Farr T, Neefus C, Mols-Mortensen, Milstein D, Müller K (2011) A new look at an ancient order: generic revision of the Bangiales (Rhodophyta). J Phycol 47:1131–1151

Tajiri S, Aruga Y (1984) Effect of emersion on the growth and photosynthesis of the Porphyra yezoensis thallus. Jap J Phycol 32:134–146

Takahashi S, Badger M (2011) Photoprotection in plants: a new light on photosystem II damage. Trends Plant Sci 16:53–60

Takahashi S, Murata N (2008) How do environmental stresses accelerate photoinhibition? Trends Plant Sci 13:178–182

Takeuchi T, Shitanaka M, Fukuhara A, Yamasaki H (1956) Studies on the ecology of Conchocelis-phase of Porphyra tenera Kjellm. – III. On the resistibility of the Conchoselis against the unfavorable conditions. Bull Jap Soc Sci Fish 22:16–20

Terada R, Matsumoto K, Borlongan IA, Watanabe Y, Nishihara GN, Endo H, Shimada S (2018a) The combined effects of PAR and temperature including the chilling-light stress on the photosynthesis of a temperate brown alga, Sargassum patens (Fucales), based on field and laboratory measurements. J Appl Phycol 30:1893–1904

Terada R, Nakazaki Y, Borlongan IA, Endo H, Nishihara GN (2018b) Desiccation effect on the PSII photochemical efficiency of cultivated Japanese Caulerpa lentillifera under the shipping package environment. J Appl Phycol 30:2533–2588

Terada R, Nakahara K, Borlongan IA, Watanabe Y, Mine T, Morikawa T, Igari T, Nishi H, Endo H, Nishihara GN (2019) Combined effects of irradiance and temperature on the PSII photochemical efficiency in the heteromorphic life history stages of cultivated Pyropia (Bangiales): P. yezoensis f. narawaensis and P. tenera from Japan. J Appl Phycol 31:1251–1257

Terada R, Nakashima Y, Borlongan IA, Shimabukuro H, Kozono J, Endo H, Shimada S, Nishihara GN (2020) Photosynthetic activity including the thermal- and chilling-light sensitivities of a temperate Japanese brown alga Sargassum macrocarpum. Phycol Res 68:70–79

Terumoto I (1965) Freezing and drying in a red marine alga, Porphyra yezoensis Ueda. Low Temp Sci Ser B 23:11–20 (in Japanese)

Thomas DN (2002) Seaweeds. Smithsonian Institution Press in association with the Natural History Museum, London 112p

Thornley JHM, Johnson IR (2000) Plant and crop modelling: a mathematical approach to plant and crop physiology. Blackburn Press, Caldwell

Vass I, Styring S, Hundal T, Koivuniemi A, Aro EM, Andersson B (1992) Reversible and irreversible intermediates during photoinhibition of photosystem II: stable reduced QA species promote chlorophyll triplet formation. Proc Natl Acad Sci U S A 89:1408–1412

Wang WJ, Wang FJ, Zhu JY, Sun XT, Yao CY, Xu P (2011) Freezing tolerance of Porphyra yezoensis (Bangiales, Rhodophyta) gametophyte assessed by chlorophyll fluorescence. J Appl Phycol 23:1017–1022

Wang WJ, Sun XT, Liu FL, Lian ZR, Zhang JH, Wang FJ (2016) Effect of abiotic stress on the gameophyte of Pyropia katadae var. hemiphylla (Bangiales, Rhodophyta). J Appl Phycol 28:469–479

Watanabe Y, Nishihara GN, Tokunaga S, Terada R (2014) Effect of irradiance and temperature on the photosynthesis of a cultivated red alga, Pyropia tenera (= Porphyra tenera), at the southern limit of distribution in Japan. Phycol Res 62:187–196

Watanabe Y, Yamada H, Mine Y, Kawamura Y, Nishihara GN, Terada R (2016) The response of photosynthesis of Pyropia yezoensis f. narawaensis to a thermal and PAR gradient varies with the life-history stage. Phycologia 55:665–672

Watanabe Y, Yamada H, Mine Y, Kawamura Y, Nishihara GN, Terada R (2017) Chronological change and the potential of recovery on the photosynthetic efficiency of Pyropia yezoensis f. narawaensis (Bangiales) during the sporelings frozen storage treatment in the Japanese Nori cultivation. Phycol Res 65:265–271

Wiltens J, Schreiber U, Vidaver W (1978) Chlorophyll fluorescence induction: an indicator of photosynthetic activity in marine algae undergoing desiccation. Can J Bot 56:2787–2794

Xu J, Gao K (2015) Photosynthetic performance of the red alga Pyropia haitanensis during emersion, with special reference to effects of solar UV radiation, dehydration and elevated CO2 concentration. Photochem Photobiol 91:1376–1381

Zemke-White WL, Ohno M (1999) World seaweed utilisation: an end-of-century summary. J Appl Phycol 11:369–376

Zhang T, Shen Z, Xu P, Zhu J, Lu Q, Shen Y, Wang Y, Yao C, Li J, Wang Y, Jiang H (2012) Analysis of photosynthetic pigments and chlorophyll fluorescence characteristics of different strains of Porphyra yezoensis. J Appl Phycol 24:881–816

Zhang T, Li J, Ma F, Lu Q, Shen Z, Zhu J (2014) Study of photosynthetic characteristics of the Pyropia yezoensis thallus during the cultivation process. J Appl Phycol 26:859–265
Acknowledgments
We thank Jumpei Kozono, Ryo Kameyama, Tomohide Ito, Iris Ann Borlongan (present: College of Fisheries and Ocean Sciences, University of the Philippines Visayas) and Hikaru Endo of the Laboratory of Marine Botany, Kagoshima University, for their kind support to the experiment in the present study. All authors have provided consent. RT and GNN also thank two reviewers for their constructive comments in the review process of Journal of Applied Phycology.
Funding
This research was supported in part by the Grant-in-Aid for Scientific Research (#16H02939) from the Japan Society for the Promotion of Science (JSPS).
Additional information
Publisher's note
Springer Nature remains neutral with regard to jurisdictional claims in published maps and institutional affiliations.
About this article
Cite this article
Terada, R., Yuge, T., Watanabe, Y. et al. Chronic effects of three different stressors, irradiance, temperature, and desiccation, on the PSII photochemical efficiency in the heteromorphic life-history stages of cultivated Pyropia yezoensis f. narawaensis (Bangiales) from Japan. J Appl Phycol 32, 3273–3284 (2020). https://doi.org/10.1007/s10811-020-02152-x
Received:

Revised:

Accepted:

Published:

Issue Date:
Keywords
Algae

Desiccation tolerance

Nori

PSII photochemical efficiency

Photoinhibition

Pulse amplitude-modulation (PAM)-chlorophyll fluorometry

Porphyra
Pyropia