Abstract
The economical interest in the use of genetically modified microalgae (GMM) increases because of their potential for low-cost industrial mass cultivation, high productivity (e.g., biomass, lipids, and recombinant proteins), and short generation times. However, the unintentional release of GMMs to the environment might cause harmful biotic interactions affecting ecosystems. GMMs could invade natural ecosystems and could affect ecosystem services by biotic interactions with other species from the same trophic level, as well as organisms from higher trophic levels. So far, potential negative influences of GMMs on natural ecosystems have mainly been hypothesized and empirical studies are rare and usually consider only direct short-term effects on adult organisms. In analyzing life history effects on Daphnia magna fed with transgenic Chlamydomonas reinhardtii synthesizing and secreting recombinant human vascular endothelial growth factor VEGF-165 (VEGF), we found that neonate size, fecundity, and fitness were significantly influenced by the different C. reinhardtii food sources. Clear GMM specific effects on Daphnia resulted in lower fecundity and neonates were small in size but higher in numbers. These, especially, might be consequences of changes in behavior or metabolism in Daphnia induced by the growth-enhancing protein VEGF. The results indicate a measurable response of Daphnia life history, which can result in further effects on higher trophic levels such as planktivorous invertebrates or fish.
Access options
Buy single article
Instant access to the full article PDF.
USD 39.95
Price excludes VAT (USA)
Tax calculation will be finalised during checkout.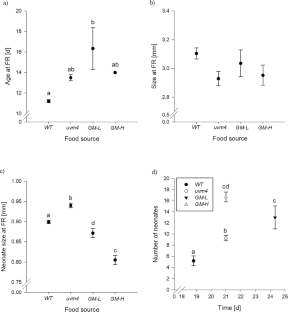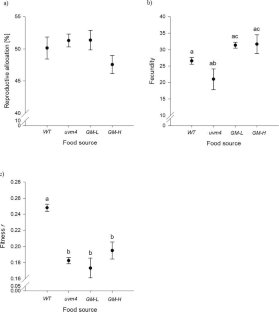 References
Agatz A, Hammers-Wirtz M, Gabsi F, Ratte HT, Brown CD, Preuss TG (2012) Promoting effects on reproduction increase population vulnerability of Daphnia magna. Env Tox Chem 31:1604–1610

Ahlgren G, Lundstedt L, Brett M, Forsberg C (1990) Lipid composition and food quality of some freshwater phytoplankton for cladoceran zooplankter. J Plankton Res 12:809–818

Andersen T, Hessen DO (1991) Carbon, nitrogen, and phosphorus content of freshwater zooplankton. Limnol Oceanogr 36:807–814

Bawa AS, Anilakumar KR (2013) Genetically modified foods: safety, risks and public concerns—a review. J Food Sci Technol 50:1035–1046

Becker C, Boersma M (2003) Resource quality effects on life histories of Daphnia. Limnol Oceanogr 48:700–706

Branstrator DK, Lehman JT (1991) Invertebrate predation in Lake Michigan: regulation of Bosmina longirostris by Leptodora kindtii. Limnol Oceanogr 36:483–495

Brooks JL, Dodson SI (1965) Predation, body size and composition of plankton. Science 150:28–35

Chávez MN, Schenck TL, Hopfner U, Centeno-Cerdas C, Somlai-Schweiger I, Schwarz C, Machens H-G, Heikenwalder M, Bono MR, Allende ML, Nickelsen J, Egaña JT (2016) Towards autotrophic tissue engineering: photosynthetic gene therapy for regeneration. Biomaterials 75:25–36

Cooper SD (1983) Selective predation on cladocerans by common pond insects. Can J Zool 61:879–886

Coso S, Bovay E, Petrova TV (2014) Pressing the right buttons: signaling in lymphangiogenesis. Blood 123:2614–2624

Cripps G, Lindeque P, Flynn K (2014) Parental exposure to elevated pCO2 influences the reproductive success of copepods. J Plankton Res 36:1165–1174

De Bie T, De Meester L, Brendonck L, Martens K, Goddeeris B, Ercken D, Hample H, Denys L, Vanhecke L, Van der Gucht K, Van Wichelen J, Wyverman W, Declerck SAJ (2012) Body size and dispersal mode as key traits determining metacommunity structure of aquatic organisms. Ecol Lett 15:740–747

Dodson SI, Havel JE (1988) Indirect prey effects: some morphological and life history responses of Daphnia pulex exposed to Notonecta undulata. Limnol Oceanogr 33:1274–1285

Ebert D (2005) Ecology, epidemiology, and evolution of parasitism in Daphnia. Page Evolution. National Library of Medicine (US), National Center for Biotechnology Information Bethesda, Maryland, USA, US.

Elser JJ, Dobberfuhl DR, MacKay NA, Schampel JH (1996) Organism size, life history, and N:P stoichiometry: toward a unified view of cellular and ecosystem processes. BioScience 46:674–684

Fenchel TOM, Finlay BJ (2004) The ubiquity of small species: patterns of local and global diversity. BioScience 54:777–784

Figuerola J, Green AJ (2002) Dispersal of aquatic organisms by waterbirds: a review of past research and priorities for future studies. Freshw Biol 47:483–494

Frost PC, Ebert D, Larson JH, Marcus MA, Wagner ND, Zalewski A (2010) Transgenerational effects of poor elemental food quality on Daphnia magna. Oecologia 162:865–872

Flynn KJ, Mitra A, Greenwell HC, Sui J (2013) Monster potential meets potential monster: pros and cons of deploying genetically modified microalgae for biofuels production. Interface Focus, 3(1): 20120037. 

Galbraith M (1967) Size-selective predation on Daphnia by Rainbow Trout and Yellow Perch. Trans Am Fish Soc 96:1–10

Ginjupalli GK, Baldwin WS (2013) The time-and age-dependent effects of the juvenile hormone analog pesticide, pyriproxyfen on Daphnia magna reproduction. Chemosphere 92:1260–1266

Gong Y, Hu H, Gao YXX, Gao H (2011) Microalgae as platforms for production of recombinant proteins and valuable compounds: progress and prospects. J Ind Microbiol Biotechnol 38:1879–1890

Gorr TA, Cahn JD, Yamagata H, Bunn HF (2004) Hypoxia-induced synthesis of hemoglobin in the crustacean Daphnia magna is hypoxia-inducible factor-dependent. J Biol Chem 279:36038–36047

Gressel J, van der Vlugt CJB, Bergmans HEN (2013) Environmental risks of large scale cultivation of microalgae: mitigation of spills. Algal Res 2:286–298

Griesbeck C, Kobl I, Heitzer M (2006) Chlamydomonas reinhardtii. Mol Biotechnol 34:213–223

Guillard RR, Lorenzen CJ (1972) Yellow-green algae with chlorophyllide c. J Appl Phycol 8:10–14

Haney JF, Hall DJ (1973) Sugar-coated Daphnia : a preservation technique for Cladocera. Limnol Oceanogr 18:331–333

Harris EH (2001) Chlamydomonas as model organism. Annu Rev Plant Physiol Plant Mol Biol 52:363–406

Harris EH (2009) The Chlamydomonas sourcebook: introduction to Chlamydomonas and its laboratory use, Second edn. Elsevier/Academic Press, Oxford

Henley WJ, Litaker RW, Novoveská L, Duke CS, Quemada HD, Sayre RT (2013) Initial risk assessment of genetically modified (GM) microalgae for commodity-scale biofuel cultivation. Algal Res 2:66–77

Hewett JP, Wolfe AK, Bergmann RA, Stelling SC, Davis KL (2016) Human health and environmental risks posed by synthetic biology R&D for energy applications: a literature analysis. Appl Biosafety 21:77–184

Holmes DIR, Zachary I (2005) The vascular endothelial growth factor (VEGF) family: angiogenic factors in health and disease. Genome Biol 6:209

Horne RW, Davies DR, Norton K, Gurney-Smith M (1971) Electron microscope and optical diffraction studies on isolated cell walls from Chlamydomonas. Nature 232:493–495

James C (2011) Global status of commercialized biotech/GM crops: 2011. ISAAA Brief No. 43. ISAAA: Ithaca, NY.

Jeschke JM, Tollrian R (2000) Density-dependent effects of prey defences. Oecologia 123:391–396

Khattak HK, Prater C, Wagner ND, Frost PC (2018) The threshold elemental ratio of carbon and phosphorus of Daphnia magna and its connection to animal growth. Scien Rep 8:9673

Kim D-H, Kim YT, Cho JJ, Bae J-H, Hur S-B, Hwang I, Choi T-J (2002) Stable integration and functional expression of flounder growth hormone gene in transformed microalga, Chlorella ellipsoidea. Mar Biotechnol 4:63–73

Krebs CJ (1989) Ecological Methodology. HarperCollins, New York.

Lampert W, Trubetskova I (1996) Juvenile growth rate as a measure of fitness in Daphnia. Funct Ecol:631–635

Lang WC, Chrispeels MJ (1976) Biosynthesis and release of cell wall-like glycoproteins during the vegetative cell cycle of Chlamydomonas reinhardii. Planta 129:183–189

León-Bañares R, González-Ballester D, Galván A, Fernández E (2004) Transgenic microalgae as green cell-factories. Trends Biotechnol 22:45–52

Löffler A, Wolinska J, Keller B, Rothhaupt KO, Spaak P (2004) Life history patterns of parental and hybrid Daphnia differ between lakes. Freshw Biol 49:1372–1380

Ma JK-C, Drake PMW, Christou P (2003) The production of recombinant pharmaceutical proteins in plants. Nat Rev Genet 4:794–805

Martin-Creuzburg D, Wacker A, Von Elert E (2005) Life history consequences of sterol availability in the aquatic keystone species Daphnia. Oecologia 144:362–372

Mitchell SF, Trainor FR, Rich PH, Goulden CE (1992) Growth of Daphnia magna in the laboratory in relation to the nutritional state of its food species, Chlamydomonas reinhardtii. J Plankton Res 14:379–391

Neupert J, Karcher D, Bock R (2009) Generation of Chlamydomonas strains that efficiently express nuclear transgenes. Plant J 57:1140–1150

Porter KG (1973) The selective effects of grazing by zooplankton on the phytoplankton of Fuller Pond. Yale University.

Porter KG, Orcutt JD (1980) Nutritional adequacy, manageability, and toxicity as factors that determine the food quality of green and blue-green algae for Daphnia. In: Keerfoot C (ed) Evolution and ecology of zooplankton communities. University Press of New England, Hanover, pp 268–281

Snow AA, Smith VH (2012) Genetically engineered algae for biofuels: a key role for ecologists. BioScience 62:765

Sommer U (1992) Phosphorus-limited Daphnia: intraspecific facilitation instead of competition. Limnol Oceanogr 37:966–973

Specht E, Miyake-Stoner S, Mayfield S (2010) Micro-algae come of age as a platform for recombinant protein production. Biotechnol Lett 32:1373–1383

Sterner RW (1993) Daphnia growth on varying quality of Scenedesmus: mineral limitation of zooplankton. Ecology 74:2351–2360

Sterner RW, Hagemeier DD, Smith WL, Smith RF (1993) Phytoplankton nutrient limitation and food quality for Daphnia. Limnol Oceanogr 38:857–871

Stibor H, MachaCek J (1998) The influence of fish-exuded chemical signals on the carbon budget of Daphnia. Limnol Oceanogr 43:997–1000

Szyjka SJ, Mandal S, Schoepp NG, Tyler BM, Yohn CB, Poon YS, Mayfield SP (2017) Evaluation of phenotype stability and ecological risk of a genetically engineered alga in open pond production. Algal Res 24:378–386

Sun XM, Ren LJ, Zhao QY, Ji XJ, Huang H (2018) Microalgae for the production of lipid and carotenoids: a review with focus on stress regulation and adaptation. Biotechnol biofuels, 11(1):272. 

Usher PK, Ross AB, Camargo-Valero MA, Tomlin AS, Gale WF (2014) An overview of the potential environmental impacts of large-scale microalgae cultivation. Biofuels 5:331–349

Van Donk E, Lürling M, Hessen DO, Lokhorst GM (1997) Altered cell wall morphology in nutrient-deficient phytoplankton and its impact on grazers. Limnol Oceanogr 42:357–364

Vanni MJ, Lampert W (1992) Food quality effects on life history traits and fitness in the generalist herbivore Daphnia. Oecologia 92:48–57

Vitt UA, Hsu SY, Hsueh AJ (2001) Evolution and classification of cystine knot-containing hormones and related extracellular signaling molecules. Mol Endocrinol 15:681–694

Wetzel RG, Likens GE (1991) Limnological analyses. Springer, New York

Wijffels RH, Kruse O, Hellingwerf KJ (2013) Potential of industrial biotechnology with cyanobacteria and eukaryotic microalgae. Curr Opin Biotechnol 24:405–413

Zhang C, Wohlhueter R, Zhang H (2016) Genetically modified foods: a critical review of their promise and problems. Food Science Human Wellness 5:116–123
Acknowledgments
We thank Margit Feißel, Angelika Wild, Achim Weigert, and Felicitas Samer for technical support during the experiment. Financial support from the Deutsche Forschungsgemeinschaft (DFG) to Jörg Nickelsen (TRR175-A06) and Maria Stockenreiter (STO 1075/1-1) is acknowledged.
Ethics declarations
Conflict of interest
The authors declare that they have no conflict of interest.
Additional information
Publisher's note
Springer Nature remains neutral with regard to jurisdictional claims in published maps and institutional affiliations.
About this article
Cite this article
Buchberger, F., Stibor, H., Neusius, D. et al. Transgenic and cell wall-deficient Chlamydomonas reinhardtii food affects life history of Daphnia magna. J Appl Phycol 32, 319–328 (2020). https://doi.org/10.1007/s10811-019-01983-7
Received:

Revised:

Accepted:

Published:

Issue Date:

DOI: https://doi.org/10.1007/s10811-019-01983-7
Keywords