Abstract
The temperature and light responses of photosynthesis in two freshwater red algae, Virescentia helminthosa and Sheathia arcuata (Batrachospermaceae), were determined by a pulse amplitude modulation (PAM) chlorophyll fluorometer and dissolved oxygen sensors. Net oxygenic photosynthesis–photosynthetically active radiation (PAR) models of V. helminthosa and S. arcuata revealed similar low PAR-adapted responses, with a compensation PAR (Ec) of 6.95 and 11.5 μmol photons m−2 s−1 (5.58–8.42 and 9.10–11.42, 95% Bayesian prediction interval, BPI) and saturating PAR (Ek) of 18.8 and 17.7 μmol photons m−2 s−1 (14.5–24.7 and 13.0–23.90, BPI), respectively. A temperature-dependent model of net photosynthesis and dark respiration for two species also showed similar temperature responses, and the gross photosynthetic rate (GPmax), 1.79 and 1.19 μg O2 gww−1 min−1 (1.62–1.96 and 1.08–1.29, BPI), was highest at 26.4 and 30.3 °C (23.9–28.7 and 28.3–32.1, BPI). The maximum quantum yields (Fv/Fm) for two species also had similar responses with respect to temperature; however, it was generally stable at low temperatures (8–20 °C) with the highest value of 0.52 and 0.56 (0.49–0.54 and 0.54–0.58, BPI) occurring at 18.5 and 20.9 °C (17.1–19.7 and 19.8–21.9, BPI). Continuous exposure (12 h) to PAR of 100 (low) and 1000 (high) μmol photons m−2 s−1 at 12, 16, and 24 °C revealed greater declines in their effective quantum yield (ΦPSII) in the two species under high PAR. Nevertheless, their Fv/Fm mostly recovered after a subsequent 12-h dim-light acclimation, suggesting the potential of recovery from daytime chronic photoinhibition.
Access options
Buy single article
Instant access to the full article PDF.
USD 39.95
Price excludes VAT (USA)
Tax calculation will be finalised during checkout.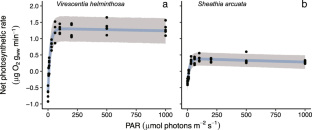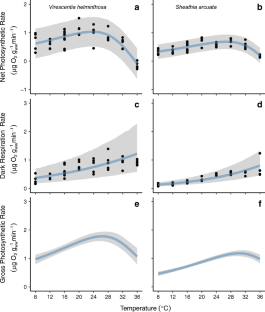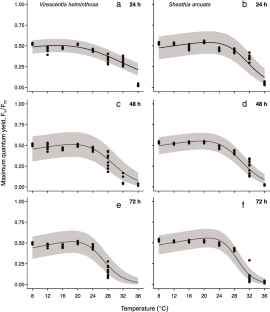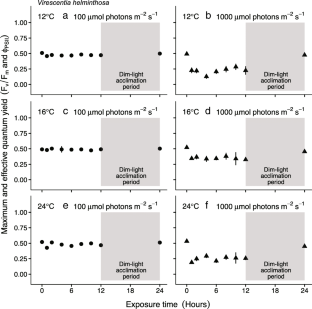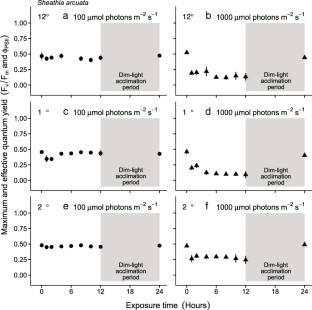 References
Alexandrov GA, Yamagata Y (2007) A peaked function for modeling temperature dependence of plant productivity. Ecol Model 200:189–192

Allakhverdiev SI, Murata N (2004) Environmental stress inhibits the synthesis de novo of proteins involved in the photodamage-repair cycle of photosystem II in Synechocystis sp. PCC 6803. Biochim Biophys Acta 1657:23–32

Allakhverdiev SI, Kreslavski VD, Klimov VV, Los DA, Carpentier R, Mohanty P (2008) Heat stress: an overview of molecular responses in photosynthesis. Photosynth Res 98:541–550

Aro EM, McCaffery S, Anderson JM (1994) Recovery of photoinhibition in Peas (Pisum sativum L.) acclimated to varying growth irradiances. Role of D1 protein turnover. Plant Physiol 104:1033–1041

Aro EM, Surosa M, Rokka A, Allahverdiyeva Y, Paakkarinen V, Saleem A, Battchikova N, Rintama E (2005) Dynamics of photosystem II: a proteomic approach to thylakoid protein complexes. J Exp Bot 56:347–356

Beer S, Björk M, Beardall J (2014) Photosynthesis in the marine environment. Wiley-Blackwell, Ames

Bellasio C, Burgess SJ, Griffiths H, Hibberd JM (2014) A high throughput gas exchange screen for determining rates of photorespiration or regulation of C4 activity. J Exp Bot 65:3769–3779

Cosgrove J, Borowitzka MA (2011) Chlorophyll fluorescence terminology: an introduction. In: Suggett DJ, Prásil O, Borowitzka MA (eds) Chlorophyll a fluorescence in aquatic sciences: methods and applications. Springer, Dordrecht, pp 1–17

Davison IR (1987) Adaptation of photosynthesis in Laminaria saccharina (Phaeophyta) to changes in growth temperature. J Phycol 23:273–283

Eggert A (2012) Seaweed responses to temperature. In: Bischof K (ed) Wiencke, C. Seaweed Biology. Springer, Berlin, pp 47–66

Eggert A, Wiencke C (2000) Adaptation and acclimation of growth and photosynthesis of five Antarctic red algae to low temperatures. Polar Biol 23:609–618

Fujimoto M, Nitta K, Nishihara GN, Terada R (2014) Phenology, irradiance and temperature characteristics of a freshwater red alga, Nemalionopsis tortuosa (Thoreales), from Kagoshima, southern Japan. Phycol Res 62:77–85

Gelman A (2004) Parameterization and Bayesian modeling. J Am Stat Assoc 99:537–545

Gelman A (2006) Prior distributions for variance parameters in hierarchical models. Bayesian Anal 1:515–533

Giller PS, Malmqvist B (1998) The biology of streams and rivers. Oxford University Press, Oxford

Hanelt D, Figueroa FL (2012) Physiological and photomorphogenic effects of light on marine macrophytes. In: Wiencke C, Bischof K (eds) Seaweed Biology. Springer, Berlin, pp 3–23

Hanelt D, Melchersmann B, Wiencke C, Nultsch W (1997a) Effects of high light stress on photosynthesis of polar macroalgae in relation to depth distribution. Mar Ecol Prog Ser 149:255–266

Hanelt D, Wiencke C, Karsten U, Nultsch W (1997b) Photoinhibition and recovery after high light stress in different developmental and life-history stages of Laminaria saccharina (Phaeophyta). J Phycol 33:387–395

Henley WJ (1993) Measurement and interpretation of photosynthetic light-response curves in algae in the context of photoinhibition and diel changes. J Phycol 29:729–739

Japanese Ministry of Environment (2019) Red List, 4th edition, revised in 2019. http://www.env.go.jp/press/106383.html (Accessed 10 August 2019; in Japanese)

Jassby AD, Platt T (1976) Mathematical formulation of the relationship between photosynthesis and light for phytoplankton. Limnol Oceanol 21:540–547

Kokubu S, Nishihara GN, Watanabe Y, Tsuchiya Y, Amano Y, Terada R (2015) The effect of irradiance and temperature on the photosynthesis of a native brown alga, Sargassum fusiforme (Fucales) from Kagoshima, Japan. Phycologia 54:235–247

Kozono J, Nishihara GN, Endo H, Terada R (2018) Effect of temperature and PAR on photosynthesis of an endangered freshwater red alga, Thorea okadae, from Kagoshima, Japan. Phycologia 57:619–629

Kumano S (2002) Freshwater Red Algae of the World. Biopress Limited, Bristol

Kusakariba T, Necchi O Jr (2009) Daily dynamics of photosynthesis of the freshwater red alga Sirodotia delicatula (Batrachospermales, Rhodophyta). Phycol Res 57:268–277

Necchi O Jr (2005) Light-related photosynthetic characteristics of freshwater Rhodophyta. Aquat Bot 82:193–209

Necchi O Jr, Zucchi MR (2001) Photosynthetic performance of freshwater Rhodophyta in response to temperature, irradiance, pH and diurnal rhythm. Phycol Res 49:305–318

Necchi O Jr (2016) Ecophysiology of river algae. In: Necchi O Jr (ed) River algae. Springer, Cham, pp 65–91

Platt T, Gallegos CL, Harrison WG (1980) Photoinhibition of photosynthesis in natural assemblages of marine phytoplankton. J Mar Res 38:687–701

Pospíšil P, Skotnica J, Nauš J (1998) Low and high temperature dependence of minimum Fo and maximum Fm chlorophyll fluorescencein vivo. Biochim Biophys Acta 1363:95–99

R Development Core Team (2018) R: A language and environment for statistical computing. R Foundation for Statistical Computing, Vienna, Austria.  http://www.R-project.org. (Accessed 10 August 2018).

Roleda MY (2009) Photosynthetic response of Arctic kelp zoospores exposed to radiation and thermal stress. Photochem Photobiol Sci 8:1302–1312

Sabater S, Artigas J, Corcoll N, Proia L, Timoner X, Tornés E (2016) Ecophysiology of river algae. In: Necchi O Jr (ed) River algae. Springer, Cham, pp 197–217

Schubert N, García-Mendoza E (2008) Photo-inhibition in red algal species with different carotenoid profile. J Phycol 44:1437–1446

Schubert N, García-Mendoza E, Enríquez S (2011) Is the photo-acclimation response of Rhodophyta conditioned by the species carotenoid profile? Limnol Oceanogr 56:2347–2361

Schubert N, Colombo-Pallota MF, Enríquez S (2015) Leaf and canopy scale characterization of the photoprotective response to high-light stress of the seagrass Thalassia testudinum. Limnol Oceanol 60:286–302

Seath RG, Hampbrook JA (1990) Freshwater ecology. In: Cole KM, Sheath RG (eds) Biology of the red algae. Cambridge University Press, Cambridge, pp 423–453

Seath RG, Vis ML (2015) Red algae. In: Wehr JD, Seath RG, Kociolek JP (eds) Freshwater algae of North America, Ecology and classification, 2nd edn. Academic Press, London, pp 237–264

Stan Development Team (2018) Stan: A C++ Library for Probability and Sampling, Version 2.14.2.  http://mc-stan.org. (Accessed 10 August 2018)

Takahashi S, Badger M (2011) Photoprotection in plants: a new light on photosystem II damage. Trends Plant Sci 16:53–60

Takahashi S, Murata N (2008) How do environmental stresses accelerate photoinhibition? Trends Plant Sci 13:178–182

Tcherkez G, Bligny R, Gout E, Mahé A, Hodges M, Cornic G (2008) Respiratory metabolism of illuminated leaves depends on CO2 and O2 conditions. Proc Natl Acad Sci U S A 105:797–802

Terada R, Watanabe Y, Fujimoto M, Tatamidani I, Kokubu S, Nishihara GN (2016) The effect of PAR and temperature on the photosynthetic performance of a freshwater red alga, Thorea gaudichaudii (Thoreales) from Kagoshima, Japan. J Appl Phycol 28:1255–1263

Terada R, Matsumoto K, Borlongan IA, Watanabe Y, Nishihara GN, Endo H, Shimada S (2018) The combined effects of PAR and temperature including the chilling-light stress on the photosynthesis of a temperate brown alga, Sargassum patens (Fucales), based on field and laboratory measurements. J Appl Phycol 61:1893–1904

Terada R, Nakashima Y, Borlongan IA, Shimabukuro H, Kozono J, Endo H, Shimada S, Nishihara GN (2019) Photosynthetic activity including the thermal- and chilling-light sensitivities of a temperate Japanese brown alga Sargassum macrocarpum. Phycol Res. https://doi.org/10.1111/pre.12398(Online)

Thornley JHM, Johnson IR (2000) Plant and crop modelling: a mathematical approach to plant and crop physiology. Blackburn Press, Caldwell

Webb WL, Newton M, Starr D (1974) Carbon dioxide exchange of Alnus rubra: a mathematical model. Oecologia 17:281–291
Acknowledgments
We thank Dr. Masahiro Suzuki, Kobe University Research Center for Inland Seas, Japan, for his kind suggestion of the taxonomic status of our algae in the present study. This research was part of the dissertation submitted by the first author in partial fulfillment of a Ph.D. degree. All authors have provided consent.
Funding
This research was supported in part by the Grant-in-Aid for Scientific Research (B; #16H02939) from the Japan Society for the Promotion of Science (JSPS).
Additional information
Publisher's note
Springer Nature remains neutral with regard to jurisdictional claims in published maps and institutional affiliations.
Electronic supplementary material
About this article
Cite this article
Kozono, J., Nishihara, G.N., Endo, H. et al. The temperature and light responses on the photosynthesis of two freshwater red algae, Virescentia helminthosa and Sheathia arcuata (Batrachospermaceae), from Japan. J Appl Phycol 32, 1341–1352 (2020). https://doi.org/10.1007/s10811-019-01967-7
Received:

Revised:

Accepted:

Published:

Issue Date:

DOI: https://doi.org/10.1007/s10811-019-01967-7
Keywords
Batrachospermaceae

Batrachospermales

Batrachospermum

Rhodophyta

Photochemical efficiency of PSII

Photosynthesis

Pulse amplitude modulation-chlorophyll fluorometry