Abstract
Exploration of algal-based natural dye sources, one of the pre-requisites of sustainable and eco-friendly textile processing, had been among the neglected areas of phycological research. The current investigation was carried out to explore the natural dye-yielding potential of a green algal species, Cladophora glomerata, and optimization of conditions for cotton fabrics, as an attempt to provide a cheap alternative of hazardous synthetic chemicals. A number of media were tested to extract the natural colorant from Cladophora along with metal salts as mordants. The results indicated that 2% NaOH was the best medium for natural colorant extraction from Cladophora powder, compared with all other media used in the study. Experiments of dyeing variable optimization showed that dyeing of cotton fabric with Cladophora extract for 45 min at 75 °C produced excellent shades. Four percent NaCl as exhausting agent produced good color shades on Cladophora powder–treated cotton fabric in dyeing medium having pH 9.0. The cotton fabric dyed with Cladophora showed light-green color shade. Different other shades (creamy, yellow, brown, etc.) of Cladophora powder–treated cotton fabric were obtained after mordant application. Among the four chemical mordants, tannic acid produced excellent color depth at given optimum dyeing conditions.
Access options
Buy single article
Instant access to the full article PDF.
US$ 39.95
Tax calculation will be finalised during checkout.
Subscribe to journal
Immediate online access to all issues from 2019. Subscription will auto renew annually.
US$ 79
Tax calculation will be finalised during checkout.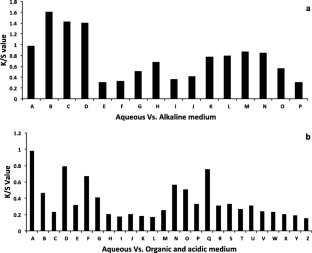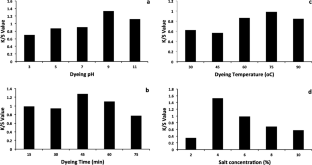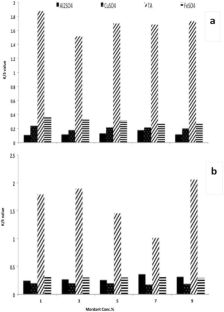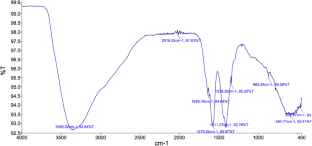 References
Adeel S, Bhatti IA, Kausar A, Osman E (2012) Influence of UV radiations on the extraction and dyeing of cotton fabric with Curcuma longa L. Indian J Fibre Text Res 37:87–90

Adeel S, Gulzar T, Azeem M, Saeed M, Hanif I, Iqbal N (2017) Appraisal of marigold flower based lutein as natural colorant for textile dyeing under the influence of gamma radiations. Radiat Phys Chem 130:35–39

Adeel S, Zia KM, Abdullah M, Rehman FU, Salman M, Zuber M (2018) Ultrasonic assisted improved extraction and dyeing of mordanted silk fabric using neem bark as source of natural colourant. Nat Prod Res 32:1–13

Ajmal M, Adeel S, Azeem M, Zuber M, Akhtar N, Iqbal N (2014) Modulation of pomegranate peel colourant characteristics for textile dyeing using high energy radiations. Ind Crop Prod 58:188–193

Ali S (2007) Evaluation of cotton dyeing with aqueous extracts of natural dyes from indigenous plants. (PhD Thesis). University of Agriculture Faisalabad, Pakistan, pp. 62–63

Ali A, Abid R (2006) Cladophora glomerata (L.) Kützing, as feed supplement to broiler chicks. Int J Biol Biotechnol 3:425–428

Ali S, Hussain T, Nawaz R (2009) Optimization of alkaline extraction of natural dye from Henna leaves and its dyeing on cotton by exhaust method. J Clean Prod 17:61–66

Ali S, Noor S, Siddiqua UH, Jabeen S, Hussain T (2016) Central composite design approach for optimization of extraction and dyeing conditions of marigold colorant. Nat Prod Chem Res 4:1–5

Ashokkumar R, Ramaswamy M (2014) Phytochemical screening by FTIR spectroscopic analysis of leaf extracts of selected Indian medicinal plants. J Curr Microbiol Appl Sci 3:395–406

Bhuiyan RMA, Ali A, Islam A, Hannan MA, Fijul KSM, Islam MN (2018) Coloration of polyester fiber with natural dye henna (Lawsonia inermis L.) without using mordant: a new approach towards a cleaner production. Fash Text 5:1–11

Doty K, Haar S, Kim J (2016) Black walnut, Osage orange and eastern red cedar sawmill waste as natural dyes: effect of aluminum mordant on color parameters. Fash Text 3:1–16

El-Khatib EM, Ali NF, El-Mohamedy RSR (2016) Enhancing dyeing of wool fibers with colorant pigment extracted from green algae. J Chem Pharm Res 8:614–619

Fabrowska J, Leska B, Schroeder G (2015) Freshwater Cladophora glomerata as a new potential cosmetic raw material. Chemik 69:491–497

Fabrowska J, Messyasz B, Szyling J, Walkowiak J, Łęska B (2017) Isolation of chlorophylls and carotenoids from freshwater algae using different extraction methods. Phycol Res 66:52–57

Fowler S, Giehl A (2016) Technology: ISO 105 B02 is now a fully performance-based test standard. AATCC Rev 16:39–41

Hussaan M, Iqbal N, Adeel S, Azeem M, Javed MT, Raza A (2017) Microwave-assisted enhancement of milkweed (Calotropis procera L.) leaves as an eco-friendly source of natural colorants for textile. Environ Sci Pollut Res 24:5089–5094

Janarthanan M, Senthil Kumar M (2017) The properties of bioactive substances obtained from seaweeds and their applications in textile industries. J Ind Text 48:361–401

Jothi D (2008) Extraction of natural dye from African marigold flower (Tagetes erecta) for textile coloration. AUTEX Res J 8:249–253

Kadir MI, Ahmad WW, Ahmad MR, Misnon MI, Ruznan WS, Jabbar HA, Ismail A (2014) Utilization of eco-colourant from green seaweed on textile dyeing. In: Ahmad M, Yahya M (eds) Proceedings of the International Colloquium in Textile Engineering, Fashion, Apparel and Design 2014 (ICTEFAD 2014). Springer, Singapore, pp 79–83

Khan AA, Iqbal N, Adeel S, Azeem M, Batool F, Bhatti IA (2014) Extraction of natural dye from red calico leaves: gamma ray assisted improvements in color strength and fastness properties. Dyes Pigments 103:50–54

Khandare R, Govindwar S (2015) Phytoremediation of textile dyes and effluents: current scenario and future prospects. Biotechnol Adv 33:1697–1714

Kubelka P, Munk F (1931) Ein Beitrag zur Optik der Farbanstriche. Z Tech Phys (Leipzig) 12:593–601

Kulkarni SS, Bodake UM, Pathade GR (2011) Extraction of natural dyes from chili (Capsicium annum) for textile coloration. Univ J Environ 1:58–63

Marycz K, Michalak I, Kocherova I, Marędziak M, Weiss C (2017) The Cladophora glomerata enriched by biosorption process in Cr (III) improves viability, and reduces oxidative stress and apoptosis in equine metabolic syndrome derived adipose mesenchymal stromal stem cells (ASCs) and their extracellular vesicles (MVs). Mar Drugs 15:385

Moldovan S, Ferrandiz M, Franco E, Mira E, Capablanca L, Bonet M (2017) Printing of cotton with eco-friendly, red algal pigment from Gracilaria sp. IOP Conference Series. Mat Sci Eng 254:192011

Pawar AB, More SP, Adivarekar RV (2018) Dyeing of polyester and nylon with semi-synthetic azo dye by chemical modification of natural source areca nut. Natl Prod Bioprospec 8:23–29

Schroeder G, Messyasz B, Łęska B, Fabrowska J, Pikosz M, Rybak A (2013) Biomasa alg słodkowodnych surowcem dla przemysłu i rolnictwa. Przemysł Chemiczny 92:1380–1384

Venil C, Wahidin M, Ahmad W (2017) Production of bacterial pigments in low cost medium and formulation of biodegradable ink. Indian J Exp Biol 55:441–447

Yuvarani M, Kubendran D, Aathika AR, Karthik P, Premkumar MP, Karthikeyan V, Sivanesan S (2017) Extraction and characterization of oil from macroalgae Cladophora glomerata. Energy Sources A 39:2133–2139
Additional information
Publisher's Note
Springer Nature remains neutral with regard to jurisdictional claims in published maps and institutional affiliations.
About this article
Cite this article
Mir, R.A., Adeel, S., Azeem, M. et al. Green algae, Cladophora glomerata L.–based natural colorants: dyeing optimization and mordanting for textile processing. J Appl Phycol 31, 2541–2546 (2019). https://doi.org/10.1007/s10811-018-1717-6
Received:

Revised:

Accepted:

Published:

Issue Date:
Keywords
Algal natural dye

Cotton fabric

Chemical mordants

Dyeing variables

Spectra flash