Abstract
Sargassum horneri is one of the most common seaweeds in China growing on solid substrates in the sublittoral zones along the Chinese coast. Large-scale drifting biomass of S. horneri has been reported in the Yellow Sea since 2010. Huge amount of the stranded biomass of this alga on the cultivation rafts of Pyropia yezoensis has drawn wide attention after damaging the local Pyropia farming industry. The original sources of the drifting biomass in the Yellow Sea remain unknown. In this study, 16 populations including three benthic and 13 drifting ones were sampled from the Yellow Sea and the East China Sea. Results of microsatellite analyses revealed that there were significant genetic differentiations among most of the investigated populations. Cluster analysis demonstrated that the drifting individuals from the same year, rather than from the same sampling locations, were clustered together. The existence of marked admixture in six populations also implies that the same drifting population could be of different origins. These results provide evidence suggesting that the drifting populations, in particular the populations occurring in different years, originated from multiple sources. Satellite imagery observation combined with genetic analyses of more benthic and drifting populations in the future are expected to elucidate, on a clearer level, the exact locations of the origin of the drifting populations.
Access options
Buy single article
Instant access to the full article PDF.
US$ 39.95
Tax calculation will be finalised during checkout.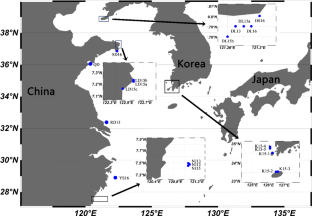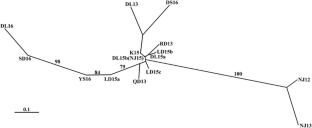 References
Cai YC, Sun B, Ma JH, He PM, Zhang Q (2014) Molecular identification of floating Sargassum horneri in the southern Yellow Sea. Mar Fish 36:102–106 (in Chinese with English abstract)

Chen J, Wang Y, Yu Q, Bi Y, He P, Liu Z, Qin S (2016) Molecular phylogenetic analysis of floating Sargassum horneri associated with green tides in coastal area of Qingdao. J Biol 33(1):39–42 (in Chinese with English abstract)

Choi CG, Kim HG, Sohn CH (2003) Transplantation of young fronds of Sargassum horneri for construction of seaweed beds. J Korean Fish Soc 36:469–473

Earl DA, vonHoldt BM (2011) STRUCTURE HARVESTER: a website and program for visualizing STRUCTURE output and implementing the Evanno method. Conserv Genet Resour 4:359–361

Evanno G, Regnaut S, Goudet J (2005) Detecting the number of clusters of individuals using the software STRUCTURE: a simulation study. Mol Ecol 14:2611–2620

Excoffier L, Laval G, Schneider S (2005) Arlequin (version 3.0): an integrated software package for population genetics data analysis. Evolt Bioinformatics Online 1:47

Gower J, Young E, King S (2013) Satellite images suggest a new Sargassum source region in 2011. Remote Sens Lett 4:764–773

Gower JFR, King SA (2011) Distribution of floating Sargassum in the Gulf of Mexico and the Atlantic Ocean mapped using MERIS. Int J Remote Sens 32:1917–1929

Komatsu T, Ariyama H, Nakahara H, Wataru S (1982) Spatial and temporal distributions of water temperature in a Sargassum forest. J Oceanogr Soc Jpn 38:63–72

Komatsu T, Fukuda M, Mikami A, Mizuno S, Kantachumpoo A, Tanoue H, Kawamiya M (2014a) Possible change in distribution of seaweed, Sargassum horneri, in northeast Asia under A2 scenario of global warming and consequent effect on some fish. Mar Poll Bull 85:317–324

Komatsu T, Matsunaga D, Mikami A, Sagawa T, Boisnier E, Tatsukawa K, Aoki M, Ajisaka T, Uwai S, Tanaka K, Ishida K, Tanoue H, Sugimoto T (2008) Abundance of drifting seaweeds in eastern East China Sea. J Appl Phycol 20:801–809

Komatsu T, Mizuno S, Natheer A, Kantachumpoo A, Tanaka K, Morimoto A, Hsiao ST, Rothausler EA, Shishidou H, Aoki M, Ajisaka T (2014b) Unusual distribution of floating seaweeds in the East China Sea in the early spring of 2012. J Appl Phycol 26:1169–1179

Komatsu T, Tatsukawa K, Filippi JB, Sagawa T, Matsunaga D, Mikami A, Ishida K, Ajisaka T, Tanaka K, Aoki M, Wang W-D, Liu H-F, Zhang S-D, Zhou M-D, Sugimoto T (2007) Distribution of drifting seaweeds in eastern East China Sea. J Mar Syst 67:245–252

Konishi Y (2000) Drifting seaweeds coming from China too. Seikai Fisheries Research Institute News 103:11-15 (in Japanese)

Kubo N, Douke A, Nishigaki T, Tsuji G (2017) Development and characterization of simple sequence repeat markers for genetic analyses of Sargassum horneri (Sargassaceae, Phaeophyta) populations in Kyoto, Japan. J Appl Phycol 29:1729–1733

Mizuno S, Ajisaka T, Lahbib S, Kokubu Y, Alabsi MN, Komatsu T (2014) Spatial distributions of floating seaweeds in the East China Sea from late winter to early spring. J Appl Phycol 26:1159–1167

Nei M (1978) Estimation of average heterozygosity and genetic distance from a small number of individuals. Genetics 89:583–590

Pang SJ, Liu F, Shan TF, Gao SQ, Zhang ZH (2009) Cultivation of the brown alga Sargassum horneri: sexual reproduction and seedling production in tank culture under reduced solar irradiance in ambient temperature. J Appl Phycol 21:413–422

Peakall R, Smouse PE (2006) Genalex 6: genetic analysis in Excel. Population genetic software for teaching and research. Mol Ecol Notes 6:288–295

Peakall R, Smouse PE (2012) GenAlEx 6.5: genetic analysis in Excel. Population genetic software for teaching and research—an update. Bioinformatics 28:2537–2539

Pritchard JK, Stephens M, Donnelly P (2000) Inference of population structure using multilocus genotype data. Genetics 155:945–959

Shan T, Pang S, Li J, Su L (2015) Isolation and characterization of eight novel microsatellite loci from the brown alga Sargassum horneri. J Appl Phycol 27:2419–2421

Sitther V, Zhang D, Harris DL, Yadav AK, Zee FT, Meinhardt LW, Dhekney SA (2014) Genetic characterization of guava (Psidium guajava L.) germplasm in the United States using microsatellite markers. Genet Resour Crop Evol 61:829–839

Smetacek V, Zingone A (2013) Green and golden seaweed tides on the rise. Nature 504:84–88

Sun JZ, Chen WD, Zhuang DG, Zheng HY, Li L, Pang SJ (2008) In situ ecological studies of the subtidal brown alga Sargassum horneri at Nanji Island of China. South China Fish Sci 4:59–64 (in Chinese with English abstract)

Sun JZ, Zhuang DG, Wang TG, Zheng JB, Chen WD (2009) Design and primary enforcement of Sargassum horneri ground establishment around Nanji Island. Mod Fish Information 24:25–28 (in Chinese with English abstract)

Tseng CK (2000) Flora Algarum Marinarum Sinicarum, Tomus 3. Phaeophyta (no. 2) Fucales Science Press, Beijing (in Chinese)

Yoon JT, Sun SM, Chung G (2013) Sargassum bed restoration by transplantation of germlings grown under protective mesh cage. J Appl Phycol 26:505–509

Yoshida T (1963) Studies on the distribution and drift of the floating seaweed. Bull Tohoku Reg Fish Res Lab 23:141–186 (in Japanese)
Acknowledgements
The authors would like to thank the anonymous reviewers for their constructive comments. This research was supported by the scientific and technological innovation project from Qingdao National Laboratory for Marine Science and Technology (No. 2015ASKJ01), the National Key Technology Support Program (2015BAD13B05), the National Infrastructure of Fishery Germplasm Resource (2016DKA30470) and China Agriculture Research System (CARS-50).
About this article
Cite this article
Su, L., Shan, T., Pang, S. et al. Analyses of the genetic structure of Sargassum horneri in the Yellow Sea: implications of the temporal and spatial relations among floating and benthic populations. J Appl Phycol 30, 1417–1424 (2018). https://doi.org/10.1007/s10811-017-1296-y
Received:

Revised:

Accepted:

Published:

Issue Date:
Keywords
Microsatellite

Molecular markers

Drifting seaweeds

Sargassum horneri

Genetic structure