Abstract
Bioaccumulation of rubidium (Rb+) and lithium (Li+) from alkaline wastewater containing 480 mg L−1 Rb+ and 540 mg L−1 Li+, a by-product of zinnwaldite processing, was studied at laboratory scale using growing freshwater microalgae (Chlorella vulgaris, Desmodesmus quadricauda and Scenedesmus obliquus). Bioaccumulation of Li+ was very low, while the bioaccumulation of Rb+ was significant by all tested strains. The best result was found for C. vulgaris, which accumulated 54% of the original amount of rubidium in growth media (48 mg L−1) within 4 days. In addition, the wastewater did not affect the growth rate of C. vulgaris. The effect of potassiun (K+) concentration on total bioaccumulation of alkali metal ions and its selectivity by C. vulgaris was also tested. The highest K+ concetration (334 mg L−1) resulted in bioaccumulation of 4.3 mg Rb+ per gram of biomass with Rb+:Li+ uptake ratio of 26.9. By decreasing the K+ concetration in medium (56 mg L−1), the total bioaccumulation improved (4.70 Li+ per gram of biomass, 5.93 Rb+ per gram of biomass) but at the cost of lower selectivity (Rb+:Li+ uptake ratio 1.3). These findings have a potential of practical utilization, as both Rb+ and Li+can be recovered from biomass by incineration and subsequent chemical separation.
Access options
Buy single article
Instant access to the full article PDF.
US$ 39.95
Tax calculation will be finalised during checkout.
Subscribe to journal
Immediate online access to all issues from 2019. Subscription will auto renew annually.
US$ 79
Tax calculation will be finalised during checkout.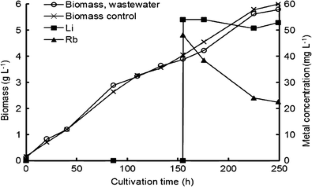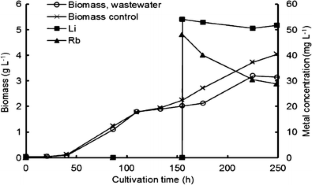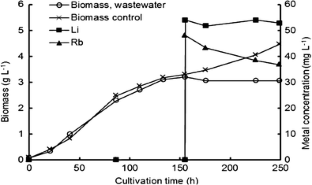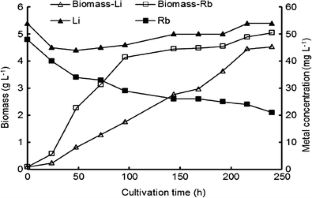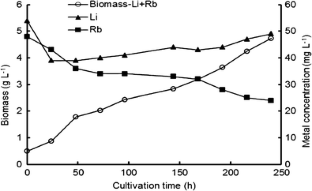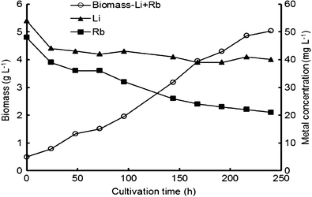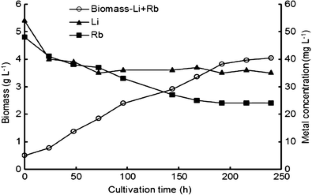 References
Ajayan KV, Selvaraju M, Thirugnanamoorthy K (2011) Growth and heavy metals accumulation potential of microalgae grown in sewage wastewater and petrochemical effluents. Pak J Biol Sci 14:805–811

Arunakumara KKIU, Zhang X (2008) Heavy metal bioaccumulation and toxicity with special reference to microalgae. J Ocean Univ China 7:60–64

Branyikova I, Marsalkova B, Doucha J, Branyik T, Bisova K, Zachleder V, Vitova M (2011) Microalgae-novel highly efficient starch producers. Biotechnol Bioeng 108:766–776

Butterman WC, Reese RG Jr (2003) Mineral commodity profiles rubidium. U.S. Geological Survey, Open-File Report 03–045. https://pubs.usgs.gov/of/2003/of03-045/of03-045.pdf. Accessed 7 Aug 2017

Campbell LM, Fisk AT, Wang XW, Kock G, Muir DCG (2005) Evidence for biomagnification of rubidium in freshwater and marine food webs. Can J Fish Aquat Sci 62:1161–1167

Doshi H, Ray A, Kothari IL (2007) Biosorption of cadmium by live and dead Spirulina: IR spectroscopic, kinetics, and SEM studies. Curr Microbiol 54:213–218

Doshi H, Seth C, Ray A, Kothari IL (2008) Bioaccumulation of heavy metals by green algae. Curr Microbiol 56:246–255

Douskova I, Doucha J, Livansky K, Machat J, Novak P, Umysova D, Zachleder V, Vitova M (2009) Simultaneous flue gas bioremediation and reduction of microalgal biomass production costs. Appl Microbiol Biotechnol 82:179–185

EPA–U.S. Environmental Protection Agency (1996) Method 3050B acid digestion of sediments, sludges, and soils

Gin K, Tang YZ, Aziz MA (2001) Heavy metal uptake by algae. In: Kojima H, Lee YK (eds) Photosynthetic microorganisms in environmental biotechnology. Springer, Berlin, pp 137–169

Jandova J, Dvorak P, Vu HN (2010) Processing of zinnwaldite waste to obtain Li2CO3. Hydrometallurgy 103:12–18

Jandova J, Dvorak P, Formanek J, Vu HN (2012a) Recovery of rubidium and potassium alums from lithium-bearing minerals. Hydrometallurgy 119:73–76

Jandova J, Dvorak P, Kondas J, Havlak L (2012b) Recovery of lithium from waste materials. Ceramics-Silikaty 56(1):50–54

Kaplan D (2013) Absorption and adsorption of heavy metals by microalgae. In: Richmond A, Hu Q (eds) Handbook of microalgal culture: applied phycology and biotechnology. Wiley, London, pp 602–611

Kosla T, Skibniewska E, Debski B, Urbanska-Slomka G (2002) Rubidium in the trophic chain soil-plants-animals. Trace Elem Electrolytes 19:171–176

Kumar K, Ghosh S, Angelidaki I, Holdt SL, Karakashev DB, Morales MA, Das D (2016) Recent developments on biofuels production from microalgae and macroalgae. Renew Sust Energ Rev 65:235–249

Marczenko Z, Balcerzak M (2000) Alkali metals. In: Kloczko E (ed) Separation, preconcentration and spectrophotometry in inorganic analysis, 1st edn. Elsevier Science, Amsterdam, p 77–82

Mehta SK, Gaur JP (2005) Use of algae for removing heavy metal ions from wastewater: progress and prospects. Crit Rev Biotechnol 25:113–152

Mohite BS, Khopkar SM (1985) Solvent-extraction separation of rubidium with dicyclohexano-18-crown-6. Talanta 32:565–567

Nespurkova L, Rybova R, Janacek K (1987) Parallel pathways of potassium transport in the alga Hydrodictyon-reticulatum. Effects of calcium. Gen Physiol Biophys 6:263–270

Nilsa GMBH (2017) Berlin, Germany, world-wide electronic catalog. http://alkalmetals.com/index.php/rubidium-metal; searched on 17 Jul 2017

Rezvani S, Moheimani NR, Bahri PA (2016) Techno-economic assessment of CO2 bio-fixation using microalgae in connection with three different state-of-the-art power plants. Comput Chem Eng 84:290–301

Ritchie RJ (1997) Rubidium transport in the cyanobacterium Synechococcus R-2 (Anacystis nidulans, S. leopoliensis) PCC 7942. Plant Cell Environ 20:907–918

Rubidium (2012) Rubidium element facts. http://www.chemicool.com/elements/rubidium.html; searched on 3 Feb 2017

Sigma-Aldrich Corp (2017) St. Louis, MO, USA, world-wide electronic catalog. http://www.sigmaaldrich.com/catalog/product/aldrich/276332?lang=en&region=CZ&gclid=EAIaIQobChMIkc-r876Q1QIVQ7cbCh3ljQvAEAAYASAAEgIIZPD_BwE; searched on 17 Jul 2017

Smart-elements GmbH (2017) Vienna, Austria, world-wide electronic catalog. http://www.smart-elements.com/Rb; searched on 17 Jul 2017

Usuda K, Kono R, Ueno T, Ito Y, Dote T, Yokoyama H, Kono K, Tamaki J (2014) Risk assessment visualization of rubidium compounds: comparison of renal and hepatic toxicities, in vivo. Biol Trace Elem Res 159:263–268

West KR, Pitman MG (1967) Rubidium as a tracer for potassium in the marine algae Ulva lactula L. and Chaetomorpha darwinii (Hooker) Kuetzing. Nature 214:1262–1263

Wilde EW, Benemann JR (1993) Bioremoval of heavy metals by the use of microalgae. Biotechnol Adv 11:781–812

Xin CH, Addy MM, Zhao JY, Cheng YL, Cheng SB, Mu DY, Liu YH, Ding RJ, Chen P, Ruan R (2016) Comprehensive techno-economic analysis of wastewater-based algal biofuel production: a case study. Bioresour Technol 211:584–593
Acknowledgements
This work was financially supported by the Technology Agency of the Czech Republic, project no TE01020080.
Additional information
The original version of this article was revised: The original version of this article unfortunately contained a mistake. Figures 1 and 2 were interchanged. The correct Figures 1 and 2 are now shown here.
An erratum to this article is available at https://doi.org/10.1007/s10811-017-1253-9.
About this article
Cite this article
Kaštánek, P., Kronusová, O., Kaštánek, F. et al. Selective bioaccumulation of rubidium by microalgae from industrial wastewater containing rubidium and lithium. J Appl Phycol 30, 461–467 (2018). https://doi.org/10.1007/s10811-017-1236-x
Received:

Revised:

Accepted:

Published:

Issue Date:
Keywords
Rubidium

Lithium

Microalgae

Bioaccumulation

Wastewater

Chlorella vulgaris