Abstract
Species circumscription based on phenotypes has frequently masked the actual species diversity in foliose Bangiales. Application of DNA sequence differences in this group has removed dependence on the utility of morphological characters traditionally considered for species discrimination. This study currently represents an extensive analysis of phylogeny and species discrimination of foliose Bangiales across most of their distributional range in the northern Philippines, particularly in Luzon Strait. Molecular assessment based on plastid rbcL and two mitochondrial loci, COI-5P, and cox2–3 spacer, suggested four major groups diagnostic of species lineage. As supported by the results from the four molecular species delimitation methods: PTP, bPTP, ABGD, and SPN, the confirmed Philippine foliose Bangiales species included Pyropia acanthophora, Py. tanegashimensis, and two cryptic taxa from Batanes Islands. The number of species detected in this study suggested that the true species composition of Philippine foliose Bangiales might be considerably lower than what was previously thought. It is possible however that a greater sampling effort in complete seasonal range of collections will reveal more species and extent of their actual distributions. Although the influence of northeast monsoon significantly affects the growth of foliose Bangiales in the Philippines, its role in shaping their present-day distribution remains unclear. Our molecular datasets however suggested that their current biogeographic distribution might reflect past vicariant events and is therefore more complex than have been previously regarded.
Access options
Buy single article
Instant access to the full article PDF.
USD 39.95
Price excludes VAT (USA)
Tax calculation will be finalised during checkout.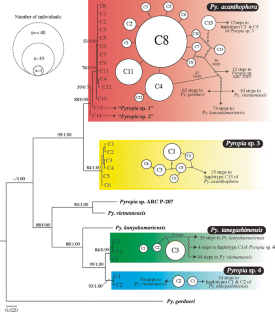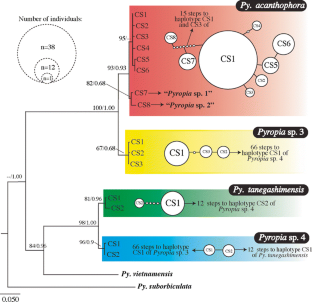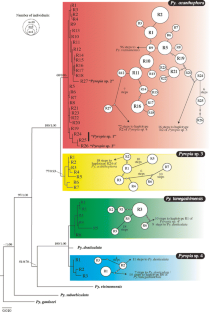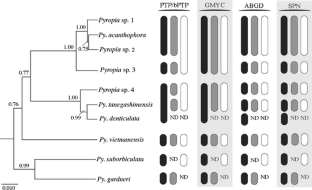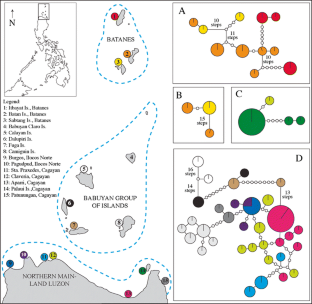 References
Ame EC, Ayson JP, Okuda K, Andres R (2010) Porphyra fisheries in the Northern Philippines: some environmental issues and the socio-economic impact on the Ilocano fisherfolk. Kuroshio Sci 4:53–58

Aye-Mon-Sein D, Ni-Ni-Wiin D, San-Tha-Httun, Soe-Htun U, Ohno M (2003) Studies on Porphyra suborbiculata Kjellman (Bangiales, Rhodophyta) from Myanmar. I. The morphology and life history in culture. Bull Mar Sci Fish Kochi Univ 22:65–79

Blouin NA, Brodie JA, Grossman AC, Xu P, Brawley SH (2011) Porphyra: a marine crop shaped by stress. Trends Plant Sci 16:29–37

Brodie J, Bartsch I, Neefus C, Orfinidis S, Bray T, Mathieson A (2007) New insights into the cryptic diversity of the North Atlantic-Mediterranean 'Porphyra leucosticta' complex: P. olivii sp. nov. and P. rosengurttii (Bangiales, Rhodophyta). Eur J Phycol 42:3–28

Brodie J, Irvine L, Neefus CD, Russel S (2008) Ulva umbilicalis L. and Porphyra umbilicalis Kütz. (Rhodophyta, Bangiaceae): a molecular and morphological redescription of the species, with a typification update. Taxon 57:1328–1331

Broom JE, Nelson WA, Yarish C, Jones WA, Aguilar-Rosas R, Aguilar-Rosas LE (2002) A reassessment of the taxonomic status of Porphyra suborbiculata, Porphyra carolinensis and Porphyra lilliputiana (Bangiales, Rhodophyta) based on molecular and morphological data. Eur J Phycol 37:227–235

Broom JES, Farr TJ, Nelson WA (2004) Phylogeny of the Bangia flora of New Zealand suggests a southern origin for Porphyra and Bangia (Bangiales, Rhodophyta). Mol Phylogenet Evol 31:1197–1207

Broom JE, Nelson WA, Farr TJ, Phillips LE, Clayton M (2010) Relationships of the Porphyra (Bangiales, Rhodophyta) flora of the Falkland Islands: a molecular survey using rbcL and nSSU sequence data. Aus Syst Bot 23:27–37

Brown RM, Oliveros C, Siler CD, Diesmos AC (2009) Phylogeny of Gekko from the Northern Philippines, and description of a new species from Calayan Island. J Hepetol 43:620–635

Brown RM, Siler CD, Oliveros CH, Esselstyn JA, Diesmos AC, Hosner PA, Linkem CW, Barley AJ, Oaks JR, Sanguila MB, Welton LJ, Blackburn DC, Moyle RG, Peterson AT, Alcala AC (2013) Evolutionary processes of diversification in a model island archipelago. Annu Rev Ecol Evol Syst 44:411–435

Burger G, Saint-Louis D, Gray MW, Lang BF (1999) Complete sequence of the mitochondrial DNA of the red alga Porphyra purpurea: cyanobacterial introns and shared ancestry of red and green algae. Plant Cell 11:1675–1694

Cao J, Wang J, Wang S, Xu X (2016) Porphyra species: a mini-review of its pharmacological and nutritional properties. J Med Food 19:111–119

Clement M, Posada D, Crandall KA (2000) TCS: a computer program to estimate gene genealogies. Mol Ecol 9:1657–1659

Cordero PA Jr (1974) Phycological observations I: genus Porphyra of the Philippines, its species and their occurrences. Bull Jpn Soc Phycol 22:134–142

Cordero Jr PA (1977) Studies on Philippine marine algae. Special Publications from the Seto Marine Biological Laboratory 4. Japan. 258pp

Cordero PA Jr (1979) Phycological obbservations, IX: additional notes on the occurrence and seasonality of the genus Porphyra in the Philippines. Acta Manilana 18:20–35

Dickerson RE (1928) Distribution of life in the Philippines. Bureau of Science, Manila 402pp

Drew KM (1949) Conchocelis-phase in the life history of Porphyra umbilicalis (L.) Kutz. Nature 164:748–749

Drew KM (1954) Life history of Porphyra. Nature 173:1243–1244

Drummond AJ, Rambaut A (2007) BEAST: Bayesian evolutionary analysis by sampling trees. BMC Evol Biol 7:214

Dumilag RV, Aguinaldo Z-ZA, Mintu CB, Quinto MP, Ame EC, Andres RC, Monotilla WD, Yap S (2016) Morphological and molecular confirmation of the occurrence of Pyropia tanegashimensis (Bangiales, Rhodophyta) from Palaui Is., Sta. Ana, Cagayan, Philippines. Phytotaxa 255:83–90

Dumilag RV, Aguinaldo Z-ZA (2017) Genetic differentiation and distribution of Pyropia acanthophora (Bangiales, Rhodophyta) in the Philippines. Eur J Phycol 52:104–115

Esselstyn JA, Brown RM (2009) The role of repeated sea level fluctuations in the generation of shrew diversity in the Philippine archipelago. Mol Phylogenet Evol 53:171–181

Guiry M.D. & Guiry G.M. (2016) AlgaeBase. World-wide electronic publication, National University of Ireland, Galway. http://www.algaebase.org; searched on 25 May 2016

Gascuel O (1997) BIONJ: an improved version of NJ algorithm based on a simple model of sequence data. Mol Biol Evol 14:685–695

Guillemin M-L, Contreras-Porcia L, Ramirez ME, Macaya EC, Contador CB, Woods H, Wyatt C, Brodie J (2016) The bladed Bangiales (Rhodophyta) of the South Eastern Pacific: molecular species delimitation reveals extensive diversity. Mol Phylogenet Evol 94:814–826

Guindon S, Dufayard JF, Lefort V, Anisimova M, Hordijk W, Gascuel O (2010) New algorithms and methods to estimate maximum- likelihood phylogenies: assessing the performance of PhyML 3.0. Syst Biol 59:307–321

Hachich NF, Bonsall MB, Arraut EM, Barneche DR, Lewinsohn TM, Floeter SR (2015) Island biogeography: patterns of marine shallow-water organisms in the Atlantic Ocean. J Biogeogr 42:1871–1882

Hart MW, Sunday J (2007) Things fall apart: biological species form unconnected parsimony networks. Biol Lett 3:509–512

Heaney LR (2007) Is a new paradigm emerging for oceanic island biogeography? J Biogeogr 34:753–757

Hebert PDN, Cywinska A, Ball SL, deWaard JR (2003) Biological identifications through DNA barcodes. Proc R Soc B 270:313–322

Hwang MS, Kim S-O, Ha D-S, Lee JE, Sang-Rae L (2013) Complete sequence and genetic features of the mitochondrial genome of Pyropia tenera (Rhodophyta). Plant Biotechnol Rep 7:435–443

Istini S, Zatnika A, Sujatmiko W (1998) The seaweed resources of Indonesia. In: Critchley AT, Ohno M (eds) Seaweed resources of the world. Kanagawa International Fisheries Training Centre, Japan International Agency, pp 92–98

Katoh K, Kuma K, Toh H, Miyata T (2005) MAFFT version 5: improvement in accuracy of multiple sequence alignment. Nucleic Acids Res 33:511–518

Kavale MG, Kazi MA, Sreenadhan N (2015) Pyropia acanthophora var. robusta (Bangiales, Rhodophyta) from Goa, India. Indian J Geo-Marine Sci 44:1–8

Kong F, Sun P, Cao M, Wang L, Mao Y (2014) Complete mitochondrial genome of Pyropia yezoensis: reasserting the revision of genus Porphyra. Mitochondrial DNA 25:335–336

Kucera H, Saunders GW (2012) A survey of Bangiales (Rhodophyta) based on multiple molecular markers reveals cryptic diversity. J Phycol 48:869–882

Kurogi M (1953) Study of the life-history of Porphyra. I. The germination and development of carpospores. Tohoku Reg Fish Res Lab Bull 2:67–103

Kurogi M, Yamada I (1986) New knowledge obtained by the observation on the original specimens of F.R. Kjellman: Japanska arter afslagtet Porphyra (in Japanese). Jpn J Phycol 34:62

Leliaert F, Verbruggen H, Vanormelingen P, Steen F, López-Bautista JM, Zuccarello GC, De Clerck O (2014) DNA-based species delimitation in algae. Eur J Phycol 49:179–196

Lewmanomont K (1998) The seaweed resources of Thailand. In: Critchley AT, Ohno M (eds) Seaweed resources of the world. Kanagawa International Fisheries Training Centre, Japan International Agency, pp 70–78

Liang W-D, Yang YJ, Tang TY, Chuang W-S (2008) Kuroshio in the Luzon Strait. J Geophys Res Oceans 113(C08048):1–19

Lu W, Yan X-H, Jiang Y (2014) Winter bloom and associated upwelling northwest of the Luzon Island: a coupled physical-biological modeling approach. J Geophys Res Oceans 120:533–546

Mao Y, Zhang B, Kong F, Wang L (2012) The complete mitochondrial genome of Pyropia haitanensis Chang et Zheng. Mitochondrial DNA 23:344–346

Masuda M, Ohno M, Trono GC Jr (1991) A taxonomic assessment of Porphyra suborbiculata Kjellman, a food species from the Philippines. Jap J Phycol 39:375–380

Mateo-Cid LE, Mendoza-González AC, Díaz-Larrea J, Senteís A, Pedroche FF, Heredia JDS (2012) A new species of Pyropia (Rhodophyta, Bangiaceae), from the Pacific coast of Mexico, based on morphological and molecular evidence. Phytotaxa 54:1–12

Milstein D, Medeiros A, Oliveira EC, Oliveira MC (2012) Will a DNA barcoding approach be useful to identify Porphyra species (Bangiales, Rhodophyta)? A case study with Brazilian taxa. J Appl Phycol 24:837–845

Milstein D, Madeiros AS, Oliveira EC, Oliveira MC (2015) Native or introduced? A re-evaluation of Pyropia species (Bangiales, Rhodophyta) from Brazil based on molecular analysis. Eur J Phycol 50:37–45

Miura A (1988) Taxonomic studies of Porphyra species cultivated in Japan, referring to their transition to the cultivated variety. J Tokyo Univ Fish 75:311–325

Monaghan MT, Wild R, Elliot M, Fujisawa T, Balke M, Inward DJG, Lees DC, Ranaivosolo R, Eggleton P, Barraclough TG, Vogler AP (2009) Accelerated species inventory on Madagascar using coalescent-based models of species delineation. Syst Biol 58:298–311

Monotilla DM, Notoya M (2004) Morphological and physiological responses of Porphyra suborbiculata Kjellman (Bangiales, Rhodophyta) blades from five localities. Bot Mar 47:323–334

Monotilla DM, Notoya M (2010) Growth and development of Porphyra marcosii (Bangiales, Rhodophyta) under different temperatures and photoperiod. Philipp J Sci 139:197–206

Mumford TF, Miura A (1988) Porphyra as food: cultivation and economics. In: Lembi CA, Waaland JR (eds) . Cambridge University Press, Algae and Human Affairs, pp 87–117

Nakajima Y, Yu M, Lian C, Fortes MD, Uy WH, Campos WL, Nakaoka M, Nadaoka K (2014) The Kuroshio current influences genetic diversity and population genetic structure of a tropical seagrass, Enhalus acoroides. Mol Ecol 23:6029–6044

Nylander JA, Ronquist F, Huelsenbeck JP, Nieves-Aldrey J (2004) Bayesian phylogenetic analysis of combined data. Syst Biol 53:47–67

Nelson WA (2013) Pyropia plicata sp. nov. (Bangiales, Rhodophyta): naming a common intertidal alga from New Zealand. PhytoKeys 21:17–28

Nelson WA, Broom JES (2010) The identity of Porphyra columbina (Bangiales, Rhodophyta) originally described from the New Zealand subantarctic islands. Aust Syst Bot 23:16–26

Nelson WA, Sutherland JE, Hwang MS, Choi H-G (2014) New distributional record for Pyropia koreana: confirmed to occur on the South Island, New Zealand. Algae 29:177–181

Notoya M (1997) Diversity of life history in the genus Porphyra. Nat Hist Res Spec Issue 3:47–56

Ogawa H (2001) Porphyra in South Asian waters. In: Taira MA, Uematsu M, Michida Y, Kaneko T (eds) Proceedings of the 11th JSPS Joint Seminar on Marine Science. Center for International Cooperation, Ocean Research Institute, University of Tokyo, Tokyo, pp 94–97

Oguri Y, Ogawa H, Hatta AM (2001) Morphological and ecological characteristics of Porphyra collected from Bitung, North Sulawesi, Indonesia. In: Taira MA, Uematsu M, Michida Y, Kaneko T (eds) Proceedings of the 11th JSPS Joint Seminar on Marine Science. Center for International Cooperation, Ocean Research Institute, University of Tokyo, Tokyo, pp 98–106

Oliveira EC, Coll J (1975) The genus Porphyra C. Ag. (Rhodophyta, Bangiales) in the American South Atlantic I. Brazilian species. Bot Mar 28:191–197

Oliveros CH, Moyle RG (2010) Origin and diversification of Philippine bulbuls. Mol Phylogenet Evol 54:822–832

Payo DA, Leliaert F, Verbruggen H, D'hondt S, Calumpong HP (2013) Extensive cryptic species diversity and fine-scale endemism in the marine red alga Portieria in the Philippines. Proc Royal Soc B 280:20122660

Pons J, Barraclough TG, Gomez-Zurita J, Cardoso A, Duran DP, Hazell S, Kamoun S, Sumlin WD, Vogler AP (2006) Sequence-based species delimitation for the DNA taxonomy of undescribed insects. Syst Biol 55:595–609

Puillandre N, Lambert A, Brouillet S, Achaz G (2012) ABGD, automatic barcode gap discovery for primary species delimitation. Mol Ecol 21:1864–1877

Qu T, Girton JB, Whitehead JA (2006) Deepwater overflow across Luzon Strait. J Geophys Res 111:C01002

Rambaut A, Drummond A (2003) TreeAnnotator: MCMC output analysis. University of Edinburgh and University of Auckland, Edinburgh and Auckland

Rambaut A, Suchard MA, Xie D, Drummond AJ (2014) Tracer v1.6. Available from http://beast.bio.ed.ac.uk/Tracer (accessed 4 September 2015)

Reith M, Munholland J (1995) Complete nucleotide sequence of the Porphyra purpurea chloroplast genome. Plant Mol Biol Rep 13:333–335

Rivera RA (2014) Physicochemical properties and quality evaluation of Porphyra acanthophora in the Philippines. MSc. Thesis. Pukyong National University. 92pp

Ronquist F, Huelsenbeck JP (2003) MRBAYES 3: Bayesian phylogenetic inference under mixed models. Bioinformatics 19:1572–1574

Sánchez N, Vergès A, Peteiro C, Sutherland J, Brodie JE (2014) Diversity of bladed Bangiales (Rhodophyta) in western Mediterranean: recognition of the genus Themis and descriptions of T. ballesterosii sp. nov., T. iberica sp. nov., and Pyropia parva sp. nov. J Phycol 50:908–929

Sánchez N, Vergès A, Peteiro C, Sutherland J, Brodie J (2015) Corrigendum. J Phycol 51:401

Saunders GW (2005) Applying DNA barcoding to red macroalgae: a preliminary appraisal holds promise for future applications. Phil Trans R Soc Lond B 360:1879–1888

Shinmura I (1974) Porphyra tanegashimensis, a new species of Rhodophyceae from Tanegashima Island in southern Japan. Bull Jpn Soc Fish Sci 40:735–749

Silva PC, Meñez EG, Moe RL (1987) Catalog of the benthic marine algae of the Philippines. Smithsonian contributions to the marine sciences no. 27. Smithsonian Institute Press, Washington, D.C., U.S.A. 179pp

Silva MY, Hughey JR (2016) Complete mitochondrial genome of the holotype specimen of Wildemania schizophylla (Bangiales: Rhodophyta). Mitochondrial DNA 27:1001–1002

Smith DR, Hua J, Lee RW, Keeling PJ (2012) Relative rates of evolution among the three genetic compartments of the red alga Porphyra differ from those of green plants and do not correlate with genome architecture. Mol Phylogenet Evol 65:339–344

Sutherland JE, Lindstrom SC, Nelson WA, Brodie J, Lynch MDJ, Hwang MS, Choi H-G, Miyata M, Kikuchi N, Oliveira MC, Farr T, Neefus C, Mols-Mortensen A, Milstein D, Müller KM (2011) A new look at an ancient order: generic revision of the Bangiales (Rhodophyta). J Phycol 47:1131–1151

Tamaki M, Fujita Y, Fujiyoshi E, Kobayashi M, Abe M, Kikuchi N, Sudo Y (2012) Morphological and molecular analysis of Porphyra yamadae collected at Ginowan, Okinawajima Island. Biol Mag Okinawa 50:1–15

Tamura K, Peterson D, Peterson N, Stecher G, Nei M, Kumar S (2011) MEGA.5: molecular evolutionary genetics analysis using maximum likelihood, evolutionary distance, and maximum parsimony methods. Mol Biol Evol 28:2731–2739

Tanaka T (1952) The systematic study of the Japanese Protofloridae. Mem Fac Fish Kagoshima Univ 2:1–92

Tanaka T (1967) Some marine algae from Batan and Camiguin Islands, Northern Philippines, I. Memoirs of the Faculty of Fisheries, Kagoshima Univ 16:13–27

Teasdale BW, Klein AS (2010) Genetic variation and biogeographical boundaries within the red alga Porphyra umbilicalis (Bangiales, Rhodophyta). Bot Mar 53:417–431

Teasdale B, West A, Taylor H, Klein A (2002) A simple restriction fragment length polymorphism (RFLP) assay to discriminate common Porphyra (Bangiophyceae, Rhodophyta) taxa from the Northwest Atlantic. J Appl Phycol 14:293–298

Thiers, B. (2016). Index Herbariorum: A global directory of public herbaria and associated staff. New York Botanical Garden's Virtual Herbarium. http://sweetgum.nybg.org/science/ih/

Thomas RC Jr, Willete DA, Carpenter KE, Santos MD (2014) Hidden diversity in sardines: genetic and morphological evidence for cryptic species in the goldstripe Sardinella, Sardinella gibbosa (Bleeker, 1849). PLoS One 9:e84719. doi:10.1371/journal.pone.0084719

Trono GC Jr, Ganzon-Fortes ET (1988) Philippine seaweeds. National Book Store, Manila 330pp

Tseng CK (1983) Common seaweeds of China. Science Press, Beijing 316 pp

Tungpalan AY (1984) Ethnobotanical study of the seaweeds of Ilocos Norte. Ilocos Fish J 1:134–146

Turner NJ (2003) The ethnobotany of edible seaweed (Porphyra abbottae and related species; Rhodophyta: Bangiales) and its use by first nations on the Pacific Coast of Canada. Can J Bot 81:283–293

Turner H, Hovenkamp P, van Welzen PC (2001) Biogeography of Southeast Asia and the West Pacific. J Biogeogr 28:217–230

Tuya F, Haroun RJ (2009) Macaronesia: biogeographic affinities in species richness and assemblage composition. Eur J Phycol 44:405–413

Vaidya G, Lohman DJ, Meier R (2010) SequenceMatrix: concatenation software for the fast assembly of multi-gene datasets with character set and codon information. Cladistics 27:171–180

Vergès A, Sánchez N, Peteiro C, Polo L, Brodie J (2013) Pyropia suborbiculata (Bangiales, Rhodophyta): first records from the northeastern Atlantic and Mediterranean of this North Pacific species. Phycologia 52:121–129

Wang G, Wang D, Zhou T (2012) Upper layer circulation in the Luzon Strait. Aquat Ecosyst Health Manag 15:39–45

Wang L, Mao Y, Kong F, Li G, Ma F, Zhang B, Sun P, Bi G, Zhang F, Xue H, Cao M (2013) Complete sequence and analysis of plastid genomes of two economically important red algae: Pyropia haitanensis and Pyropia yezoensis. PLoS One 8:e65902

Xie Z-Y, Lin S-M, Liu L-C, Ang PO Jr, Shyu J-F (2015) Genetic diversity and taxonomy of foliose Bangiales (Rhodophyta) from Taiwan based on rbcL and cox1 sequences. Bot Mar 58:189–202

Yang TF, Lee T, Chen C-H, Cheng S-N, Knittel U, Punongbayan RS, Rasdas AR (1996) A double island arc between Taiwan and Luzon: consequence of ridge subduction. Tectonophysics 258:85–101

Yoshida T (1997) Japanese marine algae: new combinations, new names and new species. Phycol Res 45:163–167

Yoshida T, Notoya M, Kikuchi N, Miyata M (1997) Catalogue of species of Porphyra in the world, with special reference to the type locality and bibliography. Nat Hist Res Spec Issue 3:5–18

Yoshida T, Nakajima Y, Nakata Y (1990) Check-list of marine algae of Japan (revised in 1990). Jpn J Phycol 38:269–320

Zhang J, Kapli P, Pavlidis P, Stamatakis A (2013) A general species delimitation method with applications to phylogenetic placements. Bioinformatics 29:2869–2876

Zhao W, Zhou C, Tian J, Yang Q, Wang B, Xie L, Qu T (2014) Deep water circulation in the Luzon Strait. J Geophys Res 119:790–804

Zuccarello GC, Burger G, West JA, King RJ (1999) A mitochondrial marker for red algal intraspecific relationships: variable within populations and maternally inherited. Mol Ecol 8:1443–1448
Acknowledgements
Funding for this study was provided by the Philippine Council for Agriculture, Aquatic and Natural Resources Research and Development (DOST-PCAARRD) Science Education Institute through an Accelerated Science and Technology Human Resources Development Program (DOST-SEI ASTHRDP), and by the Far Eastern University, University Research Center (FEU-URC). Additional grant was given by the International Association of Plant Taxonomy (IAPT) Research Grants Program in Plant Systematics to RVD. The authors wish to thank Z. Z. A. Aguinaldo for laboratory assistance and to S. L. Yap, I. K. C. Fontanilla, E. P. Cao, and P. G. Vital for their valuable comments on the first draft of the manuscript. Thanks also go to C.B. Mintu, R. D., M. P. Quinto, Olipany, E. C. Ame, R. C. Andres, J. Calaoagan, C. Abiva, Z. A. Albindo, M. Figuro, S. Castillo, R. Rivera, and M. C. Morales for their kind assistance during sample collection.
Electronic supplementary material
About this article
Cite this article
Dumilag, R.V., Monotilla, W.D. Molecular diversity and biogeography of Philippine foliose Bangiales (Rhodophyta). J Appl Phycol 30, 173–186 (2018). https://doi.org/10.1007/s10811-017-1201-8
Received:

Revised:

Accepted:

Published:

Issue Date:

DOI: https://doi.org/10.1007/s10811-017-1201-8
Keywords