Abstract
Brown seaweeds have been used in phytotherapy since ancient times. A multitude of medical effects have been reported for their ingredients which also cover anticancer activities. Though being the most common brown seaweed in the Baltic Sea, nothing is known—apart from our recent publication (Geisen et al. Mar Drugs 13:4470-4491, 2015)—about the anticancer potential of the Bladderwrack, Fucus vesiculosus L., grown in this particular habitat with low salinity and nontidal shores. The aim of the present study was to investigate systematically the alga's cytotoxic potential against human pancreatic cancer cells and to develop a purification procedure for the active compounds by using a bioassay-guided fractionation approach. Four out of six crude extracts showed considerable cytotoxic activity against Panc89 cells, three of which were considerably active against PancTU1 cells, as well. The most active crude extract revealed an effective half maximal concentration (EC50) of 72 μg mL−1 against Panc89 and of 77 μg mL−1 against PancTU1 cells after 72 h of treatment. The multistep purification procedure established for this extract resulted in a fourfold reduction of the EC50. Monitoring of each crude extract and fraction via 1H-NMR spectroscopy revealed a characteristic fingerprint which was significantly correlated with the activity. Structural analysis of the most active fractions revealed two similar molecules belonging to the group of polyphenols. Further separation is needed to present the chemical structure in all molecular details. The results show that F. vesiculosus from the Baltic Sea holds potent and novel anticancer substances.
Access options
Buy single article
Instant access to the full article PDF.
USD 39.95
Price excludes VAT (USA)
Tax calculation will be finalised during checkout.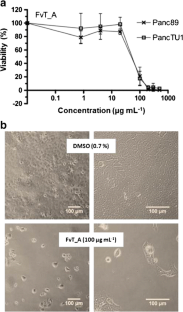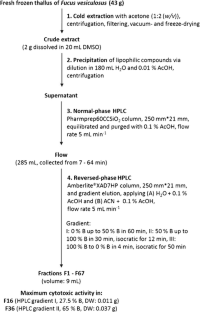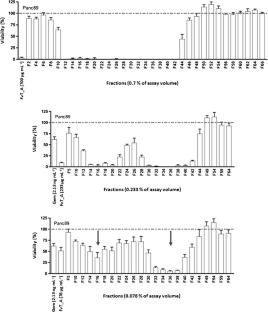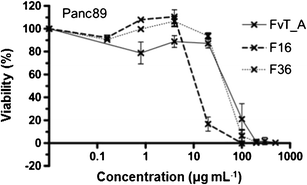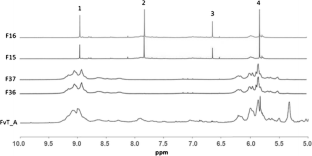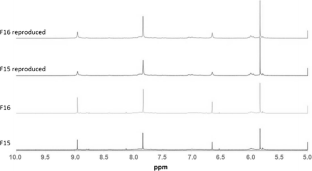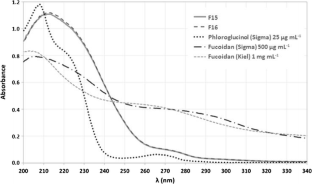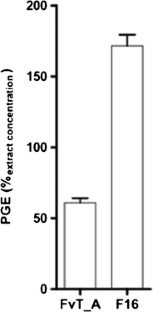 References
Abdala-Díaz RT, Cabello-Pasini A, Pérez-Rodríguez E, Conde Álvarez RM, Figueroa FL (2006) Daily and seasonal variations of optimum quantum yield and phenolic compounds in Cystoseira tamariscifolia (Phaeophyta). Mar Biol 148:459–465

Alekseyenko TV, Zhanayeva SY, Venediktova AA, Zvyagintseva TN, Kuznetsova TA, Besednova NN, Korolenko TA (2007) Antitumor and antimetastatic activity of fucoidan, a sulfated polysaccharide isolated from the Okhotsk Sea Fucus evanescens brown alga. Bull Exp Biol Med 143:730–732

AACR—American Association for Cancer Research (2014) AACR cancer progress report 2014. Clin Cancer Res 20:SI–S112

Appari M, Babu KR, Kaczorowski A, Gross W, Herr I (2014) Sulforaphane, quercetin and catechins complement each other in elimination of advanced pancreatic cancer by miR-let-7 induction and K-ras inhibition. Int J Oncol 45:1391–1400

Athukorala Y, Kim KN, Jeon YJ (2006) Antiproliferative and antioxidant properties of an enzymatic hydrolysate from brown alga, Ecklonia cava. Food Chem Toxicol 44:1065–1074

Bäck S, Collins JC, Russell G (1992) Effects of salinity on growth of Baltic and Atlantic Fucus vesiculosus. Br Phycol J 27:39–47

Béress A, Wassermann O, Bruhn T, Béress L, Kraiselburd EN, Gonzalez LV, De Motta GE, Chavez PI (1993) A new procedure for the isolation of anti-HIV compounds (polysaccharides and polyphenols) from the marine alga Fucus vesiculosus. J Nat Prod 56:478–488

BMBF - Bundesministerium für Bildung und Forschung (2008) Krebsforschung im Fokus, Gemeinsam für die Patienten, Presseworkshop des Bundesministeriums für Bildung und Forschung, 13. und 14. Februar 2008, Köln

Chevolot L, Foucault A, Chaubet F, Kervarec N, Sinquin C, Fisher AM, Boisson-Vidal C (1999) Further data on the structure of brown seaweed fucans: relationship with anticoagulant activity. Carbohydr Res 319:154–165

Cock JM, Peters AF, Coelho SM (2011) Brown algae. Curr Biol 21:R573–R575

Cock JM, Sterck L, Rouzé P, Scornet D, Allen AE, Amoutzias G et al (2010) The Ectocarpus genome and the independent evolution of multicellularity in brown algae. Nature 465:617–621

Connan S, Delisle F, Deslandes E, Ar Gall E (2006) Intra-thallus phlorotannin content and antioxidant activity in Phaeophyceae of temperate waters. Bot Mar 49:39–46

Coombe DR, Parish CR, Ramshaw IA, Snowden JM (1987) Analysis of the inhibition of tumour metastasis by sulphated polysaccharides. Int J Cancer 39:82–88

Cumashi A, Ushakova NA, Preobrazhenskaya ME, D'Incecco A, Piccoli A, Totani L, Tinari N, Morozevich GE, Berman AE, Bilan MI, Usov AI, Ustyuzhanina NE, Grachev AA, Sanderson CJ, Kelly M, Rabinovich GA, Iacobelli S, Nifantiev NE (2007) A comparative study of the anti-inflammatory, anticoagulant, antiangiogenic, and antiadhesive activities of nine different fucoidans from brown seaweeds. Glycobiology 17:541–552

Damonte EB, Matulewicz MC, Cerezo AS (2004) Sulfated seaweed polysaccharides as antiviral agents. Curr Med Chem 11:2399–2419

DG Mare—DG Maritime Affairs and Fisheries (2013) Study in support of Impact Assessment work on Blue Biotechnology. Interim Report FWC MARE/2012/06–SC E1/2012/01

Draget KI, Smidsrød O, Skjag-Braek G (2005) Alginates from algae. In: Steinbüchel A, Rhee SK (eds) Polysaccharides and polyamides in the food industry. Wiley-VCH, Weinheim, pp 1–30

Dürig J, Bruhn T, Zurborn KH, Gutensohn K, Bruhn HD, Béress L (1997) Anticoagulant fucoidan fractions from Fucus vesiculosus induce platelet activation in vitro. Thromb Res 85:479–491

Fitton JH (2003) Brown marine algae: a survey of therapeutic potentials. Altern Complement Ther 9:29–33

Flöthe CR, Molis M, Kruse I, Weinberger F, John U (2014) Herbivore-induced defence response in the brown seaweed Fucus vesiculosus (Phaeophyceae): temporal pattern and gene expression. Eur J Phycol 49:356–369

Folmer F, Jaspars M, Dicato M, Diederich M (2010) Photosynthetic marine organisms as a source of anticancer compounds. Phytochem Rev 9:557–579

Fürhaupter K, Grage A, Wilken H, Meyer T (2008) Kartierung mariner Pflanzenbestände im Flachwasser der Ostseeküste – Schwerpunkt Fucus und Zostera. Bericht des Landesamtes für Natur und Umwelt des Landes Schleswig-Holstein (LANU)

Geiselman JA, McConnell OJ (1981) Polyphenols in brown algae Fucus vesiculosus and Ascophyllum nodosum: chemical defenses against the marine herbivorous snail, Littorina littorea. J Chem Ecol 7:1115–1133

Geisen U, Zenthoefer M, Peipp M, Kerber J, Plenge J, Managò A, Fuhrmann M, Geyer R, Hennig S, Adam D, Piker L, Rimbach G, Kalthoff H (2015) Molecular mechanisms by which a Fucus vesiculosus extract mediates cell cycle inhibition and cell death in pancreatic cancer cells. Mar Drugs 13:4470–4491

Ghaneh P, Costello E, Neoptolemos JP (2007) Biology and management of pancreatic cancer. Gut 56:1134–1152

Goecke F, Labes A, Wiese J, Imhoff JF (2012) Dual effect of macroalgal extracts on growth of bacteria in Western Baltic Sea. Rev Biol Mar Oceanogr 47:75–86

Gupta S, Abu-Ghannam N (2011) Bioactive potential and possible health effects of edible brown seaweeds. Trends Food Sci Technol 22:315–326

Gupta SC, Kim JH, Prasad S, Aggarwal BB (2010) Regulation of survival, proliferation, invasion, angiogenesis, and metastasis of tumor cells through modulation of inflammatory pathways by nutraceuticals. Cancer Metastasis Rev 29:405–434

Heffernan N, Brunton NP, FitzGerald RJ, Smyth TJ (2015) Profiling of the molecular weight and structural isomer abundance of macroalgae-derived phlorotannins. Mar Drugs 13:509–528

Heo SJ, Jeon YJ (2009) Protective effect of fucoxanthin isolated from Sargassum siliquastrum on UV-B induced cell damage. J Photochem Photobiol B 95:101–107

Hoppe HA, Levring T, Tanaka Y (1979) Marine algae in pharmaceutical science. de Gruyter, Berlin, New York

Hosokawa M, Kudo M, Maeda H, Kohno H, Tanaka T, Miyashita K (2004) Fucoxanthin induces apoptosis and enhances the antiproliferative effect of the PPARy ligand, troglitazone, on colon cancer cells. Biochim Biophys Acta 1675:113–119

Hussain E, Wang LJ, Jiang B, Riaz S, Butt GY, Shi DY (2016) A review of the components of brown seaweeds as potential candidates in cancer therapy. RSC Adv 6:12592–12610

Isaza Martínez JH, Torres Castañeda HG (2013) Preparation and chromatographic analysis of phlorotannins. J Chromatogr Sci 51:825–838

Itoh H, Noda H, Amano H, Zhuaug C, Mizuno T, Ito H (1993) Antitumor activity and immunological properties of marine algal polysaccharides, especially fucoidan, prepared from Sargassum thunbergii of Phaeophyceae. Anticancer Res 13:2045–2052

Jiménez-Escrig A, Jiménez-Jiménez I, Pulido R, Saura-Calixto F (2001) Antioxidant activity of fresh and processed edible seaweeds. J Sci Food Agric 81:530–534

Kaplan W (2013) Background Paper 6.5—cancer and cancer therapeutics. In: World Health Organization (ed) Priority medicines for Europe and the world: update 2013 report. WHO Press, Geneva, Switzerland, pp 6.5-1–6.5-62

Kautsky H, Kautsky L, Kautsky N, Kautsky U, Lindblad C (1992) Studies on the Fucus vesiculosus community in the Baltic Sea. Acta Phytogeogr Suec 78:33–48

Kautsky N, Kautsky H, Kautsky U, Waern M (1986) Decreased depth penetration of Fucus vesiculosus (L.) since the 1940's indicates eutrophication of the Baltic Sea. Mar Ecol Prog Ser 28:1–8

Khanavi M, Nabavi M, Sadati N, Shams Ardekani M, Sohrabipour J, Nabavi SMB, Ghaeli P, Ostad SN (2010) Cytotoxic activity of some marine brown algae against cancer cell lines. Biol Res 43:31–37

Kim KN, Ham YM, Moon JY, Kim MJ, Kim DS, Lee WJ, Lee NH, Hyun CG (2009) In vitro cytotoxic activity of Sargassum thunbergii and Dictyopteris divaricata (Jeju seaweeds) on the HL-60 tumour cell line. Int J Pharmacol:1–9

Koivikko R (2008) Brown algal phlorotannins—improving and applying chemical methods. Dissertation, University of Turku, Finland

Koivikko R, Eränen JK, Loponen J, Jormalainen V (2008) Variation of phlorotannins among three populations of Fucus vesiculosus as revealed by HPLC and colorimetric quantification. J Chem Ecol 34:57–64

Koivikko R, Loponen J, Honkanen T, Jormalainen V (2005) Contents of soluble, cell-wall-bound and exuded phlorotannins in the brown alga Fucus vesiculosus, with implications on their ecological functions. J Chem Ecol 31:195–212

Koivikko R, Loponen J, Pihlaja K, Jormalainen V (2007) High-performance liquid chromatographic analysis of phlorotannins from the brown alga Fucus vesiculosus. Phytochem Anal 18:326–332

Kong CS, Kim JA, Yoon NY, Kim SK (2009) Induction of apoptosis by phloroglucinol derivative from Ecklonia cava in MCF-7 human breast cancer cells. Food Chem Toxicol 47:1653–1658

Kotake-Nara E, Kushiro M, Zhang H, Sugawara T, Miyashita K, Nagao A (2001) Carotenoids affect proliferation of human prostate cancer cells. J Nutr 131:3303–3306

Lachnit T, Fischer M, Künzel S, Baines JF, Harder T (2013) Compounds associated with algal surfaces mediate epiphytic colonization of the marine macroalga Fucus vesiculosus. FEMS Microbiol Ecol 84:411–420

Li Y, Qian ZJ, Kim MM, Kim SK (2011) Cytotoxic activities of phlorethol and fucophlorethol derivatives isolated from Laminariaceae Ecklonia cava. J Food Biochem 35:357–369

Liu H, Gu L (2012) Phlorotannins from brown algae (Fucus vesiculosus) inhibited the formation of advanced glycation endproducts by scavenging reactive carbonyls. J Agric Food Chem 60:1326–1334

Liu L, Heinrich M, Myers S, Dworjanyn SA (2012) Towards a better understanding of medicinal uses of the brown seaweed Sargassum in traditional Chinese medicine: a phytochemical and pharmacological review. J Ethnopharmacol 142:591–619

Lüning K (1985) Meeresbotanik: Verbreitung, Ökophysiologie und Nutzung der marinen Makroalgen. G. Thieme

Maczassek K (2014) Effects of sequential stressors on survival of young life stages of the bladder wrack Fucus vesiculosus L. RADOST - Berichtsreihe. Helmholtz Centre for Ocean Research Kiel GEOMAR, Kiel

Maruyama H, Tamauchi H, Hashimoto M, Nakano T (2003) Antitumor activity and immune response of Mekabu fucoidan extracted from sporophyll of Undaria pinnatifida. In Vivo 17:245–249

McInnes AG, Ragan MA, Smith DG, Walter JA (1984) High-molecular-weight phloroglucinol-based tannins from brown algae: structural variants. Hydrobiologia 116:597–602

Moo-Puc R, Robledo D, Freile-Pelegrín Y (2009) In vitro cytotoxic and antiproliferative activities of marine macroalgae from Yucatán, Mexico. Cienc Mar 35:345–358

Moss BL (1950) Studies in the genus Fucus: II. The anatomical structure and chemical composition of receptacles of Fucus vesiculosus from three contrasting habitats. Ann Bot 14:395–410

Murphy C, Hotchkiss S, Worthington J, McKeown SR (2014) The potential of seaweed as a source of drugs for use in cancer chemotherapy. J Appl Phycol 26:2211–2264

Niklas KJ, Kutschera U (2010) The evolution of the land plant life cycle. New Phytol 185:27–41

Noda H, Amano H, Arashima K, Nisizawa K (1990) Antitumor activity of marine algae. In: Lindstrom SC, Gabrielson PW (eds) Hydrobiologia. Thirtheenth International Seaweed Symposium, pp 577–584

Nygård CA, Dring MJ (2008) Influence of salinity, temperature, dissolved inorganic carbon and nutrient concentration on the photosynthesis and growth of Fucus vesiculosus from the Baltic and Irish Seas. Eur J Phycol 43:253–262

Parys S, Kehraus S, Krick A, Glombitza KW, Carmeli S, Klimo K, Gerhäuser C, König GM (2010) In vitro chemopreventive potential of fucophlorethols from the brown alga Fucus vesiculosus L. by anti-oxidant activity and inhibition of selected cytochrome P450 enzymes. Phytochemistry 71:221–229

Pavia H, Brock E (2000) Extrinsic factors influencing phlorotannin production in the brown alga Ascophyllum nodosum. Mar Ecol Prog Ser 193:285–294

Pavia H, Cervin G, Lindgren A, Aberg P (1997) Effects of UV-B radiation and simulated herbivory on phlorotannins in the brown alga Ascophylum nodosum. Mar Ecol Prog Ser 157:139–146

Pavia H, Toth GB (2000) Inducible chemical resistance to herbivory in the brown seaweed Ascophyllum nodosum. Ecology 81:3212–3225

Pearson G, Kautsky L, Serrao E (2000) Recent evolution in Baltic Fucus vesiculosus: reduced tolerance to emersion stresses compared to intertidal (North Sea) populations. Mar Ecol Prog Ser 202:67–79

Ragan MA, Glombitza KW (1986) Phlorotannins, brown algal polyphenols. I Prog Phycol Res 4:129–241

Rheinheimer G (1996) Meereskunde der Ostsee, 2nd edn. Springer-Verlag, Berlin

Robbins RJ (2003) Phenolic acids in foods: an overview of analytical methodology. J Agric Food Chem 51:2866–2887

Rohde S, Molis M, Wahl M (2004) Regulation of anti-herbivore defence by Fucus vesiculosus in response to various cues. J Ecol 92:1011–1018

Rohde S, Wahl M (2008) Temporal dynamics of induced resistance in a marine macroalga: time lag of induction and reduction in Fucus vesiculosus. J Exp Mar Bio Ecol 367:227–229

Rönnberg O, Ruokolahti C (1986) Seasonal variation of algal epiphytes and phenolic content of Fucus vesiculosus in a northern Baltic archipelago. Ann Bot Fenn 23:317–323

Saha M, Rempt M, Gebser B, Grueneberg J, Pohnert G, Weinberger F (2012) Dimethylsulphopropionate (DMSP) and proline from the surface of the brown alga Fucus vesiculosus inhibit bacterial attachment. Biofouling 28:593–604

Saha M, Rempt M, Grosser K, Pohnert G, Weinberger F (2011) Surface-associated fucoxanthin mediates settlement of bacterial epiphytes on the rockweed Fucus vesiculosus. Biofouling 27:423–433

Schagerström E, Forslund H, Kautsky L, Pärnoja M, Kotta J (2014) Does thalli complexity and biomass affect the associated flora and fauna of two co-occurring Fucus species in the Baltic Sea? Estuar Coast Shelf Sci 149:187–193

Seufferlein T, Porzner M, Becker T, Budach V, Ceyhan G, Esposito I, Fietkau R et al (2013) S3-Leitlinie zum exokrinen Pankreaskarzinom. Z Gastroenterol 51:1395–1440

Shi D, Li J, Guo S, Su H, Fan X (2009) The antitumor effect of bromophenol derivatives in vitro and Leathesia nana extract in vivo. Chin J Oceanol Limnol 27:277–282

Shibata T, Ishimaru K, Kawaguchi S, Yoshikawa H, Hama Y (2008) Antioxidant activities of phlorotannins isolated from Japanese Laminariaceae. J Appl Phycol 20:705–711

Sieburth JMN, Conover JT (1965) Sargassum tannin, an antibiotic which retards fouling. Nature:52–53

Singleton VL, Rossi JA Jr (1965) Colorimetry of total phenolics with phosphomolybdic-phosphotungstic acid reagents. Am J Enol Vitic 16:144–158

Stewart BW, Wild CP (2014) World cancer report 2014. International Agency for research on Cancer (IARC), Lyon, France

Tanniou A, Vandanjon L, Incera M, Serrano Leon E, Husa V, Le Grand J, Nicolas JL, Poupart N, Kervarec N, Engelen A, Walsh R, Guerard F, Bourgougnon N, Stiger-Pouvreau V (2014) Assessment of the spatial variability of phenolic contents and associated bioactivities in the invasive alga Sargassum muticum sampled along its European range from Norway to Portugal. J Appl Phycol 26:1215–1230

Tatarenkov A, Jönsson RB, Kautsky L, Johannesson K (2007) Genetic structure in populations of Fucus vesiculosus (Phaeophyceae) over spatial scales from 10 m to 800 km. J Phycol 43:675–685

Teas J (1981) The consumption of seaweed as a protective factor in the etiology of breast cancer. Med Hypotheses 7:601–613

Teas J, Harbison ML, Gelman RS (1984) Dietary seaweed (Laminaria) and mammary carcinogenesis in rats. Cancer Res 44:2758–2761

Teas J, Vena S, Cone DL, Irhimeh M (2013) The consumption of seaweed as a protective factor in the etiology of breast cancer: proof of principle. J Appl Phycol 25:771–779

Tuomi J, Ilvessalo H, Niemelä P, Sirén S, Jormalainen V (1989) Within-plant variation in phenolic content and toughness of the brown alga Fucus vesiculosus L. Bot Mar 32:505–509

Vogt H, Schramm W (1991) Conspicuous decline of Fucus in Kiel Bay (Western Baltic): what are the causes? Mar Ecol Prog Ser 69:189–194

Wang T, Jónsdóttir R, Liu H, Gu L, Kristinsson HG, Raghavan S, Ólafsdóttir G (2012) Antioxidant capacities of phlorotannins extracted from the brown algae Fucus vesiculosus. J Agric Food Chem 60:5874–5883

Waterhouse A (2013) Folin-Ciocalteau micro method for total phenol in wine. Manual of Waterhouse Lab. Department of Viticulture and Enology, University of California, Davis. http://waterhouse.ucdavis.edu/faqs/folin-ciocalteau-micro-method-for-total-phenol-in-wine Accessed 15 May 2013

Weinberg RA (2013) The biology of cancer, 2nd edn. Garland Science, New York, USA

Wikström SA, Kautsky L (2007) Structure and diversity of invertebrate communities in the presence and absence of canopy-forming Fucus vesiculosus in the Baltic Sea. Estuar Coast Shelf Sci 72:168–176

Yamamoto I, Nagumo T, Yagi K, Tominaga H, Aoki M (1974) Antitumor effect of seaweeds. I. Antitumor effect of extracts from Sargassum and Laminaria. Jap J Exp Med 44:543–546

Yoon HS, Hackett JD, Ciniglia C, Pinto G, Bhattacharya D (2004) A molecular timeline for the origin of photosynthetic eukaryotes. Mol Biol Evol 21:809–818

Zhang Q, Zhang J, Shen J, Silva A, Dennis AD, Barrow CJ (2006) A simple 96-well microplate method for estimation of total polyphenol content in seaweeds. J Appl Phycol 18:445–450

Zorofchian Moghadamtousi S, Karimian H, Khanabdali R, Razavi M, Firoozinia M, Zandi K, Kadir HA (2014) Anticancer and antitumor potential of fucoidan and fucoxanthin, two main metabolites isolated from brown algae. Sci World J:10. doi:10.1155/2014/768323
Acknowledgements
This study was part of the national research project "Algae Against Cancer (AAC)" (0315812), financially supported by the German "Bundesministerium für Bildung und Forschung" (BMBF) from July 2010 to June 2013. We thank Prof. Dr. Susanne Alban, Dr. Karina Ehrig (University of Kiel, Pharmaceutical Institute), and PD Dr. Michael Kleine (Planton GmbH, Kiel) for the good cooperation. Our thanks also go to Prof. Dr. Axel Zeeck (Georg-August-University Göttingen, Institute for Organic and Biomolecular Chemistry) for the valuable additional information on appropriate separation techniques. Our special thanks go to PD Dr. Christoph Plieth (University of Kiel, Centre for Biochemistry and Molecular Biology (BiMo)) for his valuable scientific advice and for the review of this manuscript. We are also deeply grateful for the access to the core facilities of the BiMo.
Author contributions
L.P., M.Z., H.K., M.P., S.H., and R.K. conceived the design of the AAC-Project. M.Z. and L.P. collected seaweed and produced, processed, and stored seaweed extracts. K.H., M.Z., and L.P. fractionated the crude extracts. M.Z., U.G., M.P., and J.K. performed activity tests and cell culture. M.F., R.G., M.Z., L.P., and K.H. were responsible for structural elucidation. L.P., H.K., M.P., R.K., and K.H. contributed reagents, materials, and analysis tools. M.Z., H.K., and R.G. wrote the paper.
Electronic supplementary material
Below is the link to the electronic supplementary material.
About this article
Cite this article
Zenthoefer, M., Geisen, U., Hofmann-Peiker, K. et al. Isolation of polyphenols with anticancer activity from the Baltic Sea brown seaweed Fucus vesiculosus using bioassay-guided fractionation. J Appl Phycol 29, 2021–2037 (2017). https://doi.org/10.1007/s10811-017-1080-z
Received:

Revised:

Accepted:

Published:

Issue Date:

DOI: https://doi.org/10.1007/s10811-017-1080-z
Keywords