Abstract
The red macroalga Porphyra dioica has been harvested and consumed for centuries. Based on its nutritional composition, availability and consumer familiarity, significant potential exists to develop this species as a source of high-value functional food ingredients. Therefore, a detailed assessment of the natural variation in P. dioica nitrogenous components was performed to identify the optimal season for biomass harvesting with high bioactive peptide potential. Kjeldahl nitrogen analysis revealed that total nitrogen (TN) and protein nitrogen (PN) contents in P. dioica (expressed as (w/w) dry weight) from western Ireland ranged from 2.48 to 4.94% and 1.90 to 4.30%, respectively. Significant differences in protein contents were observed between samples collected in summer and winter months. Electrophoretic analysis also showed differences in the protein profiles of P. dioica collected at different times of the year. P. dioica protein extracts were hydrolysed with the food-grade proteolytic preparations, Alcalase 2.4 L and Flavourzyme 500 L, and significant seasonal differences were observed in in vitro bioactivity assays. The oxygen radical absorbance capacity (ORAC) and ferric reducing antioxidant power (FRAP) values of the hydrolysates ranged from 229.5 to 1015.3 and 4.1 to 28.7 μmol Trolox equivalent per gram of freeze-dried powder, respectively. The P. dioica hydrolysates also inhibited angiotensin-converting enzyme (ACE; half maximal inhibitory concentration, IC50, 0.34 to 1.78 mg mL−1) and dipeptidyl peptidase-IV (DPP-IV; IC50, 1.14 to 5.06 mg mL−1). The results demonstrate the potential of P. dioica hydrolysates as health-enhancing food components or natural food preservatives due to their enzyme inhibitory and antioxidant activities.
Access options
Buy single article
Instant access to the full article PDF.
US$ 39.95
Tax calculation will be finalised during checkout.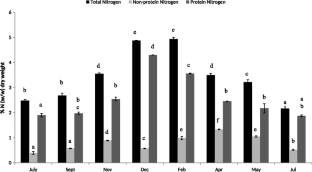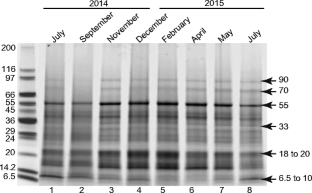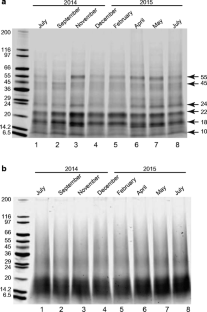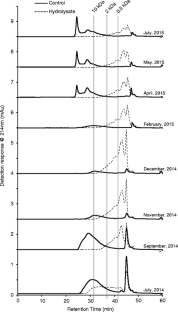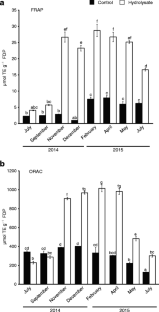 References
Ahn C-B, Jeon Y-J, Kang D-S, Shin T-S, Jung B-M (2004) Free radical scavenging activity of enzymatic extracts from a brown seaweed Scytosiphon lomentaria by electron spin resonance spectrometry. Food Res Int 37:253–258

Angell AR, Mata L, de Nys R, Paul NA (2016) The protein content of seaweeds: a universal nitrogen-to-protein conversion factor of five. J Appl Phycol 28:511–524

Atkinson AB, Robertson JI (1979) Captopril in the treatment of clinical hypertension and cardiac failure. Lancet 2:836–839

Beaulieu L, Sirois M, Tamigneaux É (2016) Evaluation of the in vitro biological activity of protein hydrolysates of the edible red alga, Palmaria palmata (dulse) harvested from the Gaspe coast and cultivated in tanks. J Appl Phycol 28:3101–3115

Bensadoun A, Weinstein D (1976) Assay of proteins in the presence of interfering materials. Anal Biochem 70:241–250

Bondu S, Bonnet C, Gaubert J, Deslandes É, Turgeon SL, Beaulieu L (2015) Bioassay-guided fractionation approach for determination of protein precursors of proteolytic bioactive metabolites from macroalgae. J Appl Phycol 27:2059–2074

Bradford MM (1976) A rapid and sensitive method for the quantitation of microgram quantities of protein utilizing the principle of protein-dye binding. Anal Biochem 72:248–254

Butterfield DA, Abdul HM, Opii W, Newman SF, Joshi G, Ansari MA, Sultana R (2006) Pin1 in Alzheimer's disease. J Neurochem 98:1697–1706

Cian RE, Alaiz M, Vioque J, Drago SR (2013) Enzyme proteolysis enhanced extraction of ACE inhibitory and antioxidant compounds (peptides and polyphenols) from Porphyra columbina residual cake. J Appl Phycol 25:1197–1206

Cian RE, Martinez-Augustin O, Drago SR (2012) Bioactive properties of peptides obtained by enzymatic hydrolysis from protein byproducts of Porphyra columbina. Food Res Int 49:364–372

Climate Annual, Ireland, 2014 (2015) Met Éireann. http://www.met.ie/climate/MonthlyWeather/clim-2014-ann.pdf. Accessed 6/7/2016

Connolly A, Piggott CO, FitzGerald RJ (2013) Characterisation of protein-rich isolates and antioxidative phenolic extracts from pale and black brewers' spent grain. International J Food Sci Technol 48:1670–1681

Connolly A, Piggott CO, FitzGerald RJ (2014) In vitro alpha-glucosidase, angiotensin converting enzyme and dipeptidyl peptidase-IV inhibitory properties of brewers' spent grain protein hydrolysates. Food Res Int 56:100–107

Deacon CF, Johnsen AH, Holst JJ (1995) Degradation of glucagon-like peptide-1 by human plasma in vitro yields an N-terminally truncated peptide that is a major endogenous metabolite in vivo. J Clin Endocr Metab 80:952–957

Erdmann K, Cheung BW, Schroder H (2008) The possible roles of food-derived bioactive peptides in reducing the risk of cardiovascular disease. J Nutr Biochem 19:643–654

Fleurence J (2004) Seaweed proteins. In: Yada RY (ed) Proteins in food processing. Woodhead Publishing Limited, Cambridge, UK, pp 197–213

Glazer AN (1994) Phycobiliproteins—a family of valuable, widely used fluorophores. J Appl Phycol 6:105–112

Guo L, Harnedy PA, Zhang L, Li B, Zhang Z, Hou H, Zhao X, FitzGerald RJ (2015) In vitro assessment of the multifunctional bioactive potential of Alaska Pollock skin collagen following simulated gastrointestinal digestion. J Sci Food Agric 95:1514–1520

Hafting JT, Craigie JS, Stengel DB, Loureiro RR, Buschmann AH, Yarish C, Edwards MD, Critchley AT (2015) Prospects and challenges for industrial production of seaweed bioactives. J Phycol 51:821–837

Harnedy PA, FitzGerald RJ (2011) Bioactive proteins, peptides, and amino acids from macroalgae. J Phycol 47:218–232

Harnedy PA, FitzGerald RJ (2013) In vitro assessment of the cardioprotective, anti-diabetic and antioxidant potential of Palmaria palmata protein hydrolysates. J Appl Phycol 25:1793–1803

Harnedy PA, O'Keeffe MB, FitzGerald RJ (2015) Purification and identification of dipeptidyl peptidase (DPP) IV inhibitory peptides from the macroalga Palmaria palmata. Food Chem 172:400–406

Harnedy PA, Soler-Vila A, Edwards MD, FitzGerald RJ (2014) The effect of time and origin of harvest on the in vitro biological activity of Palmaria palmata protein hydrolysates. Food Res Int 62:746–752

Hatanaka T, Inoue Y, Arima J, Kumagai Y, Usuki H, Kawakami K, Kimura M, Mukaihara T (2012) Production of dipeptidyl peptidase IV inhibitory peptides from defatted rice bran. Food Chem 134:797–802

He HL, Chen XL, Wu H, Sun CY, Zhang YZ, Zhou BC (2007) High throughput and rapid screening of marine protein hydrolysates enriched in peptides with angiotensin-I-converting enzyme inhibitory activity by capillary electrophoresis. Bioresour Technol 98:3499–3505

Kalyankar P, Zhu Y, O'Keeffe M, O'Cuinn G, FitzGerald RJ (2013) Substrate specificity of glutamyl endopeptidase (GE): hydrolysis studies with a bovine alpha-casein preparation. Food Chem 136:501–512

Kannel WB, Higgins M (1990) Smoking and hypertension as predictors of cardiovascular risk in population studies. J Hypertens 8:S3–S8

Karsten U, West JA, Zuccarello GC, Nixdorf O, Barrow KD, King RJ (1999) Low molecular weight carbohydrate patterns in the Bangiophyceae (Rhodophyta). J Phycol 35:967–976

Khantaphant S, Benjakul S, Ghomi MR (2011) The effects of pretreatments on antioxidative activities of protein hydrolysate from the muscle of brownstripe red snapper (Lutjanus vitta). LWT-Food Sci Technol 44:1139–1148

Ko SC, Kim D, Jeon YJ (2012) Protective effect of a novel antioxidative peptide purified from a marine Chlorella ellipsoidea protein against free radical-induced oxidative stress. Food Chem Toxicol 50:2294–2302

Le Maux S, Nongonierma AB, Barre C, FitzGerald RJ (2016) Enzymatic generation of whey protein hydrolysates under pH-controlled and non pH-controlled conditions: impact on physicochemical and bioactive properties. Food Chem 199:246–251

Levine IA, Sahoo D (2010) Porphyra: harvesting gold from the sea. IK International Pvt Ltd

Lowry OH, Rosebrough NJ, Farr AL, Randall RJ (1951) Protein measurement with the Folin phenol reagent. J Biol Chem 193:265–275

Marinho-Soriano E, Fonseca PC, Carneiro MA, Moreira WS (2006) Seasonal variation in the chemical composition of two tropical seaweeds. Bioresour Technol 97:2402–2406

Martinez B, Rico JM (2002) Seasonal variation of P content and major N pools in Palmaria palmata (Rhodophyta). J Phycol 38:1082–1089

Meisel H, Walsh D, Murray B, FitzGerald R, Mine Y, Shahidi F (2006) ACE inhibitory peptides. In: Nutraceutical proteins and peptides in health and disease. CRC Press, Boca Raton, pp 269–315

Ngo DH, Wijesekara I, Vo TS, Ta QV, Kim SK (2011) Marine food-derived functional ingredients as potential antioxidants in the food industry: an overview. Food Res Int 44:523–529

Ni H, Li L, Liu G, Hu SQ (2012) Inhibition mechanism and model of an angiotensin I-converting enzyme (ACE)-inhibitory hexapeptide from yeast (Saccharomyces cerevisiae). PLoS One 7:e37077

Nongonierma AB, FitzGerald RJ (2013) Dipeptidyl peptidase IV inhibitory and antioxidative properties of milk protein-derived dipeptides and hydrolysates. Peptides 39:157–163

Nongonierma AB, O'Keeffe MB, FitzGerald RJ (2016) Milk protein hydrolysates and bioactive peptides. In: Advanced dairy chemistry. Springer, Berlin, pp 417–482

Paradis ME, Couture P, Lamarche B (2011) A randomised crossover placebo-controlled trial investigating the effect of brown seaweed (Ascophyllum nodosum and Fucus vesiculosus) on postchallenge plasma glucose and insulin levels in men and women. Appl Physiol Nutr Metab 36:913–919

Pena-Ramos EA, Xiong YL (2003) Whey and soy protein hydrolysates inhibit lipid oxidation in cooked pork patties. Meat Sci 64:259–263

Pihlanto-Leppala A (2000) Bioactive peptides derived from bovine whey proteins: opioid and ACE-inhibitory peptides. Trends Food Sci Tech 11:347–356

Rajapakse N, Mendis E, Byun HG, Kim SK (2005) Purification and in vitro antioxidative effects of giant squid muscle peptides on free radical-mediated oxidative systems. J Nutr Biochem 16:562–569

Rouxel C, Daniel A, Jerome M, Etienne M, Fleurence J (2001) Species identification by SDS-PAGE of red algae used as seafood or a food ingredient. Food Chem 74:349–353

Saha SK, McHugh E, Murray P, Walsh DJ (2015) Microalgae as a source of nutraceuticals. In: Phycotoxins: chemistry and biochemistry, Wiley, NY, 2nd edn. pp 255–291

Sakanaka S, Tachibana Y (2006) Active oxygen scavenging activity of egg-yolk protein hydrolysates and their effects on lipid oxidation in beef and tuna homogenates. Food Chem 95:243–249

Smith JL, Summers G, Wong R (2010) Nutrient and heavy metal content of edible seaweeds in New Zealand. N Z J Crop Hort 38:19–28

Smyth M, FitzGerald RJ (1998) Relationship between some characteristics of WPC hydrolysates and the enzyme complement in commercially available proteinase preparations. Int Dairy J 8:819–827

Spellman D, Kenny P, O'Cuinn G, FitzGerald RJ (2005) Aggregation properties of whey protein hydrolysates generated with Bacillus licheniformis proteinase activities. J Agric Food Chem 53:1258–1265

Suetsuna K (1998) Purification and identification of angiotensin I-converting enzyme inhibitors from the red alga Porphyra yezoensis. J Mar Biotechnol 6:163–167

Sun L, Wang S, Gong X, Chen L (2004) A rod-linker-contained R-phycoerythrin complex from the intact phycobilisome of the marine red alga Polysiphonia urceolata. J Photochem Photobiol B 76:1–11

Van Amerongen A, Beelen-Thomissen M, Van Zeeland-Wolbers L, Van Gilst W, Buikema J, Nelissen J (2009) Egg protein hydrolysates. PCT Patent Application WO/2009/128713

Wang W, Vignani R, Scali M, Cresti M (2006) A universal and rapid protocol for protein extraction from recalcitrant plant tissues for proteomic analysis. Electrophoresis 27:2782–2786

Wong KH, Cheung PCK (2000) Nutritional evaluation of some subtropical red and green seaweeds: part I—proximate composition, amino acid profiles and some physico-chemical properties. Food Chem 71:475–482

Yabuta Y, Fujimura H, Kwak CS, Enomoto T, Watanabe F (2010) Antioxidant activity of the phycoerythrobilin compound formed from a dried Korean purple laver (Porphyra sp.) during in vitro digestion. Food Sci Technol Res 16:347–352
Acknowledgements
The authors acknowledge Alice Nongonierma and Alan Connolly for assistance with GP-HPLC analysis. This work was supported under the National Development Plan 2007–2013, through the Marine Functional Food Research Initiative, and the Food Institutional Research Measure, administered by the Department of Agriculture, Food, and the Marine, Ireland under grant issue 13/F/536.
About this article
Cite this article
Stack, J., Tobin, P.R., Gietl, A. et al. Seasonal variation in nitrogenous components and bioactivity of protein hydrolysates from Porphyra dioica . J Appl Phycol 29, 2439–2450 (2017). https://doi.org/10.1007/s10811-017-1063-0
Received:

Revised:

Accepted:

Published:

Issue Date:
Keywords
Bioactive peptides

Enzymatic hydrolysis

Antioxidant

ACE

DPP-IV

Macroalgae