Abstract
The use of adult Artemia is uncommon in aquaculture and limited to feeding adults of species not accepting inert diets. The aim of the present study was the development of a standardized technique for adult Artemia production in small volumes (25–100 L), and the assessment of ongrowing and enrichment diets for enhancement of n-3 highly unsaturated fatty acid (HUFA) content. We firstly assessed the effect of initial nauplii density (1, 2, and 3 nauplii mL−1) and food dose (x1, x2, and x3 quantities of mixed Tisochrysis lutea, Spirulina, and Prolon) for production of Artemia. Intermediate nauplii densities and food doses yielded the best overall results (44–46% survival; 5.6–5.9-mm length; 365–456 μg Artemia −1). Secondly, four diets (mixtures of Tisochrysis lutea, Phaeodactylum tricornutum, Spirulina sp., Prolon, and Red Pepper) were tested for ongrowing. Ten short-time enrichments (STEs; 30 h) and a long-time enrichment (LTE; 9 days) were also assayed for n-3 HUFA (Highly unsaturated fatty acids) enhancement. The improvement in n-3 HUFA was rather limited in STE. However, LTE on a mixture of P. tricornutum, Prolon, and Red Pepper (regardless of further STE) in ongrowing Artemia yielded the highest contents in total fatty acids and in 20:4n-6 20:5n-3, 22:5n-3, and 22:6n-3. The quality of LTE Artemia was based on an equilibrated dietary source of protein (Spirulina), 20:5n-3 (P. tricornutum), and 22:6n-3 (Red Pepper). STE Artemia had a quality similar or even higher than that of captured zooplankton, and its use in our laboratory for the feeding of seahorses significantly enhanced breeding and newborn quality.
This is a preview of subscription content, log in to check access.
Access options
Buy single article
Instant access to the full article PDF.
US$ 39.95
Price includes VAT for USA
Subscribe to journal
Immediate online access to all issues from 2019. Subscription will auto renew annually.
US$ 99
This is the net price. Taxes to be calculated in checkout.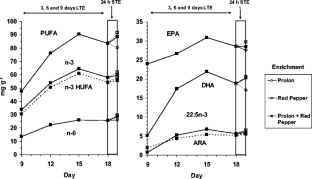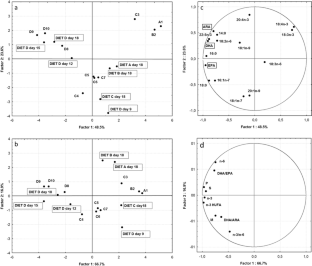 References
Anderson AJ, Arthington AH, Anderson S (1990) Lipid classes and fatty acid composition of the eggs of some Australian fish. Comp Biochem Physiol 96B:267–270

Anh NTN, Ut VN, Wille M, Hoa NV, Sorgeloos P (2011) Effect of different forms of Artemia biomass as a food source on survival, molting and growth rate of mud crab (Scylla paramamosain). Aquac Nutr 17:e549–e558

Bendif EM, Probert I, Schroeder DC, Vargas C (2013) On the description of Tisochrysis lutea gen. nov. sp. nov. and Isochrysis nuda sp. nov. in the Isochrysidales, and the transfer of Dicrateria to the Prymnesiales (Haptophyta). J Appl Phycol 25:1763–1776

Bengtson DA, Léger P, Sorgeloos P (1991) Use of Artemia as a food source for aquaculture. In: Browne RA, Sorgeloos P, Trotman CNA (eds) Artemia biology. CRC Press, Boca Raton, pp. 255–285

Bligh EG, Dyer WJ (1959) A rapid method of total lipid extraction and purification. Can J Biochem Physiol 37:911–917

Bruce M, Oyen F, Bell G, Asturiano JF, Farndale B, Carrillo M, Zanui S, Ramos J, Bromage N (1999) Development of broodstock diets for the European sea bass with special emphasis on the importance of n−3 and n−6 highly unsaturated fatty acids to reproductive performance. Aquaculture 177:85–97

Christie WW (1982) Lipid analysis. Pergamon Press, Oxford, pp. 52–53

Ciferri O (1983) Spirulina, the edible microorganism. Microbiol Rev 47:551–578

Cohen Z, Vonshak A, Richmond A (1987) Fatty acid composition of Spirulina strains grown undervarious environmental conditions. Phytochemistry 26:2255–2258

Dhont J, Lavens P (1996) Tank production and use of ongrown Artemia. In Lavens P, Sorgeloos (eds). Manual on the production and use of live food for aquaculture. FAO Fisheries Technical Paper 361, FAO, Rome, pp. 164–194

Dhont J, Lavens P, Sorgeloos P (1993) Preparation and use of Artemia as food for shrimp and prawn larvae. In: McKey JP (ed) CRC handbook of mariculture, Crustacean Aquaculture, vol 1. CRC Press, Inc., Boca Raton, pp. 61–93

Espinosa-Fuentes A, Ortega-Salas A, Laguarda-Figueras A (1997) Two experimental assays to produce biomass of Artemia franciscana (Anostraca). Rev Biol Trop 44:565–572

Furuita H, Hori K, Suzuki ST, Yamamoto T (2007) Effect of n-3 and n-6 fatty acids in broodstock diet on reproduction reproduction and fatty acid composition of broodstock and eggs in the Japanese eel Anguilla japonica. Aquaculture 267:55–61

Herbes S, Allen C (1983) Lipid quantification of freshwater invertebrates: method modification for microquantitation. Can J Fish Aquat Sci 40:1315–1317

Kanazawa A, Teshima S, Ono K (1979) Relationship between essential fatty acid requirements of aquatic animals and the capacity for bioconversion of linolenic acid to highly unsaturated fatty acids. Comp Biochem Physiol B 63:295–298

Lavens P, Sorgeloos P (2000) The history, present status and prospects of the availability of Artemia cysts for aquaculture. Aquaculture 181:397–403

Léger P, Bengtson DA, Simpson KL, Sorgeloos P (1986) The use and nutritional value of Artemia as a food source. Oceanogr Mar Biol Ann Rev 24:521–623

Léger P, Naessens-Foucquaert E, Sorgeloos P (1987) International study on Artemia XXXV. Techniques to manipulate the fatty acid profile in Artemia nauplii and the effect on its nutritional effectiveness for the marine crustacean Mysidopsis bahia (M). In: Sorgeloos P, Bengtson DA, Decleir W, Jaspers E (eds) Artemia research and its applications, vol. 3. Ecology, culturing, use in aquaculture. Universa Press, Wetteren, pp. 411–424

Lepage G, Roy C (1986) Direct transesterification of cell classes of lipids in a one step reaction. J Lipid Res 27:114–120

Lim LC, Soh A, Dhert P, Sorgeloos P (2008) Production and application of on-grown Artemia in freshwater ornamental fish farm. Aquac Eco Manag 5:211–228

Lubián LM, Yúfera M (1989) Colección de cepas de microal-gas marinas del Instituto de Ciencias de Andalucia (CSIC). In: Yúfera M (ed) Acuiculturura Internameal. Consejo Superior de lnvestigariones cientificas, Cádiz, pp. 66–78

Maldonado-Montiel TD, Rodríguez-Canché LG (2005) Biomass production and nutritional value of Artemia sp. (Anostraca: Artemiidae) in Campeche. México Rev Biol Trop 53:447–454

Mazorra C, Bruce M, Bell JG, Davie A, Alorend E, Jordan N, Rees J, Papanikos N, Porter M, Bromage N (2003) Dietary lipid enhancement of broodstock reproductive performance and egg and larval quality in Atlantic halibut (Hippoglossus hippoglossus). Aquaculture 227:21–33

Navarro JC, Henderson RJ, McEvoy LA, Bell MV, Amat F (1999) Lipid conversions during enrichment of Artemia. Aquaculture 174:155–166

Olivotto I, Planas M, Simões N, Holt GJ, Avella MA, Calado R (2011) Advances in beeding and rearing marine ornamentals. J World Aquacult Soc 42:135–166

Planas M, Chamorro A, Quintas P, Vilar A (2008) Establishment and maintenance of threatened long-snouted seahorse Hippocampus guttulatus, broodstock in captivity. Aquaculture 283:19–28

Planas M, Quintas P, Chamorro A (2009) Snout abnormalities in young seahorses (Hippocampus guttulatus) (Project Hippocampus). Book of abstracts, World Aquaculture 2009. World Aquaculture Society:668

Planas M, Quintas P, Chamorro A, Silva C (2010) Female maturation, egg characteristics and fatty acids profile in the European long-snouted seahorse Hippocampus guttulatus. Anim Rep Sci 122:66–73

Planas M, Blanco A, Chamorro A, Valladares S, Pintado J (2012) Temperature-induced changes of growth and survival in the early development of the seahorse Hippocampus guttulatus. J Exp Mar Biol Ecol 438:154–162

Quintas P, Chamorro A, Piñero S, Medina I, Planas M (2007) Producción de Artemia para la alimentación del caballito de mar Hippocampus guttulatus Cuvier 1829 en cautividad. XI Congreso Nacional de Acuicultura, Vigo, pp. 555–558

Sargent JR, Henderson RJ, Tocher DR (1989) The lipids. In: Halver J (ed) Fish nutrition, 2nd edn. Academic Press, New York, pp. 153–218

Sargent JR, Bell MV, Bell JG, Henderson RJ, Tocher DR (1995) Origins and functions of n-3 polyunsaturated fatty acids in marine organisms. In Cevc G., Paltauf F (eds). Proceedings of the 6th International Colloquium: Phospholipids: characterization, metabolism, and novel biological applications. 1995 pp. 248–259

Sargent J, McEvoy L, Estévez A, Bell G, Bell M, Henderson J, Tocher D (1999) Lipid nutrition of marine fish during early development: current status and future directions. Aquaculture 179:217–229

Sargent JR, Bell JG, Tocher DR (2002) The lipids. In: Halver JE, Hardy RW (eds) Fish nutrition, 3 edn. Academic Press, San Diego, pp. 181–257

Sorgeloos P (1980) The use of brine shrimp Artemia in aquaculture, p. 25–45. In: Persoone G, Sorgeloos P, Roels O, Jaspers E (eds) The brine shrimp Artemia. Vol. 3. Ecology, culturing, use in aquaculture. Universa Press, Wetteren, pp. 25–46

Støttrup JG, Jacobsen C, Tomkiewicz T, Jarlbaek H (2013) Modification of essential fatty acid composition in broostock of cultured European eel Anguilla anguilla L. Aquac Nutr 19:172–185

Thinh LV, Renaud SM, Parry DL (1999) Evaluation of recently isolated Australian tropical microalgae for the enrichment of the dietary value of brine shrimp, Artemia nauplii. Aquaculture 170:161–173

Tlusty MF, Goldstein J, Fiore D (2005) Hatchery performance of early benthic juvenile American lobsters (Homarus americanus) fed enriched frozen adult Artemia diets. Aquac Nutr 11:191–198

Tocher DR (2003) Metabolism and functions of lipids and fatty acids in teleost fish. Rev Fish Sci 11:107–184

Tocher DR, Sargent JR (1984) Analysis of lipids and fatty acids in ripe roes of some northwest European marine fish. Lipids 19:492–499

Valladares S, Planas M (2012) Non-lethal dorsal fin sampling for stable isotope analysis in seahorses. Aquat Ecol 46:363–370

Vismara R, Vestri S, Barsanti L, Gualtieri P (2003) Diet-induced variations in fatty acid content and composition of two on-grown stages of Artemia salina. J Appl Phycol 15:477–483

Walne PR (1966) Experiments in the large scale culture of the larvae of Ostrea edulis. Fishery Invest., Lond. Ser. II. 25: 53 pp.
Acknowledgements
This study has received funding by the Spanish Ministry Of Science And Technology (Proyecto Hippocampus; CGL2005-05927-C03-01) and the Regional Government of Galicia (Xunta de Galicia; PGIDIT06PXIC402106PN). P. Quintas was supported by a postdoctoral JAE-Doc/JAE-PhD contract from the Spanish Council for Scientific Research (CSIC), co-financed by the European Social Fund, and C. Silva was granted an Erasmus scholarship (Erasmus 29154-IC-1-2007-1-PT-ERASMUS-EUC-1). We are grateful to Bridie Kennerley, Alexandra Mundy (language review), Lourdes Nieto (preparation of microalgae), and María Jesús González and Isabel Medina (fatty acid analyses of microalgae).
About this article
Cite this article
Planas, M., Silva, C., Quintas, P. et al. Ongrowing and enhancement of n-3 HUFA profile in adult Artemia: short- vs long-time enrichment. J Appl Phycol 29, 1409–1420 (2017). https://doi.org/10.1007/s10811-016-1016-z
Received:

Revised:

Accepted:

Published:

Issue Date:
Keywords
Artemia

Ongrowing

Microalgae

Enrichment

Fatty acids

HUFA

Seahorse