Abstract
Microalgal autotrophic cultures may be used as starch feedstocks for a wide spectrum of food and non-food applications, starch-based plastics production included. Chlamydomonas is known to accumulate carbohydrates, but only Chlamydomonas reinhardtii is widely studied. This is the first paper that analyzes the starch content and production rate of four non-conventional Chlamydomonas species and compares their performances to the benchmark C. reinhardtii. Two culture systems—shaken flasks and inclined bubble column (IBC) photobioreactors—and nitrogen depletion conditions were characterized. The irradiance was set at 95 μmol photons m−2 s−1 for flask system and at 220 μmol photons m−2 s−1 for photobioreactors. CO2 and light depletion in shaken flasks strongly affected growth rate and starch production. Under these limiting condition, Chlamydomonas applanata had the best starch productivity of 1.2 mg L−1 day−1. In IBC photobioreactors, the microalgal growth rate and starch production improved with respect to the flask system and nitrogen depletion promoted starch accumulation. The best results of starch productivity and maximum starch fraction were 53 mg L−1 day−1 and 45%DW for Chlamydomonas oblonga and Chlamydomonas moewusii, respectively. This was 49 % more than the studied benchmark. A fast and simple method for starch localization in the microalgal cells was also proposed. The starch granules surrounded the pyrenoid under the growth phase, while they fill the whole cell under nutrient depletion.
Access options
Buy single article
Instant access to the full article PDF.
US$ 39.95
Tax calculation will be finalised during checkout.
Subscribe to journal
Immediate online access to all issues from 2019. Subscription will auto renew annually.
US$ 79
Tax calculation will be finalised during checkout.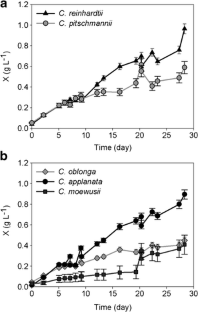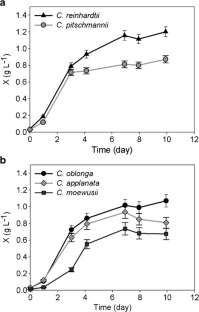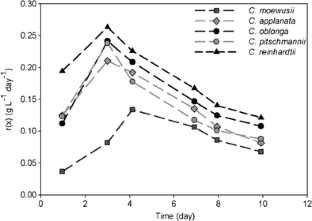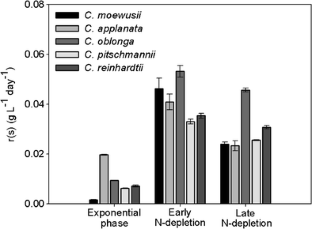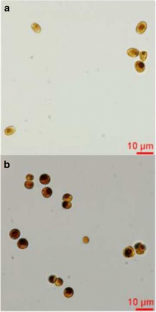 References
Abou-Shanab RAI, Matter IA, Kim SN, Oh YK, Choi J, Jeon BH (2011) Characterization and identification of lipid-producing microalgae species isolated from a freshwater lake. Biomass Bioenergy 35:3079–3085

Bafana A (2013) Characterization and optimization of production of exopolysaccharide from Chlamydomonas reinhardtii. Carbohyd Polym 20:746–752

Barsanti L, Frassanito AM, Passarelli V, Evangelista V (2013) Tetraflagellochloris mauritanica gen. et sp. nov. (Chlorophycae), a new flagellated alga from the Mauritanian Desert: morphology, ultrastructure, and phylogenetic framing. J Phycol 49:178–193

Brányiková I, Maršálková B, Doucha J, Brányik T, Bisovà K, Zachleder V, Vitovà M (2011) Microalgae-novel highly efficient starch producers. Biotechnol Bioeng 108:766–776

Breuer G, Lamers PP, Martens DE, Draaisma RB, Wijffells RH (2012) The impact of nitrogen starvation on the dynamics of triacylglycerol accumulation in nine microalgae strains. Bioresour Technol 124:217–226

Breuer G, De Jaeger L, Artus VPG, Martens DE, Draaisma RB, Wijffells RH (2014) Superior triacylglycerol (TAG) accumulation in starchless mutants of Scenedesmus obliquus: evaluation of TAG yield and productivity in controlled photobioreactors. Biotechnol Biofuels 7:70–82

Brown MR, Jeffrey SW, Volkman JK, Dunstan GA (1997) Nutritional properties of microalgae for mariculture. Aquaculture 151:315–331

Buléon A, Colonna P, Planchot V, Ball S (1998) Starch granules: structure and biosynthesis. Int J Biol Macromol 23:85–112

Busi MV, Barchiesi J, Martin M, Gomez-Casati DF (2014) Starch metabolism in green algae. Starch 66:28–40

Chen CY, Zhao XQ, Yen HW, Ho SH, Cheng C-L, Lee DJ, Bai F-W, Chang JS (2013) Microalgae-based carbohydrates for biofuel production. Biochem Eng J 78:1–10

Collos Y, Mornet F, Sciandra A, Waser N, Larson A, Harrison PJ (1999) An optical method for the rapid measurement of micromolar concentrations of nitrate in marine phytoplankton cultures. JAppl Phycol 11:179–184

Demchenko E, Mikhailyuk T, Coleman AW, Pröschold T (2012) Generic and species concepts in Microglena (previously the Chlamydomonas monadina group) revised using an integrative approach. Eur J Phycol 47:264–290

Dragone G, Fernandes BD, Abreu AP, Vicente AA, Teixeira JA (2011) Nutrient limitation as a strategy for increasing starch accumulation in microalgae. Appl Ener 88:3331–3335

Fernandes B, Teixeira J, Dragone G, Vicente AA, Kawano S, Bisovà K, Pribyl P, Zachleder V, Vitovà M (2013) Relationship between starch and lipid accumulation induced by nutrient depletion and replenishment in the microalga Parachlorella kessleri. Bioresour Technol 144:268–274

Gargano I, Olivieri G, Andreozzi R, Marotta R, Marzocchella A, Pinto G, Pollio A (2013) Effects of photobioreactor depth on Stichococcus cultures aimed at biodiesel production. Chem Eng Trans 32:1117–1122

Gorelova O, Baulina O, Solovchenko A, Selyakh I, Chiukunova O, Semenova L, Scherbakov P, Burakova O, Lobakova E (2015) Coordinated rearrangements of assimilatory and storage cell compartments in a nitrogen-starving symbiotic chlorophyte cultivated under high light. Arch Microbiol 197:181–195

Ho SH, Chen CY, Chang JS (2012) Effect of light intensity and nitrogen starvationon CO2 fixation and lipid/carbohydrate production of an indigenous microalga Scenedesmus obliquus CNW-N. Bioresour Technol 113:244–252

Johnson X, Alric J (2013) Central carbon metabolism and electron transport in Chlamydomonas reinhardtii: metabolic constraints for carbon partitioning between oil and starch. Eukaryotic Cell 12:776–793

Kamalanathan M, Pierangelini M, Shearman LA, Gleadow R, Beardall J (2016) Impacts of nitrogen and phosphorus starvation on the physiology of Chlamydomonas reinhardtii. J Appl Phycol 28:1509–1520

Khalil ZI, Asker MS, El-Sayed S, Kobbia IA (2010) Effect of pH on growth and biochemical responses of Dunaliella bardawil and Chlorella ellipsoidea. World J Microbiol Biotechnol 26:1225–1231

Kliphuis AMJ, Klok AJ, Martens DE, Lamers PP, Janssen M, Wijffles RH (2012) Metabolic modeling of Chlamydomonas reinhardtii: energy requirements for photoautotrophic growth and maintenance. J Appl Phycol 24:253–266

LMC International Ldt (2002) Evaluation of the community policy for starch and starch products. Prepared for: European Commission – DG Agriculture Rue de la Loi 200/Wetstraat 200 B-1049 Bruxelles/Brussel

Meuser JE, Ananyev G, Wittiga LE, Kosourovc S, Ghirardi ML, Seibert M, Dismukes GC, Posewitz MC (2009) Phenotypic diversity of hydrogen production in chlorophycean algae reflects distinct anaerobic metabolisms. J Biotechnol 142:21–30

Miller BJN (2010) Food analysis. Nielsen SS, 4th edn. Springer, New York

Moheimani NR, Borowitzka MA (2006) The long-term culture of the coccolithophore Pleurochrysis carterae (Haptophyta) in outdoor raceway ponds. J Appl Phycol 18:703–712

Msanne J, Xu D, Konda AR, Casas-Mollano JA, Awada T, Cahoon EB, Cerrutti H (2012) Metabolic and gene expression changes triggered by nitrogen deprivation in the photoautotrophically grown microalgae Chlamydomonas reinhardtii and Coccomyxa sp. C-169. Phytochemistry 75:50–59

Muller T, Bleiss W, Martin C-D, Rogaschewski S, Fuhr G (1998) Snow algae from northwest Svalbard: their identification, distribution, pigment and nutrient content. Polar Biol 20:14–32

Nascimento IA, Marques SSI, Cabanelas ITD, Pereira SA, Druzian JI, de Suoza CO, Vich DV, de Carvalho GC, Nascimento MA (2013) Screening microalgae strain for biodiesel production: lipid productivity and estimation of fuel quality based on fatty acids profiles as selective criteria. Bioenergy Res 6:1–13

Olivieri G, Gargano I, Andreozzi R, Marotta R, Marzocchella A, Pinto G, Pollio A (2013) Effects of photobioreactors design and operating conditions on Stichococcus bacillaris biomass and biodiesel production. Biochem Eng J 74:8–14

Pollio A, Cennamo P, Ciniglia C, De Stefano M, Pinto G, Huss VA (2005) Chlamydomonas pitschmannii Ettl, a little known species from thermoacidic environments. Protist 156:287–302.

Renaud SM, Thinh LV, Lambrinidis G, Parry DL (2002) Effect of temperature on growth, chemical composition and fatty acid composition of tropical Australian microalgae grown in batch culture. Acquaculture 211:195–214

Schulze K, Lòpez DA, Tillich UM, Frohme M (2011) A simple viability analysis for unicellular cyanobacteria using a new autofluorescence assay, automated microscopy, and Image J. BMC Biotechnol 11:118–126

Siaut M, Cuiné S, Cagnon C, Fessler B, Nguyen M, Carrier P, Beyly A, Beisson F (2011) Oil accumulation in the model green alga Chlamydomonas reinhardtii: characterization, variability between common laboratory strains and relationship with starch reserves. BMC Biotechnol 11:7–22

Srinivas T (2007) Industrial demand for cassava starch in India. Starch 59:477–481

Tanadul O, Vandergheynst JS, Beckles DM, Powell ALT, Labavitch JM (2014) The impact of elevated CO2 concentration on the quality of algal starch as a potential biofuel feedstock. Biotechnol Bioeng 111:1323–1331

Yao C, Ai J, Cao X, Xue S, Zhang W (2012) Enhancing starch production of marine green microalga Tetraselmis subcordiformis through nutrient limitation. Bioresour Technol 118:438–444
Acknowledgments
The authors thank the Regione Campania (Italy) for the financial support to the project P.O.R. FESR 2007/2013 BioIndustrial Processes—BIP (CUPB25C13000290007).
About this article
Cite this article
Gifuni, I., Olivieri, G., Pollio, A. et al. Autotrophic starch production by Chlamydomonas species. J Appl Phycol 29, 105–114 (2017). https://doi.org/10.1007/s10811-016-0932-2
Received:

Revised:

Accepted:

Published:

Issue Date:
Keywords
Bioplastics

Chlamydomonas

Culture systems

Microalgae

Starch