Abstract
Fucoidans have been long used as a food supplement due to their diverse pharmacological effects on human health. Low molecular weight fucoidan (LF) is a common form of fucoidans that has been shown to have enhanced biological activity. In the present study, fucoidans were extracted from the brown alga Sargassum hemiphyllum and enzyme-hydrolyzed into low and high molecular weight fucoidans (HF). The skin protective effects of LF, HF, and other fucoidans derivatives against ultraviolet B (UVB) damage were determined by measuring the expression levels of matrix metalloproteinase genes encoding collagenases (MMP-1, MMP-2, MMP-8, MMP-9, MMP-13), transforming growth factor β receptor II (TGFβRII), and type I procollagen. The results show that LF protects against UVB damage to the skin by inhibiting UVB-induced transcription factor activator protein-1 (AP-1)-stimulated transcription of MMP genes encoding collagenases (MMP-1, MMP-8, and MMP-13) and increasing TGFβRII mRNA levels to prevent the loss of TGFβRII that occurs during UVB-induced collagen degradation. Moreover, this study reveals that the biological properties of fucoidans are highly dependent on the fucose content, sulfate content, and molecular weight.
Access options
Buy single article
Instant access to the full article PDF.
USD 39.95
Price excludes VAT (USA)
Tax calculation will be finalised during checkout.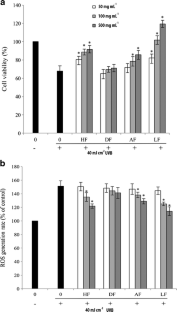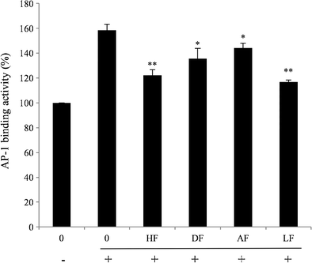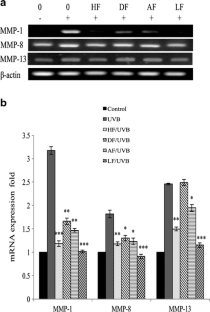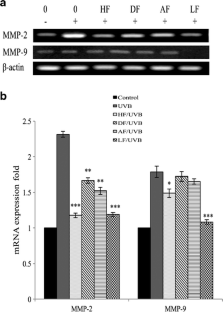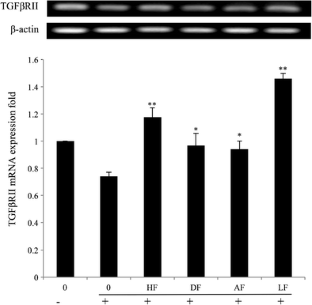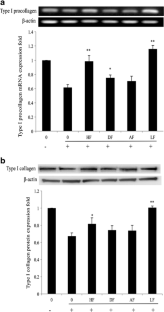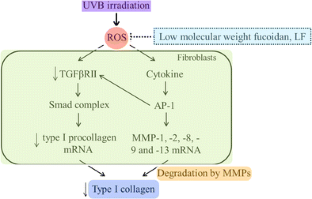 References
Bergfeld WF (1997) The aging skin. Int J Fertil Womens Med 42:57–66

Bitzer M, von Gersdorff G, Liang D, Dominguez-Rosales A, Beg AA, Rojkind M, Bottinger EP (2000) A mechanism of suppression of TGF-β/SMAD signaling by NF-κB/RelA. Genes Dev 14:187–197

Chen MC, Hsu WL, Hwang PA, Chou TC (2015) Low molecular weight fucoidan inhibits tumor angiogenesis through downregulation of HIF-1/VEGF signaling under hypoxia. Mar Drugs 13:4436–4451

Chiang HM, Lin TJ, Chiu CY, Chang CW, Hsu KC, Fan PC, Wen KC (2011) Coffea arabica extract and its constituents prevent photoaging by suppressing MMPs expression and MAP kinase pathway. Food Chem Toxicol 49:309–318

Choi JI, Kim HJ (2013) Preparation of low molecular weight fucoidan by gamma-irradiation and its anticancer activity. Carbohydr Polym 97:358–362

De Souza MCR, Marques CT, Dore CMG, da Silva FRF, Rocha HAO, Leite EL (2007) Antioxidant activities of sulfated polysaccharides from brown and red seaweeds. J Appl Phycol 19:153–160

Dodgson KS, Price RG (1963) A note on the determination of the ester sulphate content of sulphated polysaccharides. Biochem J 84:106–110

Fisher GJ, Datta S, Wang Z, Li XY, Quan T, Chung JH, Kang S, Voorhees JJ (2000) c-Jun-dependent inhibition of cutaneous procollagen transcription following ultraviolet irradiation is reversed by all-trans retinoic acid. J Clin Invest 106:663–670

Fitton JH (2011) Therapies from fucoidan; multifunctional marine polymers. Mar Drugs 9:1731–1760

Furth JJ (1991) The steady-state levels of type I collagen mRNA are reduced in senescent fibroblasts. J Gerontol 46:B122–B124

Ho JN, Lee YH, Park JS, Jun WJ, Kim HK, Hong BS, Shin DH, Cho HY (2005) Protective effects of aucubin isolated from Eucommia ulmoides against UVB-induced oxidative stress in human skin fibroblasts. Biol Pharm Bull 28:1244–1248

Hsu H-Y, Lin T-Y, Hwang P-A, Tseng L-M, Chen R-H, Tsao S-M, Hsu J (2013) Fucoidan induces changes in the epithelial to mesenchymal transition and decreases metastasis by enhancing ubiquitin-dependent TGFβ receptor degradation in breast cancer. Carcinogenesis 34:874–884

Hwang KA, Yi BR, Choi KC (2011) Molecular mechanisms and in vivo mouse models of skin aging associated with dermal matrix alterations. Lab Anim Res 27:1–8

Hwang P-A, Hung Y-L, Phan NN, Hieu B-T-N, Chang P-M, Li K-L, Lin Y-C (2016) The in vitro and in vivo effects of the low molecular weight fucoidan on the bone osteogenic differentiation properties. Cytotechnology 68:1349–1359

Isnard N, Peterszegi G, Robert A, Robert L (2002) Regulation of elastase-type endopeptidase activity, MMP-2 and MMP-9 expression and activation in human dermal fibroblasts by fucose and a fucose-rich polysaccharide. Biomed Pharmacother 56:258–264

Kim HH, Shin CM, Park CH, Kim KH, Cho KH, Eun HC, Chung JH (2005) Eicosapentaenoic acid inhibits UV-induced MMP-1 expression in human dermal fibroblasts. J Lipid Res 46:1712–1720

Ku MJ, Jung JW, Lee MS, Cho BK, Lee SR, Lee HS, Vischuk OS, Zvyagintseva TN, Ermakova SP, Lee YH (2010) Effect of Fucus evanescens fucoidan on expression of matrix metalloproteinase-1 promoter, mRNA, protein and signal pathway. Life Sci 20:1603–1610

Kylin H (1913) Zur Biochemie der Meeresalgen. Hoppe Seylers Z Physiol Chem 83:171–197

Lee IH, Huang RL, Chen CT, Chen HC, Hsu WC, Lu MK (2002) Antrodia camphorata polysaccharides exhibit anti-hepatitis B virus effects. FEMS Microbiol Lett 209:63–67

Lee NY, Ermakova SP, Choi HK, Kusaykin MI, Shevchenko NM, Zvyagintseva TN, Choi HS (2008) Fucoidan from Laminaria cichorioides inhibits AP-1 transactivation and cell transformation in the mouse epidermal JB6 cells. Mol Carcinog 47:629–637

Luyt CE, Meddahi-Pelle A, Ho-Tin-Noe B, Colliec-Jouault S, Guezennec J, Louedec L, Prats H, Jacob MP, Osborne-Pellegrin M, Letourneur D, Michel JB (2003) Low-molecular-weight fucoidan promotes therapeutic revascularization in a rat model of critical hindlimb ischemia. J Pharmacol Exp Ther 305:24–30

Moon HJ, Lee SR, Shim SN, Jeong SH, Stonik VA, Rasskazov VA, Zvyagintseva T, Lee YH (2008) Fucoidan inhibits UVB-induced MMP-1 expression in human skin fibroblasts. Biol Pharm Bull 31:284–289

Moon HJ, Lee SH, Ku MJ, Yu BC, Jeon MJ, Jeong SH, Stonik VA, Zvyagintseva TN, Ermakova SP, Lee YH (2009a) Fucoidan inhibits UVB-induced MMP-1 promoter expression and down regulation of type I procollagen synthesis in human skin fibroblasts. Eur J Dermatol 19:129–134

Moon HJ, Park KS, Ku MJ, Lee MS, Jeong SH, Imbs TI, Zvyagintseva TN, Ermakova SP, Lee YH (2009b) Effect of Costaria costata fucoidan on expression of matrix metalloproteinase-1 promoter, mRNA, and protein. J Nat Prod 72:1731–1734

Mosmann T (1983) Rapid colorimetric assay for cellular growth and survival: application to proliferation and cytotoxicity assays. J Immunol Meth 65:55–63

Nagasawa K, Inoue Y, Kamata T (1977) Solvolytic desulfation of glycosaminoglycuronan sulfates with dimethyl sulfoxide containing water or methanol. Carbohydr Res 58:47–55

Park SB, Chun KR, Kim JK, Suk K, Jung YM, Lee WH (2010) The differential effect of high and low molecular weight fucoidans on the severity of collagen-induced arthritis in mice. Phytother Res 24:1384–1391

Pfeifer GP, You YH, Besaratinia A (2005) Mutations induced by ultraviolet light. Mutat Res 571:19–31

Philips N, Auler S, Hugo R, Gonzalez S (2011) Beneficial regulation of matrix metalloproteinases for skin health. Enzyme Res 2011:427285. doi:10.4061/2011/427285

Pomin VH, Pereira MS, Valente A-P, Tollefsen DM, Pavão MS, Mourão PA (2005) Selective cleavage and anticoagulant activity of a sulfated fucan: stereospecific removal of a 2-sulfate ester from the polysaccharide by mild acid hydrolysis, preparation of oligosaccharides, and heparin cofactor II–dependent anticoagulant activity. Glycobiology 15:369–381

Quan T, He T, Kang S, Voorhees JJ, Fisher GJ (2004) Solar ultraviolet irradiation reduces collagen in photoaged human skin by blocking transforming growth factor-β type II receptor/Smad signaling. Am J Pathol 165:741–751

Robert L, Fodil-Bourahla I, Bizbiz L, Robert AM (2004) Effect of L-fucose and fucose-rich polysaccharides on elastin biosynthesis, in vivo and in vitro. Biomed Pharmacother 58:123–128

Senni K, Gueniche F, Foucault-Bertaud A, Igondjo-Tchen S, Fioretti F, Colliec-Jouault S, Durand P, Guezennec J, Godeau G, Letourneur D (2006) Fucoidan a sulfated polysaccharide from brown algae is a potent modulator of connective tissue proteolysis. Arch Biochem Biophys 445:56–64

Sudel KM, Venzke K, Mielke H, Breitenbach U, Mundt C, Jaspers S, Koop U, Sauermann K, Knussman-Hartig E, Moll I, Gercken G, Young AR, Stab F, Wenck H, Gallinat S (2005) Novel aspects of intrinsic and extrinsic aging of human skin: beneficial effects of soy extract. Photochem Photobiol 81:581–587

Sweeney EA, Lortat-Jacob H, Priestley GV, Nakamoto B, Papayannopoulou T (2002) Sulfated polysaccharides increase plasma levels of SDF-1 in monkeys and mice: involvement in mobilization of stem/progenitor cells. Blood 99:44–51

Turchin I, Bernatsky S, Clarke AE, St-Pierre Y, Pineau CA (2009) Cigarette smoking and cutaneous damage in systemic lupus erythematosus. J Rheumatol 36:2691–2693

Varani J, Dame MK, Rittie L, Fligiel SE, Kang S, Fisher GJ, Voorhees JJ (2006) Decreased collagen production in chronologically aged skin: roles of age-dependent alteration in fibroblast function and defective mechanical stimulation. Am J Pathol 168:1861–1868

Vittimberga FJ Jr, McDade TP, Perugini RA, Callery MP (1999) Sodium salicylate inhibits macrophage TNF-alpha production and alters MAPK activation. J Surg Res 84:143–149

Wang H, Joseph JA (1999) Quantifying cellular oxidative stress by dichlorofluorescein assay using microplate reader. Free Radic Biol Med 27:612–616

Yang C, Chung D, Shin I-S, Lee H, Kim J, Lee Y, You S (2008) Effects of molecular weight and hydrolysis conditions on anticancer activity of fucoidans from sporophyll of Undaria pinnatifida. Int J Biol Macromolec 43:433–437

Zhang Z, Teruya K, Eto H, Shirahata S (2011) Fucoidan extract induces apoptosis in MCF-7 cells via a mechanism involving the ROS-dependent JNK activation and mitochondria-mediated pathways. PLoS One 6(11):e27441
Acknowledgments
We would like to thank the National Science Council of the Executive Yuan, Taiwan for the grant funding (NSC 104-2320-B-034-003, NSC 105-2320-B-034-001 to Yen-Chang Lin).
About this article
Cite this article
Hwang, PA., Yan, MD., Kuo, KL. et al. A mechanism of low molecular weight fucoidans degraded by enzymatic and acidic hydrolysis for the prevention of UVB damage. J Appl Phycol 29, 521–529 (2017). https://doi.org/10.1007/s10811-016-0929-x
Received:

Revised:

Accepted:

Published:

Issue Date:

DOI: https://doi.org/10.1007/s10811-016-0929-x
Keywords