Abstract
Sargassum muticum is a successful invasive Phaeophyte macroalga, which has colonized from Norway to the Mediterranean in Europe and from Alaska to the Bay of Mexico on the American Atlantic coast. It is also being evaluated as a commercial crop within its native range, SE Asia. Understanding its reproductive tolerance will improve our understanding of its invasive potential and allow optimal germling production for commercial cultivation. Egg liberation, fertilization and germling production were monitored in fertile branchlets collected from Great Cumbrae, Scotland, UK. These were incubated under a range of conditions as follows: photon flux densities (20–150 μmol photons m−2 s−1), salinity (0–70 psu), temperature (10–30 °C) and desiccation in either the sun (5–60 min) or the shade (15–120 min). The optimum conditions to maximize germling production were found to be a 15–30 min desiccation period in the shade, followed by immersion into normal salinity seawater at 20 °C and 50–100 μmol photons m−2 s−1. This information could be useful for the development of a cultivation industry within its native range. An interactive effect was seen between temperature and light intensity with germling production favoured in high light and low temperature (10–15 °C, 100–150 μmol photons m−2 s−1) and vice versa (25–30 °C, 20–50 μmol photons m−2 s−1). Whilst its salinity and desiccation tolerance agree with previous investigations 40 years ago, the lower temperature optimum of 20 °C (previously 25 °C) may indicate selection for lower temperature reproduction within the UK population. This may accelerate its invasion northward into Scotland.
Access options
Buy single article
Instant access to the full article PDF.
US$ 39.95
Tax calculation will be finalised during checkout.
Subscribe to journal
Immediate online access to all issues from 2019. Subscription will auto renew annually.
US$ 79
Tax calculation will be finalised during checkout.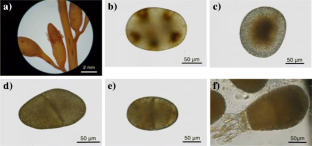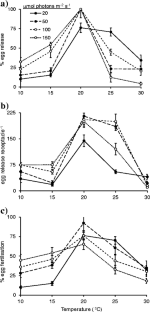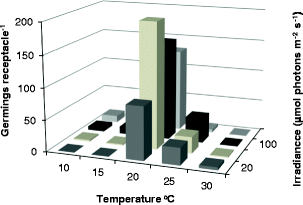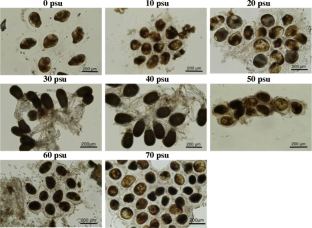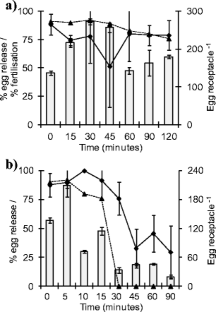 References
Bae DY, Ang PO Jr, Boo SM (2013) Mitochondrial cox3 and trnW-I sequence diversity of Sargassum muticum. Aquat Bot 104:220–223

Cao SQ, Zhang ZY, Wang GS, You XC, Liu HY (2008) Indoor artificial seeding of seaweed Sargassum muticum. J Dalian Fish Univ 23:359–363 (in Chinese with English abstract)

Chai Z, Huo Y, He Q, Huang X, Jiang X, He P (2014) Studies on breeding of Sargassum vachellianum on artificial reefs in Gouqi Island, China. Aquaculture 424–425:189–193

Cheang CC, Chu KH, Fujita D, Yoshida G, Hiraoka M, Critchley A, Choi HG, Duan D, Serisawa Y, Ang PO (2010) Low genetic variability of Sargassum muticum (Phaeophyceae) revealed by a global analysis of native and introduced populations. J Appl Phycol 46:1063–1074

Choi HG, Lee KH, Yoo HI, Kang PJ, Kim YS, Nam KW (2008) Physiological differences in the growth of Sargassum horneri between the germling and adult stages. J Appl Phycol 20:279–285

Chu SH, Zhang QS, Liu SK, Tang YZ, Zhang SB, Lu ZC, Yu YQ (2012) Tolerance of Sargassum thunbergii germlings to thermal, osmotic and desiccation stress. Aquat Bot 98:1–6

Coston-Clements L, Settle LR, Hoss DE, Cross FA (1991) Utilization of the Sargassum habitat by marine invertebrates and vertebrates—a review. NOAA Technical Memorandum NMFS-SEFSC-296:pp.32

Critchley AT (1981) Observations on the colonisation of Warden Point, Isle of Wight, by the introduced brown alga, Sargassum muticum (Yendo) Fensholt. Phycologia 20(Suppl):102

Critchley AT, Farham WF, Morerell SL (1983) A chronology of new European sites of attachment for the invasive brown alga, Sargassum muticum 1973–81. J Mar Biol Assoc UK 63:799–811

Davison IR (1991) Environmental effects on algal photosynthesis: Temperature. J Phycol 27:2–8

Davison DM (1996) Sargassum muticum in Strangford Lough, 1995–1998; a review of the introduction and colonisation of Strangford Lough MNR and cSAC by the invasive brown algae Sargassum muticum. Report to the Environment & Heritage Service, D.o.E. (N.I.)

Davison IR, Johnson LE, Brawley SH (1993) Sublethal stress in the intertidal zone: tidal emersion inhibits photosynthesis and retards development in embryos of the brown alga Pelvetia fastigiata. Oecologia 96:483–492

Deysher LE (1984) Reproductive phenology of newly introduced populations of the brown alga, Sargassum muticum (Yendo) Fensholt. Hydrobiologia 116/117:403–407

Engelen AH, Espirito-Santo C, Simões T, Monteiro C, Serrão EA, Pearson GA, Santos ROP (2008) Periodicity of propagule expulsion and settlement in the competing native and invasive brown seaweeds, Cystoseira humilis and Sargassum muticum (Phaeophyta). Eur J Phycol 43:275–282

Farnham DE, Fletcher RL, Irvine L (1973) Attached Sargassum found in Britain. Nature 243:231–232

Fletcher RL (1980) Studies on the recently introduced brown alga Sargassum muticum (Yendo) Fensholt. III. Periodicity in gamete release and 'incubation' of early germling stages. Bot Mar 13:425–432

Fletcher RL, Fletcher SM (1975) Studies on the recently introduced brown alga Sargassum muticum (Yendo) Fensholt I. Ecology and reproduction. Bot Mar 18:149–156

Hales JM, Fletcher RL (1989) Studies on the recently introduced brown alga Sargassum muticum (Yendo) Fensholt. IV. The effect of temperature, irradiance and salinity on germling growth. Bot Mar 32:167–176

Hales JM, Fletcher RL (1990) Studies on the recently introduced brown alga Sargassum muticum (Yendo) Fensholt. V. Receptacle initiation and growth, and gamete release in laboratory culture. Bot Mar 33:241–249

Harries DB, Cook E, Donnan DW, Mair JM, Harrow S, Wilson JR (2007) The establishment of the invasive alga Sargassum muticum on the west coast of Scotland: rapid northwards spread and identification of potential new areas for colonisation. Aquat Inv 2:367–377

Hong DD, Hien HM, Son PN (2007) Seaweeds from Vietnam used for functional food, medicine and biofertilizer. J Appl Phycol 19:817–826

Hwang EK, Park CS, Baek JM (2006) Artificial seed production and cultivation of the edible brown alga, Sargassum fulvellum (Turner) C. Agardh: developing a new species for seaweed cultivation in Korea. J Appl Phycol 18:251–257

Inoh S (1949) The development of seaweed. Take, Tokyo (in Japanese with English abstract)

Kaur I, Kumari R (2012) Understanding the mechanism of gamete release in Sargassum vulgare C. Agardh. Amer. J. Plant Sci 3:1266–1271

Kawachi M, Noël M-H (2005) Sterilisation and sterile technique. In: Andersen RA (ed) Algal culturing techniques. Elsevier Academic, London, pp 65–82

Lesser MP (2006) Oxidative stress in marine environments: biochemistry and physiological ecology. Annu Rev Physiol 68:253–278

Lewey SA, Gorham J (1984) Pigment composition and photosynthesis in Sargassum muticum. Mar Biol 80:109–115

Liu F, Pang S, Gao S, Shan T (2013) Intraspecific genetic analysis, gamete release performance, and growth of Sargassum muticum (Fucales, Phaeophyta) from China. Chin J Oceanol Limnol 31:1268–1275

Markham JW, Hagmeier E (1982) Observations on the effects of germanium dioxide on the growth of macro-algae and diatoms. Phycologia 21:125–130

Norton TA (1977) Ecological experiments with Sargassum muticum. J Mar Biol Assoc UK 57:33–43

Norton TA (1980) Sink, swim or stick: the fate of Sargassum muticum propagules. Brit Phycol J 15:197–198

Norton TA, Fetter R (1981) The settlement of Sargassum muticum propagules in stationary and flowing water. J Mar Biol Assoc UK 61:929–940

Pang SJ, Chen LT, Zhuang DG, Fei XG, Sun JZ (2005) Cultivation of the brown alga Hizikia fusiformis (Harvey) Okamura: enhanced seedling production in tumbled culture. Aquaculture 245:321–329

Pang SJ, Liu F, Shan TF, Gao SQ, Zhang ZH (2009) Cultivation of the brown alga Sargassum horneri: sexual reproduction and seedling production in tank culture under reduced solar irradiance in ambient temperature. J Appl Phycol 21:413–422

Reynolds F (2004) Tide of alien species threatens shores. The Scotman, 23/4/2004

Rico JM, Fernández C (1997) Ecology of Sargassum muticum on the North Coast of Spain II. Physiological differences between Sargassum muticum and Cystoseira nodicaulis. Bot Mar 40:405–410

Sabour B, Reani A, Magouri HEL, Haroun R (2013) Sargassum muticum (Yendo) Fensholt (Fucales, Phaeophyta) in Morocco, an invasive marine species new to the Atlantic coast of Africa. Aqua Inv 8:97–102

Salvaterra T, Green DS, Crowe TP, O'Gorman EJ (2013) Impacts of the invasive alga Sargassum muticum on ecosystem functioning and food web structure. Biol Invasions 15:2563–2576

Sohn CH (1993) Porphyra, Undaria and Hizikia cultivation in Korea. Korean J Phycol 8:207–216

Steen H (2004) Effects of reduced salinity on reproduction and germling development in Sargassum muticum (Phaeophyceae, Fucales). Eur J Phycol 39:293–299

Strong JA, Dring MJ, Maggs CA (2006) Colonisation and modification of soft substratum habitats by the invasive macroalga Sargassum muticum. Mar Ecol Prog Ser 321:87–97

Sukumaran S, Kaliaperumal N (2000) Oospore shedding in Sargassum wightii (Greville) J. Agardh and Tubinaria conoides (J.Agardh) Kuetzing at different environmental factors. Seaweed Res Utiln 22:209–218

Tsukidate J (1992) Ecology of Sargassum spp. and Sargassum forest formation. NOAA Tech Rep NMES 106:63–72

Xie EY, Liu DC, Jia C, Chen X, Li YB (2013) Artificial seed production and cultivation of the edible brown alga Sargassum naozhouense Tseng et Lu. J Appl Phycol 25:513–522

Yan X-H, Zhang J (2014) Embryology of zygote and development of germling in Sargassum vachellianum Greville (Fucales, Phaeophyta). J Appl Phycol 26:577–585

Yendo K (1907) The Fucaceae of Japan. J Coll Sci Tokyo Imp Univ 21(12):1–174

Yoshida T (1983) Japanese species of Sargassum subgenus Bactrophycus (Phaeophyta, Fucales). J Fac Sci Hokkaido Univ Series V (Botany) 13:99–246

Zhao Z, Zhao F, Yao J, Lu J, Ang PO, Duan D (2008) Early development of germlings of Sargassum thunbergii (Fucales, Phaeophyta) under laboratory conditions. J Appl Phycol 20:475–481
Acknowledgments
This work was funded by a Researcher Links grant from the British Research Council (App. Ref: 12740186) to both authors.
Conflict of interest
The authors declare that they have no conflict of interest.
About this article
Cite this article
Kerrison, P., Le, H.N. Environmental factors on egg liberation and germling production of Sargassum muticum . J Appl Phycol 28, 481–489 (2016). https://doi.org/10.1007/s10811-015-0580-y
Received:

Revised:

Accepted:

Published:

Issue Date:
Keywords
Sargassum muticum

Germling

Invasive

Temperature

Salinity

Irradiance

Desiccation