Abstract
The effect of irradiance and temperature on the photosynthesis and growth of a Vietnamese-cultivated red alga, Kappaphycus alvarezii, was determined by laboratory and field measurements. Dissolved oxygen sensors and pulse amplitude modulated (PAM) fluorometry were used for the measurements of photosynthetic efficiency. A Diving-PAM revealed that in situ measurements of the effective quantum yield (Φ PSII) were negatively correlated with incident irradiance. Φ PSII decreased as irradiance increased at noon and recovered in the evening, suggesting photo-inhibition. A model of the net photosynthesis–irradiance (P-E) relationship determined in a laboratory experiment at 26 °C revealed that the net photosynthetic rate quickly increased at irradiances below the estimated saturation irradiance of 154 μmol photons m−2 s−1 (95 % Bayesian credible interval (BCI) of 117–203 μmol photons m−2 s−1). Gross photosynthesis and dark respiration under the laboratory measurements were also determined over a range of temperatures (8–42 °C), revealing that the gross photosynthetic rates of 8.0 (BCI 7.03–9.59) μg O2 gww −1 min−1 at 31.1 (BCI 30.2–32.0)°C, and the dark respiration rate increased exponentially from a low of 0.22 μg O2 gww −1 min−1 at 10 °C to a high of 1.88 μg O2 gww −1 min−1 at 42 °C. The estimated highest value of the maximum quantum yield (Φ PSII at 0 μmol photons m−2 s−1 = F v /F m ) determined with the Imaging-PAM and occurred at 22.2 (BCI 20.8–23.5)°C and was 0.51 (BCI 0.48–0.54). Relative growth rate (RGR) and the survival rate after 2 weeks of laboratory culture showed that the relatively high growth rates (ca. 1.5 %) occurred at 28 and 32 °C; however, mortality was 100 % at 36 °C. This species is considered to be well-adapted to the natural temperature range of study site; however, it is likely close to the marginal temperature conditions. Furthermore, daytime incident irradiance on the frond under fine clear sky might be too strong for the effective photosynthesis of this species, suggesting that optimum irradiance for gross photosynthesis with the minimum decline of Φ PSII seems to be much lower.
Access options
Buy single article
Instant access to the full article PDF.
US$ 39.95
Tax calculation will be finalised during checkout.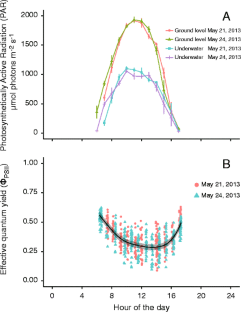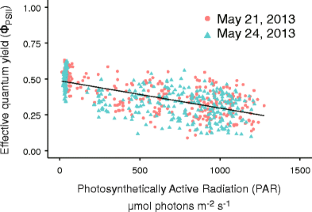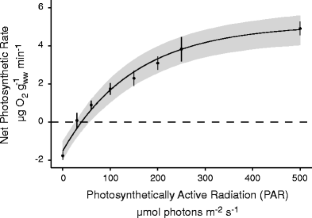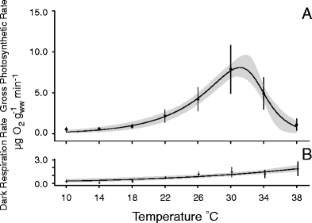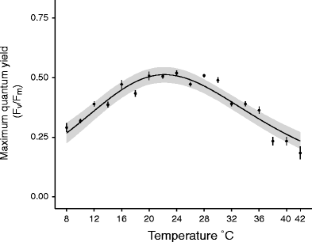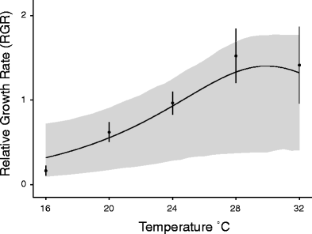 References
Abdala-Díaz RT, Cabello-Pasini A, Pérez-Rodriguez E, Conde Álvarez RM, Figueroa FL (2006) Daily and seasonal variations of optimum quantum yield and phenolic compounds in Cystoseira tamariscifolia (Phaeophyta). Mar Biol 148:459–465

Aguirre-von-Wobeser E, Figueroa FL, Cabello-Pasini A (2001) Photosynthesis and growth of red and green morphotypes of Kappaphycus alvarezii (Rhodophyta) from the Philippines. Mar Biol 138:679–686

Alexandrov GA, Yamagata Y (2007) A peaked function for modeling temperature dependence of plant productivity. Ecol Model 200:189–192

Ask EI, Azanza RV (2002) Advances in cultivation technology of commercial eucheumatoid species: a review with suggestions for future research. Aquaculture 206:257–277

Ask EI, Batibasaga A, Zertuche-Gonzalez JA, De San M (2003) Three decades of Kappaphycus alvarezii (Rhodophyta) introduction to non-endemic locations. In: Chapman ARO, Anderson RJ, Vreeland VJ, Davison IR (eds) Proceedings of the 17th International Seaweed Symposium. Oxford University Press, Oxford, pp 49–57

Atkin OK, Tjoelker MG (2003) Thermal acclimation and the dynamic response of plant respiration to temperature. Trends Plant Sci 8:343–351

Bindu MS, Levine IA (2011) The commercial red seaweed Kappaphycus alvarezii—an overview on farming and environment. J Appl Phycol 23:789–796

Bixler HJ, Porse H (2011) A decade of change in the seaweed hydrocolloids industry. J Appl Phycol 23:321–335

Bulboa CR, de Paula EJ (2005) Introduction of non-native species of Kappaphycus (Rhodophyta, Gigartinales) in subtropical waters: comparative analysis of growth rates of Kappaphycus alvarezii and Kappaphycus striatum in vitro and in the sea in south-eastern Brazil. Phycol Res 53:183–188

Conklin KY, Kurihara A, Sherwood AR (2009) A molecular method for identification of the morphologically plastic invasive algal genera Eucheuma and Kappaphycus (Rhodophyta, Gigartinales) in Hawaii. J Appl Phycol 21:691–9699

Dang DH, Hoang MH, Ngo HT, Hoang SN, Huynh QN, Tran MD (2008) Analysis of the genetic variation of Eucheuma and Kappaphycus strains in Vietnam using RAPD markers. In: Phang SM, Lewmanomont K, Lim PE (eds) Taxonomy of Southeast Asian seaweeds. Institute of Ocean and Earth Sciences, University of Malaya, Kuala Lumpur, pp 63–75, Monograph Series 2

Dawes CJ, Lluisma AO, Trono GC (1994) Laboratory and field growth studies of commercial strains of Eucheuma denticulatum and Kappaphycus alvarezii in the Philippines. J Appl Phycol 6:21–24

Do HV, Vo, SK (2013) Net-cage cultivation of Kappaphycus alvarezii seaweed. Vietfish Int 10, http://vietfish.org/20130823041233826p49c88/netcage-cultivation-of-kappaphycus-alvarezii-seaweed.htm

Dongsansuk A, Lutz C, Neuner G (2013) Effects of temperature and irradiance on quantum yield of PSII photochemistry and xanthophyll cycle in a tropical and temperate species. Photosynthetica 51:13–21

Doty MS (1973) Farming the red seaweed, Eucheuma, for carrageenans. Micronesica 9:59–73

Dung PH, Nhan PT (2001) Some results of study on experimental culture of Elkhorn Sea moss Kappaphycus alvarezii in Cat Bay, Hai Phong. Proceedings, Marine Fisheries Research. Tuyen tap cac cong trinh nghien cuu nghe ca bien 2: 537–547

Edwards MS, Kim KY (2010) Diurnal variation in relative photosynthetic performance in giant kelp Macrocystis pyrifera (Phaeophyceae, Laminariales) at different depths as estimated using PAM fluorometry. Aquat Bot 92:119–128

Ensminger I, Xylander M, Hagen C, Braune W (2001) Strategies providing success in a variable habitat. III. Dynamic control of photosynthesis in Cladophora glomerata. Plant Cell Environ 24:769–779

Fujimoto M, Nishihara GN, Terada R (2014a) The effect of irradiance and temperature on the photosynthesis of two agarophytes Gelidium elegans and Pterocladiella tenuis (Gelidiales) from Kagoshima, Japan. Fish Sci 80:695–703

Fujimoto M, Nitta K, Nishihara GN, Terada R (2014b) Phenology, irradiance and temperature characteristics of a freshwater red alga, Nemalionopsis tortuosa (Thoreales), from Kagoshima, southern Japan. Phycol Res 62:77–85

Ganzon-Fortes ET, Azanza-Corrales R, Aliaza T (1993) Comparison of photosynthetic responses of healthy and 'diseased' Kappaphycus alvarezii (Doty) Doty using P vs I curve. Bot Mar 36:503–506

Gao S, Wang G (2012) The enhancement of cyclic electron flow around photosystem I improves the recovery desiccated Porphyra yezoensis (Bangiales, Rhodophyta). J Exp Biol 12:4349–4358

Gelman A (2004) Parameterization and Bayesian modeling. J Am Stat Assoc 99:537–545

Gelman A (2006) Prior distributions for variance parameters in hierarchical models. Bayesian Anal 1:515–533

Gévaert F, Créach A, Davoult D, Migné A, Levavasseur G, Arzel P, Holl AC, Lemoine Y (2003) Laminaria saccharina photosynthesis measured in situ: photoinhibition and xanthophyll cycle during a tidal cycle. Mar Ecol Prog Ser 247:43–50

Glenn EP, Doty MS (1990) Growth of the seaweeds Kappaphycus alvarezii, K. striatum and Eucheuma denticulatum as affected by environment in Hawaii. Aquaculture 84:245–255

Granbom M, Pedersén M, Kadel P, Lüning K (2001) Circadian rhythm of photosynthetic oxygen evolution in Kappaphycus alvarezii (Rhodophyta): dependence on light quantity and quality. J Phycol 37:1020–1025

Häder DP, Lebert M, Mercado J, Aguilera J, Salles S, Flores-Moya S, Jiméz C, Figueroa FL (1996) Photosynthetic oxygen production and PAM fluorescence in the brown alga Padina pavonica measured in the field under solar radiation. Mar Biol 127:61–66

Häder DP, Porst M, Lebert M (2001) Photosynthetic performance of the Atlantic brown macroalgae, Cystoseira abiesmarina, Dictyota dichotoma and Sargassum vulgare, measured in Gran Canaria on site. Environ Exp Bot 45:21–32

Hanelt D, Huppertz K, Nultsch W (1993) Daily course of photosynthesis and photoinhibition in marine macroalgae investigated in the laboratory and field. Mar Ecol Prog Ser 97:31–37

Hayashi L, Paula EJD, Chow F (2007) Growth rate and carrageenan analyses in four strains of Kappaphycus alvarezii (Rhodophyta, Gigartinales) farmed in the subtropical waters of São Paulo State, Brazil. J Appl Phycol 19:393–399

Henley WJ (1993) Measurement and interpretation of photosynthetic light-response curves in algae in the context of photo inhibition and diel changes. J Phycol 29:729–739

Henley WJ, Levavasseur G, Franklin LA, Lindley ST, Rarnus J, Osmond CB (1991) Diurnal responses of photosynthesis and fluorescence in Ulva rotundata acclimated to sun and shade in outdoor culture. Mar Ecol Prog Ser 75:19–28

Hung LD, Hori K, Nang HQ, Kha T, Hoa LT (2009) Seasonal changes in growth rate, carrageenan yield and lectin content in the red alga Kappaphycus alvarezii cultivated in Camranh Bay, Vietnam. J Appl Phycol 21:265–272

Huppertz K, Hanelt D, Nultsch W (1990) Photoinhibition of photosynthesis in the marine brown alga Fucus serratus as studied in field experiments. Mar Ecol Prog Ser 66:175–182

Hurtado AQ, Gerung GS, Yasir S, Critchley AT (2014) Cultivation of tropical red seaweeds in the BIMP-EAGA region. J Appl Phycol 26:707–718

Hurtado-Ponce AQ, Agbayani RF, Sanares R, Castro-Mallare MTR (2001) The seasonality and economic feasibility of cultivating Kappaphycus alvarezii in Panagatan Cays, Caluya, Antique Philippines. Aquaculture 199:295–310

Jacobsen S, Lüning K, Goulard F (2003) Circadian changes in relative abundance of two photosynthetic transcripts in the marine macroalga Kappaphycus alvarezii (Rhodophyta). J Phycol 39:888–896

Jassby AD, Platt T (1976) Mathematical formulation of the relationship between photosynthesis and light for phytoplankton. Limnol Oceanogr 21:540–547

Kowalczyk N, Rappaport F, Boyen C, Wollman FA, Collen J, Joliot P (2013) Photosynthesis in Chondrus crispus: the contribution of energy spill-over in the regulation of excitonic flux. Biochim Biophys Acta Bioenerg 1827:834–842

Larkum AWD (2003) Light-harvesting systems in algae. In: Larkum AWD, Douglas SE, Raven JA (eds) Photosynthesis in algae. Kluwer, Dordrecht, pp 277–304

Larkum AWD, Vesk M (2003) Algal plastids: their fine structure and properties. In: Larkum AWD, Douglas SE, Raven JA (eds) Photosynthesis in algae. Kluwer, Dordrecht, pp 11–28

Lideman, Nishihara GN, Noro T, Terada R (2013) Effect of temperature and light on the photosynthesis as measured by chlorophyll fluorescence of cultured Eucheuma denticulatum and Kappaphycus sp. (Sumba strain) from Indonesia. J Appl Phycol 25:399–406

Muñoz J, Freile-Pelegrín Y, Robledo D (2004) Mariculture of Kappaphycus alvarezii (Rhodophyta, Solieriaceae) color strains in tropical waters of Yucatán, México. Aquaculture 239:161–177

Muraoka D, Yamamoto H, Yasui H, Terada R (1998) Formation of wound tissue of Gracilaria chorda Holmes (Gracilariaceae) in culture. Bull Fac Fish Hokkaido Univ 49:31–39

Nang HQ (2005) Results of study on production of Eucheuma, Kappaphycus alvarezii in Vietnam and development orientations. Fish Rev 3:17–21

Nang HQ, Dinh NH (1998) The seaweed resources of Vietnam. In: Critchley AT, Ohno M (eds) Seaweed Resources of the World. Japan International Cooperation Agency (JICA), Yokosuka, pp 62–69

Nishihara GN, Mori Y, Terada R, Noro T (2004a) A simplified method to isolate and cultivate, Laurencia brongniartii J. Agardh (Rhodophyta, Ceramiales) from Kagoshima, Japan. Suisanzoshoku 52:1–10

Nishihara GN, Terada R, Noro T (2004b) Photosynthesis and growth rates of Laurencia brongniartii J. Agardh (Rhodophyta, Ceramiales) in preparation for cultivation. J Appl Phycol 16:303–308

Ohno M, Nang HQ, Dinh NH, Triet VD (1995) On the growth of cultivated Kappaphycus alvarezii in Vietnam. Jpn J Phycol 43:19–22 (in Japanese)

Ohno M, Nang HQ, Hirase S (1996) Cultivation and carrageenan yield and quality of Kappaphycus alvarezii in the waters of Vietnam. J Appl Phycol 8:431–437

Parker HS (1974) The culture of the red algal genus Eucheuma in the Philippines. Aquaculture 3:425–439

Platt T, Gallegos CL, Harrison WG (1980) Photoinhibition of photosynthesis in natural assemblages of marine phytoplankton. J Mar Res 38:687–701

R Development Core Team (2013) R: A language and environment for statistical computing. R Foundation for Statistical Computing, Vienna, Austria. URL http://www.R-project.org

Ramus J, Rosenberg G (1980) Diurnal photosynthetic performance of seaweeds measured under natural conditions. Mar Biol 56:21–28

Reis MO, Necchi O Jr, Colepicolo P, Barros MP (2011) Co-stressors chilling and high light increase photooxidative stress in diuron-treated red alga Kappaphycus alvarezii but with lower involvement of H2O2. Biochem Physiol 99:7–15

Roháček K (2002) Chlorophyll fluorescence parameters: the definitions, photosynthetic meaning, and mutual relationships. Photosynthetica 40:13–29

Salvucci ME, Crafts-Brandner SJ (2004) Relationship between the heat tolerance of photosynthesis and the thermal stability of rubisco activase in plants from contrasting thermal environments. Plant Physiol 134:1460–1470

Schagerl M, Möstl M (2011) Drought stress, rain and recovery of the intertidal seaweed Fucus spiralis. Mar Biol 158:2471–2479

Schmidt ÉC, Nunes BG, Maraschin M, Bouzon ZL (2010) Effect of ultraviolet-B radiation on growth, photosynthetic pigments, and cell biology of Kappaphycus alvarezii (Rhodophyta, Gigartinales) macroalgae brown strain. Photosynthetica 48:161–172

Schreiber U, Schliwa U, Bilger W (1986) Continuous recording of photochemical and non-photochemical chlorophyll fluorescence quenching with a new type of modulation fluorometer. Photosynth Res 10:51–62

Schubert H, Gerbersdorf S, Titlyanov E, Titlyanova T, Granbom M, Pape C, Lüning K (2004) Circadian rhythm of photosynthesis in Kappaphycus alvarezii (Rhodophyta): independence of the cell cycle and possible photosynthetic clock targets. Eur J Phycol 39:423–430

Schubert H, Anderson M, Snoeijs P (2006) Relationship between photosynthesis and non-photochemical quenching of chlorophyll fluorescence in two red algae with different carotenoid compositions. Mar Biol 149:1003–1013

Serisawa Y, Yokohama Y, Aruga Y, Tanaka J (2001) Photosynthesis and respiration in bladelet of Ecklonia cava Kjellman (Laminariales, Phaeophyta) in two localities with different temperature conditions. Phycol Res 49:1–11

Stan Development Team (2013) Stan: A C++ Library for Probability and Sampling, Version 1.3. URL: http://mc-stan.org

Tan J, Lim PE, Phang SM (2013) Phylogenetic relationship of Kappaphycus Doty and Eucheuma J. Agardh (Solieriaceae, Rhodophyta) in Malaysia. J Appl Phycol 25:13–29

Terada R, Yamamoto H (2000) A taxonomic study on two Japanese species of Gracilaria: G. shimodensis sp. nov. and G. blodgettii (Gracilariales, Rhodophyta). Phycol Res 48:189–198

Terada R, Inoue S, Nishihara GN (2013) The effect of light and temperature on the growth and photosynthesis of Gracilariopsis chorda (Gracilariales, Rhodophtya) from geographically separated locations of Japan. J Appl Phycol 25:1863–1872

Trono GC Jr (1998) The seaweed resources of the Philippines. In: Critchley AT, Ohno M (eds) Seaweed Resources of the World. Japan International Cooperation Agency (JICA), Yokosuka, pp 47–61

Tsutsui I, Nang HQ, Dinh NH, Arai S, Yoshida T (2005) The common marine plants of southern Vietnam. Japan Seaweed Association, Tokyo, 250 p

Vo TD, Nishihara GN, Shimada S, Watanabe Y, Fujimoto M, Kawaguchi S, Terada R (2014) Taxonomic identity and the effect of temperature and irradiance on the photosynthesis of an indoor tank-cultured red alga Agardhiella subulata from Japan. Fish Sci 80:281–292

Waaland JR (1981) Commercial utilization. In: Lobban CS, Wynne MJ (eds) The biology of seaweeds. University of California Press, Berkley, pp 726–741

Wakibia JG, Bolton JJ, Keats DW, Raitt LM (2006) Factors influencing the growth rates of three commercial eucheumoids at coastal sites in southern Kenya. J Appl Phycol 18:565–573

Watanabe Y, Nishihara GN, Tokunaga S, Terada R (2014a) The effect of irradiance and temperature responses and the phenology of a native alga, Undaria pinnatifida (Laminariales), at the southern limit of its natural distribution in Japan. J Appl Phycol 26:2405–2415

Watanabe Y, Nishihara GN, Tokunaga S, Terada R (2014b) The effect of irradiance and temperature on the photosynthesis of a cultivated red alga, Pyropia tenera (= Porphyra tenera), at the southern limit of distribution in Japan. Phycol Res 62:187–196

Webb WL, Newton M, Starr D (1974) Carbon dioxide exchange of Alnus rubra: a mathematical model. Oecologia 17:281–291

Yamane Y, Kashino Y, Koike H, Satoh K (1998) Effects of high temperatures on the photosynthetic systems in spinach: oxygen-evolving activities, fluorescence characteristics and the denaturation process. Photosynth Res 57:51–59

Yokono M, Murakami A, Akimoto S (2011) Excitation energy transfer between photosystem II and photosystem I in red algae: larger amounts of phycobilisome enhance spillover. Biochim Biophys Acta Bioenerg 1807:847–853

Zuccarello GC, Critchley AT, Smith J, Sieber V, Lhonneur GB, West JA (2006) Systematics and genetic variation in commercial Kappaphycus and Eucheuma (Solieriaceae, Rhodophyta). J Appl Phycol 18:643–651
Acknowledgments
This research was sponsored in part by a CREST (#JAJJ110062) from Japan Science and Technology Agency (SK) and Grant-in-Aid for Scientific Research (#22510033, #25340012, and #25450260) from the Japanese Ministry of Education, Culture, Sport, and Technology (RT and GNN). All authors have provided consent.
About this article
Cite this article
Terada, R., Vo, T.D., Nishihara, G.N. et al. The effect of irradiance and temperature on the photosynthesis and growth of a cultivated red alga Kappaphycus alvarezii (Solieriaceae) from Vietnam, based on in situ and in vitro measurements. J Appl Phycol 28, 457–467 (2016). https://doi.org/10.1007/s10811-015-0557-x
Received:

Revised:

Accepted:

Published:

Issue Date:
Keywords
Algae

Diurnal change

Kappaphycus alvarezii

Photosynthesis

Pulse amplitude modulation (PAM)-chlorophyll fluorometry

Seaweed cultivation