Abstract
The diatom Odontella aurita has now been industrially cultured and commercialized as a dietary supplement rich in omega-3 fatty acids for several years. In this study, we investigated the effect of three temperatures (8, 16, and 24 °C) on the growth and fatty acid composition of cells harvested during the exponential and stationary growth phases. These temperatures were selected on the basis of photosynthesis responses previously obtained at different temperatures using a modulated fluorometer. Our results confirm that both growth and lipid composition were sensitive to culture temperature. Growth was reduced when O. aurita was cultured at low temperature (8 °C) compared to when it was cultured at high temperatures (16 and 24 °C), but the proportion of polyunsaturated fatty acids (PUFAs, 20:5 n-3 and 22:6 n-3) increased while the level of saturated fatty acids (SFAs, 14:0 and 16:0) decreased in the cells harvested during both the exponential and stationary growth phases. On the other hand, the cells grown at 24 °C displayed a marked decrease in PUFA and an increase in SFA levels. Harvesting time is also a critical parameter in achieving optimum n-3 PUFA productivity during batch cultivation. Indeed, changes in fatty acid composition with growth phase seem to be dependent on the culture temperature, with the most marked effects being observed at 24 °C. PUFA levels (i.e., levels of 20:5 n-3 and 22:6 n-3) increased during the stationary growth phase, while the proportion of SFAs and monounsaturated fatty acids (MUFAs) fell with time. As this species is currently grown in outdoor ponds with seasonal temperature variations (minimal and maximal average temperatures in winter and summer, from 3 to 9 °C and from 13 to 26 °C, respectively), this factor can be expected to have a strong influence on the fatty acid content and composition of the algal biomass harvested and commercialized.
Access options
Buy single article
Instant access to the full article PDF.
USD 39.95
Price excludes VAT (USA)
Tax calculation will be finalised during checkout.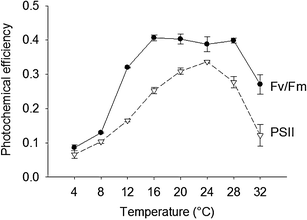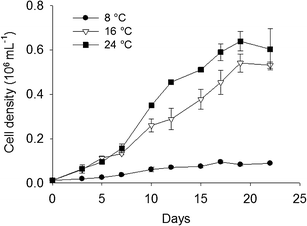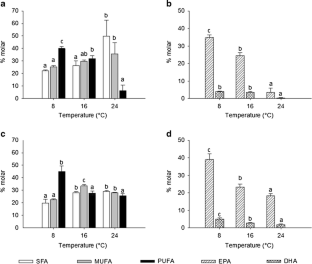 References
Alhasan RH, Ghannoum MA, Sallal AK, Abu-Elten KH, Radwan SS (1987) Correlative changes of growth, pigmentation and lipid composition of Dunaliella salina in response to halostress. J Gen Microbiol 133:2607–2616

Bligh EG, Dyer WJ (1959) A rapid method of lipid extraction and purification. Can J Biochem Physiol 37:911–917

Braud JP (1997) Simultaneous culture in pilot tanks of the macroalga Chondrus crispus (Gigartinaceae) and the microalga Odontella aurita (Eupodiscaceae) producing EPA. In LeGal Y, Muller-Feuga A (eds) Marine microorganisms for industry. Éditions Ifremer, Plouzané, pp 39–47

Breuer G, Lamers PP, Martens DE, Wijffels RH (2012) The impact of nitrogen starvation on the dynamics of triacylglycerol accumulation in nine microalgae strains. Bioresource Technol 124:217–226

De Brouwer JFC, Wolfstein K, Stal LJ (2002) Physical characterization and diel dynamics of different fractions of extracellular polysaccharides in an axenic culture of a benthic diatom. Eur J Phycol 37:37–44

De Castro AS, Tavano Garcia VM (2005) Growth and biochemical composition of the diatom Chaetoceros cf. wighamii Brightwell under different temperature, salinity and carbon dioxide levels. I. Protein, carbohydrates and lipids. Aquaculture 246:405–412

Fan J, Yan C, Andre C, Shanklin J, Schwender J, Xu C (2012) Oil accumulation is controlled by carbon precursor supply for fatty acid synthesis in Chlamydomonas reinhardtii. Plant Cell Physiol 53:1380–1390

Fidalgo JP, Cid A, Torres E, Sukenik A, Herrero C (1998) Effects of nitrogen source and growth phase on proximate biochemical composition, lipid classes and fatty acid profile of the marine microalga Isochrysis galbana. Aquaculture 166:105–116

Gong Y, Guo X, Wan X, Liang Z, Jiang M (2013) Triacylglycerol accumulation and change in fatty acid content of four marine oleaginous microalgae under nutrient limitation and at different culture ages. J Basic Microb 53:29–36

Griffiths MJ, Harrison STL (2009) Lipid productivity as a key characteristic for choosing algal species for biodiesel production. J Appl Phycol 21:493–507

Guihéneuf F, Mimouni V, Ulmann L, Tremblin G (2008) Environmental factors on growth and omega 3 fatty acid levels in Skeletonema costatum (Bacillariophyceae). Influence of irradiance and carbon source. Diatom Res 23:93–103

Guihéneuf F, Mimouni V, Ulmann L, Tremblin G (2009) Combined effects of irradiance level and carbon source on fatty acid and lipid class composition in the microalga Pavlova lutheri commonly used in mariculture. J Exp Mar Biol Ecol 369:136–143

Guihéneuf F, Fouqueray M, Mimouni V, Ulmann L, Jacquette B, Tremblin G (2010) Effect of UV stress on the fatty acid and lipid class composition in two marine microalgae Pavlova lutheri (Pavlovophyceae) and Odontella aurita (Bacillariophyceae). J Appl Phycol 22:629–638

Guihéneuf F, Mimouni V, Ulmann L, Tremblin G (2011) Light-dependent utilization of two radiolabelled carbon sources, sodium bicarbonate and sodium acetate, and relationships with the long chain polyunsaturated fatty acid synthesis in the microalga Pavlova lutheri (Pavlovophyceae). Eur J Phycol 46:43–152

Guihéneuf F, Ulmann L, Mimouni V, Tremblin G (2013) Use of radiolabeled substrates to determine the desaturase and elongase activities involved in eicosapentaenoic acid and docosahexaenoic acid biosynthesis in the marine microalga Pavlova lutheri. Phytochemistry 90:43–49

Haimeur A, Ulmann L, Mimouni V, Guéno F, Pineau-Vincent F, Meskini N, Tremblin G (2012) The role of Odontella aurita, a marine diatom rich in EPA, as a dietary supplement in dyslipidemia, platelet function and oxidative stress in high-fat fed rats. Lipids Health Dis 11:147

Harrison PJ, Waters RE, Taylor FJR (1980) A broad spectrum artificial seawater medium for coastal and open ocean phytoplankton. J Phycol 16:28–35

Jiang H, Gao K (2004) Effects of lowering temperature during culture on the production of polyunsaturated fatty acids in the marine diatom Phaeodactylum tricornutum (Bacillariophyceae). J Phycol 40:651–654

Khozin-Goldberg I, Iskandarov U, Cohen Z (2011) LC-PUFA from photosynthetic microalgae: occurrence, biosynthesis, and prospects in biotechnology. Appl Microbiol Biot 91:905–915

Mimouni V, Ulmann L, Tremblin G, Robert JM (2003) Desaturation of linoleic acid in the marine diatom Haslea ostrearia Simonsen (Bacillariophyceae). Cryptogamie Algol 24:269–276

Mimouni V, Ulmann L, Pasquet V, Mathieu M, Picot L, Bougaran G, Cadoret JP, Morant-Manceau A, Schoefs B (2012) The potential of microalgae for the production of bioactive molecules of pharmaceutical interest. Curr Pharm Biotechnol 13:2733–2750

Moreau D, Tomasoni C, Cathrine J, Kaas R, Guedes L, Cadoret JP, Muller-Feuga A, Kontiza I, Vagias C, Roussis V, Roussakis C (2006) Cultivated microalgae and the carotenoid fucoxanthin from Odontella aurita as potent anti-proliferative agents in bronchopulmonary and epithelial cell lines. Envir Toxicol Pharmacol 22:97–103

Mus F, Toussaint JP, Cooksey KE, Fields MW, Gerlach R, Peyton BM, Carlson RP (2013) Physiological and molecular analysis of carbon source supplementation and pH stress-induced lipid accumulation in the marine diatom Phaeodactylum tricornutum. Appl Microbiol Biot 97:3625–3642

Perkins RG, Mouget JL, Lefebvre S, Lavaud J (2006) Light response curve methodology and possible implications in the application of chlorophyll fluorescence to benthic diatoms. Mar Biol 149:703–712

Rech M, Mouget JL, Tremblin G (2003) Modification of the Hansatech FMS fluorometer to facilitate measurements with microalgal cultures. Aquat Bot 77:71–80

Renaud SM, Zhou HC, Parry DL, Thinh LV, Woo KC (1995) Effect of temperature on the growth, total lipid content and fatty acid composition of recently isolated tropical microalgae Isochrysis sp., Nitzschia closterium, Nitzschia paleacea, and commercial species Isochrysis sp. (clone T.ISO). J Appl Phycol 7:595–602

Renaud SM, Thinh LV, Lambrinidis G, Parry DFL (2002) Effect of temperature on growth, chemical composition and fatty acid composition of tropical Australian microalgae grown in batch cultures. Aquaculture 211:195–214

Roncarati A, Meluzzi A, Acciarri S, Tallarico N, Meloti P (2004) Fatty acid composition of different microalgae strains (Nannochloropsis sp., Nannochloropsis oculata (Droop) Hibberd, Nannochloris atomus Butcher and Isochrysis sp.) according to the culture phase and the carbon dioxide concentration. J World Aquacult Soc 35:401–411

Rousch JM, Bingham SE, Sommerfeld MR (2003) Change in fatty acid profiles of thermo-intolerant and thermo-tolerant marine diatoms during temperature stress. J Exp Mar Biol Ecol 295:145–156

Sakamoto T, Los DA, Higashi S, Wada H, Nishida I, Ohmori M, Murata N (1994) Cloning of ω3 desaturase from cyanobacteria and its use in altering the degree of membrane-lipid unsaturation. Plant Mol Biol 26:249–263

Sharma KK, Schuhmann H, Schenk PM (2012) High lipid induction in microalgae for biodiesel production. Energies 5:1532–1553

Skrupski B, Wilson KE, Goff KL, Zou J (2013) Effect of pH on neutral lipid and biomass accumulation in microalgal strains native to the Canadian prairies and the Athabasca oil sands. J Appl Phycol 25:937–949

Slover HT, Lanza E (1979) Quantitative analysis of food fatty acids by capillary gas chromatography. J Am Oil Chem Soc 56:933–943

Su CH, Chien LJ, Gomes J, Lin YS, Yu YK, Liou JS, Syu RJ (2011) Factors affecting lipid accumulation by Nannochloropsis oculata in a two-stage cultivation process. J Appl Phycol 23:903–908

Tatsuzawa H, Takizawa E (1995) Changes in lipid and fatty acid composition of Pavlova lutheri. Phytochemistry 40:397–400

Tonon T, Harvey D, Larson TR, Graham IA (2002) Long chain polyunsaturated fatty acid production and partitioning to triacylglycerols in four microalgae. Phytochemistry 61:15–24

Xia S, Wan L, Li A, Sang M, Zhang C (2013) Effects of nutrients and light intensity on the growth and biochemical composition of a marine microalga Odontella aurita. Chin J Oceanol Limnol 31:1163–1173

Yongmanitchai W, Ward OP (1991) Growth of and omega-3 fatty acid production by Phaeodactylum tricornutum under different culture conditions. Appl Environ Microbiol 57:419–425

Zhang P, Liu S, Cong B, Wu G, Liu C, Lin X, Shen J, Huang X (2011) A novel omega-3 fatty acid desaturase involved in acclimation processes of polar condition from Antarctic ice algae Chlamydomonas sp. ICE-L. Mar Biotechnol 3:393–401

Zhu CJ, Lee YK, Chao TM (1997) Effects of temperature and growth phase on lipid and biochemical composition of Isochrysis galbana TK1. J Appl Phycol 9:451–457
Acknowledgement
This work received funding from the FP7-KBBE European Collaborative Project GIAVAP and from the program PHC Volubilis MA/21/61 with financial participation of the French Ministry of Foreign Affairs and the Moroccan Ministry of Research. The authors would like to thank Monika Ghosh for revising the English text of the manuscript. We also thank the anonymous referees for their useful comments.
About this article
Cite this article
Pasquet, V., Ulmann, L., Mimouni, V. et al. Fatty acids profile and temperature in the cultured marine diatom Odontella aurita . J Appl Phycol 26, 2265–2271 (2014). https://doi.org/10.1007/s10811-014-0252-3
Received:

Revised:

Accepted:

Published:

Issue Date:

DOI: https://doi.org/10.1007/s10811-014-0252-3
Keywords
Diatom

Odontella aurita

Temperature

Lipids

n-3 Fatty acids

EPA

DHA