Abstract
The isolation of high-quality RNA from brown seaweeds has always been problematic due to a high content of polyphenolic compounds and polysaccharides in their tissues. This study presents a simple and effective method for isolating high-quality RNA from the brown seaweeds Sargassum (Sargassum polycystum, Sargassum siliquosum, Sargassum baccularia, and Sargassum binderi), Padina tetrastromatica, Turbinaria conoides, Dictyota sp., and Hormophysa cuneiformis using cetyltrimethylammonium bromide and selective lithium chloride precipitation. Approximately 25–43 μg g−1 fresh weight of total RNA was obtained from these brown algae. The A 260/A 280 absorbance ratio of these RNA samples are between 1.995 ± 0.027 and 2.122 ± 0.013, with distinct 28S and 18S ribosomal RNA bands visible on a formaldehyde agarose gel. The RNA obtained from S. polycystum was found to be suitable for many downstream applications such as reverse transcription polymerase chain reaction, cloning, synthesis of cDNA, and construction of cDNA library for the generation of expressed sequence tags.
Access options
Buy single article
Instant access to the full article PDF.
US$ 39.95
Tax calculation will be finalised during checkout.
Subscribe to journal
Immediate online access to all issues from 2019. Subscription will auto renew annually.
US$ 79
Tax calculation will be finalised during checkout.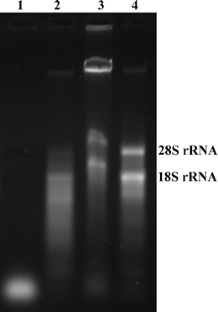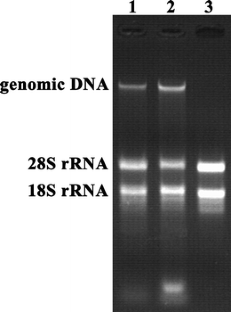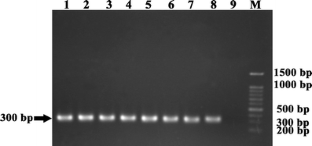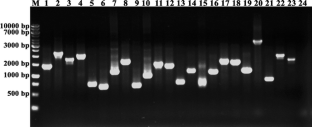 References
Accerbi M, Schmidt SA, De Paoli E, Park S, Jeong DH, Green PJ (2010) Methods for isolation of total RNA to recover miRNAs and other small RNAs from diverse species. Methods Mol Biol 592:31–50

Apt KE, Clendennen SK, Powers DA, Grossman AR (1995) The gene family encoding the fucoxanthin chlorophyll proteins from the brown alga Macrocystis pyrifera. Mol Gen Genet 246:455–464

Azevedo H, Lino-Neto T, Tavares RM (2003) An improved method for high-quality RNA isolation from needles of adult maritime pine trees. Plant Mol Biol Rep 21:333–338

Blunt JW, Copp BR, Hu WP, Munro MHG, Northcote PT, Prinsep MR (2007) Marine natural products. Nat Prod Rep 24:31–86

Bugos RC, Chiang VL, Zhang XH, Campell ER, Podilla GK, Campell WH (1995) RNA isolation from plant tissues recalcitrant to extraction in guanidine. Biotechniques 19:734–737

Caffall KH, Mohnen D (2009) The structure, function, and biosynthesis of plant cell wall pectic polysaccharides. Carbohyd Res 344:1879–1900

Chan CX, Teo SS, Ho CL, Othman RY, Phang SM (2004) Optimisation of RNA extraction from Gracilaria changii (Gracilariales, Rhodophyta). J Appl Phycol 16:297–304

Cheang CC, Chu KH, Ang PO Jr (2010) Phylogeography of the marine macroalga Sargassum hemiphyllum (Phaeophyceae, Heterokontophyta) in northwestern Pacific. Mol Ecol 19:2933–2948

Chkhikvishvili ID, Ramazanov ZM (2000) Phenolic substances of brown algae and their antioxidant activity. Appl Biochem Microbiol 36:289–291

Chomczynski P, Sacchi N (1987) Single-step method of RNA isolation by acid guanidinium thiocyanate–phenol–chloroform extraction. Anal Biochem 162:156–159

Farrell RE Jr (2012) RNA methodologies. In: Meyers RA (ed) Epigenetics regulation and epigenomics: advances in molecular biology and medicine. Wiley-VCH, Germany, pp 3–40

Geuna F, Hartings H, Scienza A (1998) A new method for rapid extraction of high quality RNA from recalcitrant tissues of grapevine. Plant Mol Biol Rep 16:61–67

Ho CL, Phang SM, Sinnappah ND, Pang T (1996) Molecular approaches in the taxonomy of the red and brown seaweeds. In: Chaudary BR, Agrawal SB (eds) Cytology. Genetics and molecular biology of algae. SPB Academic Publishing, Amsterdam, pp 351–362

Hong YK, Sohn CH, Lee KW, Kim HG (1997) Nucleic acid extraction from seaweed tissues for polymerase chain reaction. J Mar Biotechnol 5:95–99

Hu ZM, Uwai S, Yu SH, Komatsu T, Ajisaka T, Duan DL (2011) Phylogeographic heterogeneity of the brown macroalga Sargassum horneri (Fucaceae) in the northwestern Pacific in relation to late Pleistocene glaciation and tectonic configurations. Mol Ecol 20:3894–3909

Japelaghi RH, Haddad R, Garoosi GA (2011) Rapid and efficient isolation of high quality nucleic acids from plant tissues rich in polyphenols and polysaccharides. Mol Biotechnol 49:129–137

Jun SY, Kang SH, Lee KH (2008) Continuous-exchange cell-free protein synthesis using PCR-generated DNA and an RNase E-deficient extract. Biotechniques 44:387–391

Kaladharan P, Kaliaperumal N (1999) Seaweed industry in India. The ICLARM Quarterly, Naga, pp 11–14

Kim GW, Itabashi Y (2012) Non-methylene-interrupted fatty acids with Δ5 unsaturation in Sargassum species. J Oleo Sci 61:311–319

Kim SH, Lee YK, Hong CB, Lee IK (1997) A simple method for RNA extraction from marine macroalgae. Algae 12:53–56

La Claire JWH, Herrin DL (1997) Co-isolation of high-quality DNA and RNA from coenocytic green algae. Plant Mol Biol Rep 15:263–272

Lau AF, Siedlecki J, Anleitner J, Patterson GML, Caplan FR, Moore RE (1993) Inhibition of reverse transcriptase activity by extracts of cultured blue–green algae (cyanophyta). Planta Medica 59:148–151

Liu JJ, Goh CJ, Loh CS, Liu P, Pua EC (1998) A method for isolation of total RNA from fruit tissues of banana. Plant Mol Biol Rep 16:1–6

Mahmood SJ, Siddique A (2010) Ionic studies of sodium alginate isolated from Sargassum terrarium (brown algae) Karachi coast with 2,1-electrolyte. J Saudi Chem Soc 14:117–123

Manning K (1990) Isolation of nucleic acids from plants by differential solvent precipitation. Anal Biochem 195:45–50

Mülhardt C (2007) The experimenter series: molecular biology and genomics. Academic Press, Elsevier Inc., USA

Murakami K, Yamaguchi Y, Noda K, Fujii T, Shinohara N, Ushirokawa T, Sugawa-Katayama Y, Katayama M (2011) Seasonal variation in the chemical composition of a marine brown alga, Sargassum horneri (Turner) C. Agardh. J Food Compos Anal 24:231–236

Pearson G, Lago-Leston A, Valente M, Serrão E (2006). Simple and rapid RNA extraction from freeze-dried tissue of brown algae and seagrasses. Eur J Phycol 41:97–104

Queiroz KCS, Medeiros VP, Queiroz LS, Abreu LRD, Rocha HAO, Ferreira CV, Juca MB, Aoyama H, Leite EL (2008) Inhibition of reverse transcriptase activity of HIV by polysaccharides of brown algae. Biomed Pharmacotherapy 62:303–307

Rioux LE, Turgeon SL, Beaulieu M (2007) Characterization of polysaccharides extracted from brown seaweeds. Carbohyd Polym 69:530–537

Roeder V, Collén J, Rousvoal S, Corre E, Leblanc C, Boyen C (2005) Identification of stress gene transcripts in Laminaria digitata (Phaeophyceae) protoplast cultures by expressed sequence tag analysis. J Phycol 41:1227–1235

Sambrook J, Russell DW (2001) Molecular cloning: a laboratory manual, vol. 2. Cold Spring Harbour Laboratory Press, New York, p 11.63

Saraswathi SJ, Babu B, Rengasamy R (2003) Seasonal studies on the alginate and its biochemical composition I: Sargassum polycystum (Fucales), Phaeophyceae. Phycol Res 51:240–243

Talyshinsky MM, Souprun YY, Huleihel MM (2002) Anti-viral activity of red microalgal polysaccharides against retroviruses. Cancer Cell Int 2:2–8

Tonon T, Rousvoal S, Roeder V, Boyen C (2008) Expression profiling of the mannuronan C5-epimerase multigenic family in the brown alga Laminaria digitata (Phaeophyceae) under biotic stress conditions. J Phycol 44:1250–1256

Wan CY, Wilkins TA (1994) A modified hot borate method significantly enhances the yield of high-quality RNA from cotton (Gossypium hirsutum L). Anal Biochem 223:7–12

Wang X, Tian W, Li Y (2008) Development of an efficient protocol of RNA isolation from recalcitrant tree tissues. Mol Biotechnol 38:57–64

Wilkins TA, Smart LB (1996) Isolation of RNA from plant tissue. In: Kreig PA (ed) A laboratory guide to RNA: isolation, analysis and synthesis. Wiley-Liss, New York, pp 21–41

Wong TKM, Ho CL, Lee WW, Rahim RA, Phang SM (2007) Analyses of expressed sequence tags from Sargassum binderi (Phaeophyta). J Phycol 43:528–534

Wu G, Liu C, Liu S, Cong B, Huang X (2010) High-quality RNA preparation for cDNA library construction of the Antarctic sea-ice alga Chlamydomonas sp. ICE-L. J Appl Phycol 22:779–783

Yao J, Fu W, Wang X, Duan D (2009) Improved RNA isolation from Laminaria japonica Aresch (Laminariaceae, Phyaeophyta). J Appl Phycol 21:233–238
Acknowledgments
This work was supported by the eScienceFund project (05-01-03-SF0188) from the Ministry of Science, Technology and Innovation Malaysia and the Postgraduate Research Fund (PS081/2007B). The first author was supported by a postgraduate fellowship of the University of Malaya, Kuala Lumpur, Malaysia.
About this article
Cite this article
Sim, MC., Ho, CL. & Phang, SM. A simple and effective method for RNA isolation and cDNA library construction from the brown seaweed Sargassum polycystum (Fucales, Phaeophyceae). J Appl Phycol 25, 1277–1285 (2013). https://doi.org/10.1007/s10811-013-9980-z
Received:

Revised:

Accepted:

Published:

Issue Date:
Keywords
cDNA library construction

CTAB

RNA isolation

Sargassum polycystum

Phaeophyta

Biotechnology