Abstract
Grateloupia asiatica is an edible seaweed and source of carrageenan in Korea. Considering the economic importance of this edible seaweed, mass culturing methods from spores have been conducted. Moreover, it helps prevent natural population depletion. Spores germinate to form crusts, filaments and spherical structures that subsequently differentiate and develop into thalli. The objective of our research was to study the developmental pattern of crust into upright thalli. Vegetative cells of crust divided circularly to expand and coalescence with other crusts, while those cells that divide vertically increase the thickness of the crust. The specific growth rate of the crusts was optimal at 20 °C (8.6 % day−1) and 42 μmol photons m−2 s−1 (10.8 % day−1). At optimum condition, they grew in regularity that forming pattern of zonation and circular mounds onto the crusts subsequently produce upright thalli. Thalli would be generated if the crusts, generally composed of six cells in thickness, will start to produce cortical and medulla cells to support and generate upright thalli. In the tank culture, the upright thalli grew rapidly during July to October and reached a maximum length of around ±5.2 cm. The thalli matured and contained many carposporangia in the branches after 150 culture days.
Access options
Buy single article
Instant access to the full article PDF.
USD 39.95
Price excludes VAT (USA)
Tax calculation will be finalised during checkout.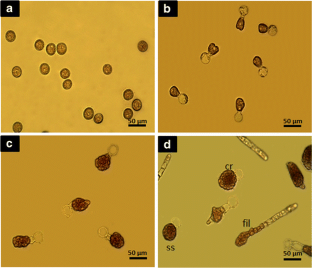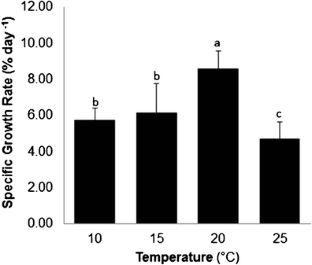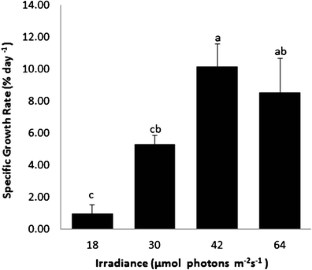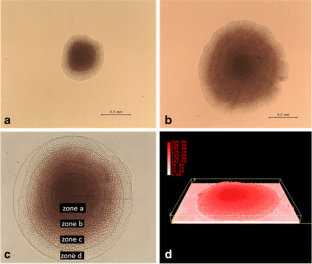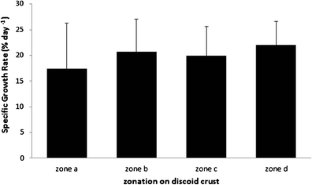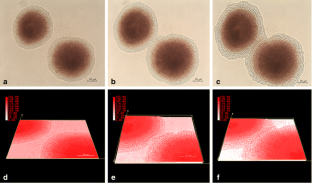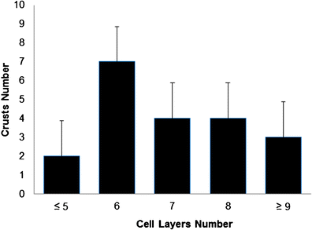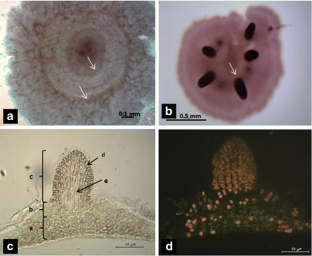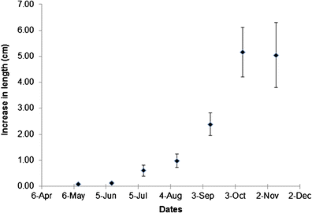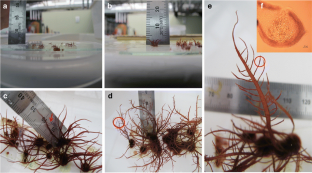 References
Baweja P, Sahoo D (2009) Regeneration studies in Grateloupia filicina (J.V. Lamouroux) C. Agardh—an important carrageenophyte and edible seaweed. Algae 24:163–168

Iima M, Kinoshita T, Kawaguchi S, Migita S (1995) Cultivation of Grateloupia acuminata (Halymeniaceae, Rhodophyta) by regeneration from cut fragment of basal crust and upright thalli. J Appl Phycol 7:583–588

Kain JM, Destombe C (1995) A review of the life history, reproduction and phenology of Gracilaria. J Appl Phycol 7:269–281

Kawaguchi S (1991) Taxonomic notes on the Halymeniaceae (Rhodophyta) from Japan. I. Halymenia acuminata (Holmes) J. Agardh. Japan J Phycol 39:329–336

Kawaguchi S, Wang HW, Horiguchi T, Sartoni G, Masuda M (2001) A comparative study of the red alga Grateloupia filicina (Halymeniaceae) from the northwestern Pacific and Mediterranean with the description of Grateloupia asiatica, sp. nov. J Phycol 37:433–442

Kim HG, Park JG (2006) Tissue culture of Grateloupia acuminata (Rhodophyta) from eastern coast of Korea. J Korean Aquac Soc 19:216–221

Lafontaine N, Mussio I, Rusig AM (2011) Production and regeneration of protoplast from Grateloupia turuturu Yamada (Rhodophyta). J Appl Phycol 23:17–24

Lee YP, Kang S (2001) A catalogue of the seaweed in Korea. Jeju National University Press, Jeju, 662 p

Lee JI, Kim HG, Geraldino PJL, Hwang IK, Boo SM (2009) Molecular classification of the genus Grateloupia (Halymeniaceae, Rhodophyta) in Korea. Algae 24:231–238

Lee JI, Hwang IK, Park JK, Kim HG (2011) Seasonal growth of Grateloupia asiatica and G. divaricata (Rhodophyta). Korean J Nat Conserv 5:7–16

LI X, Zhao P, Wang G, LI D, Wang J, Duan D (2010) Effect of temperature and irradiance on early development of Chondrus ocellatus Holm (Gigartinaceae, Rhodophyta). Chinese J Oceanol Limnol 28:508–513

Migita S (1988) Cultivation of Grateloupia filicina (Rhodophyta, Cryptonemiales) by regeneration of crust. Nippon Suisan Gakkaishi 54:1923–1927 (in Japanese)

Provasoli L (1968) Media and prospect for the cultivation of marine algae. In: Watanabe A, Hattori A (eds) Cultures and collections of algae. Japanese Society Plant Physiology, Hakone, Japan, pp 63–75

Santelices B, Correa JA, Isabel M (1996) Sporeling coalescence and intraclonal variation in Gracilaria chilencis (Gracilariales). J Phycol 32:313–322

Santelices B, Correa JA, Hormazabal M, Flores V (2003) Contact responses between spores and sporelings of different species, karyological phases and cystocarps of coalescing Rhodophyta. Mar Biol 143:381–392

Shao KS, Wang JX, Zhou BC (2004) Production and application of filaments of Grateloupia turuturu (Halymeniaceae, Rhodophyta). J Appl Phycol 16:431–437

Verlaque M, Brannock PM, Komatsu T, Villalard-Bohnsack M, Marston M (2005) The genus Grateloupia C. Agardh (Halymeniaceae, Rhodophyta) in the Thau lagoon (France, Mediterranean): a case study of marine plurispecific introduction. Phycologia 44:477–496

Wei X, Shuai L, Lu B, Wang S, Chen J, Wang G (2013) Effect of temperature and irradiance on filament development of Grateloupia turuturu (Halymeniaceae, Rhodophyta). J Appl Phycol 25:1881–1886

Wong SL, Chang J (2000) Salinity and light effect on growth, photosynthesis, and respiration of Grateloupia filicina (Rhodophyta). Aquaculture 182:387–395

Zhao F, Zhao Z, Wang A, Liu J, Duan D (2010) Carpospore early development and callus-like tissue induction of Chrysymenia wrightii (Rhodomeniaceae, Rhodophyta) under laboratory conditions. J Appl Phycol 22:195–202
Acknowledgments
We would like to thank Dr. Byung Hee Jeon, Ganesan Kandasamy and Joon Kim at the Laboratory of Seaweed Biomass, Gangneung-Wonju National University. This research work was supported by the Fishery Commercialization Technology Development Program (2012–2013) of the Development for Mass Production of Grateloupia (Rhodophyta), Ministry of Oceans and Fisheries of the South Korean Government.
About this article
Cite this article
Adharini, R.I., Kim, H.G. Developmental pattern of crust into upright thalli of Grateloupia asiatica (Halymeniaceae, Rhodophyta). J Appl Phycol 26, 1911–1918 (2014). https://doi.org/10.1007/s10811-013-0218-x
Received:

Revised:

Accepted:

Published:

Issue Date:

DOI: https://doi.org/10.1007/s10811-013-0218-x
Keywords