Abstract
Proliferations of green, brown and red algae appear in shallow sandy bays in North Brittany (France), and they represent a real economic constraint for the affected communities. In addition to the nuisance for residents and tourist activity, the communities must carry out systematic collection. The collected algae are spread on agricultural land spreading or composted, but these solutions reach their limits rapidly, bringing little added value to the collected algae. Seaweeds are potentially excellent sources of bioactive metabolites that could represent useful leads in the development of new functional ingredients in pharmaceutical and cosmetic industries. The aim of this study was to propose the use of an enzyme-assisted extraction as a tool to improve the extraction efficiency of antiviral compounds from three invasive French seaweeds. We selected the red Solieria chordalis, the green Ulva sp. and the brown Sargassum muticum as models for these experiments. In comparison with water extraction at 50 °C for the same time of treatment, enzymatic hydrolysis increased the yields. The data suggest the potential of enzymatic hydrolysis for producing active fractions in the function of the algal biomass, the behaviour of the cell wall, the selectivity and the action of the enzyme. Enzymatic hydrolysis appeared less effective for polyphenol recovery, but was a promising softer technique for recovering proteins, neutral sugars, uronic acids and sulphate groups. The solvent-free process, higher extraction rate and higher yields, coupled to time-saving and lower cost, make this method economical and sustainable. By using a cell viability assay, all hydrolysate fractions tested were shown to be non-toxic to Vero cells. After 3 days of treatment, no microscopically visible alteration of normal cell morphology was observed even at 500 μg mL−1. S. chordalis extracts have an effective antiviral activity with EC50 between 23.0 and 101.1 μg mL−1 at a multiplicity of infection of 0.001 ID50/cells; 100 % and 98 % cellular protection were obtained for 500 μg mL−1 of hydrolysate extracts carbohydrase C3 and blank, respectively. Other extracts from S. chordalis inhibited viral production less effectively.
Access options
Buy single article
Instant access to the full article PDF.
USD 39.95
Price excludes VAT (USA)
Tax calculation will be finalised during checkout.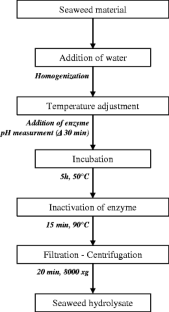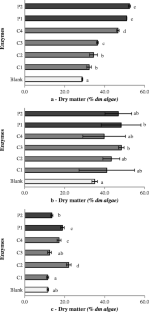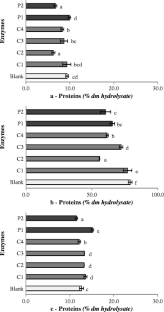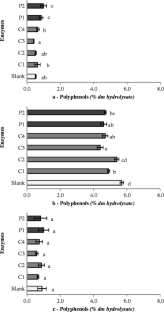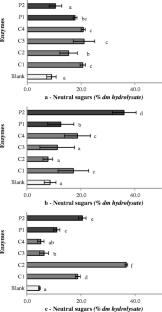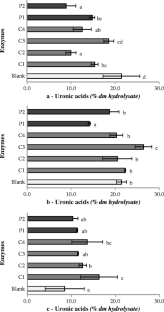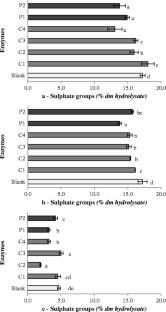 References
Ahn CB, Jeon YJ, Kang DS, Shin TS, Jung BM (2004) Free radical scavenging activity of enzymatic extracts from a brown seaweed Scytosiphon lomentaria by electron spin resonance spectrometry. Food Res Int 37:253–258

Amano H, Noda H (1990) Proteins of protoplasts from red alga Porphyra yezoensis. Nippon Suisan Gakkaishi 56:1859–1864

Amano H, Noda H (1992) Proteins of protoplasts from several seaweeds. Nippon Suisan Gakkaishi 58:291–299

Arzel P (1987) Les Goémoniers. Le Chasse-Marée, Editions de l'estran. Douarnez, France, 305 pp

Arzel P (2000) Sur la route des Algues, les goémoniers. Patrimoine maritime de Bretagne. Ed. Uhel Izel, 65 pp

Arzel P, Barbaroux O (2003) Les Algues, produits, saveurs et santé de la mer. Ed. Libris, 104 pp

Athukorala Y, Jung WK, Vasanthan T, Jeon YJ (2006) An anticoagulative polysaccharide from an enzymatic hydrolysate of Ecklonia cava. Carbohydr Polym 66:184–191

Athukorala Y, Lee KW, Kim SK, Jeon YJ (2007) Anticoagulant activity of marine green and brown algae collected from Jeju Island in Korea. Bioresour Technol 98:1711–1716

Bergé JP, Bourgougnon N, Alban S, Pojer F, Chermann JC, Billaudel S, Robert JM, Durand P, Franz G (1999) Antiviral and anticoagulant activities of a water soluble compound extracted from the marine diatom Haslea ostrearia. Planta Med 65:604–609

Blumenkrantz N, Asboe-Hansen G (1973) New method for quantitative determination of uronic acids. Anal Biochem 54:484–489

Bondu S, Deslandes E, Fabre MS, Berthou C, Guangli Y (2010) Carrageenan from Solieria chordalis (Gigartinales): structural analysis and immunological activities of the low molecular weight fractions. Carbohydr Polymers 81:448–460

Borines MG, de Leon RL, Cuello JL (2013) Bioethanol production from the macroalgae Sargassum spp. Bioresour Technol 138:22–29

Bouhlal R, Riadi H, Bourgougnon N (2010) Antiviral activities of Morocco seaweeds extracts. Afr J Biotechnol 9:7968–7975

Bouhlal R, Haslin C, Chermann JC, Colliec-Jouault S, Sinquin C, Simon G, Cerantola S, Riadi H, Bourgougnon N (2011) Antiviral activities of sulfated polysaccharides isolated from Sphaerococcus coronopifolius (Rhodophytha, Gigartinales) and Boergeseniella thuyoides (Rhodophyta, Ceramiales). Mar Drugs 7:1187–1209

Bourgougnon N (2003) Anti-HIV compounds from red seaweeds. In: Fingerman M, Nagabhushanam R (eds) Biomaterials and bioprocessing, vol 9, Recent advances in marine biotechnology. Science, Enfield, pp 16–206

Bourgougnon N, Stiger-Pouvreau V (2011) Chemodiversity and bioactivity within red and brown marine macroalgae along French coasts, Metropole and overseas departments and territories. In: Kim S-K (ed) Handbook of marine macroalgae: Biotechnology and applied phycology. Wiley, Chichester, pp 58–105

Bourgougnon N, Lahaye M, Chermann JC, Kornprobst JM (1993) Composition and antiviral activities of sulfated polysaccharide from Schizymenia dubyi (Rhodophyta, Gigartinales). Bioorg Med Chem Lett 3:1141–1146

Cardozo KHM, Guaratini T, Barros MP (2007) Metabolites from algae with economical impact Comp. Biochem Physiol C 146:60–78

Castro R, Piazzon MC, Zarra I, Leiro J, Noya M, Lamas J (2006) Stimulation of turbot phagocytes by Ulva rigida C. Agardh polysaccharides. Aquaculture 254:9–20

Cian RE, Martínez-Augustin O, Drago SR (2012) Bioactive properties of peptides obtained by enzymatic hydrolysis from protein byproducts of Porphyra columbina. Food Res Internat 49:364–372

Crooke WM, Simpson WE (1971) Determination of ammonium in Kjeldahl digests of crops by an automated procedure. J Agric Food Chem 27:1256–1262

Damonte EB, Matulewicz MC, Cerezo AS (2004) Sulfated seaweed polysaccharides as antiviral agents. Curr Med Chem 11:2399–2419

Demais H, Brendle J, Jaber M, Laza Anca L (2006a) Exfoliating an intercalated clay, useful in e.g. animal/human feeds, plastification, surface coatings and in nanocomposite, comprises preparing intercalated clay from clay and intercalating compound and lyophilizing in presence of water. French Patent FR2882997

Demais H, Brendle J, Le Deit H, Laza Anca L, Lurton L, Brault D (2006b) Interspersed clay. PCT Patent Application WO2006030075

Dizerbo AH, Herpé E (2007) Liste et répartition des algues marines des côtes françaises de la Manche et de l'Atlantique Iles Normandes incluses Éditions Anaximandre Landernau, 315 pp

Dubois M, Gilles KA, Hamilton JK, Rebers PA, Smith F (1956) Colorimetric method for determination of sugars and related substances. Anal Chem 28:350–356

Dumay J, Clément N, Morançais M, Fleurence J (2013) Optimization of hydrolysis conditions of Palmaria palmata to enhance R-phycoerythrin extraction. Bioresour Technol 131:21–27

El Gamal AA (2010) Biological importance of marine algae. Saudi Pharm J 18:1–25

Fleurence J (1999) Seaweed proteins: biochemical, nutritional aspects and potential uses. Trends Food Sci Technol 10:25–28

Fleurence J, Massiani L, Guyader O, Mabeau S (1995a) Use of enzymatic cell wall degradation for improvement of protein extraction from Chondrus crispus, Gracilaria verrucosa and Palmaria palmata. J Appl Phycol 7:393–395

Fleurence J, Le Cœur C, Mabeau S, Maurice M, Landrein A (1995b) Comparison of different extractive procedures for proteins from the edible seaweeds Ulva rigida and Ulva rotundata. J Appl Phycol 7:577–582

Fleurence J, Morançais M, Dumay J, Decottignies P, Turpin V, Munier M, Garcia-Bueno N, Jaouen P (2012) What are the prospects for using seaweed in human nutrition and for marine animals raised through aquaculture? Trends Food Sci Technol 27:57–61

Hansen HR, Hector BL, Feldmann J (2003) A qualitative and quantitative evaluation of the seaweed diet of North Ronaldsay sheep. Anim Feed Sci Technol 105:21–28

Harden EA, Hartline C, Falshaw R, Carnachan SM, Kern ER, Prichard MN (2009) Virucidal activity of polysaccharide extracts from four algal species against herpes simplex virus. Antivir Res 83:282–289

Harnedy PA, FitzGerald RJ (2013) Extraction of protein from the macroalga Palmaria palmata. Food Sci Technol 51:375–382

Heo SJ, Park EJ, Lee KW, Jeon YJ (2005) Anti oxidant activities of enzymatic extracts from brown seaweeds. Bioresour Technol 96:1613–1623

Ioannou E, Roussis V (2009) Natural products from seaweeds. Springer, Berlin, pp 51–81

Jaques LB, Ballieux RE, Dietrich CP, Kavanagh LW (1968) A microelectrophoresis method for heparin. Can J Physiol Pharmacol 46:351–360

Khanzada AK, Kazi WSTG, Kabir S, Soofia S (2007) Antifungal activity, elemental analysis and determination of total protein of seaweed, Solieria robusta (Greville) Kylin from the coast of Karachi. Pak J Bot 39:931–937

Lahaye M (1991) Marine algae as sources of fibres: determination of soluble and insoluble dietary fibre contents in some "sea vegetables". J Sci Food Agric 54:587–594

Lahaye M, Robic A (2007) Structure and functional properties of ulvans, a polysaccharide from green seaweeds. Biomacromolecules 8:1765–1774

Lahaye M, Vigouroux J (1992) Liquefaction of dulse (Palmaria palmata (L.) Kuntze) by a commercial enzyme preparation and purified endo-β-1,4-d-xylanase. J Appl Phycol 4:329–337

Langlois M, Allard JP, Nugier F, Aymard M (1986) A rapid and automated colorimetric assay for evaluating in the sensitivity of Herpes simplex strains to antiviral drugs. J Biol Stand 14:201–211

Mayer AMS, Rodríguez AD, Berlinck RGS, Hamann MT (2007) Marine pharmacology in 2003–4: marine compounds with anthelmintic antibacterial, anticoagulant, antifungal, anti-inflammatory, antimalarial, antiplatelet, antiprotozoal, antituberculosis, and antiviral activities; affecting the cardiovascular, immune and nervous systems, and other miscellaneous mechanisms of action. Comp Biochem Physiol C 145:553–581

McLaren C, Ellis MN, Hunter GA (1983) A colorimetric assay or the measurement of the sensitivity of Herpes simplex viruses to antiviral agents. Antivir Res 3:223–234

Mohamed S, Hashim SN, Rahman HA (2012) Seaweeds: a sustainable functional food for complementary and alternative therapy. Trends Food Sci Technol 23:83–96

Murakami K, Yamaguchi Y, Noda K, Fujii T, Shinohara N, Ushirokawa T, Sugawa-Katayama Y, Katayama M (2011) Seasonal variation in the chemical composition of a marine brown alga, Sargassum horneri (Turner) C. Agardh. J Food Compos Anal 24:231–236

Peña-Rodríguez A, Mawhinney TP, Ricque-Marie D, Cruz-Suárez LE (2011) Chemical composition of cultivated seaweed Ulva clathrata (Roth) C. Agardh. Food Chem 129:491–498

Plouguerné E, Le Lann K, Connan S, Jechoux G, Deslandes E, Stiger-Pouvreau V (2006) Spatial and seasonal variations in density, maturity, length and phenolic content of the invasive brown macroalga Sargassum muticum along the coast of Western Brittany (France). Aquat Bot 85:337–344

Ray B, Lahaye M (1995) Cell-wall polysaccharide from the marine green alga Ulva "rigida" (Ulvales, Chlorophyta)—extraction and chemical composition. Carbohydr Res 274:251–261

Robic A, Sassi JF, Lahaye M (2008) Impact of stabilization treatments of the green seaweed Ulva rotundata (Chlorophyta) on the extraction yield, the physico-chemical and rheological properties of ulvan. Carbohydr Polym 74:344–352

Samarakoon K, Jeon YJ (2012) Bio-functionalities of proteins derived from marine algae—a review. Food Res Int 48:948–960

Sassi AB, Harzallah-Skhiri F, Bourgougnon N, Aouni M (2008) Antiviral activity of some Tunisian medicinal plants against Herpes simplex virus type 1. Nat Prod Res 22:53–65

Siriwardhana N, Kim KN, Lee KW, Kim SH, Ha JH, Song CB (2008) Optimisation of hydrophilic antioxidant extraction from Hizikia fusiformis by integrating treatments of enzymes, heat and pH control. Int J Food Sci Technol 43:587–596

Smith PK, Krohn RI, Hermanson GT, Mallia AK, Gartner FH, Provenzano MD, Fujimoto EK, Goeke NM, Olson BJ, Klenk DC (1985) Measurement of protein using bicinchoninic acid. Anal Biochem 150:76–85

Stengel DB, Connan S, Popper ZA (2011) Algal chemodiversity and bioactivity: sources of natural variability and implications for commercial application. Biotech Adv 29:483–501

Stern JL, Hagerman AE, Steinberg PD, Mason PK (1996) Phlorotannin–protein interactions. J Chem Ecol 22:1877–1899

Tavennec M (2009) La gestion d'une problématique algale dans un secteur hautement touristique, la presqu'île de Rhuys. Masters Thesis, Université de Nantes, 107 pp

Turkmen N, Sari F, Velioglu YS (2005) The effect of cooking methods on total phenolics and antioxidant activity of selected green vegetables. Food Chem 93:713–718

Vo TS, Ngo DH, Ta QV, Kim SK (2011) Marine organisms as a therapeutic source against herpes simplex virus infection. Eur J Pharm Sci 44:11–20

Wang T, Jónsdóttir R, Kristinsson HG, Hreggvidsson GO, Jónsson JÓ, Thorkelsson G, Ólafsdóttir G (2010) Enzyme-enhanced extraction of antioxidant ingredients from red algae Palmaria palmata. Food Sci Technol 43:1387–1393

Wang X, Liu X, Wang G (2011) Two stage hydrolysis of invasive algal feedstock for ethanol fermentation. J Integr Plant Biol 53:246–253

Wijesinghe WAJP, Jeon Y-J (2012) Enzyme-assistant extraction (EAE) of bioactive components: a useful approach for recovery of industrially important metabolites from seaweeds: a review. Fitoterapia 83:6–12

Yaich H, Garna H, Besbes S, Paquot M, Blecker C, Attia H (2011) Chemical composition and functional properties of Ulva lactuca seaweed collected in Tunisia. Food Chem 128:895–901
About this article
Cite this article
Hardouin, K., Burlot, AS., Umami, A. et al. Biochemical and antiviral activities of enzymatic hydrolysates from different invasive French seaweeds. J Appl Phycol 26, 1029–1042 (2014). https://doi.org/10.1007/s10811-013-0201-6
Received:

Revised:

Accepted:

Published:

Issue Date:

DOI: https://doi.org/10.1007/s10811-013-0201-6
Keywords
Sargassum muticum
Solieria chordalis
Ulva sp

Hydrolysates

Protease

Carbohydrase

Antiherpetic activity