Abstract
In Bahia Chasco, Atacama, the integrifolia morph of Macrocystis forms one of the most important kelp forests in northern Chile. In order to determine effects of local harvesting policies, we evaluated the population dynamics of this resource in intact, frequently disturbed, and permanently and completely harvested areas. Recruitment, frond length, reproductive phenology and standing crop were assessed monthly. In intact areas, frond length and ratio of reproductive individuals were higher, but recruitment was poorly stimulated. On the other hand, complete harvest had an important effect on Macrocystis population dynamics. Whereas recruitment and growth were much higher after harvest events, reproductive phenology was lower. The harvest techniques with different frequencies practiced by Bahia Chasco fishermen were less harmful than complete harvest, and we conclude that current exploitation techniques applied in this location are not deleterious for the giant kelp beds. They even have favorable effects by renewing the population through stimulation of sexual reproduction, recruitment and growth of young individuals.
Access options
Buy single article
Instant access to the full article PDF.
USD 39.95
Price excludes VAT (USA)
Tax calculation will be finalised during checkout.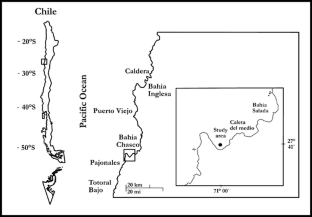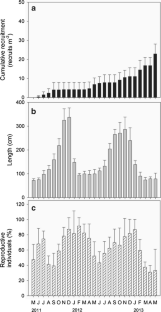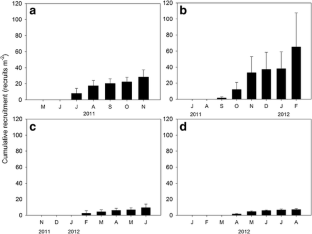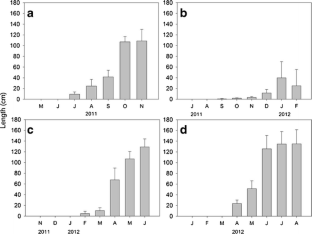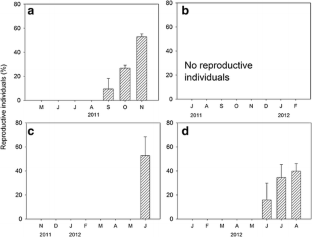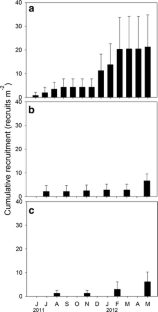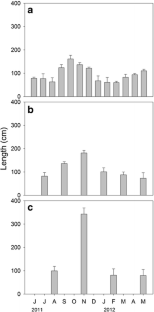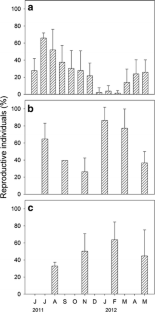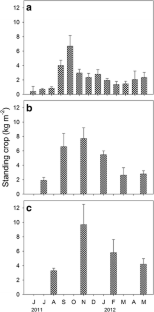 References
Borras-Chavez R, Edwards M, Vásquez JA (2012) Testing sustainable management in Northern Chile: harvesting Macrocystis pyrifera (Phaeophyceae, Laminariales). a case study. J Appl Phycol 24:1655–1665

Buschmann AH, Moreno CA, Vásquez JA, Hernández-González MC (2006) Population and reproduction strategies of Macrocystis pyrifera (Phaeophyta) in southern Chile. J Appl Phycol 18:575–582

California Department of Fish and Game (2004) Annual status of the fisheries report through 2003. 182 p. Available at: www.portal.nceas.ucsb.edu

Demes KW, Graham MH, Suskiewicz TS (2009) Phenotypic plasticity reconciles incongruous molecular and morphological taxonomies: the giant kelp, Macrocystis (Laminariales, Phaeophyceae), is a monospecific genus. J Phycol 45:1266–1269

Druehl LD, Kemp L (1982) Morphological and growth responses of geographically isolated Macrocystis integrifolia populations when grown in a common environment. Can J Bot 60:1409–1413

Druehl LD, Breen PA (1986) Some ecological effects of harvesting Macrocystis integrifolia. Bot Mar 29:97–103

Druehl LD, Wheeler WN (1986) Population biology of Macrocystis integrifolia from British Columbia, Canada. Mar Biol 90:173–179

Graham MH (1996) Effect of high irradiance on recruitment of giant kelp Macrocystis (Phaeophyta) in shallow water. J Phycol 32:903–906

Graham MH, Harrold C, Lisin S, Light K, Watanabe JM, Foster MS (1997) Population dynamics of giant kelp Macrocystis pyrifera along a wave exposure gradient. Mar Ecol Prog Ser 148:269–279

Graham MH, Vásquez JA, Buschmann AH (2007) Global ecology of the giant kelp Macrocystis: from ecotypes to ecosystems. Oceanogr Mar Biol 45:39–88

Kimura RS, Foster MS (1984) The effects of harvesting Macrocystis pyrifera on the algal assemblage in a giant kelp forest. Hydrobiologia 116/117:425–428

Lee JA, Brinkhuis BH (1988) Seasonal light and temperature interaction effects on development of Laminaria saccharina (Phaeophyta) gametophytes and juvenile sporophytes. J Phycol 24:181–191

Lobban CS, Harrison PJ (1994) Seaweed ecology and physiology. Cambridge University Press, New York, 366 pp

Macaya EC, Zucarello G (2010) DNA barcoding and genetic divergence in the giant kelp Macrocystis (Laminariales). J Phycol 46:736–742

Murúa P, Westermeier R, Patiño DJ, Müller DG (2013) Culture studies on early development of Lessonia trabeculata (Phaeophyceae, Laminariales): seasonality and acclimation to light and temperature. Phycol Res 61:145–153

North WJ (1994) Review of Macrocystis biology. In: Akatsuka I (ed) Biology of Economic Algae. Academic Publishing, Hague, pp 447–527

Reed DC, Foster MS (1984) The effects of canopy shading on algal recruitment and growth of a giant kelp (Macrocystis pyrifera) forest. Ecology 65:937–948

Reed D, Ebeling AW, Anderson TW, Anghera M (1996) Differential reproductive responses to fluctuating resources in two seaweeds with different reproductive strategies. Ecology 77:300–316

Santelices B, Ojeda FP (1984a) Effects of canopy removal on the understory algal community structure of coastal forests of Macrocystis pyrifera from southern South America. Mar Ecol Prog Ser 14:165–173

Santelices B, Ojeda FP (1984b) Population dynamics of coastal forests of Macrocystis pyrifera in Puerto Toro, Isla Navarino, Southern Chile. Mar Ecol Prog Ser 14:175–183

Vásquez JA, Vega JMA, Buschmann AH (2006) Long term studies on El Niño-La Niña in Northern Chile: effects on the structure and organization of subtidal kelp assemblages. J Appl Phycol 18:505–519

Vega JMA, Vásquez JA, Buschmann AH (2005) Population biology of the subtidal kelps Macrocystis integrifolia and Lessonia trabeculata (Laminariales, Phaeophyceae) in an upwelling ecosystem of Northern Chile: interannual variability and El Niño 1997–1998. Rev Chil Hist Nat 78:33–50

Westermeier R, Möller P (1990) Population dynamics of Macrocystis pyrifera (L.) C. Agardh in the rocky intertidal of southern Chile. Bot Mar 33:363–367

Westermeier R, Patiño DJ, Müller DG (2007) Sexual compatibility and hybrid formation between the giant kelp species Macrocystis pyrifera and M. integrifolia (Laminariales, Phaeophyceae) in Chile. J Appl Phycol 19:215–221

Westermeier R, Patiño D, Murúa P, Muñoz L, Ruiz A, Atero C (2012) Manual de repoblamiento de Macrocystis integrifolia en la región de Atacama. Proyecto FIC FNDR 2010 Región de Atacama. Universidad Austral de Chile. 47pp

Westermeier R, Murúa P, Patiño D, Muñoz L, Ruiz A, Atero C, Müller DG (2013a) Utilization of holdfast fragments for vegetative propagation of Macrocystis integrifolia in Atacama, Northern Chile. J Appl Phycol 25:639–642

Westermeier R, Murúa P, Patiño D, Muñoz L, Ruiz A, Müller DG (2013b) Growth patterns of Chilean kelps holdfast after fragmentation: a novel repopulation approach. Abstracts 21st International Seaweed Symposium, Bali, 300 p.

Westermeier R, Murúa P, Patiño D, Muñoz L, Ruiz A, Atero C, Müller DG (2013c) Repopulation techniques for Macrocystis integrifolia (Phaeophyceae: Laminariales) in Atacama Chile. J Appl Phycol. doi:10.1007/s10811-013-0069-5

Zar JH (1999) Biostatistical analysis, 4th edn. Prentice Hall, New Jersey, 663 p

Zavala P, Diaz H, Araneda P (2010) Segundo monitoreo de la biomasa de Macrocystis integrifolia (huiro canutillo), Lessonia trabeculata (huiro palo) y Heterozostera chilensis (pasto marino), mediante técnicas de teledetección aeroespacial en Bahía Chasco - Región de Atacama. Informe técnico Geosensing ltda. 36 p. Available at: http://www.plataformacaldera.cl/biblioteca/589/w3-article-64468.html
Acknowledgments
The funding of this study was granted to RW by Gobierno Regional de Atacama (Fondo a la Innovación y la Competividad FIC), through 2010 and 2011 grants. We thank for comments by two anonymous reviewers. The technical support by Carlos Atero (Laboratorio de Macroalgas UACh) and Claudio Soza (Bahia Chasco fisherman) is also acknowledged.
About this article
Cite this article
Westermeier, R., Murúa, P., Patiño, D.J. et al. Giant kelp (Macrocystis) fishery in Atacama (Northern Chile): biological basis for management of the integrifolia morph. J Appl Phycol 26, 1071–1079 (2014). https://doi.org/10.1007/s10811-013-0176-3
Received:

Revised:

Accepted:

Published:

Issue Date:

DOI: https://doi.org/10.1007/s10811-013-0176-3
Keywords