Abstract
The green algae genus Caulerpa is coenocytic, and the thallus consists of only one cell with many nuclei. It is widely distributed in the tropical seas. In the Southeast Asian waters, there are at least ten known species. Three species, particularly Caulerpa racemosa var. clavifera f. macrophysa (Kützing) Weber-van Bosse, C. racemosa var. laetevirens (Montagne) Weber-van Bosse, and Caulerpa lentillifera J. Agardh are widely consumed. The proximate analysis and secondary metabolite composition of these three species were determined to describe their lipid and nutritional values. Glycolipids and phospholipids were the major lipid classes, with significant levels of triacylglycerol. Polyunsaturated fatty acids (PUFA) were the major fatty acids of all the three species. Typical n-3 and n-6 PUFA such as 18:3n-3, 18:4n-3, 20:5n-3, 18;2n-6, and 20:4n-6 were found in significant amount in all these three species. All three species contained a red-pigmented secondary metabolite determined as caulerpin. All three extracts exhibited potent antimicrobial activity against human food pathogenic bacteria and anti-inflammatory activity against the murine macrophage cell line, RAW 264.7.
Access options
Buy single article
Instant access to the full article PDF.
US$ 39.95
Tax calculation will be finalised during checkout.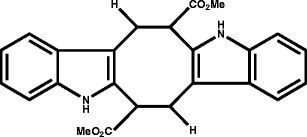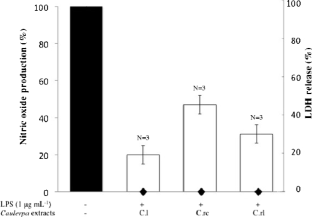 References
Anjaneyulu ASR, Prakash CVS, Mallavadhani UV (1991) Two caulerpin analogues and a sesquiterpene from Caulerpa racemosa. Phytochemistry 30:3041–3042

AOAC (1995) Official methods of analysis. Association of Official Analytical Chemists, Washington

Blazina M, Ivesa L, Najdek M (2009) Caulerpa racemosa: adaptive varieties studied by fatty acid composition (Northern Adriatic Sea, Vrsar, Croatia). Eur J Phycol 44:183–189

Cengiz S, Cavas L, Yurdakoc K, Pohnert G (2011) The sesquiterpene caulerpenyne from Caulerpa spp. is a lipoxygenase inhibitor. Mar Biotechnol 13:321–326

Cho A, Graves J, Reidy MA (2000) Mitogen-activated protein kinases mediate matrix metalloproteinase-9 expression in vascular smooth muscle cells. Arterioscler Thromb Vasc Biol 12:2527–2532

Christie WW (1990) Silver ion chromatography of triacylglycerols on solid-phase extraction columns packed with a bonded-sulphonic acid phase. J Sci Food Agric 52:573–577

Dumay O, Pergent G, Martini CP, Amade P (2002) Variations in caulerpenyne contents in Caulerpa taxifolia and Caulerpa racemosa. J Chem Ecol 28:343–347

Farag RS, El-Baroty, Basuny M (2003) Safety evaluation of olive phenolic compounds as natural antioxidant. Int J Food Sci Nutr 54:321–326

Horstmann U (1983) Cultivation of the green algae, Caulerpa racemosa in tropical waters and some aspects of its physiological ecology. Aquaculture 32:361–371

Hong DD, Hien HM, Son PN (2007) Seaweeds from Vietnam used for functional food, medicine and biofertilizer. J Appl Phycol 19:817–826

Kandhasamy M, Arunachalam KD (2008) Evaluation of in vitro antibacterial property of seaweeds of southeast coast of India. Afr J Biotechnol 7:1958–1961

Kendel M, Mossion AC, Viau M, Fleurence J, Barnathan G, Collin GW (2013) Seasonal composition of lipids, fatty acids and sterols in the edible red algae Grateloupia turuturu. J Appl Phycol 25:425–432

Khotimchenko SV, Yakoleva IM (2005) Lipid composition of the red alga Tichocarpus crinitus exposed to different levels of photon irradiance. Phytochem 66:73–79

Kumar M, Kumari P, Trivedi N, Shukla MK, Gupta V, Reddy CRK, Jha B (2011) Minerals, PUFAs and antioxidant properties of some tropical seaweeds from Saurashtra coast of India. J Appl Phycol 23:797–810

Kumari P, Bijo AJ, Mantri VA, Reddy CRK, Jha B (2013) Fatty acid profiling of tropical marine macroalgae: an analysis from chemotaxonomic and nutritional perspectives. Phytochemistry 86:44–56

Matanjun P, Mohamed S, Mustapha NM, Muhammad K, Ming CH (2008) Antioxidant activities and phenolics content of eight species of seaweeds from North Borneo. J Appl Phycol 20:367–373

Mao SC, Liu DQ, Yu XQ, Lai XP (2011) A new polyacetylenic fatty acid and other secondary metabolites from the Chinese green alga Caulerpa racemosa (Caulerpaceae) and their chemotaxonomic significance. Biochem Syst Ecol 39:253–257

Nagappan T, Ramasamy P, Wahid MEA, Chandra Segaran T, Vairappan C (2011) Biological activity of carbazole alkaloids and essential oil of Murraya koenigii against antibiotic resistant microbes and cancer cell lines. Molecules 16:9651–9664

Pena-Rodriguez A, Mawhinney TP, Ricque-Marie D, Cruz-Suarez LE (2011) Chemical composition of cultivated seaweed Ulva clathrata (Roth) C. Agardh. Food Chem 129:491–498

Radhika D, Veerabahu C, Priya R (2012) Antibacterial activity of some selected seaweeds from the Gulf of Mannar coast, South India. Asian J Pharm Clin Res 5:89–90

Raub M, Cardellina JH, Schwede JG (1987) The green algal pigment caulerpin as a plant growth regulator. Phytochemistry 26:619–620

Ratana-arporn P, Chirapart A (2006) Nutritional evaluation of tropical green seaweeds Caulerpa lentillifera and Ulva reticulata. Kasetsart J Nat Sci 40:75–83

Shafik MA, Manawy IM (2008) Physiological and structural characteristics of three varieties of Caulerpa racemosa (Forsskal) J. Agardh from the Mediterranean sea. Amr-Eur J Sci Res 3:97–110

Shanmughapriya S, Manilal A, Sujith S, Selvin J, Kiran GS, Natarajaseenivasan K (2008) Antimicrobial activity of seaweeds extracts against multiresistant pathogens. Ann Microb 58:535–541

Tang S, Kerry JP, Sheehan D, Buckley DJ, Morrissey PA (2001) Antioxidative effect of added tea catechins on susceptibility of cooked red meat, poultry and fish patties to lipid oxidation. Food Res Int 34:651–657

Vairappan CS (2004) Antibacterial activity of major secondary metabolites found in four species of edible green macroalgae genus Caulerpa. Asian J Microb Biotechnol Environ Sci 6:197–201

Vairappan CS, Kamada T, Lee WW, Jeon YJ (2013) Anti-inflammatory activity of halogenated secondary metabolites of Laurencia snackeyi (Weber-van Bosse) Masuda in LPS-stimulated RAW 264.7 macrophages. J Appl Phycol. doi:10.1007/s10811-013-0023-6

Yaniv Z, Schafferman D, Shamir I, Madar Z (1999) Cholesterol and triglyceride reduction in rats fed Matthiola incana seed oil rich in (n-3) fatty acids. J Agric Food Chem 47:637–642
About this article
Cite this article
Nagappan, T., Vairappan, C.S. Nutritional and bioactive properties of three edible species of green algae, genus Caulerpa (Caulerpaceae). J Appl Phycol 26, 1019–1027 (2014). https://doi.org/10.1007/s10811-013-0147-8
Received:

Revised:

Accepted:

Published:

Issue Date:
Keywords
Seaweed

Caulerpa

Caulerpin

Fatty acids

Anti-inflammatory