Abstract
The objective of this work was to evaluate the antihypertensive and antioxidant effect of seaweeds (Ulva linza and Lessonia trabeculata) in rats which were fed a hypercaloric diet. Seaweed at 400 mg kg−1 of body weight was administered for 8 weeks to Wistar rats that were fed with a standard diet or a hypercaloric diet. Intra-abdominal fat, insulin resistance, and lipid profile of the rats were determined. Liver was isolated to determine antioxidant enzymes [superoxide dismutase (SOD), catalase (CAT), and glutathione peroxidase (GPx)] activity and gene expression. The administration of seaweed to the rats reduced the levels of intra-abdominal fat, arterial blood pressure, insulin resistance, and cholesterol and triglyceride serum levels. U. linza reduced the GPx activity in control animals but increased it in animals with MS, which could be reduced by using L. trabeculata. Both seaweeds diminished the SOD and GPx expression and increased CAT in control group. Both seaweeds reduced the CAT expression in animals with metabolic syndrome. Combined effects of the different compounds found in the seaweeds explain the regulating effect over different antioxidant enzymes and metabolic pathways that protect the animals fed a hypercaloric diet against the development of hypertension, hyperglycemia, and obesity.
Access options
Buy single article
Instant access to the full article PDF.
USD 39.95
Price excludes VAT (USA)
Tax calculation will be finalised during checkout.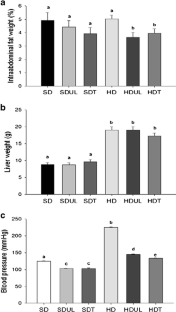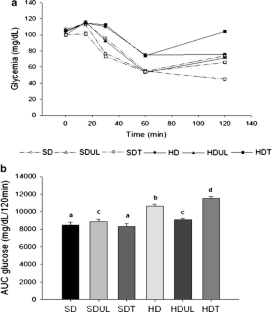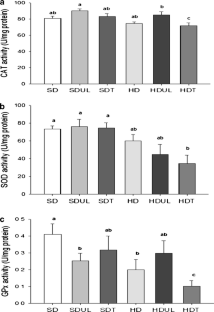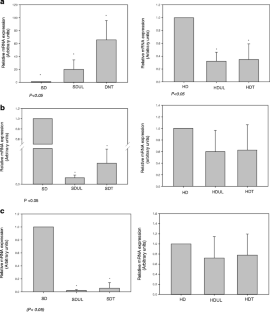 References
Amengual J, Gouranton E, Van H (2011) Beta-carotene reduces body adiposity of mice via BCMO1. Plos One 6:e20644

Barrientos C, Racotta R, Quevedo L (2010) Glucosamine attenuates increases of intraabdominal fat, serum leptin levels, and insulin resistance induced by a high-fat diet in rats. Nutr Res 30:781–800

Botet P, Covas M, Martin S, Rubiés P (2000) Decreased endogenous antioxidant enzymatic status in essential hypertension. J Hum Hypertens 14:343–345

Chen H, Li JL, Jian JZ, Xu B, Li R (2010) Effect of soybean oligosaccharides on blood lipid, glucose levels and antioxidant enzymes activity in high fat rats. Food Chem 119:1633–1636

Denis C, Morancais M, Li M, Deniaud E, Gaudin P, Collin W, Barnathan G, Jaouen P, Fleurence J (2010) Study of the chemical composition of edible red macroalgae Grateloupia turuturu from Brittany (France). Food Chem 119:913–917

Gosh S, Sulistyioningrum DC, Glier MB (2012) Altered glutathione homeostasis in heart augments cardiac lipotoxicity associated with diet-induced obesity in mice. J Biol Chem 286:42483–42493

Gupta S, Ghannam N (2011) Bioactive potential and possible health effects of edible brown seaweeds. Trends Food Sci Technol 22:315–326

Jeon S, Kim H, Woo M, Lee MK, Shin YC, Park YB, Choi MS (2010) Fucoxanthin-rich seaweed extract suppresses body weight gain and improves lipid metabolism in high-fat-fed C57BL/6J mice. Biotechnol J 5:961–969

Jung HA, Hyun SK, Kim HR, Choi JS (2006) Angiotensin-converting enzyme I inhibitory activity of phlorotanninsfrom Ecklonia stolonifera. Fish Sci 72:1292–1299

Jung UJ, Baek NI, Chung HG, Bang MH, Jeong TS, Lee KT, Kang YJ, Lee MK, Kim HJ, Yeo J, Choi MS (2008) Effects of the ethanol extract of the roots of Brassica rapa on glucose and lipid metabolism in C57BL/KsJ-db/db mice. Clin Nutr 27:158–167

Li B, Lu F, Wei X, Zhao R (2008) Fucoidan: structure and bioactivity. Molecules 13:1671–1695

Meenakshi S, Manicka D, Tamil S, Arumugam M, Balasubramanian T (2009) Total flavonoid and in vitro antioxidant activity of two seaweeds of Rameshwaram Coast. Global J Pharmacol 3:59–62

Mohamed S, Hashim SN, Rahman HA (2012) Seaweeds: a sustainable functional food for complementary and alternative therapy. Trends Food Sci Tech 23:83–96

Noeman SA, Hamooda HE, Baalash AA (2011) Biochemical study of oxidative stress markers in the liver, kidney and heart of high fat diet induced obesity in rats. Diabetol Metab Syndr 3:17–25

Styskal JL, Remmen HV, Richardson A, Salmon A (2012) Oxidative stress and diabetes: what can we learn about insulin resistance from antioxidant mutant mouse models? Free Radic Biol Med 52:46–58

Termizy HM, Mafauzy M (2009) Metabolic syndrome and its characteristics among obese patients attending an obesity clinic. Singapore Med J 50:390–394

Vidal A, Fallarero A, Silva de Andrade-Wartha E (2006) Chemical composition and antioxidant activity of red seaweed Bryothamnion triquetrum Howe. Braz J Pharm Sci 42:589–600

Thomas NV, Kim SK (2011) Potential pharmacological applications of polyphenolic derivatives from marine brown algae. Environ Toxicol Pharmacol 32:325–335

Woo M, Jeon S, Shin YC, Lee MK, Kang MA, Choi MS (2009) Anti-obese property of fucoxanthin is partly mediated by altering lipid-regulating enzymes and uncoupling proteins of visceral adipose tissue in mice. Mol Nutr Food Res 53:1603–1611

World Health Organization. Obesity and overweight. http://www.who.int/mediacentre/factsheets/fs311/en/ Accessed on 21 March 2013

Yang ZH, Hiroko M, Jiro T, Masashi K (2012) Diet high in fat and sucrose induces rapid onset of obesity-related metabolic syndrome partly through rapid response of genes involved in lipogenesis, insulin signalling and inflammation in mice. Diabetol Metab Syndr 4:32

Yim MJ, Masashi H, Yoshiyuki M, Yoshida H, Saito Y, Miyashita K (2011) Suppressive effects of Amarouciaxanthin A on 3T3-L1 adipocyte differentiation through down-regulation of PPARγ and C/EBPα mRNA expression. J Agric Food Chem 59:1646–1652
Acknowledgments
The authors would like to acknowledge SIP/IPN and SCYTDF (grant SIP20131019; SIP20131172; SIP20131522; PICSA12-036) for the financial support. ARH is grateful to PIFI, CONACYT for a graduate scholarship. LQ, NPC, HR, AMG, and MEJ are SNI, EDI/IPN, and COFAA/IPN fellows.
Conflict of interest
The authors of this article do not have any conflict of interest to disclose.
About this article
Cite this article
Ramirez-Higuera, A., Quevedo-Corona, L., Paniagua-Castro, N. et al. Antioxidant enzymes gene expression and antihypertensive effects of seaweeds Ulva linza and Lessonia trabeculata in rats fed a high-fat and high-sucrose diet. J Appl Phycol 26, 597–605 (2014). https://doi.org/10.1007/s10811-013-0134-0
Received:

Revised:

Accepted:

Published:

Issue Date:

DOI: https://doi.org/10.1007/s10811-013-0134-0
Keywords
Ulva linza
Lessonia trabeculata

Chlorophyta

Phaeophyta

Metabolic syndrome

Hypertension

Gene expression