Abstract
Seaweed farming has a crucial role in the development of future sustainable mariculture. In the same time, spreading of introduced species or genotypes from farms may threaten local ecosystems. We analyzed a molecular marker (mitochondrial cox2-3 spacers) from cultivated and wild specimen of the widely farmed seaweeds Eucheuma and Kappaphycus, collected in Zanzibar on the African east coast where commercial farming was introduced in 1989. Genotypes of presumed Asian origin were found growing on coral reefs and drifting in seagrass meadows, indicating that genotypes introduced for farming have established successfully in the wild in Zanzibar. Only a very low number of genotypes, all of Asian origin, were found in the farms. This indicates a low accessible gene pool, which can limit the capacity for adaptation to changed conditions and disease resistance in the farming system. African genotypes were found in a few sites, showing the potential for future farming of native strains. The ecological effects of the Asian genotypes introduced to coral reefs should also be further investigated in order to evaluate the risk connected with further introductions of new foreign strains.
Access options
Buy single article
Instant access to the full article PDF.
USD 39.95
Price includes VAT (USA)
Tax calculation will be finalised during checkout.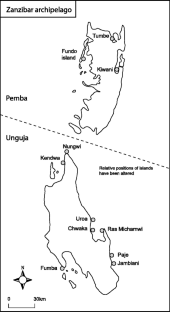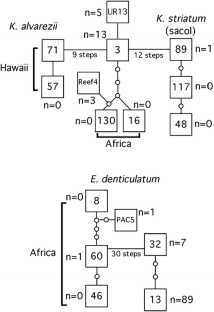 References
Ask EI, Azanza RV (2002) Advances in cultivation technology of commercial eucheumatoid species: a review with suggestions for future research. Aquaculture 206:257–277

Ayres DR, Zaremba K, Sloop CM, Strong DR (2008) Sexual reproduction of cordgrass hybrids (Spartina foliosa x alterniflora) invading tidal marshes in San Francisco Bay. Div Distr 14:187–195

Bindu MS, Levine IA (2011) The commercial red seaweed Kappaphycus alvarezii—an overview on farming and environment. J Appl Phycol 23:789–796

Bryceson I (2002) Coastal aquaculture developments in Tanzania: sustainable and non-sustainable experiences. W Ind Ocean J Mar Sci 1:1–10

Casas G, Scrosati R, Luz Piriz M (2004) The invasive kelp Undaria pinnatifida; (Phaeophyceae, Laminariales) reduces native seaweed diversity in Nuevo Gulf (Patagonia, Argentina). Biol Invasions 6:411–416

Collén J, Mtolera M, Abrahamsson K, Semesi A, Pedersén M (1995) Farming and physiology of the red algae Eucheuma: growing commercial importance in East Africa. Ambio 24:497–501

Conklin EJ, Smith JE (2005) Increases in abundance and development of management options for the invasive red alga Kappaphycus in Kane'ohe Bay, Hawai'i. Biol Invasions 7:1029–1039

Conklin KY, Kurihara A, Sherwood AR (2009) A molecular method for identification of the morphologically plastic invasive algal genera Eucheuma and Kappaphycus (Rhodophyta, Gigartinales) in Hawaii. J Appl Phycol 21:691–699

Clement M, Posada D, Crandall KA (2000) TCS: a computer program to estimate gene genealogies. Mol Ecol 9:1657–59

Chandrasekaran S, Arun Nagendran N, Pandiaraja D, Krishnankutty N, Kamalakannan B (2008) Bioinvasion of Kappaphycus alvarezii on corals in the Gulf of Mannar, India. Curr Sci 94:1164-

Dawes CJ, Koch EW (1991) Branch, micropropagule and tissue culture of the red algae Eucheuma denticulatum and Kappaphycus alvarezii farmed in Philippines. J Appl Phycol 3:247–257

FAO (2011) Fishery statistics. FAO, Rome

FAO (2007) Fishery country profile, Tanzania. FAO, Rome

Kaliba AR, Ngugi CC, Mackambo JM, Osewe KO, Senkondo E, Mnembuka BV, Amisah S (2007) Potential effect of aquaculture promotion on poverty reduction in sub-Saharan Africa. Aquacult Int 15:445–459

Levin PS, Coyer JA, Petrik R, Good TP (2002) Community-wide effects of nonindigenous species on temperate rocky reefs. Ecology 83:3182–3193

Lirasan T, Twide P (1993) Farming Euchema in Zanzibar, Tanzania. Hydrobiologia 260/261:353–355

Mshigeni KE (1994) The Eucheuma seaweed story in the Western Indian Ocean region: past, present and future. COSTECH scientific public lecture series 1. Tanzania Commission for Science and Technology, Tanzania

Naylor RL, Goldburg R, Primavera J, Kautsky N, Beveridge M, Clay J, Folke C, Lubchenko J, Mooney J, Troell M (2000) Effect of aquaculture on world fish supplies. Nature 405:1017–1024

Naylor RL, Williams SL, Strong DR (2001) Aquaculture—a gateway for exotic speices. Science 294:1655–1666

Pickering TD, Skelton P, Sulu RJ (2007) Intentional introductions of commercially harvested alien seaweeds. Bot Mar 50:338–350

Rice MA, Mmochi AJ, Zuberi L, Savoie RM (2006) Aquaculture in Tanzania. World Aquacult 37:50–57

Rönnbäck P, Bryceson I, Kautsky N (2002) Coastal aquaculture development in eastern Africa and the western Indian Ocean: prospects and problems for food security and local economies. Ambio 31:537–542

Sen S (1991) Seaweed collection and culture in Tanzania. FAO, ALCOM Field Document, GCP/Int/436/SWE. 14. 29 p

Schaffelke B, Smith JE, Cl H (2006) Introduced macroalgae—a growing concern. J Appl Phycol 18:529–541

Schaffelke B, Hewitt CL (2007) Impacts of introduced seaweeds. Bot Mar 50:397–417

Smith JE, Hunter CL, Smith CM (2002) Distribution and reproductive characteristics of nonindigenous and invasive marine algae in the Hawaiian Islands. Pac Sci 56:299–315

ACDI/VOCA (2005) SEEGAAD Project. Final project report. USAID/TZ/Economic Growth Program SO9 42 pp

Tobisson E, Andersson J, Ngazi Z, Rydberg L, Cederlöf U (1998) Tides, monsoons and seabed: local knowledge and practice in Chwaka Bay, Zanzibar. Ambio 27:677–685

Wakibia JG, Bolton JJ, Keats DW, Raitt LM (2006) Factors influencing the growth of three commercial eucheumoids at coastal sites in southern Kenya. J Appl Phycol 18:565–573

Wikström SA, Kautsky L (2004) Invasion of a habitat-forming seaweed: effects on associated biota. Biol Invasions 6:141–150

Zuccarello GC, Critchley AT, Smith J, Sieber V, Lhonneur GB, West JA (2006) Systematics and genetic variation in commercial Kappaphycus and Eucheuma (Solieriaceae, Rhodophyta). J Appl Phycol 18:643–651

Zuccarello GC, Lokhorst G (2005) Molecular phylogeny of the genus Tribonema (Xanthophyceae) using rbcL gene sequence data: monopoly of morphologically simple algal species. Phycologia 44:384–392

Zuccarello GC, West JA, Kamiya M, King RJ (1999) A rapid method to score plastid haplophytes in red seaweeds and its use in determine parental inheritance of plastids in the red alga Bostrychia (Ceramiales). Hydrobiologia 401:207–214
Acknowledgments
The study was financed by the Swedish International Development Agency and the C.F. Lundström Foundation. International Foundation for Science provided travel possibilities. Personnel at Institute of Marine Sciences in Zanzibar kindly provided important practical information.
About this article
Cite this article
Halling, C., Wikström, S.A., Lilliesköld-Sjöö, G. et al. Introduction of Asian strains and low genetic variation in farmed seaweeds: indications for new management practices. J Appl Phycol 25, 89–95 (2013). https://doi.org/10.1007/s10811-012-9842-0
Received:

Revised:

Accepted:

Published:

Issue Date:
Keywords
Eucheuma

Genetic variation

Haplotypes

Introduced species

Kappaphycus

Seaweed farming

WIO region